Health/Food Posts Tagged as 'Food'
---
Welcome to Errattic! We encourage you to customize the type of information you see here by clicking the Preferences link on the top of this page.
Is your family's chewing and slurping driving you insane? Here's what to do
Many of us know the experience of feeling enraged while sitting with a friend or a family member who's eating a little loudly and that sound makes you want to scream.

Now we're spending all of our time quarantined with the same family or friends, and every bite, chew, crunch and slurp is so LOUD.

For some of us, it's worse than for others, and the subtle, seemingly irrational reaction can actually be heightened among people we know well.

It's called "misophonia," said Zachary Rosenthal, a psychology professor at Duke University. That term means "hatred of sound." We can all be bothered by annoying or gross-seeming sounds, he said, but some people actually experience an abnormal fight-or-flight response.
---
'It's taking us out': Oprah Winfrey warns coronavirus is 'ravaging' the black community and reveals concern for her own health after battling pneumonia six months ago 
Oprah Winfrey has warned African Americans to take the coronavirus outbreak seriously because it is 'ravaging our community' and 'taking us out'.

The TV mogul said the coronavirus outbreak continued to have a devastating impact on black communities across the United States but that people weren't getting the message about the risk of asymptomatic carriers.

Speaking to CBS This Morning on Tuesday, Winfrey said it was important for black people to understand that pre-existing conditions including diabetes and asthma put them at greater risk if they contracted the virus.

She also voiced concerns for her own health, saying she was staying indoors because she suffered from pneumonia last year and that her 'lungs never really fully cleared'.
Black grocery workers feel increasingly vulnerable to coronavirus
African American pastors call for equal treatment for people of color in coronavirus response
Tiny Louisiana parish has highest Covid-19 death rate in US
Michael Che Says He'll Pay Rent For 160 Apartments in Honor of Grandmother Who Died of COVID-19
---
Is It Ethically Okay to Get Food Delivered Right Now?
Unless you produce your own food, some combination of you and other humans has to transport it from wherever it's made to your stomach. In normal circumstances, most people don't dwell much on that fact, but during a pandemic, it makes deciding just how to procure sustenance highly fraught: Because every option comes with potential negative consequences for you and others—cashiers, shelf stockers, delivery people, restaurant workers, and so on—it can seem like there's no right way to get dinner.

For example, is it better to cook at home or get food from a restaurant? Getting takeout means leaving the house and potentially spreading or catching the coronavirus (and ordering delivery means shifting that risk onto someone else). Meanwhile, sticking to your own kitchen is safer for everyone involved—but it means not financially supporting workers and businesses that may desperately need the money. And if you cook, you still have to get groceries somehow, which again means either you or someone else going outside to transport the food.
---
People Are Coughing on Food and Pretending to Have Coronavirus—Why Would Someone Do That?
In New Jersey, a man coughed on a Wegmans employee and then claimed he had the novel coronavirus; he was arrested and charged with making a terrorist threat. In Pennsylvania, a woman walked into a local grocery store and coughed on $35,000 worth of fresh foods like produce, bakery goods, and meats. In North Carolina, a man who was arrested for claiming to have COVID-19 while filming a Facebook Live inside of a Walmart. And in California, a woman was in police custody after she entered a grocery store and licked a variety of items in the store, including meat, sparking panic among shoppers.

These are seemingly not isolated incidents. More and more reports have surfaced of people claiming to have COVID-19 or intentionally spreading germs in public areas, where others would obviously be alarmed—especially amid the pandemic. But why?

The answer could be a complicated one, Frank Farley, PhD, a psychology professor at Temple University in Philadelphia and a former president of the American Psychological Association (APA), tells Health. "This behavior hasn't been much studied," he says. "It is more embedded in this pandemic concept. It's a threat you can't see, can't stomp it under your foot. You don't know exactly what it is, but it seems to be almost overwhelming."
---
How to Safely Store Different Kinds of Meat—and Make It Last
Buying meat is often expensive, so when you do pick some up for a recipe, you don't want any to go to waste. In order to ensure it stays fresh, there are a lot of food safety factors to keep in mind. Store it safely in the refrigerator or freezer before you cook it, and you can keep your kitchen well-stocked for days, weeks, and even months to come.

The U.S. Food & Drug Administration (FDA) has specific recommended timeframes for storing different kinds of meat, from raw poultry and steaks to bacon and corned beef. It's divided into refrigeration and freezer guidelines, so you know exactly how long you can keep that ham you bought. We combined those parameters with storage tips from the Food & Wine Test Kitchen—read on for the full breakdown of how to store meat.
---
Should Homeless Shelters Serve Only Vegan Food?
Serving plant-based meals in shelters would alleviate health concerns about serving animal products to vulnerable people. Evidence is growing for the many health benefits of plant-based diets, and organizations like schools and hospitals are making the switch (and making the news for it). Last year, New York passed a law requiring that all state hospitals offer a plant-based option at every meal. The American College of Cardiology is encouraging every hospital in the country to follow suit. A shelter's decision about what types of meals to serve should be made by consensus, one that includes the members of society who require the shelter's services. Food-insecure people are especially vulnerable to adverse health effects; it's important that they, too, have access to nutritious fare.
---
In the poorest county, in America's poorest state, a virus hits home: 'Hunger is rampant'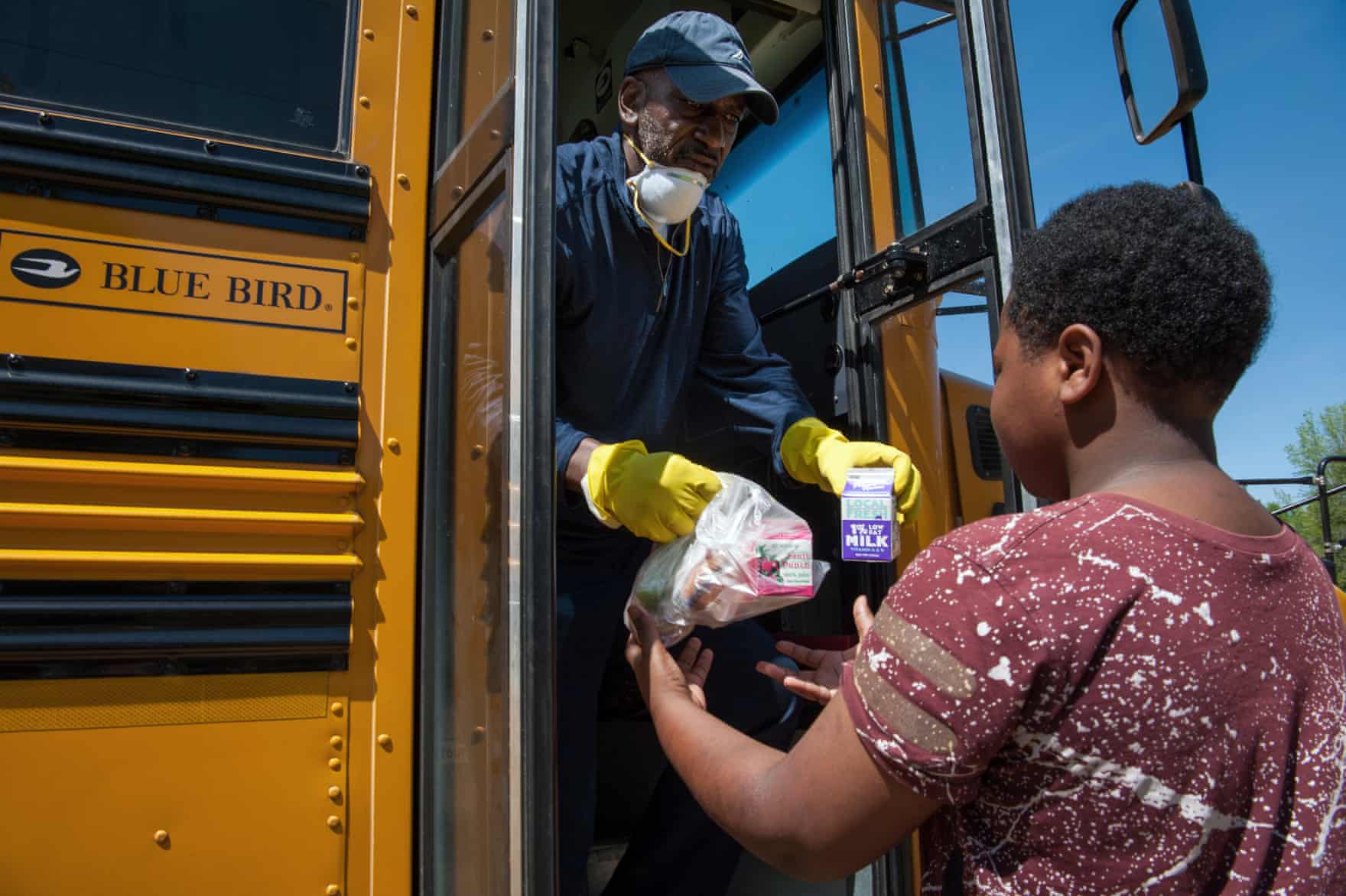 On the cracked country roads of Lexington, deep in the Mississippi delta, an empty yellow school bus drives slowly, making life-sustaining drop offs on the way.

Here, in the poorest county, in America's poorest state, the coronavirus has yet to ravage the jurisdiction with infection. There has been one recorded Covid-19 death in the county, Clinton Cobbins, Lexington's first African American mayor. But even now the coronavirus still poses a serious threat to life.

In Holmes county consolidated – the school district to which Lexington belongs – every single child qualifies for free school meals, a marker of pervasive poverty. For many, said superintendent Dr James L Henderson, breakfast and lunch at school are the only nutritious meals a student will eat in a day. For a few, they are the only meals.

When the coronavirus pandemic led to statewide school closures, Henderson, who was born in the county, left for most of his adult life, but returned in 2018 to assume his position, was left with a significant dilemma: how to feed the 3,000 children under his authority.
---
Lettuce Left To Die In California Fields As Produce Demand Withers Under COVID-19
Americans stuck at home to help curb the spread of the coronavirus can't buy enough toilet paper, cleaning supplies and alcohol, but there's plenty of lettuce and leafy greens. In fact, there is so much that West Coast growers are letting some crops die in the field. That's because in good times the majority of lettuce and broccoli are actually sold to restaurants and schools, not supermarkets.

"This thing has been just like hitting a brick wall, and we don't know how long it's gonna last," Larry Cox, owner of Salinas, California-based Coastline Family Farms, tells Forbes. Normally at this time of year his farms that sprawl across more than 10,000 acres in California, Arizona and Mexico, would be sending out 120,000 boxes of iceberg lettuce, romaine, green and red leaf lettuce, broccoli and cauliflower a week. About 70% of that would be going to food service companies and 30% to supermarkets. "We're lucky if we harvest much over 60% of what we have ready and scheduled to harvest the last couple weeks."
---
SNL's Michael Che Loses Grandmother to Coronavirus Pandemic 
Saturday Night Live mainstay Michael Che has lost his grandmother to the coronavirus pandemic, the comedian revealed Monday afternoon. In a sizable post on Instagram, Che revealed the news while warning others to begin taking the pandemic seriously, telling his hundreds of thousands of followers to adhere by any rules and regulations local governments may have in place at this time.

"Hi, I'm Michael Che, from TV. Last night my grandmother passed away from the coronavirus," Che writes in the post. "I'm doing ok, considering. I'm obviously very hurt and angry that she had to go through all that pain alone. But I'm also happy that she's not in pain anymore. And I also feel guilty for feeling happy. Basically the whole gamut of complex feelings everybody else has losing someone very close and special. I'm not unique. But its still scary."
Gay Deputy Sheriff Is Florida's First Line-of-Duty COVID-19 Casualty
Grocery workers are beginning to die of coronavirus
Tyson, JBS Closures Show Virus Hitting American Meat Production
Boy, one, is rushed to hospital after catching coronavirus from father when he brought it home from 'single short visit to Tesco'
Gay San Francisco Nurse Hospitalized With COVID-19
---
This Parasitic Worm Is Thriving in Nature, but May Affect Your Sushi Dinner
For parasitic worms of the genus Anisakis, life typically goes like this: after floating through the ocean in an egg, they hatch as wriggling larvae with a peculiar desire—to be eaten. Small crustaceans like krill gobble up the larvae, and those infested krill are then eaten by squid or small fish, which are devoured by bigger fish until they finally earn their nickname, whale worms, and end up in the bellies of whales or dolphins where they complete their life cycle by laying eggs that are subsequently ejected in the hosts' feces.

But sometimes, those big fish full of the worms—like salmon or herring—get intercepted by fishers and end up in markets. Although fish suppliers and sushi chefs diligently remove parasite-infected fish from their wares, occasionally one of those little buggers may wind up in your sushi roll.

Now, new research finds the global population of those parasitic worms, commonly found in sushi and other kinds of uncooked fish, has exploded in recent decades. The worms are 283-times more common than they were roughly 40 years ago, according to a new paper published in Global Change Biology.
---
Man, Uncle Murdered on Rural Road Were Hunting to Feed Family After Coronavirus-Related Layoff
On Saturday, as they hunted for food for their families after one lost his job amid the coronavirus pandemic, two Canadian men — an uncle and his nephew — were fatally shot along a rural road in Alberta, and police are investigating who killed them.

According to local reports from the National Post, the Edmonton Journal, and the Calgary Sun, Jake Sansom, 39, and Morris Cardinal, 57, were found dead on Saturday, a day after heading out on a moose hunt.

The Friday hunt was successful, as they returned home with one moose. They immediately went back out for a second.

The bodies were discovered on a country road near a black pickup truck early Saturday morning, north of Glendon, Alberta.
---
MAN CHARGED AFTER ALLEGEDLY COUGHING ON PACKETS OF NOODLES REFUSED DUE TO CORONAVIRUS PURCHASE LIMITS 
Police in Australia have charged a man accused of intentionally coughing on packets of noodles after being told by staff there was a limit on how many he could buy.

The suspect, a 34-year-old man from the suburb of Kooringal, tried to ignore the restrictions put in place as a result of the COVID-19 outbreak by purchasing four packets of noodles, police said. The incident took place at a Woolworths in Wagga Wagga, New South Wales, last Thursday.

After being approached by staff, the man allegedly coughed on the two packets he was refused and said "well they're now contaminated anyway," 9News reported.

His attempted rule-breaking noodle purchase was initially flagged by a self-serve register, Riverina Police District's Acting Detective Inspector, Steve Probst, told the news outlet.
---
You Shouldn't Be Wearing Gloves to Go Grocery Shopping
There's a lot of anxiety about grocery shopping these days, and one very visible manifestation of it is the number of people in the aisles wearing gloves. Rubber gloves, dishwashing gloves, regular winter gloves—"I actually witnessed people earlier this week wearing plastic bags on their hands," says microbiologist Kelly Reynolds, Ph.D., director of the environment, exposure science and risk assessment center at the University of Arizona.

Does wearing gloves make grocery shopping safer? First of all, grocery shopping, if you observe the current novel coronavirus safety recommendations, isn't ask risky as some parts of the internet have made it out to be (get point-by-point clarity on that here).

Second, and more importantly, "it could be causing a lot more harm than good," explains Reynolds. There are a number of issues:

Gloves are like hands when it comes to spreading viruses; maybe even worse.
---
This game-changing trick will keep your avocados fresh for MONTHS - and you only need a freezer and a working tap
A clever health food aficionado has shared her foolproof trick for keeping avocados fresh for months, and you'll only need a freezer and some hot water.

Bethany Ugarte, who is based in California, uploaded an Instagram video showing exactly what she did to keep her Hass avocado ripe and ready to eat after four months in the freezer.

Notorious for being ill-timed in their ripening, Bethany was determined to use her avocado for cooking after freezing it in time 121 days ago.
---
Can I Get Coronavirus From Food? Scientists Say Yes and to Step Away From the Deli Meats. 
Research has confirmed the coronavirus can survive on hard surfaces, like plastic and metal, for days. But it turns out, food can also be a carrier of the contagious respiratory illness, especially items like deli meats, salads, and certain fruits.

"Moist, semi-solid foods are a wonderful medium for microbes and can boost the longevity of the virus," said Dr. Jack Caravanos, a clinical professor at New York University's School of Global Public Health. "It's as good of an environment for the virus as your mouth."
CAN I CATCH CORONAVIRUS FROM MY PHONE, CLOTHES OR OTHER SURFACES?
---