Gay+
---
Welcome to Errattic! We encourage you to customize the type of information you see here by clicking the Preferences link on the top of this page.
SUPERMARKET 'KAREN' 2.0

ANOTHER MASK MELTDOWN ...

Chucks Food This Time!!! 
Another day, another person going berserk over face mask policy -- only this time, it happened down in Texas ... and food went flying everywhere.

A new video of a supermarket 'Karen,' if you will, is making the rounds online, which shows a lady having a complete and utter meltdown inside what appears to be a Fiesta Market in Dallas ... after she was apparently asked to put her mask back on to check out.
'Exhausted' by customers' rage over wearing masks, California taco chain shuts down
Video Shows Woman Spit at Gas Station Worker After Being Told to Wear Mask
---
A White Couple Was Caught on Video Pointing Guns at Black Lives Matter Protesters in St. Louis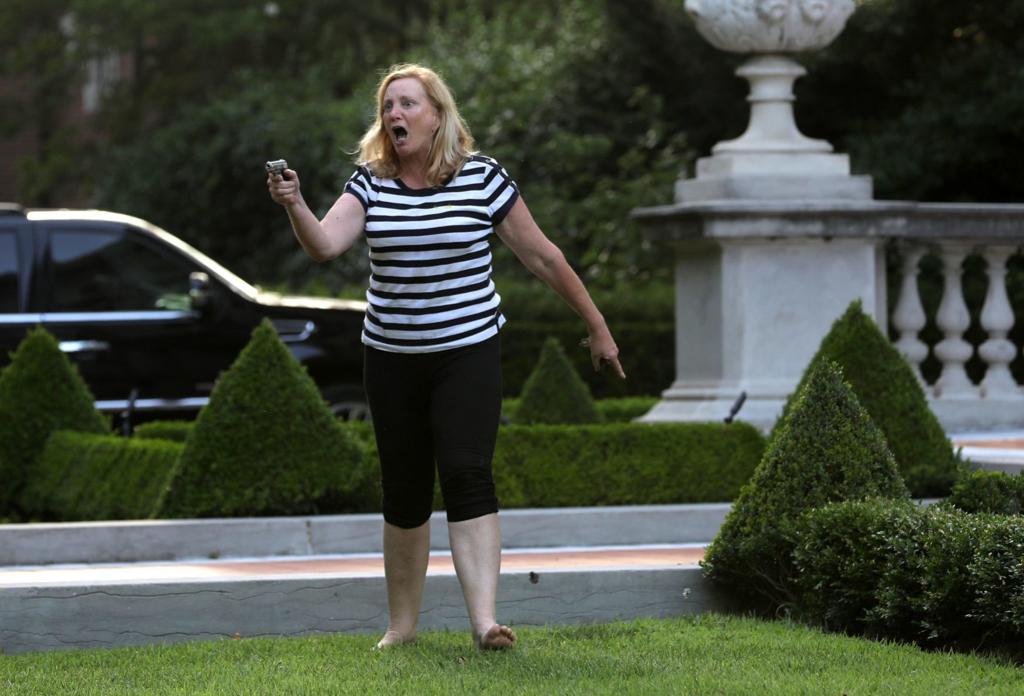 An armed white couple waved their guns and yelled at Black Lives Matter demonstrators in St. Louis on Sunday, during a protest march to St. Louis Mayor Lyda Krewson's home.

At least 500 people peacefully marched through St. Louis' Central West End neighborhood on Sunday demanding Krewson's resignation, according to the St. Louis Post-Dispatch. Krewson appeared in a Facebook Live video last week reading the names and addresses of people who had called for defunding the city's police department.
Man Fired for Racist Rant Supporting Slavery and Lynchings of Black People
John Wayne's son responds to resolution calling for John Wayne Airport to be renamed
Michigan Woman Yells Racial Slurs at New Neighbors in Viral Video
San Jose man charged with hate crime in Santa Cruz assault incident
Adam Carolla defends Jimmy Kimmel over blackface backlash: 'We've lost our minds'
Little Caesars fired two employees after a couple found a swastika made of pepperoni on their pizza
---
White couple blocks Mexican American from entering his building, called him 'criminal' 
A white couple blocked a young Mexican American man from entering the San Francisco apartment complex where he lives in, saying "they would not let a criminal into their complex as they needed to protect it."

Michael Barajas, a UC-Berkeley graduate and a community educator for a biopharmaceutical company, tried to park his car in the apartment complex's garage Tuesday night when the driver in front of him refused to pull forward.

Barajas, 28, told NBC's Bay Area affiliate KNTV that the situation kept escalating and turned dramatic when the white man in the car got aggressive, which prompted him to start recording.
White Men Light Black Teenage Girl's Face on Fire in Wisconsin
Kansas State players speak out after offensive George Floyd tweet made by student leader of white nationalist group
Whole Foods workers sent home for wearing Black Lives Matter masks
White man called police on Black and Hispanic men at marina
Indian restaurant vandalized with 'White power' and Trump 2020' gets donations, support
---
Black Lives Matter activist Shaun King says statues of Jesus Christ should be torn down — but just the white ones 
Black Lives Matter activist Shaun King said that it is permissible to tear down the statues of Jesus Christ that show him with European features because they support white supremacy.

"Yes, I think the statues of the white European they claim is Jesus should also come down. They are a form of white supremacy. Always have been," King tweeted on Monday.

"In the Bible, when the family of Jesus wanted to hide, and blend in, guess where they went? EGYPT! Not Denmark. Tear them down," he added.

"Yes. All murals and stained glass windows of white Jesus, and his European mother, and their white friends should also come down," he explained in a second tweet.
Black graduate student target of racist rant while walking in New York
Ohio Girl Writes 'Black Lives Matter' in Chalk, Neighbor Calls Police
A City Painted Over A Black Lives Matter Street Mural As Protests Continue
Steve McQueen calls race imbalance in UK film and TV "blindingly, obviously wrong"
'The greatest trick racism ever pulled was convincing England it doesn't exist'
Padma Lakshmi Is Tired of Being Delicate
---
One in four LGBT+ Americans faced hunger even before coronavirus
More than one in four LGBT+ Americans could not afford to buy enough food to eat during the past year.

Women, people of color, young adults, and those with low incomes have particularly high rates of food insecurity.

That's according to a new report by the respected Williams Institute.

Moreover, the figures are based on data from before the coronavirus pandemic hit. Since then the number of unemployed people in the US has soared to 33 million or 20.6% – the highest level since 1934.

Bianca DM Wilson, is senior scholar of public policy at the Williams Institute and the report's lead author. She said:

'Before the pandemic, hunger was a persistent problem for one in four LGBT adults. COVID-19 and the resulting economic downturn are likely to have a major impact on this population.'
---
Is It Gay to Order Dessert, Fellas? According to This Tweet It Is
We know there's a lot of things that mean a person is gay (having a physical, romantic, and/or emotional attraction to someone of the same sex being the primary and most obvious thing), but did you know that one of those things includes something as mundane as...ordering dessert??
---
Colin Fassnidge from My Kitchen Rules offers free food to those in need amid the coronavirus pandemic 
Colin Fassnidge has launched an online cooking show with his wife and daughters while in lockdown amid the coronavirus pandemic.

And on Wednesday, the celebrity chef stepped out of his home to offer free food.
Twitter founder Jack Dorsey pledges $1 billion donation to fight coronavirus
Here's who can get a laptop or tablet from CPS for home use
---
"Twinks for Trump" founder held a "corona potluck" to spread the virus 
"Twink for Trump" Lucian Wintrich talked to the New York Post about a "corona potluck" – a get-together he organized where he discouraged people from washing their hands – that he organized earlier this month.

Wintrich, who parlayed his notoriety from the group Twinks for Trump into a paid gig at the far-right website Gateway Pundit, said that the idea was inspired by "chickenpox parties" – where parents take their kids to deliberately infect them with the disease.
Rodney Howard-Browne, Megachurch Pastor Who Flouted Virus Rules, Arrested
University that punishes students for being gay told kids to go to class during coronavirus. Now they're really ill
'Sick experiment': Arizona not implementing coronavirus lockdown measures
Crowds ignore social distancing rules to watch USNS Comfort
Feds: Price-Gouging Suspect Coughed on FBI Agents, Said He Had Coronavirus
THE HAMPTONS BEACHES FILLING UP ... Social Distancing Struggle Is Real!!!
Be a good Samaritan: N.Y. lawmaker calls out minister for anti-LGBTQ remarks
Woman Charged With Terrorist Threat After Coughing On $35,000 Worth Of Groceries
Who's the biggest COVIDIOT of them all — you be the judge
---
Michael Rapaport Drops 24 F-Bombs In Angry Rant Against Coronavirus Revelers
Public health officials are urging people to remain inside as much as possible to prevent the spread of coronavirus, yet news footage shows crowded parks and beaches in some places.

And actor Michael Rapaport is pretty angry about the whole thing.

Readers be warned: Rapaport's language is salty.

"Get your little, dirty, fucking grubby, selfish, YOLO fucking dumb tattooed faces in the fucking house," he said, addressing younger people.

And parents? You're not off the hook, either.

"Parents, get your fucking kids," Rapaport said. "This nice guy shit? It's done. Get your fucking kids in the fucking house."
N.J. Man Faces Charges for Allegedly Coughing on Grocery Worker, Saying He Had Coronavirus
---



Lesbian sues Burger King for harassment like asking who is "the man" in her relationship
Burger King dressed as McDonald's
A lesbian has filed a discrimination complaint against the Washington, D.C. Burger King where she works, alleging that her manager repeatedly harassed her due to her sexual orientation and caused her to have severe anxiety and even attempt suicide.

The Washington Blade reports that Ingrid, who did not want her last name published, said after finding out she was gay, her manager approached her from behind multiple times after she worked with a female customer and whispered, "Do you like that woman?" into her ear.
---
Everyone Is Laughing At This Man Who's Afraid Of The "Gay Agenda" Sandwich
A man is upset over a nine-month-old sandwich, which he believes is part of the gay agenda.

On Wednesday, American media personality Tariq Nasheed tweeted his thoughts about a lettuce, guacamole, bacon and tomato sandwich. According to Tariq, the LGBT sandwich was clear evidence of the gay agenda taking over the world.

"'Bu bu bu but, AiN't nO aGeNdA'…," he tweeted alongside a photo of the delicious ~super gay~ looking sandwich placed inside a rainbow box.
---
Three armed men rob Palm Springs business; flee with cash after striking employee
Three armed men entered a Little Caesar's Pizza in Palm Springs just before 10 p.m. Sunday, demanded money and fled with cash after striking an employee in the head. Palm Springs police announced Thursday.

---
Man claims discrimination in lawsuit filed over breakfast
A North Carolina man has filed a handwritten lawsuit against a fast food chain, saying he was discriminated against because he had too few hash browns with his breakfast order.
---
CONNECTICUT WOMAN ATTACKS PREGNANT MCDONALD'S WORKER OVER 'MESSED UP' ORDER, TRIES TO MAKE HER OWN MCCHICKEN SANDWICH 
A Connecticut woman is accused of attacking a pregnant McDonald's worker and yelling that she hopes she loses her baby after becoming irate at staff for getting her order of McChicken wrong.
Day care worker caught on video abusing toddlers
---
San Jose to hang rainbow flags at airport Chick-fil-A in support of LGBTQ rights
A California city that last year approved the addition of a Chick-fil-A at its local airport now wants to send a message of support to LGBTQ people as the opening date for the fast-food restaurant nears.

The San Jose City Council voted 11-0 on Tuesday to hang rainbow flags in support of LGBTQ people and pink, blue and white flags for transgender rights at or near a Chick-fil-A due to open in May at San Jose International Airport.

Rosemary Barnes, a spokeswoman for the airport, said it will decide where to place the flags.

The council's vote comes as two other cities around the country have blocked Chick-fil-A from opening at their airports over concerns that the restaurant chain has a record of supporting anti-gay organizations.
---