All Posts Tagged as 'Mental Health'
Welcome to Errattic! We encourage you to customize the type of information you see here by clicking the Preferences link on the top of this page.
Stealing in Children and Adolescents
Parents should consider whether the child has stolen out of a need for more attention. In these cases, the child may be expressing anger or trying to "get even" with his or her parents; the stolen object may become a substitute for love or affection. The parents should make an effort to give more recognition to the child as an important family member.

- tell the child that stealing is wrong

- help the youngster to pay for or return the stolen object

- make sure that the child does not benefit from the theft in any way
---
Florida students, aged 14 and 13, 'plotted Columbine-style shooting... 
Two Florida middle school students have been ordered to remain at a juvenile detention center after allegedly planning to carry out a mass shooting mirroring the 1999 Columbine massacre.

Phillip Byrd, 14 and Connor Pruett, 13, who are eighth-grade students at Harns Marsh Middle School in Lehigh Acres, near Fort Myers, appeared in front of a judge on Sunday morning.

The judge ordered the two to be held for at least 21 days in a juvenile detention center.
'TSUNAMI' OF SCHOOL ANXIETY FUELLING ABSENCES...
'Mentally ill' NYC teen, 18, jumps to his death from the roof of his ten-story Manhattan apartment building
---
Patrick Dempsey accused of 'terrorizing the set' of Grey's Anatomy
'There were HR issues. It wasn't sexual in any way. He sort of was terrorizing the set, Parriot - one of the book's 80-plus sources - said. 'Some cast members had all sorts of PTSD with him.'
Patrick Dempsey accused of 'terrorizing the set' of Grey's Anatomy
---
New Study Finds Yet Another Health Benefit Of The COVID Vaccine 
Getting the coronavirus vaccine provides one obvious and significant health benefit: It protects you from getting seriously sick or dying if you come into contact with the virus.

That, in itself, is amazing. But new research published on Wednesday points to another striking benefit of rolling up your sleeves that should not be dismissed: People who get vaccinated may experience significant improvements...
New Study Finds Yet Another Health Benefit Of The COVID Vaccine
Gorillas at Zoo Atlanta test positive for Covid
---
Three Things People Say That Annoy Psychologists 
I often dread telling people I'm a psychologist, particularly outside of the office. Although I'm proud of my profession, I know that people often hold stereotypes and misgivings about what I do. These can be based on negative personal experiences with the field.

As a result of these influences, people often say things to psychologists that I've heard many of my colleagues characterize as "annoying." Personally, however, I'm glad they say them. It gives us a chance to address their questions and concerns. In that spirit, here are three things that people say that sometimes annoy psychologists and some facts about the field to go along with each one.

1. "Are you analyzing me?"
Three Things People Say That Annoy Psychologists
The 240 shocking texts a female psychologist sent a 17-year-old client who she had sex with
---
Young People Are Anxious About Climate Change
Of those surveyed, nearly 60% reported that they felt either "very" or "extremely" worried about climate change, and more than half said climate change made them feel "afraid, sad, anxious, angry, powerless, helpless, and/or guilty."
Young People Are Anxious About Climate Change
---
Five shot at Atlanta Marquette Lounge on Labor Day morning after LGBT black pride event 
Witnesses told local newspapers that they were at the club for a black gay Pride block party.

At least five people were injured, however, they all luckily sustained non-life-threatening injuries.

It is unclear if the suspect has been caught yet.
Hooded Men Carved Anti-Gay Slur Into Man's Buttock
Man 'subjected to homophobic assault' in Madrid says injuries were consensual
Man blames gay panic & demon possession in "bloodthirsty" stabbing
Man, 67, hospitalised after being tied to tree and beaten in apparent hate crime
---
School is only just starting and already kids are being quarantined in mind-boggling numbers: 20,000 across the state of Mississippi, 10,000 in a single district in Tampa, Florida. They're getting sick too, with hospitalizations of kids under 17 across the country up at least 22 percent in the past month, by the CDC's count, and each new week sets pediatric hospitalization records for the entire pandemic. The rapid increase of COVID-19 cases among kids has shattered last year's oft-repeated falsehood that kids don't get COVID-19, and if they do, it's not that bad. It was a convenient lie that was easy to believe in part because we kept most of our kids home. With remote learning not an option now, this year we'll find out how dangerous this virus is for children in the worst way possible.

It's enough to bring a parent to tears, except that every parent I know ran out a long time ago—I know I did. Ran out of tears, ran out of energy, ran out of patience. Through these grinding 18 months, we've managed our kids' lives as best we could while abandoning our own. It was unsustainable then, it's unsustainable now, and no matter what fresh hell this school year brings, it'll still be unsustainable.
I've Never Wanted Kids—People Told Me My Life Is Pointless'
---
'I would always say I was consenting, and then I'd be reminded like 'Hey, you were 15, you're not consenting at 15.' Now I'm like, 'Oh yeah, they're all pedophiles. It's all statutory rape.'
---
Job applicant outs boss for calling her 'not that cute' in accidental email 
A Michigan woman was shocked after accidentally receiving a hurtful message from her prospective employer, in which he described her as "not that cute." A now-viral video detailing the incendiary application review — posted Thursday on TikTok — has amassed more than 1.3 million views on the streaming platform as of Friday morning.
Job applicant outs boss for calling her 'not that cute' in accidental email
I Was On A Perfect Date Until His Comment About My Face Caused Everything To Unravel
Tarek El Moussa Reportedly Verbally Assaulted Ex-Wife Christina Haack on HGTV Show Set
WOMAN IN CROP TOP LEFT IN TEARS AFTER BEING 'SHAMED' BY ALASKA AIRLINES ATTENDANT
Woman slams auto shop after employee allegedly kicked her out over her 'inappropriate' top
Critics said Eric Stonestreet looks 'too old' for his fiancée, so he 'fixed it'
Woman calls out her boyfriend on TikTok after finding a video of him MOCKING her breakfast
---
The Batman Allegedly In Jeopardy After Robert Pattinson Caught Having Sex On Batmobile 
The future of The Batman and its potential sequels may now be in jeopardy, as a new rumor claims that Matt Reeves has refused to work with Robert Pattinson ever again after catching the actor having sex atop the film's Batmobile prop.

"He literally told Pattinson, 'You are the most entitled narcissistic actor I've ever worked with, you go back to work, we finish filming in March and then we are done. I don't want to ever work with you after this film,'" wrote the supposed The Batman set worker. "He even said he refuses to do reshoots if they will be needed. I don't know what they are gonna do but they try to keep this situation on leash before the media will make it official."
Robert Pattinson Caught Having Sex On Batmobile
Robert Pattinson Has Pissed The Whole Batman Team
It is being speculated that Matt Reeves is done with Robert Pattinson's tantrums on sets and wants him erased
---
Are You Codependent or in Love?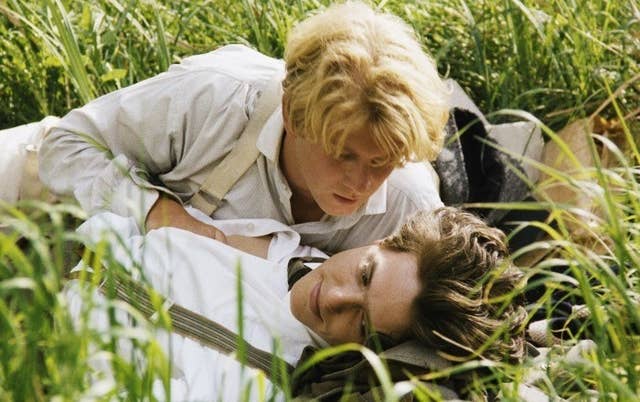 The key difference between codependency and love seems to lie within the intention. With codependency, feelings are often rooted in low self-esteem, insecurity, and inadequacy. It's the notion of needing someone versus wanting them. This typically results in a person losing respect for themselves and only focusing on the needs of their partner.
Are You Codependent or in Love?
---
Tennessee boy, 9, who ran away 'to escape abuse at home' and was found two days later living in a shack he built  
The adoptive mother and brother of a nine-year-old boy who ran away to flee alleged abuse at their hands have been both charged with child abuse, WKRN reports.

Colette Gorman and her biological son Alvin Jensen were arrested for the charges in Cheatham County on Wednesday, according to the Tennessee Bureau of Investigation.

Gorman, 66, was the adoptive mother of Jordan Gorman, who was reported missing back in November 2020.
---
I Saw My Son and His Boyfriend Hitting Each Other
My son Jackson came out as bisexual last year, and my husband and I do not have a problem with that at all. Sexuality doesn't matter to us, and we were just so happy he decided to open up. Jackson introduced us to Nathan about a year ago. Nathan seemed like a great guy—smart, funny, got along with everyone, and was great with Jackson—and it seemed they were very much in love. For the past year, their relationship has been going seemingly smoothly, and they are glued together whenever we visit.

But about three weeks ago now, we witnessed a rather troubling fight between them. There is no street parking outside their apartment, so we had to park a while away and walk (we were slightly early for a planned lunch outing with the boys). As we got closer, we saw Jackson and Nathan having what looked like a heated argument between them in a public street. Nathan shoved Jackson in the chest. Before my husband reached the boys, Jackson had already responded by punching Nathan in the face.
I Saw My Son and His Boyfriend Hitting Each Other
---
Quentin Tarantino vowed as a kid never to share a 'penny' with his mom 
The "Pulp Fiction" director reportedly wrote a script called, "Captain Peachfuzz and the Anchovy Bandit" when he was just 12.

Tarantino shared with Koppelman that he struggled academically in school, and that, "my mom always had a hard time about my scholastic non-ability."

When Tarantino was in trouble for writing the screenplays in school, he recalled of his mom, "she was bitching at me… about that…. and then in the middle of her little tirade, she said, 'Oh, and by the way, this little 'writing career,' with the finger quotes and everything. This little 'writing career' that you're doing? That shit is over!'"
Paulina Porizkova Shares Teary-Eyed Selfie Opens Up About 'Trust After Being Betrayed'
Star Trek legend Nichelle Nichols, who suffers from dementia, is at the center of a 'heartbreaking' three-way conservatorship battle
Daniel Craig calls inheritance 'distasteful,' will 'get rid of' money
Marlon Wayans Explains Why His Mom Is the Reason He Never Got Married
Dog the Bounty Hunter's Daughter Bonnie Accuses Him of Racism and Homophobia
Rod Stewart, 76, and son Sean, 40, could have assault charges DROPPED
Lisa Rinna savagely reacts to Amelia Hamlin and Scott Disick's breakup
---