Gay+
---
Welcome to Errattic! We encourage you to customize the type of information you see here by clicking the Preferences link on the top of this page.
US lawmaker 'punched wife for not undressing quickly enough'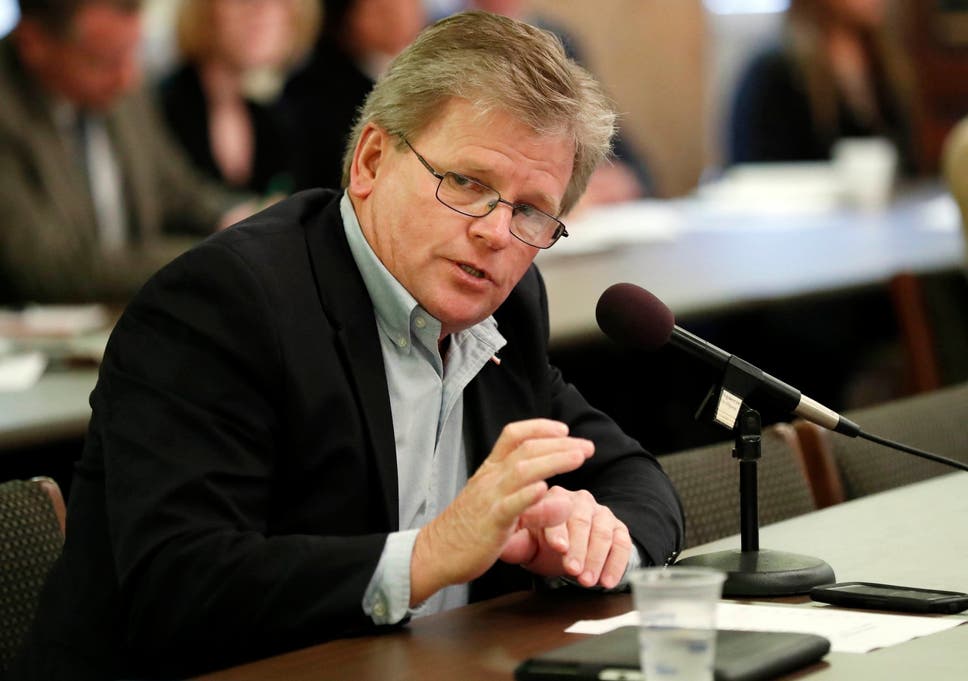 Doug McLeod, 58, was arrested on Saturday night in George County on a minor domestic violence charge.

His fellow Republicans in the state said Mr McLeod should resign immediately if the claims are true.

Mr McLeod, a father-of-three, did not immediately respond to a request for comment from the BBC.

When police arrived at his home in Lucedale, 150 miles (240km) south-east of the state capital Jackson, they found Mr McLeod intoxicated with an alcoholic beverage in hand, according to an official report viewed by the Sun Herald newspaper.

Deputies described Mr McLeod as slurring his speech and walking "slow in a zigzag pattern".
---
Child bride auctioned on Facebook in 'barbaric use of technology'
Facebook has come under fire for a "barbaric use of technology" that allowed the sale of a child bride to be held on its site.

An auction was held on the social media platform for a 16-year-old girl in South Sudan which sought payment for her hand in marriage.
Facebook said the post was taken down as soon as the company learned of it, but that wasn't until after the girl was married.

According to children's rights organization Plan International, the girl was bid on by five men, some of whom were reportedly high-ranking South Sudanese government officials.
Man Sentenced to Life for Raping 7-Year-Old Girl Just 6 Weeks After Being Released for Another Rape
More than 420 suspects are being investigated in £100m Rotherham grooming inquiry after conviction of gang who forced girl to have sex with 'at least 100 Asian men' by the time she was 16
---
THE U.S. CATHOLIC CHURCH IS FACING AN UNPRECEDENTED WAVE OF SEX ABUSE INVESTIGATIONS
In the months since a Pennsylvania grand jury announced the names of more than 300 priests who'd abused at least 1,000 children, authorities across the United States have launched investigations of unprecedented scale into sex abuse within the U.S. Catholic Church.

On Wednesday, Virginia became at least the 15th state where officials have announced a plan to investigate sex abuse allegations within the Church. At the federal level, the Justice Department has subpoenaed records from at least seven of Pennsylvania's eight Catholic dioceses, the Associated Press reported last week, in a probe believed to be the first of its kind, according to the Survivors Network of those Abuse by Priests (SNAP).
Pope Francis fires bishop of Memphis
Chile: abuse victims file complaint against ex-archbishop
Priest accused of lying about attack sidelined amid abuse allegation
WILL CATHOLIC CLERGY BE ALLOWED TO MARRY? THE POPE IS CONSIDERING IT.
---
Trump administration halts visas for unmarried same-sex partners of foreign diplomats
The Trump administration will no longer provide visas for same-sex domestic partners of foreign diplomats and U.N. officials serving in the U.S., a policy that went into effect Oct. 1.

Only if a same-sex couple is married will the spouse be eligible for a visa, but that could prove problematic for some, as the majority of the world's countries do not recognize same-sex marriages.
---
Gay man sues Washington Teachers Union for discrimination
A gay former employee of the Washington Teachers Union filed a lawsuit in federal court on Sept. 18 accusing the union, its president, and its former chief of staff of subjecting him to a hostile work environment and later firing him because of his sexual orientation.

Upper Marlboro, Md., resident Barry Hobson, 36, charges in the lawsuit that he was subjected to unfair and discriminatory treatment and harassment by WTU's then chief of staff, Dorothy Egbufor. The lawsuit says Egbufor served as Hobson's immediate supervisor shortly after he was hired as a receptionist and office assistant on Jan. 15, 2017.

Hobson's attorneys filed the lawsuit on his behalf in the U.S. District Court for the District of Columbia. In addition to Egbufor, the lawsuit names as defendants Washington Teachers Union President Elizabeth Davis and the union itself, which represents 5,000 D.C. public school teachers.
---
Sam Sparro Marries Partner Zion Lennox in California
Australian singer-songwriter Sam Sparro, known best for his 2008 single "Black and Gold", married his partner Zion Lennox in Joshua Tree, California. Lennox posted a photo to Instagram on Thursday night, captioned: "So excited to be marrying the love of my life tomorrow @samsparro."
---
Gay man arrested after stabbing boyfriend for refusing 'second round of sex' 
A gay man is facing attempted murder charges for allegedly stabbing his boyfriend.

Police are accusing a 23-year-old of stabbing his 46-year-old partner for refusing a 'second round of sex'.

The incident happened Wednesday morning (19 September) in Pune city, India.

'On Tuesday night, the accused visited the complainant and they had sex,' a police official in Khadak said.

'When the complainant again wanted to have sex in the morning, the accused refused, which led to a fight.'
Man pleads guilty to blindfolding straight men and tricking them into gay porn
Men Lured to Oklahoma City Home via Grindr, Then Robbed at Gunpoint
Hours after raping a gay man, the attacker was killed in a shootout with police
UK Home Office to split this British-American gay couple, suggests they move to Canada
Conservative journalist tries to humiliate 11-year-old drag kid, but it blows up in his face
---
Tamera Mowry Defends Husband Adam Housley on The Real: 'My Husband Is Not a Racist'
Tamera Mowry-Housley is standing by her man.

The mom of two, 40, discussed the assumption that her husband Adam Housley is racist because of his affiliation with politically conservative channel Fox News during her talk show The Real on Tuesday morning. The network hired Housley as a Los Angeles-based reporter in 2001, but he left last month, according to Politico.

"There are some people who think that my husband is racist because he worked for a certain channel," said the former child star, who is half-black. "I'm gonna look in that camera right there and let everybody know my husband is not a racist."
---
MAN ARRESTED FOR WALKING WIFE AROUND ON DOG LEASH AT PENNYSLVANIA FAIR
A man walking his wife around on a dog leash at an annual Pennsylvania fair was arrested and charged with simple assault.
---
DAVID HARBOUR OFFICIATES FAN'S WEDDING DRESSED AS 'STRANGER THINGS' CHARACTER JIM HOPPER
Stranger Things' David Harbour followed through with a promise he made in January to officiate a fan's wedding Saturday.

"Hey internet. I know it's been a while. I retreated. Needed some space. You probably get it," the actor wrote on Twitter. "But I've been thinking about ya in the interim. And all your retweets. And, so, me and some fun folks in Springfield, Illinois, made good on our promise we made all those months ago."

He attached a photo to the post showing he dressed as his character from Stranger Things, Chief of Police Jim Hopper, for the ceremony.

"@DavidKHarbour was so awesome yesterday," the fan wrote Sunday. "We had such a great time!!! Thank you so, so much!!"
---
Moonves' Ouster Leaves Julie Chen in Awkward Spot as Host of Two CBS Shows 
Julie Chen remains an integral part of two CBS Corp. TV programs, even as her husband, former chairman-CEO Leslie Moonves, has left the company under a cloud. That awkward situation has given rise to speculation about whether she can continue her work.

Viewers of "The Talk," one of two CBS series on which Chen serves as a host, have not heard directly from her this week in the wake of Moonves' forced resignation on Sunday. Moonves was ousted just hours after the CBS Corp. board of directors announced Moonves would be leaving the company amid multiple accusations of sexual misconduct leveled at him. He has denied many of the allegations.

"I am taking a few days off from 'The Talk' to be with my family. I will be back soon and will see you Thursday night on 'Big Brother,'" Chen said in a statement issued just before Monday's edition of "The Talk" aired. Her other co-hosts on the program, including Sharon Osbourne and Sara Gilbert, have discussed the fallout from Moonves' departure on both episodes broadcast this week.
Kathy Griffin lashes out at Julie Chen
---
Sarah Michelle Gellar Shares Funny Marital Advice on 16th Anniversary with Freddie Prinze Jr.
First comes love, then comes marriage, then comes wishing you had a club and spade?

That's the advice Sarah Michelle Gellar jokingly suggested after 16 years with her husband Freddie Prinze Jr. in honor of the couple's anniversary.
---
Catholic Church bombshell: Lay board that probed sex abuse seeks to be reappointed 
A lay board appointed 15 years ago by the U.S. Conference of Bishops to investigate the priest sex abuse scandal is seeking to be reappointed and given the power to probe high-ranking members of the Catholic Church in the United States, according to a bombshell letter obtained by Sneed.

The nine-member panel — which included Illinois Supreme Court Justice Anne Burke; President Barack Obama's former CIA chief and Defense Secretary Leon Panetta; powerful Washington, D.C., attorney Robert Bennett; and New Mexico Supreme Court Justice Petra Jimenez Maes — worked together last week by phone to hammer out its request, a copy of which is included below.

Burke, on behalf of the group, sent the letter to U.S. Conference of Bishops president Cardinal Daniel DiNardo on Friday.

The letter cites recent claims by a retired top Vatican official that Pope Francis himself knew about sexual misconduct allegations against the former archbishop of Washington, Cardinal Theodore McCarrick, but that Francis restored him to public ministry anyway. McCarrick resigned in July after an abuse allegation lodged against him was deemed "credible."
This militant Christian group to 'rally for reparation' against Malta Pride
In wake of sex abuse crisis, archbishop asks Pope to cancel youth conference
Pope Francis' Accuser Turns Up the Pressure With More Accusations
Twitter Explodes After Pope Declares 'Emergency' Not Related To Pedophile Scandal
Chilean prosecutors say Church abuse investigations triple
An 'Uck Party' Is Child Sexual Exploitation Under a New Name
Minister who railed against same-sex marriages resigns after disrespecting his wife
---
Elderly lesbian gains victory against retirement home for harassment 
An elderly woman said she was harassed and discriminated against at her retirement home in Illinois for being a lesbian. On Monday (28 August), a US appeals court granted her a crucial victory.

Marsha Wetzel moved into Glen St. Andrew Living Community in Niles, right outside of Chicago, after her longtime partner passed away.

While residing there, she said she faced terrible homophobic abuse, including residents yelling slurs at her and spitting on her.

In another incident, Wetzel alleged one resident rammed into her scooter and toppled it over. She said she fell and bruised her arm.
Judge declares lesbian, 74, legally married to recently deceased partner
---
WOMAN STRANGLED 73-YEAR-OLD BOYFRIEND WITH T-SHIRT BEFORE USING ACID ON ROTTING CORPSE: AUTHORITIES
The "sour" odor wafting around a Las Vegas mobile home wasn't "bad food." It was "Grandpa."
Arkansas Man Convicted in Road Rage Killing of 3-Year-Old
Hong Kong doctor 'killed wife and daughter using gas-filled yoga ball'
Urban Meyer Suspended by Ohio State Amid Domestic Violence Scandal
---