Movies Posts Tagged as 'Sweet'
---
Rating key:
Welcome to Errattic! We encourage you to customize the type of information you see here by clicking the Preferences link on the top of this page.
Soul (2020)
A family film split in half. The adults receive culturally defined animation and the kiddies get dots reimagining the meaning of life. It's bold to reinforce a belief on someone, it's even bolder to downplay it so I can believe it.
21-Jan-2021
---
Secret Society Of Second-Born Royals (2020)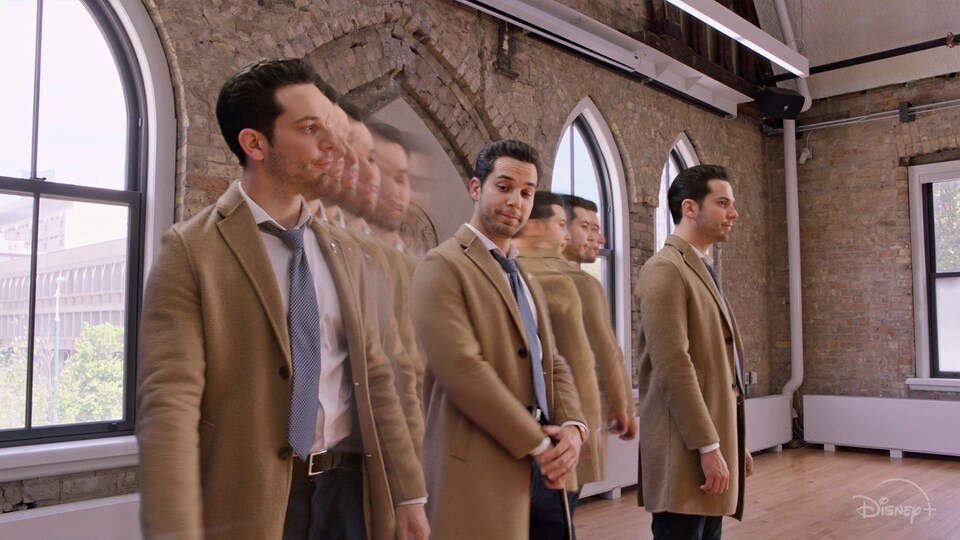 Teens born of royalty and irrelevance (they don't qualify for a crown) are redeemed with superpowers and covert missions to serve their nation. The powers are light, the kids are sweet, the action is wavy but the heart beats. A gay superhero mentor is a bonus.
21-Jan-2021
---
Susan Slept Here (1954)
Sexagenarian writer is gifted a teen juvenile delinquent as a Christmas present from the police department to inspire his next tale. The pretense is cute, the aspirations are undyingly noble, the actors are up to par but the tale dictates that daddy reject a mare for a goat. Nasty, dude. Debbie Reynolds was adorable, Dick Powell was sweet, everything was vibrant, and a feminist wave was woven but the consequences are uncomfortable. It is a good movie, though.
30-Dec-2020
---
Just Another Christmas (2020)
Once the lunacy takes a seat the Ground Hog Christmas motif finds its groove and its heart. Daddy wakes up every Christmas but doesn't remember anything he did all year. He wakes up to grown kids, a failed marriage, a mistress, three dogs and a few makeovers. He spends Christmas abhorring the man he has become and can't control. The family is loud and homey, the sentiments are sweet and the idea is respectful. Feliz Natal.
25-Dec-2020
---
Rock-A-Bye Baby (1958)
Starlet is knocked up by a Mexican bullfighter that she drunkenly married one day and literally died the next. Her career is on the upswing. Her next film is entitled "The White Virgin Of The Nile." With no recourse she turns to her childhood buddy and hometown slub to babysit her babies after secretly giving birth and whilst she makes the film. Jerry Lewis' exasperating talent is at half mast. When he lets loose we cringe, when he sings and curls his lip we bite ours. He won't let comedy be. He needs to smash it with babyface spasms and off-color perversity. He doesn't matter one bit. It's a beautiful film to observe. The music is light, the story is sweet and life was simple. Marilyn Maxwell exemplifies the Hollywood Goddesses of her time and the clothes accentuated her power. Connie Stevens was purity enchantment. It's a piece of candy I didn't want but I tried it and couldn't stop eating or talking about it.
20-Dec-2020
---
A California Christmas (2020)
A woman can't do everything. Rich Californians gobble up real estate so they can turn the future into an unscientific reality. Hot country girl can't maintain the farm, has an ailing mother and a spunky sister. Hotter rich player schemes to get her to sell him her home at an astronomical price so they can build malls or something. He infiltrates the cowgirl's pants by pretending to be a Mexican ranch hand. Hotter is a beautiful mix of Superboy eggs and Zac DNA. Whomever was in charge of casting needs to be hired for our next gay friendly Christmas preach. I don't want to see people like myself on a screen that I pay for. We want the people that God granted the gift of beauty to. He wants us to be inspired by his art. So we shall. This film pays homage to that. The music makes you want to see it again, the actors hee and haw pleasantly and chemistry kills stupidity. Ass hugging crotch enhancing jeans, hot old daddy servants, wenches, witches, lesbians, Mexicans... Manny and Ali as lovers would have been adorable. It's a crappy gorgeous joy ride. As soon as Superboy ripped a child out of a female vagina, I was in.
17-Dec-2020
---
Holidate (2020)
A platonic Aussie date for every occasion that looks good in your arms without any expectations is a guaranteed ideal. When Roberts and Bracey spar lovingly about the misery of life all is copacetic. It's only when they embrace the fairy in tale that it sours. People who hate life deserve a more realistic ending.
11-Dec-2020
---
My Best Friend's Wedding (1997)
Childhood friends discover they might have feelings for each other as "his" wedding approaches. Julia's star was astutely intoxicating. She reveled in being the asshole and compelled us to cheer when she realizes it. Cameron Diaz steals it by being the opposite of the woman that always gets the good man. She's adorable. If I liked girls I would eat her. The GBFF is of British cunt royalty. Its Rupert Everett, full of life and hope before the despair. Charming and cheeky he was the GBFF you can convincingly pass as a boyfriend and help your vibrator conjure up an image. Julia made me conscious of Dermot Mulroney's importance by the way she looked at him. She was studying him. I deduced him. He's the dick that looks great in Julia's glow and uprises when Cameron blows. He's that guy, she's that girl and she's that poor girl. The laughs are not a statement but a way of life, the romance is annoying but it's smart, people will never relate this way again and GBFFs don't last forever. The music made me float.
07-Dec-2020
---
Christmas Chronicles, The (2018)
Christmas is the last time of the year when kids can be selfish. Kurt Russell makes it comfortable to sit on his lap and play with his hair. Help him blow things up and play with his hair. Accidentally (wink, wink) give him a hard-on and play with his hair. Smash on the hard-on and play with his hair. The kids are at an adorable stage, the violence is happy and Christmas got a shot in the arm.
05-Dec-2020
---
Shorts (2009)
It mindfucks from the beginning. It's told out of sequence and it has something to do with a gay rock that grants the grabber wishes. Unfortunately, the wishes make you see the ridiculousness in them as they come to fruition. The effects are genuinely gross and creative, the kids exceed expectations, the film is hilarious and that guy from Two and Half Men is in it and he doesn't grate. I had so much fun.
04-Dec-2020
---
Palm Springs (2020)
I wasn't going to review this film because the idea filled me with dread. It's Groundhog's Day in a cave inside of Palm Springs. Samberg is unrecognizable and semi-fuckable, Miliotic is an easy soft serve and Palm Springs is the Hellmouth. Everyone lives by a routine in which no designated time or responsibility is accounted for. Unless an earth shattering moment occurs the repetition rarely changes. The soft serves had a bond and shared some squishiness. The story is stolen from someone's heart. Its comedy is the brutality of living a life...for too long.
01-Dec-2020
---
Sputnik (2020)
After completing a space mission, an inexplicable disturbance causes two cosmonauts to crash land back to earth. One is faceless and comatose and the other has a symbiotic alien attached to him. A female doctor about to lose her license is coerced into psychoanalyzing the subject who has no memory or idea that an alien host resides within him. Her job is to cause scientific history by safely separating them. The alien arises during deep sleep and survives the length of an hour outside the cosmonaut. The alien is fiercely freaky and a bloodthirsty asshole. The surprises don't queef, the actors command and the whole is a serious Venom. The Russians may serve their drinks cold but their hearts beat warm.
22-Nov-2020
---
Jingle Jangle: A Christmas Journey (2020)
I'd watch it again.
16-Nov-2020
The choreography was a bit frenzied and tough for such a whimsical fairytale. The contraptions didn't work without magic so is the protagonist an inventor, a wizard or both? The music didn't hold or break. The cast was enthusiastic and multi-talented. The costumes, the sets, the effects and the hairstyles clinched it and brought much of it to life. The tale would sometimes play it by ear and veer off but the enchantment persisted.
16-Nov-2020
---
Over The Moon (2020)
Glen Keane weaves plenty of magic but the story cremates it. The mythology does not resonate as an inspiring fairy tale that would empower a girl by sending her out of the stratosphere. The how to the moon was unbelievable. I know its fantasy but my brain didn't even want to. Doesn't it cost billions to get a man on the moon? The moon is "gummi land" ruled by the protagonist of the mythology. Chang'e is an exquisite piece of animation whose suffering and selfishness make the circumstances obsolete. I liked everything about home. Home is where the magic needed to happen.
(Why are rabbits only cute in animation?)
04-Nov-2020
---
Sonic The Hedgehog (2020)
James Marsden had chemistry with no one. Tika Sumpter couldn't find it. There was no youth in Sonic's voice. Jim Carrey walked a tightrope of Riddler madness and The Truman Show control. I wished he had lost control but I also dreaded it. It's personal because I spent years buying new consoles just so I could play that little blue fucker. (They were awesome.) More ringtones and musical nods from the games would have stirred gleeful memories but the film provides what the games couldn't... an easy time.
07-Oct-2020
---