Movies Posts Tagged as 'Twisty'
---
Rating key:
Welcome to Errattic! We encourage you to customize the type of information you see here by clicking the Preferences link on the top of this page.
Secret Society Of Second-Born Royals (2020)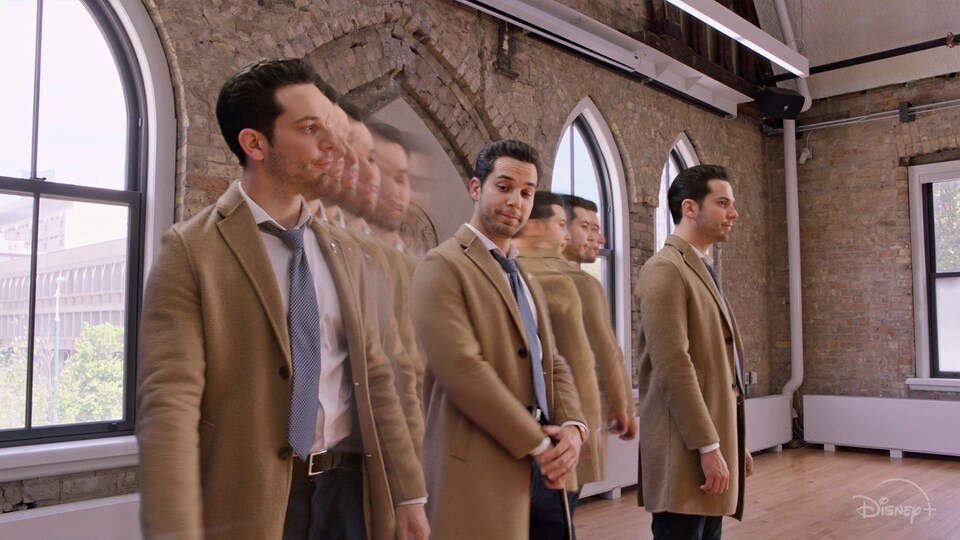 Teens born of royalty and irrelevance (they don't qualify for a crown) are redeemed with superpowers and covert missions to serve their nation. The powers are light, the kids are sweet, the action is wavy but the heart beats. A gay superhero mentor is a bonus.
21-Jan-2021
---
Hot Summer Nights (2017)
If you want to see the privilege slapped and punched out of Timothee Chalamet this is the film for you. Tight and punishing.
12-Jan-2021
---
Valley Of Decision, The (1945)
Impoverished daughter takes a job working for the owners of the steel mill that controls the town and whom father blames for his employment injury. Money is money, a job is an opportunity. Following Greer Garson bumbling and excelling at her job was cute, funny and "I'm proud of her." When the giant Peck acknowledges her, the passion begins and the charisma rockets. The closer the maid gets to her new family the farther away she gets from hers. I expected the romance to be histrionic but it was pensive and borrowed from real life. Unfortunately, love is constantly interrupted by employment strikes, demands, shutdowns and the threat of violence. Jessica Tandy was delicious as the runner-up who pecks at the competition 'til the bitter end. The surprises were eventful, the director kept pushing it and the conclusion is what it needed.
24-Oct-2020
---
Little Girl That Lives Down The Lane, The (1976)
Girl home alone. Dying dad bestows his daughter home security and life skills that would allow her to survive until adulthood. Alexis Smith plays the ultimate Karen whose landlady suspicions arise at a most inconvenient time and whose spats with Miss Jodie are powerhouse. (The slap was everything.) Martin Sheen was so realistically slimy as a predator that I had to imagine it was his spawn's "Charlie character" from Two & Half Men. When you acquire power from self reliance, self love and luck, only the broken and the animals will be able to understand you. Miss Jodie doesn't quiver, exudes superior knowledge, bitches like an equal and demands the respect of a girl who wants to live in the house that daddy paid for.
04-Oct-2020
---
Hunt, The (2020)
Liberal climate changers go on a bloody hunt for hillbilly bloggers. The politics are appalling, the cameos are uplifting and the action is hilariously glorious. Betty Gilpin is the wrong southern bitch to mess with. The actress maintains her anger, her snit and her kickassery. The villain kicks it with the same ferocity for the ultimate fight.
(The hair replacements were termination worthy.)
26-Sep-2020
---
Babysitter, The (2017)
I watched it at its time but I was so smashed that the next day I couldn't remember enough to review it. Puberty boy realizes his carnal urge for queen sex is life-preserving and destructive. Samara Weaving serves Harley Quinn gusto, Robbie Amell is humdinger stripper/killer/rapist, Bella Thorne tears it like a beauty pageant winner, Hana Mae Lee slices and dices and the babies are sweet. The irrational violence is its humor and its perverted violence is its soul. The kills may be cannon but revenge is sweet.
16-Sep-2020
---
Strange But True (2019)
Boy meets girl, prom virginity loss ensues, dream boy dies and, five years later, the girl is pregnant with his child. The drama is about the reveal and it rolls heavily towards it. There are flaws aplenty. I didn't understand why mama needed to go to the library to get information that seemed readily available on the internet and why they were hesitant to call 911 after evidence deemed it an emergency but the cliches are overwhelmed by mood, taste and bite. Blythe Danner is best actress support, Brian Cox succeeds in being someone else, Margaret Qualley emitted Emma Roberts realness plus hippie control, Allegra Fulton added some magic, Nick Robinson is a twink of the force and Kinnear smashed golden ass. The cast was great and the ending is all.
08-Sep-2020
---
Lodge, The (2019)
Children despise daddy's new love interest who is the sole survivor of a cult massacre. Looking her up on social media exacerbates the outlook. They think she's psycho but is she? Holed up alone while uncaring daddy launches on one of those emergency work things, the family is left to fend for themselves on a lodge stuck in a wintery field. Each side strikes a match, extinguished by victimhood and set ablaze by director pullback. Little girl screams were uncomfortably realistic which is the point. Worship is a force of magic that creates what soothes the mind (salvation) and kills it (judgment.) The kids, the girlfriend and the house perceive spirituality differently. (Alicia was excellent as the tired wife.)
29-Aug-2020
---
Incident, The (2014)
It's about repetition. People like myself have a tolerance for it. My mother kept me isolated like a special demon child that would wreck havoc onto the world if unleashed so repetition was my savior. I could visit safe lands (suburbs) inhabited by future friends (white people) and foretold accomplishments that never happened. The film is about repetition and it never stops. If the why hadn't kept me posted I would have skipped the nightmare. The clarification made sense, its' the what that didn't.
18-Aug-2020
---
Lifelike (2019)
No budget for a decent stage play less a good film but it has substantial ideas for us to ponder. Wifey woke awakens to sudden glam because daddy could do better inherited it. She is not comfortable commanding staff, feels it is beneath the help's heritage and fires them. (It's a mansion.) After an unreasonable time of daddy doing all the hard work he schemes to get her a robot. (Gay holler at the male choice.) The film does not succeed in creating the perfect robot but it creates the illusion of the perfect being. The explanation for maintaining robot/human boundaries is to not reach hoover or vibrator status or worse, love. The daddies whipped strenuous body muscle, the threesome was a two sided tango, the twist was great and it deserves off-off broadway respect. A tighter story and better effects would a Hollywood blockbuster make.
17-Aug-2020
---
John Wick 3 (2019)
Even after siphoning pleasure from the first two I was hesitant to invest in a third. I expected more ugly pup murder vengeance but it was one of the best video games I ever played. Angelica Huston was unrecognizable but still biting. Halle Berry finally delivered dog munching kickass. The horses, the cycles, the players, the stunts, the work. It was exhilarating. It's creation negates all improbability. Daddy cool K represents our aggressions and their release. Flush.
17-Aug-2020
---
Stephanie (2017)
Stephanie is the child that's always in your face that you ignore. Her parents abandoned her to live in isolation during an unknown pandemic and to deal with a monster roaming about. Daddy Frank Grillo and mama Anna Torv were defined as shitty parents so everything they did was spotty and disenfranchised. Shree Crooks discharged unsettling reality to her child. The twist curls into a pretzel, a bone breaking finale poured some salt on it but the whole was artificial cheese dip.
13-Aug-2020
---
Once You Kiss A Stranger (1969)
Strangers on a Train stop at Fatal Attraction. Carol Lynley is a Peter Pan wet dream that never relents. She scares children with harpoon guns, she brawls with pet cats and she threatens old people with off-color gossip, death fascinations and frequent visits. Her mental health is homicidal. Ms. Lynley unbinds from daddy adoration and shakes her personal hate towards everyone. The daddies have expiration dates and are being coerced into reclaiming #1 status or lose thoughts of ever having a "good time,"again. Once an unknown pixie enters a married man's hotel room with her nightie on, he's fucked. The tribute is soaped up and spread out, the stunts are hilarious and the actors don't lose a beat. It stings and entertains, like mexican candy.
29-Jul-2020
---
Zardoz (1974)
The gods have died, the penis has been declared an enemy, police have been abolished to savage lands to patrol, kill and rape what procreates and to harness survival goods for a scientifically mystic democracy. Gods are falsified to keep savages savaging and to keep their dystopian bubble, privileged and safe.
Sean Connery is brave, wearing a diaper throughout and doing action scenes in heels. The perfect brute with a thirst for knowledge.
The bubble society are eternals. They do not police, they judge. If you are found committing an offense, they age you.
John Boorman was brimming with ideas, executing spectacular visions and testing how far our imagination can travel. It was a beautiful ride but there is a limit.
29-Jun-2020
---
Doctor Sleep (2019)
The exploration of the past was literary.
Alex Essoe's spot on Shelley Duvall is impressive because it harmonizes with the film's recognition of Kubrick's obsession with perfection.
It pays homage to the past but the film frees itself from Kubrick's grasp and becomes its own thing, maybe something King had in mind.
I was not impressed by the magicians until they ate a child.
Kids that are special get eaten.
Ewan embodies the spirit of a child.
The cast is multi-verse, the action rips and even though the story veers into its own thing, the return is pretty exciting.
28-Jun-2020
---