Movies Posts Tagged as 'Twisty'
---
Rating key:
Welcome to Errattic! We encourage you to customize the type of information you see here by clicking the Preferences link on the top of this page.
Bullit (1968)
Steve McQueen was a blue-eyed splendor with a big cock and a knack for fashion that magnetized stories. Steve is the cop handpicked to protect a witness that will bring down a gangster opponent of the state. The car chase was a masterclass of stunts, choreography and edits. The foot chase was close-up, physically accurate and breathtaking. The lack of music added organic tension to the action. Bissett was breathtaking and accomplished. Its quietude added nervous reality. A man can only change its fate if everyone is safe. A film to be studied and outdone.
08-Dec-2023
---
Scream VI (2023)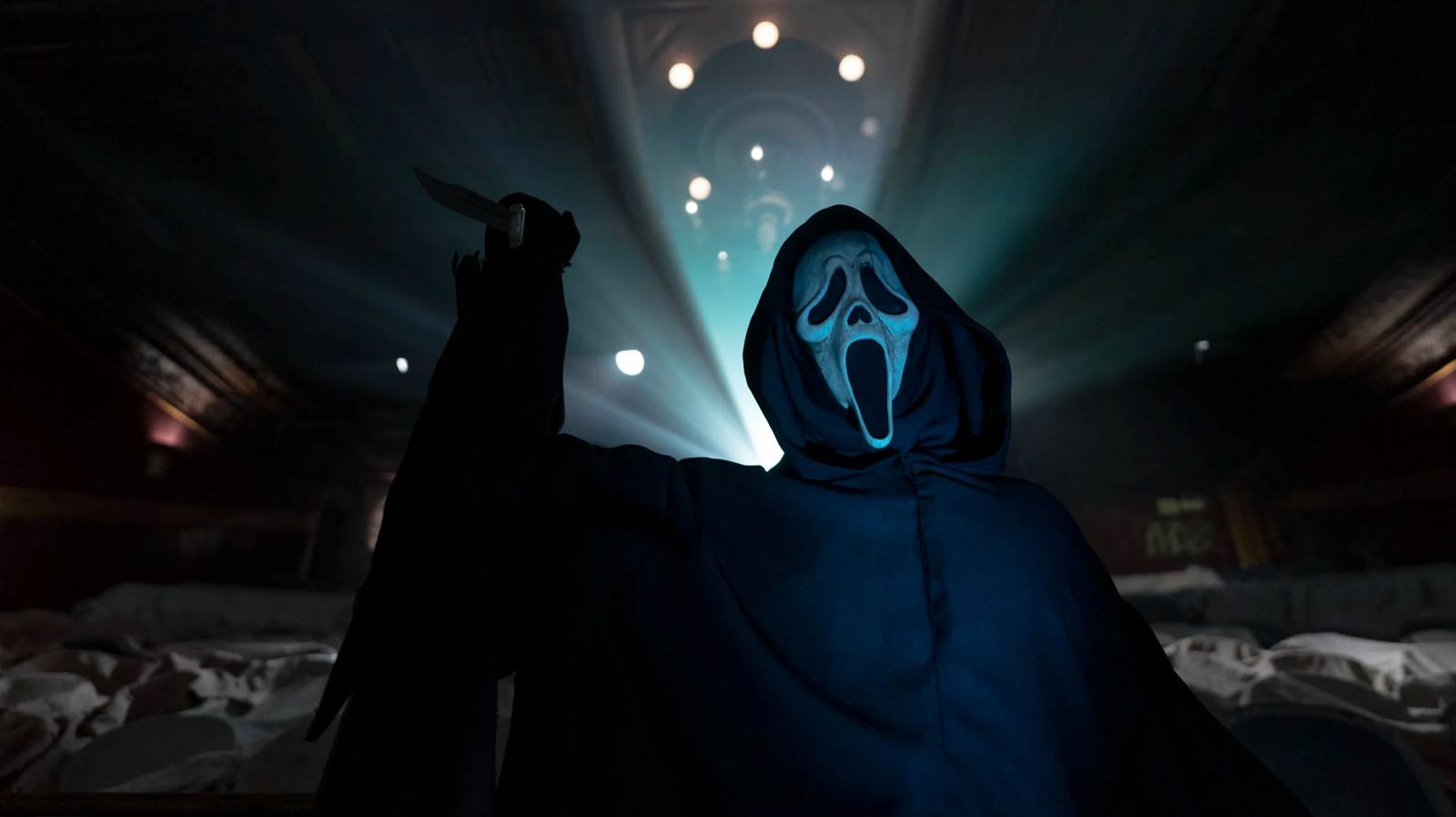 Exactly what I didn't expect, in a place I wouldn't think of.
16-Nov-2023
---
Woman Possessed (1958)
A mother who has dedicated her whole life to making sure her son could take care of himself are reunited after two years of studying and accomplishing. He's a doctor, now and engaged to be married. His fiancee is with him and she's staying over. Love with sex will repel motherly adoration until time makes him realize mother was right and he returns to his mother's heart. and he's brought her along to get married. The introductions are awkward, full of rich people manners that can't mask hate. The conversations are human. Mother expounds an opinion that changes their lives forever. The couple bicker about how much control the mother has over her son and the backhanded humiliation future wife receives. Sometimes he was right, other times she was and half the time, both were. The mother blames the fiancee's weakness as to why she needs to suffer in her world. She was horrible when no one was around and she never let them see her sweat in a dress. The jury flip flops as did I. Uncle was cute, old maid was tired, of course, she had a mansion to clean, dress and cook for and young maid's exit was fucked up. The birthday party was a topper. The irony explains itself, the ladies were in good form and was that a lesbian ending?
22-Jul-2023
---
Another Man's Poison (1951)
Bette's 50s era was full of Lady Davis folklore and drag queen reboots. Lady Davis was forced to compete with herself. A worn out hunk has beef with her husband because he foiled a heist and he's being blamed. Bette is at the height of shifty. She parlays her caricature tics to mixed effects. She is over until somebody fucks with her animal. The feelings reeled a barracuda out of her. The camera decided that Bette's gift was mechanical and that the new way was better. They highlighted her flaws and disheveled her tidiness. The disclosures felt possibly true, Bette's messy art was always entertaining but it's a crappy movie.
10-Apr-2023
---
Better Watch Out (2016)
Well-done horror camp concerning a teen babysitting a 12 year old with a crush. An invasion brings forth her motherly instincts and nicely shot panic. Madsen and Warburton were joyous. When the film jumps outside the box, it stalls. It stalls because it didn't have the nerve to enact the obvious. I would've screamed for that.
16-Mar-2023
---
Pale Blue Eye, The (2022)
Christian Bale plays his detective with self-control and whispers. The man is unnervingly entertaining. The film takes you to a place you don't want to be but since you're there, why not try it? It hooks its audience immediately. Edgar Allan Poe becoming his deputy, figuring clues and outsmarting the other, was fun. I almost expected young Sherlock to show up with his dancing pastries. I thought Lady Gillian was one of those pastries. You couldn't get enough of her. The investigation is the whole of the film and the soul is its end.
12-Jan-2023
---
Glass Onion (2022)
Daniel Craig returns to torture southern accents and be a dork. Janelle Monae acted better with an accent but not so much as herself. She needs an injection of actor vulnerability. Kathryn Hahn is still a witch. I couldn't see Leslie Odom Jr. and Jessica Henwick through all that glass. Hollywood never took advantage that Kate Hudson is her mother's doppelganger. Bautista was full on daddy and Edward Norton deserves a comeback. Elements of the whodunnit were clever but the whole was overblown.
23-Dec-2022
---
Halloween Kills (2021)
Oops. Laurie and Mike are not the brother and sister alluded to in Halloween 2. It was a myth and a modern waste of a great arc.
21-Mar-2022
It assembled an historically amiable and able cast. Laurie Strode wasn't it's focus and I accepted that. There will always be a boogeyman stalking baby breaths and heroes willing to fight to keep them that way. The remembrances are welcome, the music is everything, the recreations worked but the constant reminder of Mike Meyer's significance was hokey. The presentation screamed mythology over-identification. Michael Myers craned his neck in sympathy when he watched victims die. He ignored some but not others. It's tacky to make him talk but WTF? Is he a robot? I want to know what he's thinking. Give him voiceover thoughts or grunts. A showdown is brewing between brother and sister. It would be appropriate that before judgment is cast upon him that we get to hear his interpretation.
01-Mar-2022
---
Humoresque (1946)
Like Batman I focused on a minor detail that should have gotten someone fired and the picture burnt. Ms. Crawford's leg looks beat up. Is it make-up? Is it black nail polish? Did she fall down a flight of stairs? Are those surgery scars? Is that why she's sitting? Was she secretly dirty? It looks awful.
14-Mar-2022
Should you expect payback for endorsing a genius? The film ponders it and applies solutions. John Garfield was born to play broke hot daddies with genius and obsessive compulsions. Joan Crawford always "manned up" to cure them. Ms. Crawford was almost comical until she put on a pair of glasses and blossomed into a bona fide artist. It was classic thespian. The parents' interjection seemed appropriate to the traditions of a hard working family. The family worked to establish a genius and survive. Mama and papa were the mama and papa that lucky children got. Papa looked out while mama cared a lot. Flashbacks were insightful. Ms. Crawford was fashionably tailored to her specifications. The story happens. Oscar Levant was the wisecracking loser that coasted from genius because he failed on his own. He spoke the uncomfortable words the "damned" never listened to because he wasn't "hot." Funny.
04-Mar-2022
---
Texas Chainsaw 3D (2013)
Apt sequel that glamorizes its predecessor and makes Leatherface a hero. It's a chill, spook and gay spectacular.
06-Mar-2022
---
Hondo (1953)
A wife/mother abandoned by hubby on Apache terrain staves off conflict when an Indian head takes a liking to her son. Apaches don't cry and revere baby boys as gifts. An ultimatum is issued. She must decide on an Indian for a husband or the Apaches will kidnap and raise her son. She keeps hoping her husband returns but the Apaches think he's dead. In struts John Wayne as a half Apache gunslinger that causes as much ruckus as he does saving. The best westerns contain wide landscapes, big hearts and simple writing. Society (Apaches) has the right to teach a boy to become a man for the benefit of his survival. Wayne is classic and Geraldine has the audacity to stand up for her son and protect their homestead. The kid is precious.
(If you want to be an asshole, you can count how many times the make-up runs off Apache legs or you can just enjoy a great story.)
26-Dec-2021
---
Outrage, The (1964)
Latino violates fancy woman in front of her uppity husband. Fancy woman lets her guard down and enjoys it. Male toxicity ensues. Several accounts of the rape and murder are presented. Paul Newman was a distraction as a blue-eyed Mexican bandit, with a hulk wig, "grande" dick, grease paint and an "I hate gringos" accent. Most of the actors didn't conquer southern speech. Capt. Kirk played a priest that spoke words as if Shakespeare had written them specifically for him. All the versions add up to a hilarious finale that shouldn't have been.
12-Oct-2021
---
My Cousin Rachel (1952)
Wealthy cousin moves away, gets married, sends cryptic letters to his younger cousin denouncing his wife before dying under questionable circumstances. Richard Burton plays a princely cousin hellbent on unmasking the greedy widow. Will love conquer vengeance? Olivia de Havilland was a saintly schemer with exquisite manners and sarcasm. Richard Burton pranced around like a Shakespearean athlete ripping his heart out to the strings of a magnificent woman that's impossible to avenge. The legends reenact what may have happened to his dead cousin and the irony is stupendous.
28-Sep-2021
---
Mortal Kombat (2021)
I'm young enough to remember playing it but too old to retain character backstories. When the legends come to life it jogs the memory and its cool. The action brutalizes your senses and makes you feel guilty for releasing with it. The story and dialogue try to zap the fun out of it but the techies keep throwing water on it to keep the spark going.
09-Sep-2021
---
Security (2021)
Teen gets attacked and an investigator is tasked with rummaging through private security footage to resolve the crime. When the crime exposes the reality of his family life, he breaks. Our hero is a gruff everyman who doesn't want any more than what life offers and his wife is a power fucker that wants to get elected. Daughter is sleeping with her teacher because neither parent pays her any mind and she likes to torture daddy. Does daddy snoop on family trust to solve the case? A scary conundrum that no one wants to ponder.
28-Jun-2021
---