Gay+
---
Welcome to Errattic! We encourage you to customize the type of information you see here by clicking the Preferences link on the top of this page.
Oregon Man Allegedly Posed As Teen On Snapchat To Sexually Assault Children 
Police in Oregon say a 26-year-old man posed as a high school-aged student on Snapchat and Instagram to lure in two young children he's accused of sexually abusing.

Beaverton resident Lafayette Castillo was indicted Friday, January 24 on charges including rape, attempted rape, sexual abuse and sodomy, the Washington County Sheriff's Office announced, according to The Associated Press. Beaverton is a city in Washington County just west of Portland.

Castillo is accused of using the social media platforms Snapchat and Instagram to pose as a teenage student so he could talk with children online, authorities said. He then allegedly arranged to meet two victims — aged 12 and 14 — and sexually assaulted them, Fox 12 Oregon reports.
Is this Catholic NFL owner trying to bury stories of child sexual abuse?
---
Michigan court reverses murder conviction, cites rap videos
The Michigan Supreme Court unanimously threw out a murder conviction Friday, saying YouTube rap videos spoiled the verdict by portraying the defendant as a "ruthless and menacing threat to the community."

Jamal Bennett is serving a 32-year prison sentence for the fatal shooting of another man during a fight at a Grand Rapids party in 2013.
---
Florida teen arrested for making race-based threats of violence on Twitter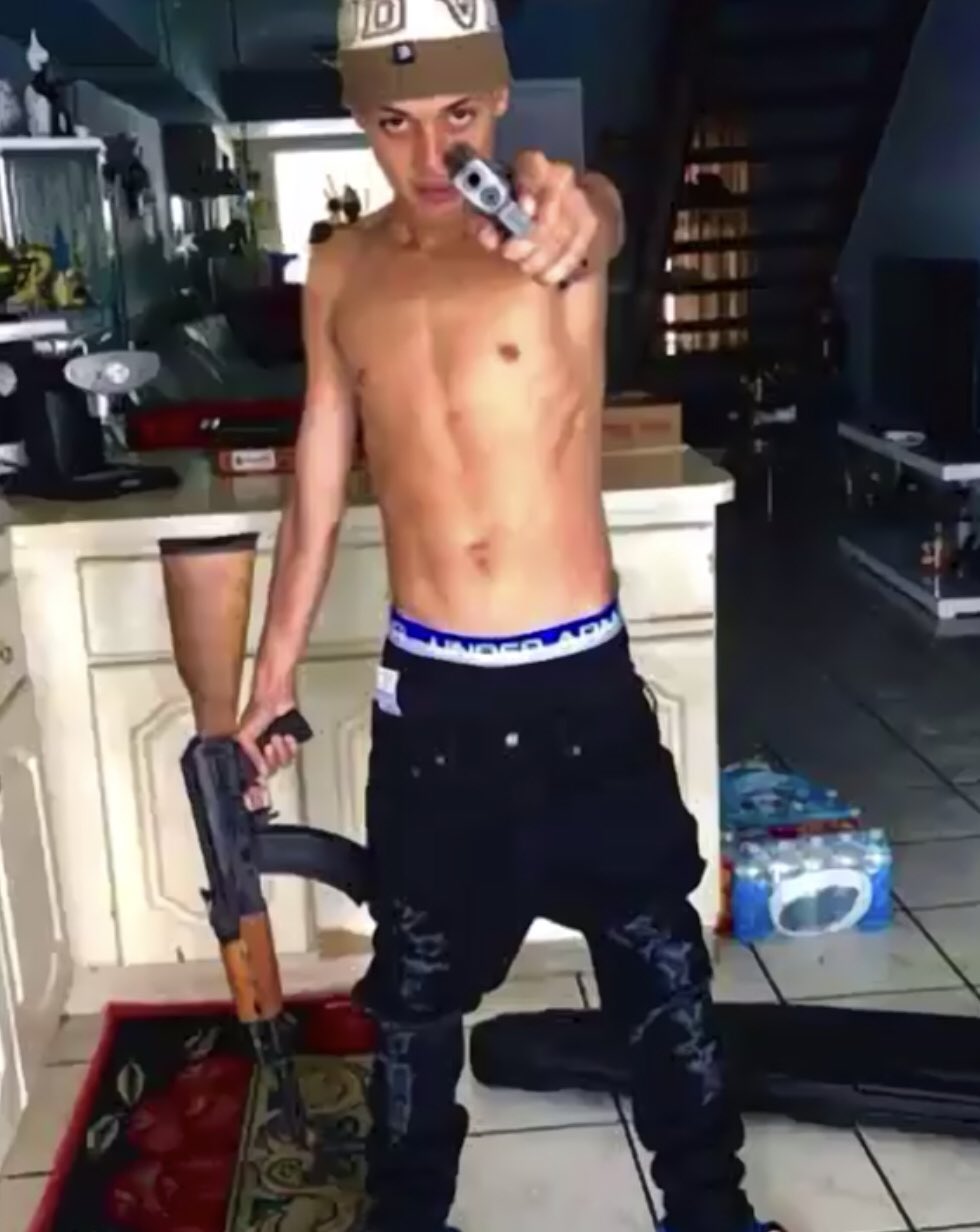 A Florida teenager was arrested for making threats of violence against several racial groups on Twitter.

Nineteen-year-old Lazaro Lesteiro-Diaz was arrested on Tuesday after police were notified of the threats by the Bureau of Alcohol, Tobacco, Firearms and Explosives.

Police took the threats seriously because he was very specific about a location that he was going to travel to in order to murder homosexuals, blacks, Nicaraguans, Colombians and "all types of Indian people."
---
California man named Sexy Vegan enters plea in dog sex-assault case
A California man named Sexy Vegan entered a no-contest plea in a case where he was accused of sexually assaulting his dog and posting a video of the abuse on social media, officials announced Friday.

Vegan — whose name was previously Hansel Marion DeBartolo III — was busted for posting a video that showed a pit bull licking his rear end on Sept. 5, the Los Angeles County DA's office said.
---
The Amish Keep to Themselves. And They're Hiding a Horrifying Secret 
The memories come to her in fragments. The bed creaking late at night after one of her brothers snuck into her room and pulled her to the edge of her mattress. Her underwear shoved to the side as his body hovered over hers, one of his feet still on the floor.

Her ripped dresses, the clothespins that bent apart on her apron as another brother grabbed her at dusk by the hogpen after they finished feeding the pigs. Sometimes she'd pry herself free and sprint toward the house, but "they were bigger and stronger," she says. They usually got what they wanted.

As a child, Sadie* was carefully shielded from outside influences, never allowed to watch TV or listen to pop music or get her learner's permit. Instead, she attended a one-room Amish schoolhouse and rode a horse and buggy to church—a life designed to be humble and disciplined and godly.
2 Mass. Priests Suspended Amid Decades Old Abuse Complaints
French trial exposes how church covered for predator priest
Senators demand review of Army Reserve sexual assaults
---
Three armed men rob Palm Springs business; flee with cash after striking employee
Three armed men entered a Little Caesar's Pizza in Palm Springs just before 10 p.m. Sunday, demanded money and fled with cash after striking an employee in the head. Palm Springs police announced Thursday.

---
Minnesota Senate Leader: Sexual Assault, Bad Parenting Make People Gay 
Minnesota Senate Majority Leader Paul Gazelka defended conversion therapy and claimed that sexual assault can cause homosexuality, all in a wide-ranging interview with televangelist Andrew Wommack.

The senator, a Republican, recalled hearing the story of "a lady that was lesbian, and [a counselor] said before you judge her, let me just tell you her backstory. … He said she was chained to a toilet as a like 2-, 3-, 4-, 5-year-old girl and raped by her dad, for years and years. How do you think she's gonna feel? In other words, he's trying to get you to realize that there's a deeper backstory, and if you understand that, you can love them while you're … bringing truth and trying to help them."

He also contended that lack of closeness to a parent of the same sex can cause a person to be gay. In a conversation with a gay man, Gazelka said he asked if the man was raised by a mother and father or just by his mother; it turned out the man was brought up by his mother and grandmother. "We actually had a conversation that we could talk about the issues around the why and the what," the senator said.

"I think the best place to land is let the church have the total freedom to do as they please, and then for professional counselors, if an adolescent comes into their office, says I have unwanted same-sex attraction, I'm hoping that counselor can say 'How can I help you?'" Gazelka told Wommack.
Bali villas targeted by authorities for "catering" to the LGBTQ community
Republicans declare war on transgender people in state legislatures all over the US
---
60-year-old New York City man dies after vicious $1 robbery on Christmas Eve 
A 60-year-old man who was brutally attacked and robbed for $1 on Christmas Eve has died from his injuries, the NYPD said Saturday.

Juan Fresnada was with his husband in the Bronx early Tuesday when six individuals approached them and demanded money, police said. When the victims refused, they were attacked, according to the NYPD.

Surveillance video released by police Friday shows one of them repeatedly punching and kicking Fresnada as he's on the ground. One of them hits Fresnada with a metal garbage can, the video shows.
BOYFRIEND OF NEW YORK MAN BEATEN TO DEATH ON CHRISTMAS EVE IN $1 ROBBERY SAYS HE'S 'SCARED FOR HIS LIFE' AS SUSPECTS REMAIN AT LARGE
Gay couple beaten by gang of four after holding hands at a food truck
Three teenagers arrested for brutal murder of gay man on Christmas Day
---
Suspect Pleads Guilty in $250K Online Gay-Sex Extortion Scam
A 28-year-old Nevada-based man pleaded guilty Wednesday to extorting more than $250,000 from men who responded to his ads offering gay sex services on Craigslist and other sites.

Tyler Buchanan, who went by the name "Thuler O'Naill," faces up to 10 years in prison when he is sentenced in May on several federal felony charges.
---
"Britain's most prolific rapist" sexually assaulted nearly 200 unconscious men & filmed it all 
A 36-year-old man named Reynhard Sinaga has been called "Britain's most prolific rapist" and sentenced to a minimum of 30 years in prison after being found guilty of raping or sexually assaulting at least 48 young men in Manchester, though its thought that he raped closer to 200 men.
Michigan man charged in Grindr murder says he ate part of victim after killing, court docs show
Gruesome details emerge in cannibal killer's cold-blooded slaughter of young gay man
Britain's 'Most Prolific Rapist' Has Been Sentenced to Life in Prison
---
Woman who allegedly ripped hijab off student's head charged with hate crimes
A woman who allegedly snatched a hijab from the head of a Saudi Arabian college student and tried to choke her with it has been charged with hate crimes, authorities in Portland, Oregon, said.
---
FLORIDA MAN WOKEN UP BY MAN WHO BROKE INTO HOUSE AND BEGAN SUCKING HIS TOES
A Florida man claims to have been woken up on Christmas Eve by a home intruder sucking on his toes, according to a police report.

The unnamed 20-year-old man in Bradenton, Florida told police that he was soundly asleep when the sensation of a man sucking his toes snapped him out of his slumber, according to documents obtained by The Smoking Gun. Police responding to reports of a burglary were the first to be told details of the bizarre incident.
---
Firefighter allegedly set recovered SUV on fire because minorities may have driven it
A firefighter in Connecticut torched his SUV after it was recovered by cops because it may have been driven by minorities, police said.

Matthew David Bittner, a 38-year-old volunteer fireman for Stepney Fire Department in Monroe, is facing charges including first-degree arson and insurance fraud in connection with a 2015 Chevrolet Tahoe that was registered to his girlfriend, the Connecticut Post reported.

The SUV had been initially reported stolen to cops in Monroe on Oct. 21. One day later, police in Bridgeport found the vehicle and released it to Bittner, who repeatedly told investigators he no longer wanted the stolen ride because he wasn't sure where it had been, the newspaper reported.
---
Trial to begin in 9-year-old's killing that shocked Chicago
It stands as one of Chicago's most horrific crimes, in large part because of small details that are impossible to shake: The promise of a juice box that lured the 9-year-old boy off a playground and into an alley, and the basketball he dropped when he was shot and killed there.

Jury selection will begin Friday in the murder trial of two of three men charged with carrying out the November 2015 attack on Tyshawn Lee, a smart fourth-grader who prosecutors say was killed by gang members to send a message to his father, a purported member of a rival gang.
---
Pennsylvania man convicted for making 'gun-like hand gesture' toward neighbor
A Pennsylvania Superior Court ruled Tuesday that a man committed a crime when he made a "gun-like hand gesture" toward his neighbor during a spat, saying the man "risked an altercation" with his actions.

WTAE-TV reported Manor Township resident Stephen Kirchner, 64, was charged last year for summary disorderly conduct after making the gesture toward a neighbor who subsequently called the cops. Kirchner was found guilty.
---