Movies Posts Tagged as 'Sentimental'
---
Rating key:
Welcome to Errattic! We encourage you to customize the type of information you see here by clicking the Preferences link on the top of this page.
Everything Everywhere All At Once (2022)
It begins with family authenticity, struggling to keep current and afloat. Super reality sets in and the tingles begin. Oh no! It's going to be bonkers. The cast resolves it. I wasn't sure if the husband was Jackie Chan. I spent a lot of the time being jealous of how young he looked. It was driving me crazy. He can't be, right? When he utilized the master's moves, I thought, that's definitely Jackie Chan. It's a tribute to him and Michelle Yeoh as action heroes but why does he look so fucking young? Terrific surgery perhaps? Ke Huy Quan is as adorable now as he was as a kid in a Spielberg classic. The man was precise. To Lady Yeoh, we gently bow. Stephanie Hsu had fun being all iterations of evil because we had fun too. Jamie Lee Curtis was gnarly. James Hong added his queerisms. The film threw as many cliches as it did new ideas. A win win for art. A film that wipes its imperfections with glorious shots of legends reacting to wonder and giving us soul.
27-Nov-2022
---
Wonder, The (2022)
A child fasts to appease god and clear her family of their sins. Faith, in the hands of a child, can be a destructive thing. Pugh remains on, for the duration, as an investigative nurse that wants to clear the bullshit. The director keeps us trapped and enrapt. You can only fight a fable by trading it for another. Well done.
17-Nov-2022
---
Good Nurse, The (2022)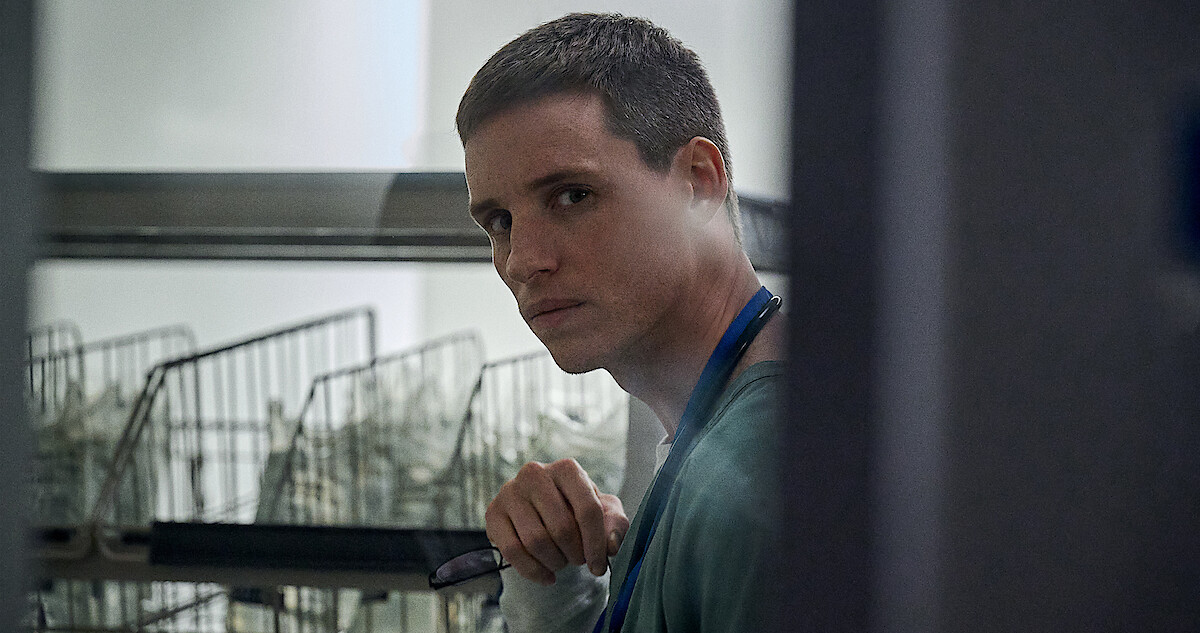 The angel of death is serving the ill and forgotten whilst deciding which deserves to stay amongst us. Lady Chastain introduces the audience to her pain, which we inhale and feel 'til the very end. Asomugha and Emmerich teamed up nicely. Hot boy proving he can investigate using his brain and Daddy Emmerich twitching the way I like. The cast didn't miss a beat, the story was tight, the procession, intriguing and the recapture well plated. Lord Redmayne spends a lot of the time hiding from view because that is how the angel of death would appear at work. Do a great job, kill them with kindness, keep history mum, don't be popular but make one sucker friend and kill up to a 1000 people. I couldn't believe that Redmayne would play a killer so controlled and unassuming until he outrants Ledger's Joker at the police station. I was inhaling Jessica's air when he punched me in the gut. Nice.
27-Oct-2022
---
Last Woman On Earth, The (1960)
While on a scuba diving expedition in Puerto Rico a newly married couple and their lawyer end up the last humans on earth when they resurface. They survive and explain the cause through the progression of the environment and by applying science to their observations. Words were in tune with how a woman might feel being the last one. The men went caveman because the lawyer has needs and his boss' wife was the only relief. I kept feeling the script would have had more depth had it not been costly. Wife is a newlywed who lusts to spend more time with her gangster husband. Lawyer is a do-gooder schmuck whose tired of being manipulated by sore losers. Every time the story filled in a hole the director cut away to something exotic. They hardly pondered whether, as last adults, they were worthy enough to replenish the earth. Wife's legs dangling from atop the boat, the men fish-slapping each other, the atmosphere (Puerto Ricans in 1960), the woman's hair turning from blonde to black and jitter acting that enunciates realness, were shots I will remember.
Remake. (Pssst: I would have given her my sperm and fucked daddy. Yeah, let her decide the future of the world.)
25-Oct-2022
---
Morbius (2022)
It's faithful to the psychology of its origins, someone brilliantly decided the actors should play characters instead of costumed heroes and its presentation feels like a team Burton aside. I would trade two investigators for a Krave The Hunter, a Blade or Felicia Hardy/Black Cat to up the flavor and sensuality. An MCU R-rated Batman opportunity best not lost.
13-Sep-2022
---
Mucho, Mucho Amor (2020)
When we were growing up he was a fixture and an idea that sexually ambiguous people exist but to our family they were just closeted gays. Walter Mercado was a creation of a person that wanted to reflect passion, joy and pain. Audiences were passionate about his joy but never questioned his pain. In the end, we get to see why. "He was the last virgin in Puerto Rico."
24-Jun-2022
---
No Time To Die (2021)
The action sequences were fantastic, daddy Bond exhibited sausage and skills. Having muscles didn't hurt. I couldn't decide if the villain was ridiculous because of the actor or the writing. Sap killed the end. Bond doesn't need to announce what he's going to do. It kills the surprise.
24-Jun-2022
---
Fire Island (2022)
It depicts our shortcomings in a sanitized environment. There is no outside telling us we suck so we are in a safe space. It paced itself naturally as not to impose. The cast was pleasantly supportive. The writing pondered some truth but resolved most of it with prom com magic. My Fire Island experience was rated XXX for rampant sex, sissy violence and "fuck you" friends. Family Shmamily.
05-Jun-2022
---
I Passed For White (1960)
Interracial girl struggles with her identity as a negro. Her career options are minimal and love opportunities arise from worst circumstances. God made her white and she needs to embrace it. She leaves her family and hut to explore buildings, money, pretty men, clothes, food and such. She ignores her nature and becomes the body she possesses, a woman with great choices and big mistakes. A Ken Doll makes her forget where she was born and she forgets about her family. The film has anger, insight, respect and hilarity. My favorite scene happens at a fancy business event where she dances like a black girl and the white guests notice.
28-Apr-2022
---
Parallel Mothers (2021)
When Almodovar embraces Hitchcockian ambience it is sublime but when he attempts a Spielbergian signature it deprives the film of a punch. Two mothers, both strangers share a common thread that conflicts with their lives. Even though the outcome is easy to determine, the presentation is a shivering buildup. Penelope Cruz maintains her hold until Almodovar gives up. Her mother doesn't crumble as the film's psychology implies. She wraps it up without a challenge. The ending is part Schindler's List and part Indiana Jones/Jurassic Park. I welcome a latin Spielberg inspiration with cheeky heroes and dinosaurs but I can't forgive a spanish mother that doesn't wreck. A spanish mother is the T-Rex of emotion.
23-Apr-2022
---
Batman, The (2022)
The Batman is the only character that suits up. How lonely for him. He's always the freak. The support enact realistic iterations of characters that lit up Batman's mythology to absolutely no effect. The Riddler is a demented teen who was brought up by an unfunny father who worked the mines. The riddles were blah. There is no Riddler without a tight body suit, a tight body and demented cynicism. Daddy Farrell wasted a lot of time in makeup, creating art out of a role that doesn't belong. He is not penguin. I didn't see any top hats, monocles or bullet umbrellas. Michelle Pfeiffer's reign as the best film Catwoman cannot be extinguished. Zoe is an everyday gorgeous girl not a cat. Her cowl is just as cheap and unintelligible as I expected. Her lack of meow hurts. Commissioner Gordon was a lackey. Everything was eeeeewww and he was always waiting for Batman to finish things up for him. Daddy Turturro knew exactly what the director wanted and gave it to us. Alfred and Bruce's interaction was rude. The parental bond was cold. Why hire an Aunt Harriet if she's not going to be an Aunt Harriet? That might have been fun. Oops. Sorry. Fun not allowed. The Twins were cute. Robert Pattinson is the glue you want to stick to because he makes you ponder how his beautifully broken humanity can create life from something he hates. I saw love in Zoe's face when she looked at him. I saw panty dropping aloofness register from his. Batman's narration doesn't mesh with toxic revenge. The moments he celebrated were my cringe. This isn't Batman. He doesn't laud himself or others. He's a lonely motherfucker that hates the world because he lost mommy and daddy to crime and got stuck in a mansion with a pervy butler. Batman's detective work failed from a lack of gadget magic. Yeah! Rich angry fucks love gadgets. Matt Reeves strikes potent pictures but was entrapped by a franchise that is petrified of its origins. The man/woman who gives us comic book Batman with realistic choices will become King of The World. What's the point of hiding in the shadows if everyone can hear you?
18-Apr-2022
---
Humoresque (1946)
Like Batman I focused on a minor detail that should have gotten someone fired and the picture burnt. Ms. Crawford's leg looks beat up. Is it make-up? Is it black nail polish? Did she fall down a flight of stairs? Are those surgery scars? Is that why she's sitting? Was she secretly dirty? It looks awful.
14-Mar-2022
Should you expect payback for endorsing a genius? The film ponders it and applies solutions. John Garfield was born to play broke hot daddies with genius and obsessive compulsions. Joan Crawford always "manned up" to cure them. Ms. Crawford was almost comical until she put on a pair of glasses and blossomed into a bona fide artist. It was classic thespian. The parents' interjection seemed appropriate to the traditions of a hard working family. The family worked to establish a genius and survive. Mama and papa were the mama and papa that lucky children got. Papa looked out while mama cared a lot. Flashbacks were insightful. Ms. Crawford was fashionably tailored to her specifications. The story happens. Oscar Levant was the wisecracking loser that coasted from genius because he failed on his own. He spoke the uncomfortable words the "damned" never listened to because he wasn't "hot." Funny.
04-Mar-2022
---
Adam Project, The (2022)
Super daddy, a chunk (of meat) and his mini spar through time travel to end time travel. Sci-fi is comic book, action is diverting, writing is pensive but the three leads hold it together. The boy mimicked an asshole just like Ryan Reynolds would. Mark Ruffalo is a war torn daddy born to parent an asshole. The wattage, the funny, the adorable and the sweet were all there.
13-Mar-2022
---
West Side Story (2021)
The conception in Spielberg's imagination is fully realized when it opens. As soon as other elements take control the vision becomes duller. Ariana DeBose would have reached untouchable had she toned it. She was an anxious cheerleader. The musical score needed a lot more oomph. The original soundtrack had the voices echoing in the streets because they were the only voices in the street. The music has been prettified and unchallenged. Ansel Elgort is miscast as "anyone" because he doesn't look like he feels anything. I love Rita and she deserves to be in it. As soon as Spielberg settles into magic a bad accent with no hunger ruins it. The gymnasium edit had me taking deep breadths of joy but somebody decided to cut offline which killed the rhythm and choked the climax. Spielberg is a phenomenon whose films do best when everyone can realize his vision. Very few on this film could.
02-Mar-2022
---
Quiet Man, The (1952)
It's a cultural fairy tale that vibrates with status and wondrous oblivion. It's as pretty as the people breathing life into it. Culture doesn't deny itself, it contributes to the world. White people made me feel good. So what?
23-Jan-2022
---