Health/Food Posts Tagged as 'Science'
---
Welcome to Errattic! We encourage you to customize the type of information you see here by clicking the Preferences link on the top of this page.
Thousands of birds die at California's Salton Sea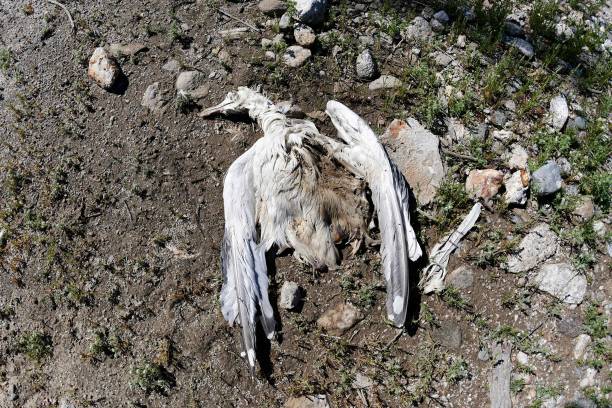 Authorities say thousands of migrating birds have died at California's Salton Sea this month from avian cholera.

The California Department of Fish and Game says ducks, gulls and other birds were found dead at the south end of the state's largest lake between Jan. 8 and last Thursday.

---
New York passes law allowing abortions up until baby's due date if mother's health is at risk
New York state has enacted strong new legal protections for abortion rights. The new law, signed by Governor Andrew Cuomo on Tuesday, safeguards rights laid out in Roe v. Wade and other court rulings, including a provision permitting late-term abortions when a woman's health is endangered, The Associated Press reports. The state's previous law, which had been on the books for nearly 50 years, only permitted abortions after 24 weeks of pregnancy if a woman's life was at risk.

Governor Cuomo celebrated the passing of the bill in the Democrat-led Senate and Assembly on Tuesday, which happened to be the 46th anniversary of the Roe decision. "In the face of a federal government intent on rolling back Roe v. Wade and women's reproductive rights, I promised that we would enact this critical legislation within the first 30 days of the new session — and we got it done," Cuomo said in a statement. He directed state landmarks like the spire of One World Trade Center to be lit up in pink to "shine a bright light forward for the rest of the nation to follow."
---
Protein shakes don't count: Why older adults should eat real food
Older adults need to eat more protein-rich foods when they're trying to lose weight, dealing with a chronic or acute illness, or facing a hospitalization, according to a growing consensus among scientists.

During these stressful periods, aging bodies process protein less efficiently and need more of it to maintain muscle mass and strength, bone health and other essential physiological functions.

Even healthy seniors need more protein than when they were younger to help preserve muscle mass, experts suggest. Yet up to one-third of older adults don't eat an adequate amount due to reduced appetite, dental issues, impaired taste, swallowing problems and limited financial resources. Combined with a tendency to become more sedentary, this puts them at risk of deteriorating muscles, compromised mobility, slower recovery from bouts of illness and the loss of independence.
---
How sexual fantasies affect your relationship
The beginning of a relationship is exciting. You get to learn more about a beautiful person who wants to learn more about you at the same time. You both get the opportunity to make an increasingly deep connection with one another. But relationships can't stay in this exciting phase forever. Eventually, things slow down, less effort is put in, and interest might start to wane. However, it may be possible to restore excitement and interest in a long-term relationship.

Gurit Birnbaum and colleagues conducted a four-part study that examined how sexual fantasies affect relationships. Specifically, they looked at two types of sexual fantasies: dyadic fantasies—those that involve the other partner in the relationship—and extradyadic fantasies—fantasies that focus on some other person outside of the relationship. They found that by fantasizing about our significant others, we desire them more and behave in ways that strengthen the relationship.
---
Romaine lettuce is not safe to eat, CDC warns U.S. consumers
Romaine lettuce is unsafe to eat in any form, the Centers for Disease Control and Prevention said Tuesday in a food safety alert in response to a new outbreak of illnesses caused by a particularly dangerous type of E. coli bacteria.

CDC told consumers to throw away any romaine lettuce they may already have purchased. Restaurants should not serve it, stores should not sell it, and people should not buy it, no matter where or when the lettuce was grown. It doesn't matter if it is chopped, whole head or part of a mix.
---
California Has the Most Toxic Air on the Planet Thanks to Wildfires 
The Camp Fire is an unprecedented disaster in so many ways. Dozens are dead, hundreds are missing, thousands are homeless. But the immediate impacts of the flames are far from the only way it's assaulting California. As a result of all the smoke, the state is currently home to the worst air quality on the planet.
Norovirus strikes shelters for California wildfire evacuees
---
Your Mother's Romantic Past Affects Your Own Dating Adventures 
Some people have their mother's eyes. And some, it turns out, grow up to have their mother's romantic history.

People whose mothers have been married multiple times or have lived with multiple romantic partners are more likely to do so themselves, according to a new study published Tuesday in the journal PLoSOne. The longer people are exposed to their mother's cohabitation, the more sexual partners they tend to have.

Enter an organization driving positive change in its community for the chance to win $20,000 in funding.

The authors looked at data from surveys of thousands of Americans followed for 24 years.
---
Diseases spread by ticks hit record level in U.S.
New government research shows that tickborne diseases like Lyme disease continue to rise. The report from the Centers for Disease Control and Prevention finds that in 2017, state and local health departments reported a record number of cases of illnesses spread by ticks.

Cases of Lyme disease, Powassan virus; spotted fever rickettsiosis, including Rocky Mountain spotted fever, anaplasmosis, ehrlichiosis, babesiosis and tularemia all increased last year. The CDC said there were 59,349 confirmed cases of tickborne diseases in 2017, up from 48,610 in 2016. In past years, health officials have acknowledged that the true number of cases is likely many times higher than the officially tally.

The findings reflect an accelerating trend of tick-related diseases reported in the U.S. Between 2004 and 2016, the number of such cases doubled. Researchers also discovered seven new tickborne pathogens that infect people.
---
The NRA denies the reality of gun violence. Doctors like me know it all too well.
Last week, the Annals of Internal Medicine published a set of guidelines by the Health and Public Policy Committee of the American College of Physicians (ACP) addressing the problem of firearm-related injuries and death from a public health perspective.

The National Rifle Association (NRA) quickly rebuked the journal — and physicians in general — on Twitter, saying: "Someone should tell self-important anti-gun doctors to stay in their lane."

As a gun rights advocacy group, the NRA's sharp critique was entirely expected. But the eruption from my physician colleagues on social media was startling. Responding to the NRA's central point — that doctors should "stay in their lane" on the topic of guns — medical professionals created a viral hashtag, #ThisISMyLane (also #ThisISOurLane), sharing vivid stories of their clinical experiences with gunshot wound victims, arguing that, despite what the NRA might believe, the issue falls unavoidably into the laps of medical practitioners.
---
Duncan Hines cake mix recall: FDA probes salmonella risk
Food giant Conagra Brands is recalling 2.4 million boxes of its Duncan Hines cake mix, with federal health officials warning that one variety of the popular product tested positive for salmonella.

The Centers for Disease Control and Prevention has received reports of five illnesses linked to Duncan Hines, according to the Food and Drug Administration. Reports of additional illnesses are expected due to time lags between when an illness occurs and when the CDC receives confirmed lab results.
---
6 children dead so far in viral outbreak at N.J. healthcare facility 
A severe viral outbreak has claimed the lives of six children at the Wanaque Center for Nursing and Rehabilitation in Haskell, state health officials confirmed Tuesday, leading to an immediate order to shut down the facility to new patients.

The Department of Health reported 18 cases of adenovirus among pediatric residents at the long-term care center in northern New Jersey, which officials said included "very ill children," some of whom were on ventilators and had trachea tubes.

"This is an ongoing outbreak investigation," said department spokeswoman Nicole Kirgan in a statement. "A department team is at the facility today and an inspection team was also there Sunday. The team on Sunday found minor handwashing deficiencies and the Health Department is continuing to work closely with the facility on infection control issues."
8th child dies after virus outbreak at New Jersey facility
Ninth Child Dies at New Jersey Nursing Home Facing Adenovirus Outbreak
Former patient describes grim conditions at health center where 10 children died
---
Here's what happened after California got rid of personal belief exemptions for childhood vaccines 
Health authorities in California have more power to insist that a dog is vaccinated against rabies than to ensure that a child enrolled in public school is vaccinated against measles.
A Polio-Like Illness Is Causing Paralysis in Children
---
WHO Director: Air Pollution Is the "New Tobacco"
Breathing polluted air is as likely to kill you as tobacco use — worldwide, each kills about 7 million people annually. But while the world is making progress in the war against tobacco, air pollution is getting worse.

The Director General of the World Health Organization (WHO) hopes to change that.

"The world has turned the corner on tobacco," wrote Tedros Adhanom Ghebreyesus in an opinion piece published by The Guardian on Saturday. "Now it must do the same for the 'new tobacco' — the toxic air that billions breathe every day."
---
Can coffee really sober you up?
You're out late at night and you've had one too many drinks. You're feeling a bit inebriated, and you're wondering if a cup of coffee can help. Many of us have been there.

Well, here's the lowdown: While a cup of joe or shot of espresso can help to perk you up, it's not going to help sober you up. In fact, in some situations, the combination of caffeine and alcohol could be potentially harmful.

"I call it the 'perfect storm,' " said Dr. Mary Claire O'Brien, senior associate dean for health care education at the Wake Forest School of Medicine, who has researched the interactions between caffeine and alcohol, including its effects on injury risk.
---
This machine can make gallons of fresh drinking water right out of thin air 
Machines designed by a California-based team can produce, in some cases, up to 300 gallons of fresh drinking water a day by pulling it straight from the air. And the team just won a $1.5 million prize for it.

The machines, dubbed Skywater, were created by the Skysource/Skywater Alliance, a team of sustainability experts from Venice, California. Skywater machines, housed in big metal boxes, are atmospheric water generators that condense water vapor from the atmosphere and turn it into drinking water. The machines can be powered by solar energy or the burning of biofuels. Depending on the model, they can be used for households, for farming or for emergency relief efforts.
---