Health/Food Posts Tagged as 'Environment'
---
Welcome to Errattic! We encourage you to customize the type of information you see here by clicking the Preferences link on the top of this page.
Young Americans Are Partying Hard and Spreading Covid-19 Quickly 
Covid-19 is increasingly a disease of the young, with the message to stay home for the sake of older loved ones wearing off as the pandemic wears on.

The dropping age of the infected is becoming one of the most pressing problems for local officials, who continued Wednesday to set curfews and close places where the young gather. U.S. health experts say that they are more likely to be active and asymptomatic, providing a vast redoubt for the coronavirus that has killed almost 130,000 Americans.

In Arizona, half of all positive cases are people from the ages of 20 to 44, according to state data. The median age in Florida is 37, down from 65 in March. In Texas's Hays County, people in their 20s make up 50% of the victims.
Some Restaurants Are Closing Again After Customers Throw Fits Over Wearing Masks
PSA uses mask-wearing 'Friday the 13th' slasher villain to get New Yorkers to ... wear masks
He posted his regrets over attending a party in California. The next day, he died of coronavirus
Some States To Out-Of-Towners: If You Come Visit, Plan To Quarantine For 2 Weeks
Family of Man Who Died of Coronavirus Hit With $1 Million Hospital Bill
They were arrested for breaking lockdown rules. Then they died in police custody
---
Phonies Don't Like Spending Time Alone; Authentic People Do
You know them when you see them – the phonies in your life. Maybe they are sycophants. They laugh too loudly at unfunny jokes. They say things you know they don't believe, because they think that then, other people will like them. Or the "right" other people will like them, the ones they are trying to impress. They are trying too hard.

You probably don't like being with people who seem inauthentic. It's uncomfortable. Well guess what? They don't like spending time with themselves either. That's one of the costs of phoniness – it is no fun being alone with yourself.

In contrast, people who are authentic have a great big advantage: they like their own company. Spending time alone doesn't scare them. They don't worry about being lonely. Their alone time is something they value. It is important to them and they benefit from it.
---
Mother Denied Service Because Of Her Son's 'Athletic' Clothes Hires Civil Rights Attorney
Following the apology by a Baltimore restaurant, after the manager refused service to a Black woman, Marcia Grant, and her son, Dallas, because of his "athletic" clothes, the mother has retained a civil rights attorney.

Grant and her spokesperson, Michelle Watts, told TMZ that the apology was not sufficient given the longstanding practices of discrimination at other restaraunt's owned by Atlas Restaraunt Group.
---
National parks are being overrun by invasive species
Wearing headlamps and muck boots, the band of volunteer conservationists trudges into dark forests in Hawaii Volcanoes National Park and surrounding communities, turning over leaves and shining lights on tree trunks. Their quarry is a tiny frog called the coqui. No bigger than a quarter, the coqui makes an ear-splitting call as loud as a lawn mower: Ko-kee! Ko-kee! It takes special know-how and fortitude to home in on a frog in a blackened forest ringing with frog calls. But the coquistodores are efficient cutthroats. When they find a coqui, they catch it, and drench it in citric acid, killing it.
---
How Black Lives Matter Is Challenging India's Obsession With Fair Skin
Skin-lightening brand Fair & Lovely, which earned more than $500 million in sales in India last year, announced on June 25 that it would be removing the word "fair" from its products.

For decades, Indian advertisers have propagated an association between skin fairness with career success, beauty, and social status. In 1975, Fair & Lovely was one of the first brands to monetize India's societal desire for light skin by turning it into a beauty product.

Now, this brand which has spent 45 years building itself into a household name with skin-whitening face creams, is trying to revamp its identity.
---
Census shows white decline, nonwhite majority among youngest
For the generation of Americans not yet old enough to drive, the demographic future has arrived.

For the first time, nonwhites and Hispanics were a majority of people under age 16 in 2019, an expected demographic shift that will grow over the coming decades, according to figures released by the U.S. Census Bureau on Thursday.

"We are browning from bottom up in our age structure," said William Frey, a senior fellow at The Brookings Institution. "This is going to be a diversified century for the United States, and it's beginning with this youngest generation."
---
Dear Abby: His teenage daughter won't wear pants, and it disturbs me when I visit
DEAR ABBY: My fiance, "Jay," has a 14-year-old daughter who has been home-schooling during the quarantine, and she refuses to put pants on. When we ask her to, she gets upset.

She isn't built like the average teenager. Abby, she's 5'10" and weighs 200 pounds, so it's like seeing a grown woman in her underwear.

I think it's inappropriate for a young woman her age to be unwilling to dress herself fully, and I don't like seeing her like that every time I go to their house.

Jay doesn't notice. He says it doesn't bother him, and he doesn't mind when I ask her to put shorts on.

I don't feel it's my place at this point to dictate what she wears, but I'm uncomfortable. I don't know if I'm crossing a line or if it's normal to feel this way. Help!

DIDN'T THINK I WAS A PRUDE
---
So long, salad bar: Grocers get creative, consider robots to revive prepared food amid pandemic
Grocery stores have shut down self-serve salad bars during the pandemic. They've taken away displays of fresh olives and dips. And they've replaced giant kettles of ready-to-ladle hot soup with sealed to-go containers.

The deli and prepared food areas that used to draw traffic to stores and differentiate grocers have fallen from favor as customers worry about the spread of the coronavirus, cook more from scratch and try to limit their time in stores.

Grocers are trying to revive those parts of the store with new approaches. At Publix, salad bars and hot bars have reopened, but employees dish out each item. Wegmans moved hummus, olives and more behind a counter where cheese shop employees fill orders. And at Texas-based H-E-B, some coolers carry prepared meals from local restaurants and a former food bar became an ice chest of beers.
---
SCHILLING: 'Gender Identity' Has No Place in Medicine
The problem is obvious: "gender identity" has no basis in physical reality. It is impossible for a doctor to tell from simply examining a patient what his or her (or hir or zir) "gender identity" is. A person's "gender identity" is totally subjective and has no connection to one's physical body.

However, health care is very much connected to the physical body. Whether one is biologically male or female makes a great deal of difference in how one ought to be treated — from finding the right medicine dosages to judging the risks of getting certain diseases. To place "gender identity" above biological sex would be to ask medical professionals to ignore their education and their training and instead operate solely on what a patient believes to be true — a dangerous idea if there ever was one.
---
Fears over domestic abuse when football comes home
With the Premier League returning tonight, the first football game kicking off this week, people will be watching the games from their homes due to the pandemic. There are fears this could increase tensions within households, resulting in incidences of domestic abuse.

In response to this, the Cannock Chase Council's community safety partnership has teamed up with local partners including Staffordshire Police, New Era (domestic abuse service), the Staffordshire Commissioner's Office and local authorities across Staffordshire to deliver some messages around the issue.

The new campaign 'Football is coming home' raises awareness of the support services available for both victims and perpetrators during these unprecedented times.
---
Almost Every American Is Extremely Unhappy, for Some Reason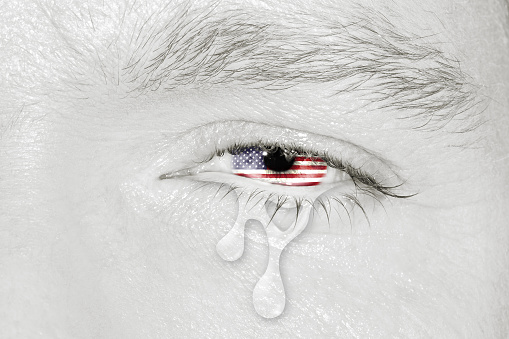 A new poll found that Americans are the unhappiest they've been in nearly half a century, though I certainly can't imagine why that would be the case.

The Associated Press reports that the the COVID Response Tracking Study, conducted by researchers at the University of Chicago, found only 14 percent of American adults say they are "very happy," with 50 percent of respondents saying they "often or sometimes felt isolated in recent weeks." In 2018, 31 percent of Americans said they were "very happy," and only 23 percent said they felt isolated.
---
Tell Siri you're getting pulled over and this iPhone shortcut will record your interaction with the police 
Amid the widespread protests and anger over police brutality, an iPhone shortcut that allows users to automatically record their interactions with the police is gaining popularity.

By saying, "Hey Siri, I'm getting pulled over," the shortcut -- which a user must first install themselves -- will pause any music that you're playing, turn down the brightness of your phone, turn on the "Do Not Disturb" mode to block any incoming calls, open up your front-facing camera and start a video recording.

It also sends a message to a predesignated contact, letting them know that you're being pulled over and where your current location is. Once you stop the recording, it sends a copy of the video to a predesignated contact and gives you the option to send it to your iCloud or Dropbox.
Police officers across the US have quit their jobs in recent days. Here is where there have been resignations
---
The Tricky Exceptionalism of 'Fellow White Women' 
In a time where easily sharable video provides weekly, if not daily, evidence of America's violent racism, a constant cacophony of individual voices respond in real-time. At the beginning of this week, the conversation-provoking event was a video of a white woman, Amy Cooper, calling the police to claim her life was being threatened by Christian Cooper, a black man peacefully watching birds in Central Park. That news was followed quickly by the excruciating footage of the police killing George Floyd in Minneapolis, Minnesota. These videos have sparked protests, demands for America to address its deadly racism, and a certain kind of social media scolding, often openly addressed to "Fellow White Women."

For as long as social media has provided a platform for activism, slactivism, and sometimes outright grandstanding, the phrase has popped up. But since the 2016 election, when white women proved to be the tipping demographic in the election of bigoted game show host Donald Trump as President of the United States, it seems to have come into heavy usage.
Minneapolis businessman loses office lease after he questioned black tenants
---
Planting Trees Won't Stop Climate Change
Not only are planted trees not the carbon sinks you want, but tree planting frequently ends up doing more harm than good.

Humans have long believed that planting trees, any kind of tree, anywhere, is good, something Mother Nature cries out for, something that might even solve our climate crisis. Tree-planting initiatives proliferate: the Bonn Challenge, Trees for the Future, Trees Forever, the 10 Billion Tree Tsunami, Plant a Billion Trees, 8 Billion Trees, the Trillion Tree Campaign, the One Trillion Trees Initiative, to mention just a few.

But such slapdash planting is an American tradition. In 1876, possibly inspired by Arbor Day, a man named Ellwood Cooper sought to improve his 2,000-acre, mostly treeless ranch near Santa Barbara, California, with 50,000 eucalyptus seedlings. They shot up 40 feet in just three years, an unheard-of growth rate for which they became known as "miracle trees." Eucalyptus trees are not native to California.

Shortly thereafter, the University of California and the state Department of Forestry distributed free eucs for everyone to plant. Prairies, chaparral, and cutover forestland were jammed full of these aliens. One hundred years after the first Arbor Day, 271,800 acres of eucalyptus had been planted in the U.S., 197,700 of them in California.

When I inserted my arm into euc leaf and bark litter in Bolinas, California, I couldn't touch the bottom. That's because the microbes and insects that eat it are in Australia, not California. Native plant communities can't survive in these plantations because eucs kill competition with their own herbicide, creating what botanists call "eucalyptus desolation." Eucs evolved with fire and prosper from it. Their tops don't just burn; they explode. Living near them is like living beside a gasoline refinery staffed by chain smokers.

But eucs remain popular in California. They're still being planted. And agencies seeking to protect the public and recover native ecosystems by razing eucs inevitably face the fury of eucalyptus lovers who have, for example, accused them of being "plant Nazis."
---
New coronavirus cases across the world jump by the most ever in a single day, WHO says 
The number of newly reported coronavirus cases worldwide hit a daily record this week with more than 100,000 new cases over the last 24 hours, according to the World Health Organization.

Almost two-thirds of the cases were reported in just four countries, WHO Director-General Tedros Adhanom Ghebreyesus said during a press conference Wednesday at the agency's Geneva headquarters. "We still have a long way to go in this pandemic."

The majority of new confirmed cases are coming from the Americas, followed by Europe, according to WHO's daily report. The U.S. reported 45,251 new cases on Tuesday, according to the agency. Russia had the second-most reported cases Tuesday at 9,263, according to WHO.
---