Gay+
---
Welcome to Errattic! We encourage you to customize the type of information you see here by clicking the Preferences link on the top of this page.
Fast food worker fired after mob beat him & called him a "faggot" in shocking video
A fast food employee in Florida was called anti-gay slurs as he was allegedly beaten by a mob of customers, left bruised and injured.

Later that same day, after he filed a police report, the victim was fired.
Black Trans Woman in Critical Condition After L.A. Shooting
Two Texas LGBT Facebook groups are sharing Islamophobic & anti-Black Lives Matter posts
Turk of Hot Boyz Criticized for Saying Trump Administration Has Done More for Black People Than Obama
Detroit Man Sentenced to Life in Murders of Two Gay Men, Trans Woman
RuPaul Just Inexplicably Wiped His Instagram — After Hiatus
German pastor charged with incitement for anti-gay comment
---
'We Have A Black People Problem': Facebook Worker Claims Racial Discrimination 
A Black Facebook employee is accusing his employer of racial discrimination.

In a complaint filed Thursday with the Equal Employment Opportunity Commission, Oscar Veneszee Jr. said the social network does not give Black workers equal opportunities in their careers.

"We have a Black people problem," Veneszee told NPR. Veneszee is a Navy veteran who recruits other veterans and people of color as part of diversity initiatives at Facebook's infrastructure division. "We've set goals to increase diversity at the company, but we've failed to create a culture at the company that finds, grows and keeps Black people at the company."

Veneszee, who has worked for Facebook since 2017, filed the employment discrimination charge along with Howard Winns, Jr., and Jazsmin Smith — both of whom Veneszee recruited — who said they applied to work at Facebook but had not been hired, they alleged, because they are Black. The claim, they said, was filed on behalf of "all Black Facebook employees and applicants to Facebook."
After This Teen Posted A Selfie Comparing Herself To An Avatar The Last Airbender Character She Got Racist Comments
A 911 call, a racial slur, a refusal to cash a check. This is what it's like for some Black bank customers
Catholic Priest In Indiana Suspended After Calling Black Lives Matter Protesters 'Maggots'
2,120 hate incidents against Asian Americans reported during coronavirus pandemic
Historian David Starkey says slavery wasn't 'genocide' or there 'wouldn't be so many damn blacks'
MIT Takes Down Popular AI Dataset Due to Racist, Misogynistic Content
Washington's NFL nickname under new scrutiny in wake of anti-racism protests
White woman who pointed gun at a Black mom and her teen daughter charged with assault
Black families pay significantly higher property taxes than white families, new analysis shows
---
Christina Ricci divorcing James Heerdegen after alleged domestic battery incident
It's over for Christina Ricci and James Heerdegen.

Ricci, 40, filed for divorce on Thursday morning, just days after she called the cops when Heerdegen allegedly attacked her in their home, Page Six has confirmed. Heerdegen wasn't arrested by the Los Angeles Police Department but Ricci obtained an emergency protective order against him.
---
Black Exotic Dancers Demand Better Treatment With 'Stripper Strike' 
At the start of the coronavirus pandemic, when strip clubs across the country were shuttering and dancers found themselves abruptly out of work, the Portland, Oregon strip club the Lucky Devil Lounge started a food-delivery service called Boober Eats in order to provide some of its employees work. The concept went viral (and was, in fact, covered by this publication), but local black dancers noticed something odd: its Instagram featured relatively few black dancers.

This wasn't surprising to some black dancers in Portland, like Cat Hollis and Brianna Cistrunk, who say the club has a reputation for almost exclusively hiring white dancers. "They say they're a 'rock 'n roll club' [which means] they only hire a certain aesthetic," Cistrunk says. "It's an unspoken thing but it's very well-known among most girls." This perception was magnified a few weeks later, following the death of George Floyd, when the club posted a (now-deleted) photo on Instagram of #BlackLivesMatter flags festooning the stage. "There was a huge argument that happened in the comments," says Hollis. She commented: "There are more #BlackLivesMatter signs than there have ever been black butts on that stage." (Shon Boulden, owner of the Lucky Devil Lounge, tells Rolling Stone the controversy stemmed from "a lot of misconceptions of how our club operates," though he acknowledged that only two or three of the club's 30 dancers are black."If there ever was the idea that we weren't open to hiring all ethnicities, I guess I'd just want say, yes of course we do," he says. "In our hiring, maybe it didn't look like we were.")
Restaurant Dress Codes Have Long Been a Tool for Racist Discrimination
Black Survivor Contestants Say They Were Edited Into Stereotypes on the Show
A white man was arrested after pulling a gun on a Black homeowner in Miami-Dade County
Black Family Claims White Neighbor Falsely Accused Them of Assault After Patio Dispute
Woman Evicted After Hurling Racist Abuse at Black Soldier
Worker 'No Longer Employed' at Hotel After Calling Police on Black Family
31% of Asian Americans say they've been subject to racist slurs or jokes since the coronavirus pandemic began
Utah reinstates defensive coordinator Morgan Scalley after investigation into racist language
It's 'Our Fault': Nextdoor CEO Takes Blame For Deleting Of Black Lives Matter Posts
---
Tragedy of the teen killed by CHOP security revealed: Homeless 16-year-old's friend reveals he drove the stolen Jeep into the 'cop-free' zone for safety and then told her on the phone: 'I don't want to die'
The 16-year-old boy who was shot dead by CHOP security in Seattle was homeless and had just carjacked a Jeep when he was told by a friend to drive to the cop-free zone 'for safety', DailyMail.com can reveal.

Antonio Mays Jr died in a hail of bullets in the early hours of Monday morning and his passenger, a 14-year-old, was critically injured after armed security guards fired on their white Jeep Cherokee, which crashed into the barriers of the Capitol Hill Organized Protest (CHOP) security zone.

Ciara Walker, 25, described the two boys as her 'street brothers' and said Mays Jr and the other teen had been living with her and her husband in a tent at the nearby Cal Anderson Park, located just outside the CHOP zone.

Walker revealed she was on the phone with the boys when they were shot, saying: 'The last thing I heard was a crash and pop pop pop, I'm not sure who said what, but one of them said, '''Ah s**t I'm hit, I don't wanna die.'' Then the phone went dead.'
---
'You've been warned': Florida sheriff says he may deputize gun owners against protesters
Clay County Sheriff Darryl Daniels, no stranger to making viral videos appealing to tough-on-crime politics, released a video Tuesday that said he will make "special deputies of every lawful gun owner in this county" if he feels the county is overwhelmed by protesters.
---
Former NYPD commissioner: Mayor de Blasio is 'surrendering' to violent crime 
Former New York City Police Commissioner Ray Kelly told "Your World" on Monday that he attributes the recent violence in the city and the increase in officers retiring from the police department to Mayor Bill de Blasio.
"I put this all out at the feet of Mayor de Blasio," Kelly told host Neil Cavuto on Monday.

"He sapped the strength of the NYPD since he took office in 2014," he added.

Kelly made the comments the day after NYPD officers, responding to a report of shots fired in Manhattan, were met with a large crowd throwing bottles and debris at them.

The New York City Police Benevolent Association shared a video that showed the crowd shouting and throwing multiple glass bottles at a police cruiser. The incident occurred when officers attempted to disperse the group of nearly 500 people in the neighborhood of Harlem.
---
Woman Yells 'You Live Off White People' in Racist Rant at BLM Protesters 
A woman in Pennsylvania shouted racist abuse at Black Lives Matter protesters on Sunday and told them, "You live off white people."

As the protesters in Watsontown chanted "No justice, no peace," the white woman shouted "trash" and "fuck you, we're going to give you no peace."

A protester can be heard off camera shouting "We love you" as the woman says "b****, f****** b****." She shouts at the protesters, "You live off of white people" and they again reply with "We love you," to which she responds: "you f****** communists" and "fuck off, keep your HIV over there."
Employee of a Miami restaurant quit after he says one of its owners jokingly referred to blackened chicken wings menu item as 'I Can't Breathe'
University of North Carolina Wilmington professor behind 'vile' racist and sexist tweets to retire
Univ. of Wisconsin students want Lincoln statue removed: Sure, he was 'anti-slavery,' but he wasn't 'pro-Black'
White man charged with pointing gun at Black homeowner
Former Everlane Employees Are Calling For A Boycott After Speaking Out About Workplace Racism
Restaurant Co-Owner Cites Husband's Mental Health After He Refuses Black Customer in 'I Can't Breathe' Shirt
YouTuber Liza Koshy apologizes after backlash for videos mocking Japanese accent
YouTube Has Suspended Monetization On Shane Dawson's Channels After He Apologized For
Morphe has removed Shane Dawson's makeup range from its online store after he was accused of sexualizing Willow Smith as a minor and wearing blackface
---
SUPERMARKET 'KAREN' 2.0

ANOTHER MASK MELTDOWN ...

Chucks Food This Time!!! 
Another day, another person going berserk over face mask policy -- only this time, it happened down in Texas ... and food went flying everywhere.

A new video of a supermarket 'Karen,' if you will, is making the rounds online, which shows a lady having a complete and utter meltdown inside what appears to be a Fiesta Market in Dallas ... after she was apparently asked to put her mask back on to check out.
'Exhausted' by customers' rage over wearing masks, California taco chain shuts down
Video Shows Woman Spit at Gas Station Worker After Being Told to Wear Mask
---
A White Couple Was Caught on Video Pointing Guns at Black Lives Matter Protesters in St. Louis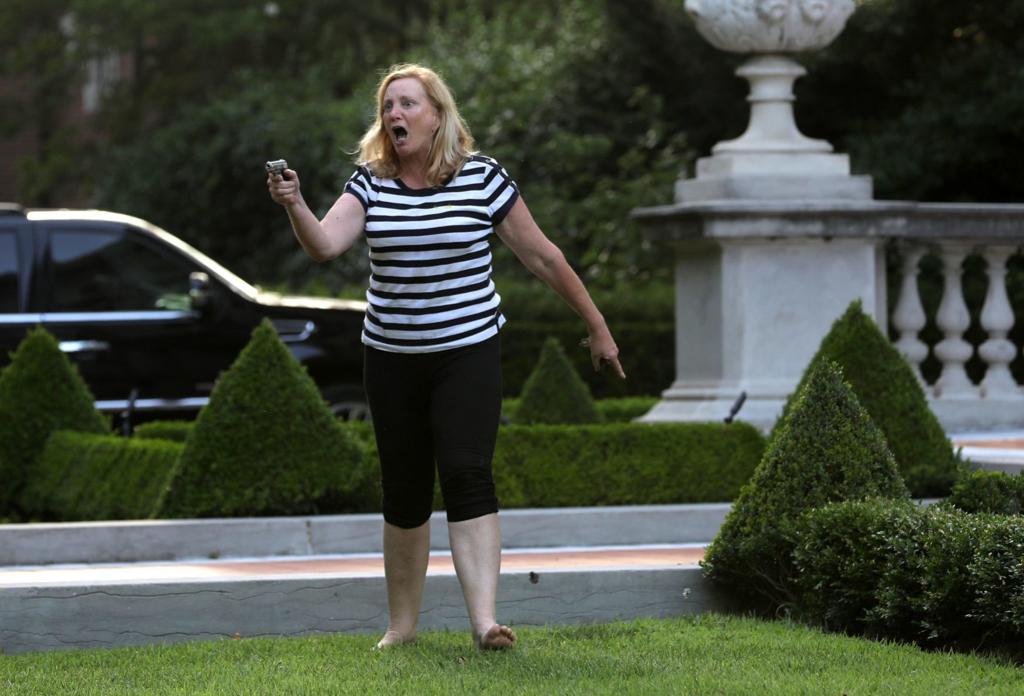 An armed white couple waved their guns and yelled at Black Lives Matter demonstrators in St. Louis on Sunday, during a protest march to St. Louis Mayor Lyda Krewson's home.

At least 500 people peacefully marched through St. Louis' Central West End neighborhood on Sunday demanding Krewson's resignation, according to the St. Louis Post-Dispatch. Krewson appeared in a Facebook Live video last week reading the names and addresses of people who had called for defunding the city's police department.
Man Fired for Racist Rant Supporting Slavery and Lynchings of Black People
John Wayne's son responds to resolution calling for John Wayne Airport to be renamed
Michigan Woman Yells Racial Slurs at New Neighbors in Viral Video
San Jose man charged with hate crime in Santa Cruz assault incident
Adam Carolla defends Jimmy Kimmel over blackface backlash: 'We've lost our minds'
Little Caesars fired two employees after a couple found a swastika made of pepperoni on their pizza
---
California Abandons Equality under the Law
Here are some unexpected developments: In Mississippi, Republicans have decided to excise the Confederate flag; in California, Democrats have decided to legalize racial discrimination.

Who had that on their 2020 bingo card?

In 1996, California voters by a substantial margin enacted a constitutional amendment reading: "The state shall not discriminate against, or grant preferential treatment to, any individual or group, on the basis of race, sex, color, ethnicity or national origin in the operation of public employment, public education, or public contracting." The Democrat-run state legislature has just voted to repeal that amendment.

California had a long struggle with race-based admissions practices in its public universities, most famously with the Bakke case, in which the Supreme Court upheld race-based policies. The 1996 amendment was an attempt to sort that out in the most straightforward fashion, by insisting that the state take no notice of race at all in its policies. That was, for some generations, the great aspiration of most good-hearted Americans, who took it to be the dream of the Reverend Martin Luther King Jr.'s famous speech.

California Democrats such as Assemblyman Todd Gloria insist that eliminating rules against racial discrimination are necessary to "advance true racial and gender equity in this state." That is, of course, nonsense. It is, in fact, self-refuting nonsense — the fact that the ethnic makeup of California's state universities does not reflect the ethnic makeup of the state is not an indictment of colorblind university policies but an indictment of the state's K–12 education system and other institutions. Racial preferences do not create equality — they camouflage inequality.
---
N.Y.C. Basketball Star, 17, Is Fatally Shot Days After Graduating from High School 
A 17-year-old high school basketball star was fatally shot in the neck Saturday night— just days after graduating.

Shortly before midnight, New York City police responded to a shooting in the Bronx where they discovered 17-year-old Brandon Hendricks suffering from a gunshot wound to the neck, the NYPD confirms.

Hendricks was transported to Saint Barnabas Hospital, where he was pronounced dead from his injuries, according to the NYPD's statement.

Hendricks graduated from James Monroe High School last week and was a star on the school's basketball team.
How Dollar Stores Became Magnets for Crime and Killing
---
A Black man said he was afraid to walk in his own neighborhood. So hundreds of people joined him 
Hundreds of people in a Tennessee man's community are marching by his side after he shared his fears of walking in his neighborhood because he is Black.

Shawn Dromgoole, 29, grew up in the 12 South neighborhood in Nashville, where his family has lived since 1966 when his grandmother bought a home there. They were once surrounded by other Black families, businesses and communities -- and for decades, they felt like they belonged.

But 54 years after his grandmother first moved there, Dromgoole said he felt like he couldn't even safely take a walk in his neighborhood without fearing for his life.

"Yesterday I wanted to walk around my neighborhood, but the fear of not returning home to my family alive kept me on my front porch," he wrote on May 27, in a post on the neighborhood social network app Nextdoor and on Facebook.
---
A Starbucks barista received nearly $80,000 in tips after being singled out for refusing to serve a customer not wearing a mask
A Starbucks barista who was publicly shamed by a customer after asking her to wear a face mask has received nearly $80,000 in virtual tips after a Facebook post that criticized him went viral.

Lenin Gutierrez, 24, was working his usual shift at a San Diego Starbucks on a Monday morning when a woman -- who was not wearing a mask -- walked in and attempted to place an order, he told CNN.

Gutierrez asked her if she had a face mask -- but before he was even able to show her company guidelines requiring customers to wear one, the woman flipped him off and "started cursing up a storm," he said.
---
St. Louis mayor slammed for broadcasting names, addresses of 'defund the police' supporters 
The mayor of St. Louis is facing backlash for reading aloud during a public briefing the full names and street addresses of protesters who are calling on the city to defund the police department.

Democratic Mayor Lyda Krewson was answering questions during a Facebook Live briefing Friday afternoon, which she has held regularly during the coronavirus pandemic, when someone asked about a meeting she had with demonstrators outside City Hall earlier in the day.

The mayor responded that the conversation "wasn't really a two-way conversation… because there was a very loud response from the demonstrators," NBC's affiliate in St. Louis, Missouri KSDK reported.
'I Should've Killed You': Unrepentant White Supremacist Murderer Threatens Victim At Sentencing
Black Lives Matter Wants to End Police Brutality. History Suggests It Will Go Much Further.
---