All Posts Tagged as 'Violence'
Welcome to Errattic! We encourage you to customize the type of information you see here by clicking the Preferences link on the top of this page.
Texas man allegedly slapped school bully who teased stepkid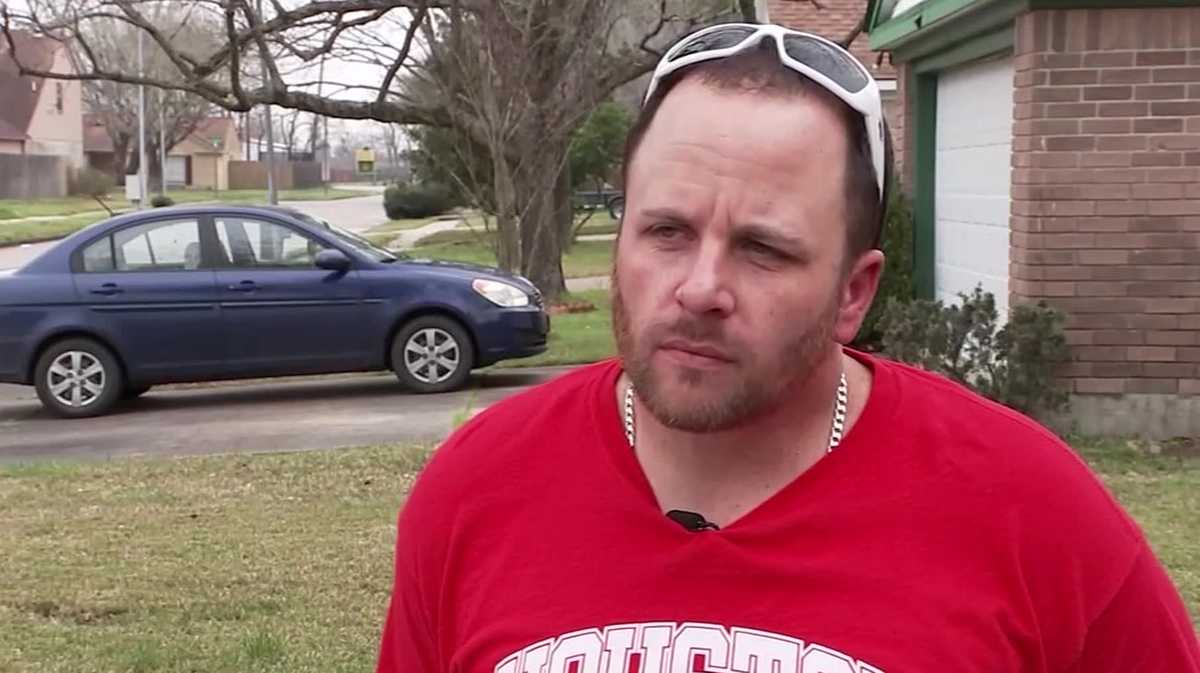 A Texas man faces charges after he allegedly slapped his stepdaughter's middle school bully in the face, officials said.

James Olander Peace, who is from Deer Park, is accused of hitting the 12-year-old because the boy teased his stepdaughter and threw ice cream at her, news station WTVD reported.

Peace's wife, who didn't want to be named, said her daughter asked to be picked up Feb. 14 because the boy was picking on her as she walked home.

She said the bully called her daughter "ugly" and told her she looked like a "transvestite."
---
'It Is Not a Closet. It Is a Cage.' Gay Catholic Priests Speak Out 
Gregory Greiten was 17 years old when the priests organized the game. It was 1982 and he was on a retreat with his classmates from St. Lawrence, a Roman Catholic seminary for teenage boys training to become priests. Leaders asked each boy to rank which he would rather be: burned over 90 percent of his body, paraplegic, or gay.

Each chose to be scorched or paralyzed. Not one uttered the word "gay." They called the game the Game of Life.

The lesson stuck. Seven years later, he climbed up into his seminary dorm window and dangled one leg over the edge. "I really am gay," Father Greiten, now a priest near Milwaukee, remembered telling himself for the first time. "It was like a death sentence."

The closet of the Roman Catholic Church hinges on an impossible contradiction. For years, church leaders have driven gay congregants away in shame and insisted that "homosexual tendencies" are "disordered." And yet, thousands of the church's priests are gay.
Vatican secret out: There are rules for priests who father children
Southern Baptist president says database of sexual abusers possible
---
McKinney Firefighter Arrested, Accused of Child Sex Abuse 
A McKinney firefighter accused of child sex abuse was arrested Sunday, police records show.

Chad Watson, 38, was charged with continuous sex abuse of a child under 14-years-old, according to Collin County Jail records.

A probable cause affidavit obtained by NBC 5 said Watson was accused of groping and touching the genitalia of a minor on three different occasions.
Former Philadelphia Homicide Detective Raped and Intimidated Witnesses and Suspects, DA Says
---
Alabama newspaper editor calls for the Ku Klux Klan to 'clean out D.C.' 
The editor of a small-town Alabama newspaper published an editorial calling for "the Ku Klux Klan to night ride again" against "Democrats in the Republican Party and Democrats [who] are plotting to raise taxes in Alabama."

Goodloe Sutton – who is the publisher of the Democrat-Reporter newspaper in Linden, Alabama – confirmed to the Montgomery Advertiser on Monday that he authored the Feb. 14 editorial calling for the return of a white supremacist hate group.

"If we could get the Klan to go up there and clean out D.C., we'd all been better off," Sutton said.

Asked to elaborate what he meant by "cleaning up D.C.," Sutton suggested lynching.

"We'll get the hemp ropes out, loop them over a tall limb and hang all of them," Sutton said.
Hate Crime Charges Filed in MLK Day Viral Video Altercation in Brickell
---
Have You Seen This Homophobe? Salt Lake City Asks For Help 
UPDATE (1:45pm): Local police have identified that assailant and say he is "fully cooperating" into their investigations. No charges have been filed yet.

***

Salt Lake Police want help identifying a man captured on video striking a gay man.

Sal Trejo, a gay man living in Salt Lake City, posted a short video of a man confronting him downtown on Sunday evening.

"Are you gay though?" the man asks. Trejo responds "I am." After the man states "Oh then you are gay," the video shows him throwing a punch toward the camera and physically knocking it away.

The Salt Lake City Tribune reports the man struck Trejo in his right hand.
Four Suspects Arrested in Connection with Brutal Homophobic Attack in Austin That Sent Gay Couple to Hospital: WATCH
---
A Pedophile Doctor Drew Suspicions for 21 Years. No One Stopped Him. 
At first, officials at the U.S. Indian Health Service overlooked the peculiarities of their unmarried new doctor, including the children's toys he hoarded in his basement on the reservation. They desperately needed a pediatrician at their hospital in Browning, Mont.

By 1995, after three years, they became convinced Stanley Patrick Weber was a pedophile and pushed for his removal from the government-run hospital.

"You're going to have to leave," Randy Rottenbiller, its clinical director at the time, recalled telling the doctor after learning a child patient had stayed the night in his house.

But the Indian Health Service didn't fire Mr. Weber. Instead, it transferred him to another hospital in Pine Ridge, S.D. He continued treating Native American children there for another 21 years, leaving behind a trail of sexual-assault allegations.
Vacaville Man Arrested On Suspicion Of Child Sexual Assault
After allegations of sexual abuse, Afghanistan women's soccer team fights for justice
Theodore McCarrick expelled from priesthood after sexual abuse scandal
Teacher awarded over $500K after principal sexually harassed her
CRUISE SHIP SEXUAL ASSAULT: EX-CHEERLEADING COACH ATTACKED DRUNK COLLEAGUE
Woman who alleged rape by Fairfax, Maggette spotlights issue of revictimization
Public Help Sought to Find Man Accused of Sexually Assaulting Woman in Riverside
---
"My KKK Friends Will Burn Your Family": A Florida Woman Went On A Racist Rant Against A Black Officer
A Florida woman was recorded going on a racist and violent rant against a black officer after he arrested her for drunk driving.

Julie Edwards, 53, told Volusia County Sheriff's Office deputy Brandon King that her "KKK friends would burn his family" and that "niggers should've never been let out of slavery," according to a police report provided to BuzzFeed News.
Dozens with ties to Arkansas group indicted in 'racketeering enterprise'
Racist woman shouts slurs at black shopper, keys her car
Anger over mom's black boyfriend fueled hate crime, Houston police say
This man is under investigation for attacking a trans woman. He just beat a black man.
Wisconsin school investigating after students taunt rival athlete with photo that appears to show him in blackface
---
An 11-year-old lesbian was beaten up at school & it was caught on video 
An 11-year-old girl in New Mexico has faced severe and violent bullying since she came out at school. This past Friday, she was beaten up at school and other students recorded it.

Savannah Tirre came out last October, and her parents say that they instantly accepted her.

"We said, 'We don't care, we just want you happy.' It's never been an issue in this family," her mother, Chelsea Tirre, said.

The bigger problem was school. Savannah faced immediate bullying at her middle school near Las Cruces, New Mexico.
Student's savage killers slit his throat & used his blood to write 'he was gay' on the wall
Kansas GOP introduces the 'most vile, hateful & disrespectful' anti-LGBTQ bills in the country
---
Illinois Prosecutors Reportedly Preparing to Indict R. Kelly Over Another Tape
Chicago prosecutors are investigating a VHS tape of what appears to be, according to lawyer Michael Avenatti, singer R. Kelly raping a girl.

"My client knows the identity of the girl and R. Kelly," Avenatti, who previously represented Stormy Daniels, told CNN. "He identified the two of them on the videotape. He worked for and has known R. Kelly for decades and he met the girl on a number of occasions. Avenatti turned the tape over to the Cook County State's Attorney's Office in Chicago last weekend, CNN reports.
---
2 Malnourished Texas Children Found Living in Dog Crates as Mom, Boyfriend Are Charged
When authorities responded to an alleged domestic violence incident near Fort Worth, Texas, on Tuesday morning, they found a disturbing scene.

According to a police report first obtained by the Fort Worth Star-Telegram, a couple had allegedly gotten into a fight. While authorities began investigating it, they heard children crying inside.

A 5-year-old boy and a 4-year-old girl were allegedly found locked inside a dog kennel inside the family home, police say. The kennel was approximately 3 feet by 3 feet. They appeared to be malnourished. Two other boys, ages 3 and 1, were also found malnourished, according to police. The younger children were not in kennels, according to WFAA-TV.
---
Four suspects arrested in brutal attack on Texas gay couple
Four men were arrested Tuesday in connection with the brutal beating of a gay couple in downtown Austin last month. Police say an anonymous tip sent to their Crime Stoppers line helped them apprehend the suspects.

The four men allegedly beat Spencer Deehring, 23, and Tristan Perry, 22, after the couple left a gay club holding hands in downtown Austin in the early hours of Jan. 19. The suspects are accused of hurling anti-gay slurs at Deehring and Perry before attacking them. Perry suffered a broken nose after being punched in the face and kicked in the head, and Deehring was knocked unconscious. A bystander called 911, and both men were hospitalized after the attack.
---
---
MAN WANTED FOR 865 COUNTS RELATING TO CHILD RAPE ARRESTED IN FLORIDA AFTER ALMOST A MONTH ON THE RUN 
After about a month on the run from the law, Garrick Bloom, who was wanted on 865 charges related to child rape, was apprehended in Florida.

Bloom, 47, was wanted in Clarion County, Pennsylvania. The dates of his alleged offenses ranged from 2007 to 2012, and the charges, as outlined in court documents included:

216 counts of rape of a child
216 counts of involuntary deviate sexual intercourse with a child
216 counts of aggravated indecent assault of a child
120 counts of statutory sexual assault of a child 11 years or older
96 counts of statutory sexual assault
One count of endangering the welfare of children
Sex offender center guard accused of having sex with patient
Pedophile Doctor Preyed on Native Children for Years While the Feds Turned a Blind Eye
Extra's A.J. Calloway Suspended Amid Sexual Misconduct Investigation
West Hollywood Mayor John Duran Accused of Sexual Harassment
---
The parking lot suicides

Veterans are taking their own lives on VA hospital campuses, a desperate form of protest against a system that they feel hasn't helped them.
Alissa Harrington took an audible breath as she slid open a closet door deep in her home office. This is where she displays what's too painful, too raw to keep out in the open.

Framed photos of her younger brother, Justin Miller, a 33-year-old Marine Corps trumpet player and Iraq veteran. Blood-spattered safety glasses recovered from the snow-covered Nissan Frontier truck where his body was found. A phone filled with the last text messages from his father: "We love you. We miss you. Come home."

Miller was suffering from post-traumatic stress disorder and suicidal thoughts when he checked into the Minneapolis Department of Veterans Affairs hospital in February 2018. After spending four days in the mental-health unit, Miller walked to his truck in VA's parking lot and shot himself in the very place he went to find help.

"The fact that my brother, Justin, never left the VA parking lot — it's infuriating," said Harrington, 37. "He did the right thing; he went in for help. I just can't get my head around it."
---
The Big Problem With 'Biblical Literacy' 
America is, quite famously, a nation founded on the principle of freedom of religion. As a result it is easy to understand why many people would be uncomfortable with certain kinds of religious practices (mostly notably prayer) and education in public schools. A little over a week ago President Trump tweeted his support for the introduction of Biblical literacy classes in schools, drawing attention to efforts by a variety of Christian groups to put the Bible back on the high school agenda.

Following Trump's statement there was a flurry of media coverage of the issue. Fox News reported that "at least six states, Florida, Indiana, Missouri, North Dakota, Virginia and West Virginia have introduced legislation this year pushing for public schools to offer Bible literacy classes," noting that these classes would be electives. (The Indiana bill is not actually a Bible course bill at all. It demands that the previously existing world religions electives class has to include a conversation about the Bible).

There is a strategy here: Project Blitz, an initiative sponsored by the Congressional Prayer Caucus Foundation, the National Legal Foundation and the WallBuilders ProFamily Legislative Network, has been orchestrating the push to create these bills.

As prominent SMU religious studies professor Mark Chancey has written, it's actually already legal to teach the Bible in schools, so in some sense these bills are unnecessary. Courses like the one Trump is tweeting have been around for a century. Chancey told The Daily Beast that "it is important to recognize that Bible course bills and their sponsors may have different motivations…sometimes a bill is clearly about more than just biblical literacy, and that's definitely the case with Project Blitz bills." Other measures that Project Blitz has called for includes the promotion of the motto "In God We Trust," the introduction of a "year of the Bible" and the limiting of the rights of same-sex couples and transgender people. Chancey told me, "Project Blitz is weaponizing Biblical Literacy for the cultural wars."
---