Gay+
---
Welcome to Errattic! We encourage you to customize the type of information you see here by clicking the Preferences link on the top of this page.
41 shot Saturday night in NYC with at least 4 dead in citywide explosion of gun violence 
New York City turned into the Wild West as a series of shootings claiming four lives and injuring 37 others erupted amid Fourth of July celebrations.

The shocking wave of violence came as the city was reeling from ongoing anti-police brutality protests, weeks of lockdown orders prompted by the coronavirus outbreak and soaring summer temperatures. Adding to the chaotic atmosphere, illegal fireworks exploded in all five boroughs throughout the night.

In the first fatal shooting of the night, Jose Cepeda, a young father, was blasted in the chest a little after midnight Sunday in East New York, Brooklyn.

Cepeda, 20, and a friend had a "little disagreement" in front of the victim's home on Atkins Ave. near Pitkin Ave. that turned deadly, neighbor Natasha Ramsay told the Daily News.

"The first one shot got him dead," Ramsay, 42, said. "It's so sad."

Medics rushed Cepeda to Brookdale University Hospital but he couldn't be saved.

That was just the first in a series of horrifying incidents that cop unions blamed on Mayor de Blasio and Council Speaker Corey Johnson, who last week passed an annual budget that shifted about $1 billion away from the NYPD, a move aimed at meeting activists' demands for police reform.
Two Dead and 8 Injured After Early Morning Shooting at South Carolina Club
Chicago sees an uptick in gun violence during pandemic
Grandfather: Stray bullet killed boy grabbing phone charger
Texas Man Charged In Shooting Death Of Girlfriend, Who Was Pregnant With Twins, Body Found Next To Sonogram
7-year-old girl shot dead in Chicago identified as Natalia Wallace
Armed Black Militia Challenges White Nationalists at Georgia's Stone Mountain Park
---
The Disunited States: Heavily armed Black Panthers target Confederate monument used by KKK as American flags are burned near Trump Tower and in Washington as Fourth of July protests sweep the country 
More than a hundred heavily armed Black Panthers descended on the country's largest Confederate monument to demand its removal, while demonstrators burned American flags near Trump Tower as tens of thousands across the country attended Fourth of July protests.

On Saturday, as Donald Trump hosted hundreds at the White House for a July Fourth fireworks display, thousands of Americans ditched their traditional cookouts and celebrations for rallies and sit-ins, including a march in Washington DC in the searing 90-degree heat near the National Mall.

Flag burnings were also seen in Washington, as well as in New York City outside the Trump Tower, and on Trump's Hollywood Walk of Fame star.
Nightmare in New York: How Covid-19, BLM protests and a liberal mayor are turning the city into a no-go zone as murders skyrocket, shops are looted and 500,000 middle-class residents flee
Shootings soar 205 percent after NYPD disbands anti-crime unit
Shooting investigation, alleged wild chase top Staten Island crime stories of week
The Mug Shot, a Crime Story Staple, Is Dropped by Some Newsrooms and Police
NYPD arrests suspect in slashing of 2-year-old boy in stroller
Black Lives Matter protesters return to St. Louis mansion where lawyer couple drew guns on demonstrators because 'they feared for their lives' - but this time they just sit and watch from their balcony
Predominantly Black armed protesters march through Confederate memorial park in Georgia
---
EXCLUSIVE: Australian surfer kidnapped and raped every night for two months on a squalid houseboat in India reveals how she escaped when her captor made one simple mistake - and why she fears there are other victims out there 
A young pro surfer was held captive on a squalid houseboat and raped every night for two months after she was kidnapped in India.

Carmen Greentree was just 22 when she took time out from surfing to study under the Dalai Lama in the Himalayas in May 2004.

After saying goodbye to her parents in Sydney, she touched down in New Delhi and fell victim to scammers posing as government tourism operators.

Ms Greentree was picked up from Srinagar airport on May 27 by Rafiq Ahmad Dundoo, who told her it was too dangerous to be outside alone as a woman and she needed to stay with him.

Staying on boats on the picturesque lake surrounded by mountains is a tourist attraction in the area, so this plan wasn't out of the ordinary.

But very quickly after she arrived, Ms Greentree realised Dundoo had no intention of letting her leave and by the first night was already trying to force himself on her.

'It was constant pressure from the moment I got there. He was never going to let me go,' she said.

Dundoo hit her whenever she tried to stand up for herself or 'if he had enough of me [talking] he would whack me across the face'.

On the boat were Dundoo's elderly mother and father, two brothers, and his wife, and their baby. None of them would help her escape.

'I attempted to tell Rafiq's father in the hope he would help me but he was very dismissive straight away,' she said.

'I think his brothers and father knew [he was abusing me] but they thought it was normal, they just considered women to be property.'

Dundoo's mother didn't speak any English, but she talked to his wife who told her how she gave up a promising medical career to marry him.

'She said it was her honour… that she gave up everything to serve her husband and that's how she serves Allah,' she said.
Ryan Adams Has Apologized For His
---
Stamford man caught in Cove video charged with hate crime, assault 
City police have charged a Stamford man, who was caught on video berating a group of young Black and Latino men at Cove Island Park last month, with a hate crime and multiple counts of assault.
Steven Mike Dudek, 57, who police say sprayed four of the men with pepper spray, was videoed shouting at the group and then calling police to report he was being harassed by a "bunch of Black men."

On Thursday Stamford police charged Dudek with four counts of second-degree assault, first-degree intimidation based on bigotry or bias and falsely reporting an incident to police, according to Stamford Police Capt. Richard Conklin and Lt. Tom Scanlon.

One of the men asks for his name and Dudek replies, "My name is God."
Police: 2 women hit by car on Seattle highway amid protest
Florida man charged for pointing gun, unleashing racist tirade against Black homeowner
6-YEAR-OLD KICKED OUT OF SCHOOL ... Over BLM Shirt
MYSTIC INN BRUTAL RACIAL ATTACK
The Neighbor Kids Tore Up My Garden. Now Their Mom Says I'm a Bigot.
A White Couple Was Arrested After Pointing a Gun at a Black Family In a Chipotle Parking Lot
Man faces hate crime enhancements after threats against 12-year-old Black youth in SF
---
An 8-Year-Old Boy Was Killed In A Mall Shooting In Alabama 
An 8-year-old boy was shot and killed when someone opened fire at a mall in Hoover, Alabama, on Friday.

The Hoover Police Department said they were called to the scene at the food court of Riverchase Galleria mall around 3:18 p.m. with multiple victims.

"I'm extremely saddened to report that an 8-year-old male victim was pronounced deceased shortly after arriving at Children's Hospital," Hoover Police Chief Nicholas Derzis said at a news conference.

Derzis did not release the name of the child, but AL.com reported his name was Royta.
Las Vegas Pastor Allegedly Killed Elderly Neighbor With A Shotgun While Young Daughter Watched
---
77% of White Voters Approve of Police, Just 26% of Black Americans Agree 
While approximately 68 percent of American voters approve of the job the police are doing, according to a new Hill-HarrisX poll, that percentage drops down to 26 when only Black voters are counted. Comparatively, 77 percent of white voters approve of how police are doing their jobs, revealing a racial divide when it comes to how police are perceived.

An online poll of 951 registered voters conducted between June 22 and 23 asked respondents whether they approved or disapproved of the jobs of different workers. These groups included the police, healthcare workers, local politicians, journalists and national politicians.

Overall, healthcare workers had a 94 percent approval rating amongst all voters, local politicians received 62 percent, journalists got 59 percent and national politicians got 56 percent.
There is no epidemic of fatal police shootings against unarmed Black Americans
Controversy over keeping police in Chicago schools rages on, moves to City Council
Wealthy Hamptons Residents Are Hiring Security Guards After Protests
Portland police declare riot as protests turn violent again
Fact check: 1994 crime bill did not bring mass incarceration of Black Americans
---
Arkansas man allegedly shoots into pizzeria after being snubbed on toppings 
An Arkansas man fired gunshots through the front window of a pizzeria after arguing with an employee over getting an insufficient amount of toppings on his pizza pie, according to police.

Michael Brown was arrested Monday on multiple felony charges after the violent encounter at Pie Five restaurant in Little Rock.
E-scooter robbery and assault caught on camera in Bronx
Pair now faces felony firearm charges after 3 gun-related calls Sunday
---
Fast food worker fired after mob beat him & called him a "faggot" in shocking video
A fast food employee in Florida was called anti-gay slurs as he was allegedly beaten by a mob of customers, left bruised and injured.

Later that same day, after he filed a police report, the victim was fired.
Black Trans Woman in Critical Condition After L.A. Shooting
Two Texas LGBT Facebook groups are sharing Islamophobic & anti-Black Lives Matter posts
Turk of Hot Boyz Criticized for Saying Trump Administration Has Done More for Black People Than Obama
Detroit Man Sentenced to Life in Murders of Two Gay Men, Trans Woman
RuPaul Just Inexplicably Wiped His Instagram — After Hiatus
German pastor charged with incitement for anti-gay comment
---
Tragedy of the teen killed by CHOP security revealed: Homeless 16-year-old's friend reveals he drove the stolen Jeep into the 'cop-free' zone for safety and then told her on the phone: 'I don't want to die'
The 16-year-old boy who was shot dead by CHOP security in Seattle was homeless and had just carjacked a Jeep when he was told by a friend to drive to the cop-free zone 'for safety', DailyMail.com can reveal.

Antonio Mays Jr died in a hail of bullets in the early hours of Monday morning and his passenger, a 14-year-old, was critically injured after armed security guards fired on their white Jeep Cherokee, which crashed into the barriers of the Capitol Hill Organized Protest (CHOP) security zone.

Ciara Walker, 25, described the two boys as her 'street brothers' and said Mays Jr and the other teen had been living with her and her husband in a tent at the nearby Cal Anderson Park, located just outside the CHOP zone.

Walker revealed she was on the phone with the boys when they were shot, saying: 'The last thing I heard was a crash and pop pop pop, I'm not sure who said what, but one of them said, '''Ah s**t I'm hit, I don't wanna die.'' Then the phone went dead.'
---
Black Trans Woman Merci Mack Shot to Death in Dallas
Merci Mack, a 22-year-old Black transgender woman, was found shot to death Tuesday in Dallas.

A passerby called police and emergency personnel after noticing Mack lying unresponsive in the parking lot of an apartment complex about 6:15 a.m., TV station KXAS reports. Dallas Fire-Rescue workers pronounced her dead at the scene. Neighbors had heard gunshots in the area about 5 a.m.

Dozens of Mack's friends posted messages of sorrow and remembrance on her Facebook page. "My heart is very heavy, Merci you will be truly missed, I am going miss arguing with you, laughing, singing dancing and mostly watching them fine Men!" one wrote.

Over the last five years, more trans people have died by violence in Texas than in any other state, according to The Dallas Morning News, and almost half of those homicides have been in Dallas. Nationwide, Mack's death is at least the 19th homicide of a trans person this year, with most of the victims being Black or Latinx.
---
Case Of Parents Who Allegedly Used Cattle Prod To Punish Kids Also Involves Horrific Rape Accusations 
A South Dakota couple accused of giving their children drugs and shocking them with cattle prods has pleaded not guilty to the charges against them.

One of the children told investigators Lance had physically and sexually abused her—raping her at least 150 times since she was 14 years old. The teen alleged that if she refused to have sex with him, Lance would use the cattle prod or hit her or tie a dog collar around her thigh to shock her, court documents said.
Fla. Middle School Teacher Allegedly Admitted Sex Abuse of Minor at Party Before Mom Confronts Her
---
A White Couple Was Caught on Video Pointing Guns at Black Lives Matter Protesters in St. Louis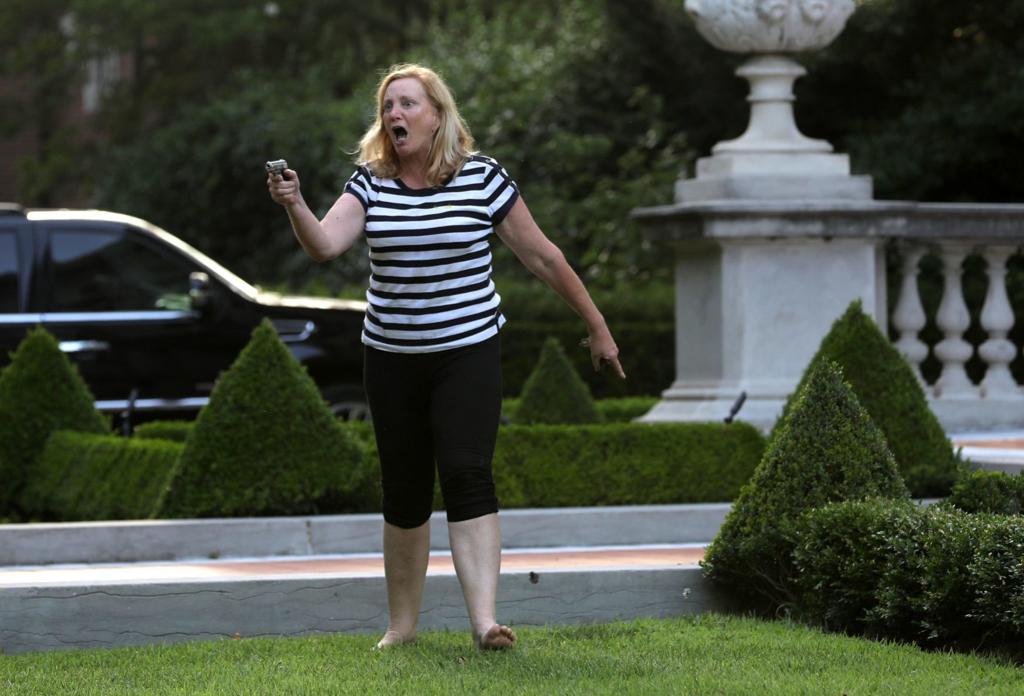 An armed white couple waved their guns and yelled at Black Lives Matter demonstrators in St. Louis on Sunday, during a protest march to St. Louis Mayor Lyda Krewson's home.

At least 500 people peacefully marched through St. Louis' Central West End neighborhood on Sunday demanding Krewson's resignation, according to the St. Louis Post-Dispatch. Krewson appeared in a Facebook Live video last week reading the names and addresses of people who had called for defunding the city's police department.
Man Fired for Racist Rant Supporting Slavery and Lynchings of Black People
John Wayne's son responds to resolution calling for John Wayne Airport to be renamed
Michigan Woman Yells Racial Slurs at New Neighbors in Viral Video
San Jose man charged with hate crime in Santa Cruz assault incident
Adam Carolla defends Jimmy Kimmel over blackface backlash: 'We've lost our minds'
Little Caesars fired two employees after a couple found a swastika made of pepperoni on their pizza
---
N.Y.C. Basketball Star, 17, Is Fatally Shot Days After Graduating from High School 
A 17-year-old high school basketball star was fatally shot in the neck Saturday night— just days after graduating.

Shortly before midnight, New York City police responded to a shooting in the Bronx where they discovered 17-year-old Brandon Hendricks suffering from a gunshot wound to the neck, the NYPD confirms.

Hendricks was transported to Saint Barnabas Hospital, where he was pronounced dead from his injuries, according to the NYPD's statement.

Hendricks graduated from James Monroe High School last week and was a star on the school's basketball team.
How Dollar Stores Became Magnets for Crime and Killing
---
Right Wing Pastors Claim "Homosexuality" Worse Than Slavery 
A pair of controversial right-wing Evangelical pastors have come under fire after stating that homosexuality is a worse sin than slavery. Scott Lively and Tennessee Pastor Richard May made the inflammatory statement on Lively's Breaking News Bible Study program.
Taxpayer funded Catholic schools given secret edict to ban kids who don't conform to gender norms
A sex worker was stabbed 11 times and killed by a client. Her family wouldn't collect her body from the morgue because she's trans
---
Anti-cop protesters make Portland 'look like a war zone' with fires, looting
Anti-cop protesters started huge fires near a Portland police precinct early Friday, as looters plundered nearby stores, according to police and local reports.

"North Portland looks like a war zone right now," journalist Andy Ngô tweeted alongside videos of numerous large fires in the Oregon city.

He said militants "tried to establish an autonomous zone outside" the North Precinct in the city and "they then started fires in the street."
---