All Posts Tagged as 'Youth'
Welcome to Errattic! We encourage you to customize the type of information you see here by clicking the Preferences link on the top of this page.
Sports judge lifts lifetime ban on Olympic figure skating coach, 74, - but says he BELIEVES victims who accuse him of sexually abusing them 
Richard Callaghan, 74, has coached the likes of Olympic champion Tara Lipinski and U.S. national champion Todd Eldredge, among others

At least four male skaters who were mentored by Callaghan came forward and accused him of sexual abuse

One of the accusers, Craig Maurizi, has alleged that Callaghan 'groomed' him, provided him with alcohol, and had sex with him starting when he was 15 or 16

Another of Callaghan's former students, Adam Schmidt, filed a lawsuit alleging that his former coach started abusing him when he was just 14 years old
The claims led to an investigation by the U.S. Center for SafeSport, which handed down a lifetime ban last August

But last month, an arbitrator reduced the penalty to a three-year suspension, making Callaghan eligible to return to professional figure skating in 2022
Fourteen arrested and charged with sexual assault in Fort Bend County last week
---
Oregon Man Allegedly Posed As Teen On Snapchat To Sexually Assault Children 
Police in Oregon say a 26-year-old man posed as a high school-aged student on Snapchat and Instagram to lure in two young children he's accused of sexually abusing.

Beaverton resident Lafayette Castillo was indicted Friday, January 24 on charges including rape, attempted rape, sexual abuse and sodomy, the Washington County Sheriff's Office announced, according to The Associated Press. Beaverton is a city in Washington County just west of Portland.

Castillo is accused of using the social media platforms Snapchat and Instagram to pose as a teenage student so he could talk with children online, authorities said. He then allegedly arranged to meet two victims — aged 12 and 14 — and sexually assaulted them, Fox 12 Oregon reports.
Is this Catholic NFL owner trying to bury stories of child sexual abuse?
---
Calls for 'virginity repair' surgery to be banned
Campaigners are urging the government to outlaw "virginity repair" surgery.

Many Muslim women risk being outcast, or in extreme cases killed, if their spouses or families discover they have had sex before marriage.

And some are opting for a medical procedure in which doctors restore a layer of membrane at the entrance to the vagina.

But there are concerns a ban would increase the dangers to Muslim women by driving the procedure underground.

Vagina rejuvenating therapies 'pose serious risk'

The rise in women seeking a perfect vagina

Guidelines from the General Medical Council (GMC) state a patient's consent to undergo a procedure should come into question if it is suspected of being "given under pressure or duress exerted by another person".
---
Florida Vouchers Channel Millions to Anti-LGBTQ Religious Schools
A state-funded voucher program in Florida that helps students attend private schools sent $129 million to schools with anti-LGBTQ policies last year alone, an Orlando Sentinel investigation has found.

The money went to pay tuition for 20,800 students at 156 private Christian schools with homophobic or transphobic stances, and "that means at least 14 percent of Florida's nearly 147,000 scholarship students last year attended private schools where homosexuality was condemned or, at a minimum, unwelcome," the Sentinel reports. Thousands of schools participate in the program, which has been in existence for 20 years.

Eighty-three schools have policies denying admission to students known to be LGBTQ and providing for expulsion if their identity is found out. Another 73 "call being gay or transgender a biblical sin but do not explain how those views play out in admissions or student discipline decisions," according to the paper.
---
There Is No Such Thing as 'Equal but Different' Gender Roles
Religious groups are often at the forefront of upholding gender as predetermined and loaded with a set of immutable obligations. Seemingly in response to pressure to ratify the Equal Rights Amendment in Utah, the Church of Latter-Day Saints this month produced a statement regarding Mormons and feminism that echoes Schlafly's concerns about upholding gender roles:

"Gender is an important part of who we are?—both before, during, and after this life. Men and women are equal?—one is not superior to the other. They are also different, with different roles within a family."

What the statement doesn't say is that these "different roles" in a religious context are generally that of executive and manager, with men as head of the family, overseeing all executive decisions, and women as coordinators, taking on the work of implementing those plans on a day-to-day basis. Anyone who has ever worked in an office understands that those roles are not equal and recognize this language as the same a CEO uses when insisting that every employee is valuable. What the boss isn't saying is that some employees are absolutely more valuable than others and the entire corporate system is built around a hierarchy in which respect very often only flows upward. Erasing gender lines differentiating those in charge from those taking orders overthrows the entire system, and even criticism insisting that women are already equal and don't really need these protections reads as fearful of what happens to the hierarchy if we remove dividers we've created between the roles of women and the roles of men.
---
Gay teen found shot to death in possible hate crime but his family says police are biased 
The family of a gay teen who was killed in Louisiana is asking for the federal government to get involved because they believe he died in a hate crime.

Ja'Quarius Taylor's mother noticed that her 17-year-old son was missing on the morning of January 12, so she called the police.

The Washington Paris Sheriff's Office says that Taylor, who was a senior at Varnado High School, was shot to death near a lake in Washington Parish in southeastern Louisiana, and someone who was at the lake to check water levels found his body and called 911 about an hour after his mother noticed he was missing.

Now his family is speaking out and asking the federal government to get involved. In a statement released by their attorney, they said they want the FBI to help with the investigation because they believe Taylor was killed in an anti-gay, anti-black hate crime.
Gay couple stripped & beaten by taxi drivers want justice
Gay Louisana Teenager Tied Up And Shot In Possible Hate Crime
NYPD investigates alleged subway assault on trans woman as possible hate crime
---
NC Pastor Charged With Over 100 Sex Crimes 
A pastor in North Carolina has been charged with over 100 sex crimes involving three children, according to local authorities. Fifty-eight-year-old Rodney Luffman, pastor at Open Arms Outreach Ministries in Elkin, NC, was arrested at his home in Eastern Wilkes County last week, and has since been charged for a decades-long litany of sex offenses against minors that began around 20 years ago.

Time reports that Luffman is accused of abusing three victims, dating back to the late 1990s. At the time of the alleged crimes, the victims were between four and 15 years old. Det. Amanda Boyd with the Wilkes County Sheriff's Office told news outlets that the department believes the crimes continued for around 16 years. Luffman currently remains in prison on $1 million bail, and it is unclear whether or not he is represented by council.
15 year sentence demanded for former coach in French child sexual abuse case
---
Black youth have some of the highest suicide rates in America, and we're only beginning to understand why
Teen suicide rates among black youth are increasing. In 2016 and again in 2018, national data revealed that among children age 5-11, black children had the highest rate of death by suicide. For the years 2008 to 2012, 59 black youth died by suicide, up from 54 in the years 2003 to 2007.

Also, the 2015 Centers for Disease Control and Prevention's biennial Youth Risk Behavior Survey reported that compared to non-Hispanic white boys, black high school age boys are more likely to have made serious suicide attempts that require medical attention.

I am a professor of psychology and also director of the culture, risk, and resilience research laboratory at the University of Houston. I recently co-authored a study that suggests that new risk profiles may be needed for better suicide prediction in African Americans in particular.
---
Florida teen arrested for making race-based threats of violence on Twitter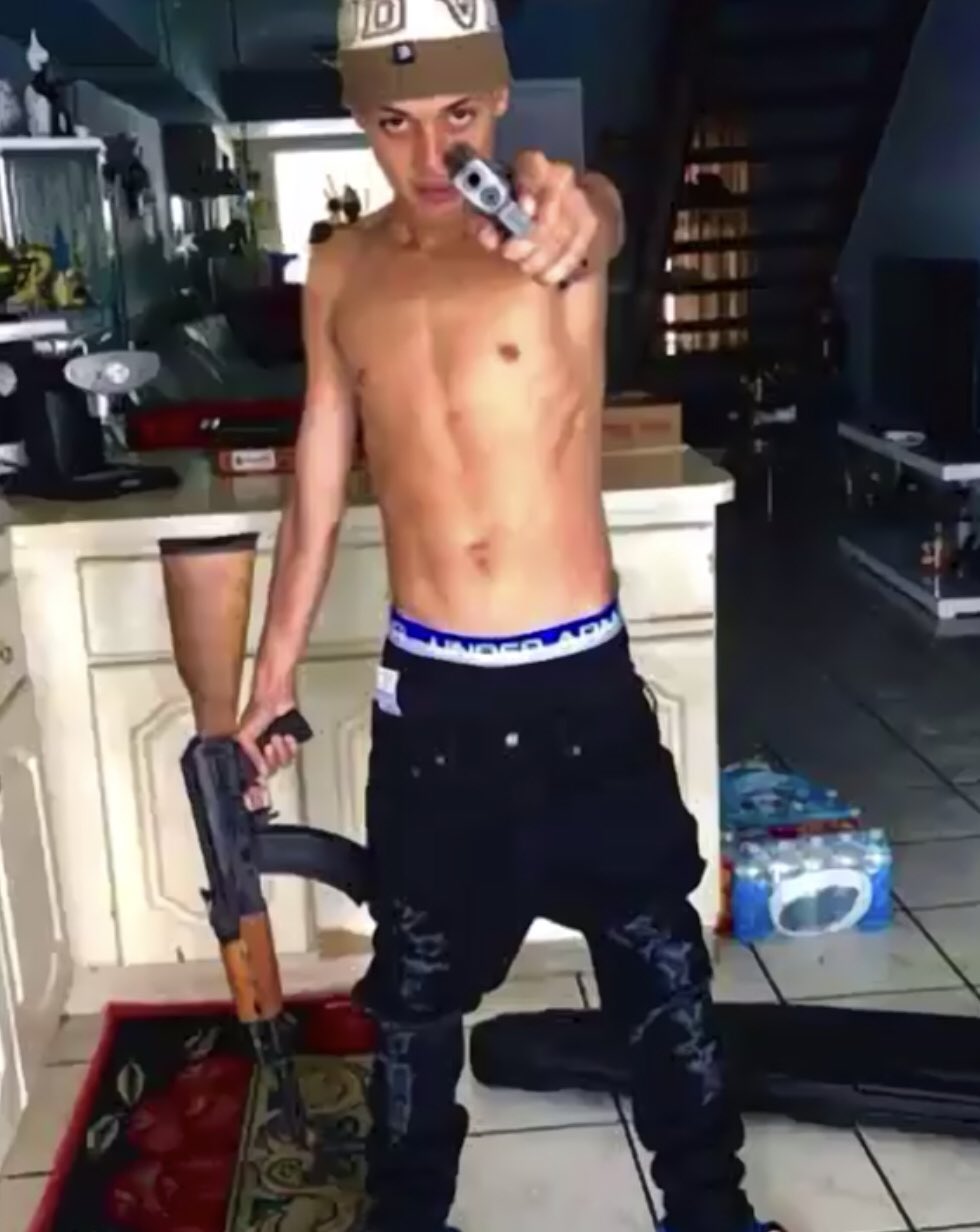 A Florida teenager was arrested for making threats of violence against several racial groups on Twitter.

Nineteen-year-old Lazaro Lesteiro-Diaz was arrested on Tuesday after police were notified of the threats by the Bureau of Alcohol, Tobacco, Firearms and Explosives.

Police took the threats seriously because he was very specific about a location that he was going to travel to in order to murder homosexuals, blacks, Nicaraguans, Colombians and "all types of Indian people."
---
I Wish I Never Met You - Oh Wonder
---
Georgetown students are asked if America is the greatest country in the world. Survey says: Um, no. 
Campus Reform's Cabot Phillips visited Georgetown University in Washington, D.C., recently to confirm polling that indicates a large swath of young Americans are declaring that the United States isn't the greatest country on Earth.
---
The Amish Keep to Themselves. And They're Hiding a Horrifying Secret 
The memories come to her in fragments. The bed creaking late at night after one of her brothers snuck into her room and pulled her to the edge of her mattress. Her underwear shoved to the side as his body hovered over hers, one of his feet still on the floor.

Her ripped dresses, the clothespins that bent apart on her apron as another brother grabbed her at dusk by the hogpen after they finished feeding the pigs. Sometimes she'd pry herself free and sprint toward the house, but "they were bigger and stronger," she says. They usually got what they wanted.

As a child, Sadie* was carefully shielded from outside influences, never allowed to watch TV or listen to pop music or get her learner's permit. Instead, she attended a one-room Amish schoolhouse and rode a horse and buggy to church—a life designed to be humble and disciplined and godly.
2 Mass. Priests Suspended Amid Decades Old Abuse Complaints
French trial exposes how church covered for predator priest
Senators demand review of Army Reserve sexual assaults
---
I'm Against Catholic Teachings
Dear Care and Feeding,

My husband and I have a fantastic toddler and live in a large city, where we're looking into private school options. We have whittled our options down to two. Both institutions are amazing places with fantastic, warm, loving staff and parents/guardians/students. One is Catholic, the other is Quaker. We're trying to decide between the two schools and would love your guidance.

The Catholic school is academically rigorous, has great class sizes, is a Blue Ribbon school, and is a block from where my husband works in case of a midday school emergency. However—and I say this as a product of the parochial school system myself—it promotes Catholic perspectives on premarital sex, homosexuality, abortion, and other beliefs that we don't subscribe to. The Quaker school, on the other hand, has a progressive curriculum, is designed around project-based learning, does not get homework-heavy until grade 5, and promotes core values that are in alignment with how we are raising our daughter.

The Quaker school's curriculum—and general vibe—will help our kid develop into a critical thinker and a compassionate contributor to the world. HOWEVER, it is considerably more expensive (it would require some sacrifice on our part), and it would add another hour to our already hectic morning commute. In other words, it will make life more difficult on a day-to-day basis. Since our child will get an excellent education at either place, how do we pick between daily quality of life for us and the values system to which our child will be exposed?

—Waiting for an Answer From the Spirit
---
Lesbian left covered in her own blood after two men brutally beat her  
A 20-year-old lesbian attacked by two men this past weekend and left covered in her own blood. This is the fifth time she has been attacked and now she's afraid to leave her home.

Charlie Graham was walking in the street in Sunderland in northern England at 12:50 a.m. on Saturday when she was punched in the back of the head by one of the assailants.

Related: Teen who attacked couple in horrific hate crime walks away with no prison time

"I got hit from behind by a fist to the back of my head, then I hit the ground, hurting my legs and face," she told the Daily Star. Police said that she told them that the attackers called her anti-gay epithets.
Gay couple attacked with tear gas in their home after being blackmailed
High school baseball players caught harassing a local gay couple & calling them slurs
Missouri Republican wants to jail librarians who allow drag queens to read books to kids
---
Texas man allegedly called for 'all the black people' to be shot at NJ school 
A college student in Texas who called for "all the black people" to be shot at a New Jersey high school is facing upgraded charges for suggesting the sick stunt, prosecutors said.

The comment from Kenneth Petersen, 21, of Stephenville, came in a group chat organized by a student at Northern Burlington Regional High School who was discussing senior pranks in May 2018, the Burlington County Prosecutor's Office said Wednesday.
Shocking video shows man making swastika from MTA flyers inside subway station
Virginia Capital on Edge as F.B.I. Arrests Suspected Neo-Nazis Before Gun Rally
---