Gay+
---
Welcome to Errattic! We encourage you to customize the type of information you see here by clicking the Preferences link on the top of this page.
Sports judge lifts lifetime ban on Olympic figure skating coach, 74, - but says he BELIEVES victims who accuse him of sexually abusing them 
Richard Callaghan, 74, has coached the likes of Olympic champion Tara Lipinski and U.S. national champion Todd Eldredge, among others

At least four male skaters who were mentored by Callaghan came forward and accused him of sexual abuse

One of the accusers, Craig Maurizi, has alleged that Callaghan 'groomed' him, provided him with alcohol, and had sex with him starting when he was 15 or 16

Another of Callaghan's former students, Adam Schmidt, filed a lawsuit alleging that his former coach started abusing him when he was just 14 years old
The claims led to an investigation by the U.S. Center for SafeSport, which handed down a lifetime ban last August

But last month, an arbitrator reduced the penalty to a three-year suspension, making Callaghan eligible to return to professional figure skating in 2022
Fourteen arrested and charged with sexual assault in Fort Bend County last week
---
Oregon Man Allegedly Posed As Teen On Snapchat To Sexually Assault Children 
Police in Oregon say a 26-year-old man posed as a high school-aged student on Snapchat and Instagram to lure in two young children he's accused of sexually abusing.

Beaverton resident Lafayette Castillo was indicted Friday, January 24 on charges including rape, attempted rape, sexual abuse and sodomy, the Washington County Sheriff's Office announced, according to The Associated Press. Beaverton is a city in Washington County just west of Portland.

Castillo is accused of using the social media platforms Snapchat and Instagram to pose as a teenage student so he could talk with children online, authorities said. He then allegedly arranged to meet two victims — aged 12 and 14 — and sexually assaulted them, Fox 12 Oregon reports.
Is this Catholic NFL owner trying to bury stories of child sexual abuse?
---
There Is No Such Thing as 'Equal but Different' Gender Roles
Religious groups are often at the forefront of upholding gender as predetermined and loaded with a set of immutable obligations. Seemingly in response to pressure to ratify the Equal Rights Amendment in Utah, the Church of Latter-Day Saints this month produced a statement regarding Mormons and feminism that echoes Schlafly's concerns about upholding gender roles:

"Gender is an important part of who we are?—both before, during, and after this life. Men and women are equal?—one is not superior to the other. They are also different, with different roles within a family."

What the statement doesn't say is that these "different roles" in a religious context are generally that of executive and manager, with men as head of the family, overseeing all executive decisions, and women as coordinators, taking on the work of implementing those plans on a day-to-day basis. Anyone who has ever worked in an office understands that those roles are not equal and recognize this language as the same a CEO uses when insisting that every employee is valuable. What the boss isn't saying is that some employees are absolutely more valuable than others and the entire corporate system is built around a hierarchy in which respect very often only flows upward. Erasing gender lines differentiating those in charge from those taking orders overthrows the entire system, and even criticism insisting that women are already equal and don't really need these protections reads as fearful of what happens to the hierarchy if we remove dividers we've created between the roles of women and the roles of men.
---
Gay teen found shot to death in possible hate crime but his family says police are biased 
The family of a gay teen who was killed in Louisiana is asking for the federal government to get involved because they believe he died in a hate crime.

Ja'Quarius Taylor's mother noticed that her 17-year-old son was missing on the morning of January 12, so she called the police.

The Washington Paris Sheriff's Office says that Taylor, who was a senior at Varnado High School, was shot to death near a lake in Washington Parish in southeastern Louisiana, and someone who was at the lake to check water levels found his body and called 911 about an hour after his mother noticed he was missing.

Now his family is speaking out and asking the federal government to get involved. In a statement released by their attorney, they said they want the FBI to help with the investigation because they believe Taylor was killed in an anti-gay, anti-black hate crime.
Gay couple stripped & beaten by taxi drivers want justice
Gay Louisana Teenager Tied Up And Shot In Possible Hate Crime
NYPD investigates alleged subway assault on trans woman as possible hate crime
---
NC Pastor Charged With Over 100 Sex Crimes 
A pastor in North Carolina has been charged with over 100 sex crimes involving three children, according to local authorities. Fifty-eight-year-old Rodney Luffman, pastor at Open Arms Outreach Ministries in Elkin, NC, was arrested at his home in Eastern Wilkes County last week, and has since been charged for a decades-long litany of sex offenses against minors that began around 20 years ago.

Time reports that Luffman is accused of abusing three victims, dating back to the late 1990s. At the time of the alleged crimes, the victims were between four and 15 years old. Det. Amanda Boyd with the Wilkes County Sheriff's Office told news outlets that the department believes the crimes continued for around 16 years. Luffman currently remains in prison on $1 million bail, and it is unclear whether or not he is represented by council.
15 year sentence demanded for former coach in French child sexual abuse case
---
Florida teen arrested for making race-based threats of violence on Twitter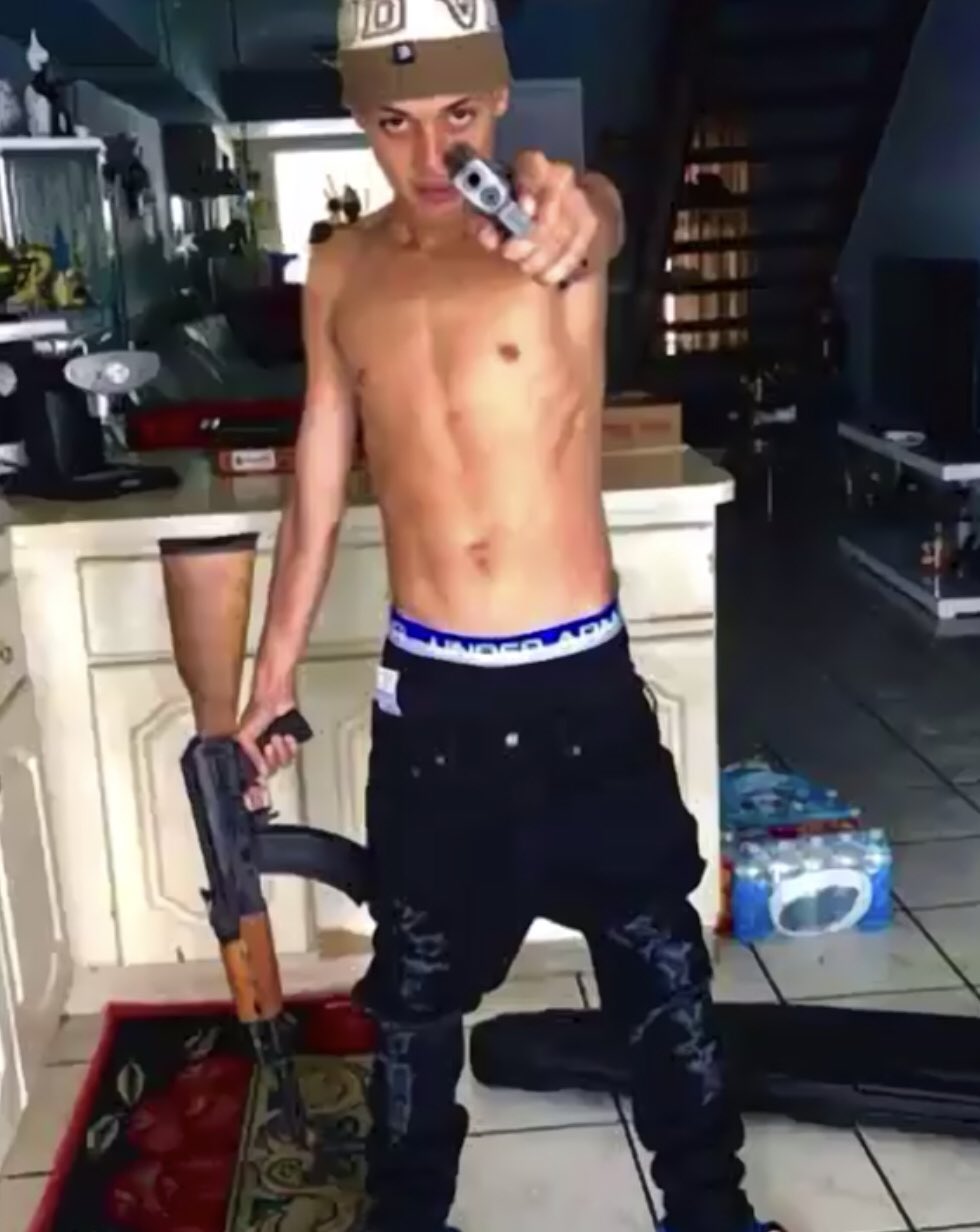 A Florida teenager was arrested for making threats of violence against several racial groups on Twitter.

Nineteen-year-old Lazaro Lesteiro-Diaz was arrested on Tuesday after police were notified of the threats by the Bureau of Alcohol, Tobacco, Firearms and Explosives.

Police took the threats seriously because he was very specific about a location that he was going to travel to in order to murder homosexuals, blacks, Nicaraguans, Colombians and "all types of Indian people."
---
The Amish Keep to Themselves. And They're Hiding a Horrifying Secret 
The memories come to her in fragments. The bed creaking late at night after one of her brothers snuck into her room and pulled her to the edge of her mattress. Her underwear shoved to the side as his body hovered over hers, one of his feet still on the floor.

Her ripped dresses, the clothespins that bent apart on her apron as another brother grabbed her at dusk by the hogpen after they finished feeding the pigs. Sometimes she'd pry herself free and sprint toward the house, but "they were bigger and stronger," she says. They usually got what they wanted.

As a child, Sadie* was carefully shielded from outside influences, never allowed to watch TV or listen to pop music or get her learner's permit. Instead, she attended a one-room Amish schoolhouse and rode a horse and buggy to church—a life designed to be humble and disciplined and godly.
2 Mass. Priests Suspended Amid Decades Old Abuse Complaints
French trial exposes how church covered for predator priest
Senators demand review of Army Reserve sexual assaults
---
Lesbian left covered in her own blood after two men brutally beat her  
A 20-year-old lesbian attacked by two men this past weekend and left covered in her own blood. This is the fifth time she has been attacked and now she's afraid to leave her home.

Charlie Graham was walking in the street in Sunderland in northern England at 12:50 a.m. on Saturday when she was punched in the back of the head by one of the assailants.

Related: Teen who attacked couple in horrific hate crime walks away with no prison time

"I got hit from behind by a fist to the back of my head, then I hit the ground, hurting my legs and face," she told the Daily Star. Police said that she told them that the attackers called her anti-gay epithets.
Gay couple attacked with tear gas in their home after being blackmailed
High school baseball players caught harassing a local gay couple & calling them slurs
Missouri Republican wants to jail librarians who allow drag queens to read books to kids
---
Texas man allegedly called for 'all the black people' to be shot at NJ school 
A college student in Texas who called for "all the black people" to be shot at a New Jersey high school is facing upgraded charges for suggesting the sick stunt, prosecutors said.

The comment from Kenneth Petersen, 21, of Stephenville, came in a group chat organized by a student at Northern Burlington Regional High School who was discussing senior pranks in May 2018, the Burlington County Prosecutor's Office said Wednesday.
Shocking video shows man making swastika from MTA flyers inside subway station
Virginia Capital on Edge as F.B.I. Arrests Suspected Neo-Nazis Before Gun Rally
---
60-year-old New York City man dies after vicious $1 robbery on Christmas Eve 
A 60-year-old man who was brutally attacked and robbed for $1 on Christmas Eve has died from his injuries, the NYPD said Saturday.

Juan Fresnada was with his husband in the Bronx early Tuesday when six individuals approached them and demanded money, police said. When the victims refused, they were attacked, according to the NYPD.

Surveillance video released by police Friday shows one of them repeatedly punching and kicking Fresnada as he's on the ground. One of them hits Fresnada with a metal garbage can, the video shows.
BOYFRIEND OF NEW YORK MAN BEATEN TO DEATH ON CHRISTMAS EVE IN $1 ROBBERY SAYS HE'S 'SCARED FOR HIS LIFE' AS SUSPECTS REMAIN AT LARGE
Gay couple beaten by gang of four after holding hands at a food truck
Three teenagers arrested for brutal murder of gay man on Christmas Day
---
Kanye West joins stadium "prayer rally" with some of America's most anti-LGBTQ activists 
Rapper Kanye West announced he will appear at Awaken2020, a stadium-sized prayer rally hosted by some of the nation's most anti-LGBTQ religious conservatives. After West's announcement so many people rushed online to get free tickets to the event, the group's website crashed.

West, who's erratic behavior has seen him suddenly becoming a rightwing Christian and devout worshipper of Donald Trump, has been pushing his new gospel album recently. One of the songs is an ode to Chick-fil-A, the fast-food chain most frequently identified with religious controversy over LGBTQ rights.
Florida Republicans submit 4 anti-gay bills on last day to file
Tennessee Will Allow Adoption Agencies to Ban LGBTQ+ Parents
Indonesian mayor plans LGBT raids after infamous rape spree, outraging activists
---
Mother Files $5.5 Million Lawsuit After Son Is Bullied Over 50 Cent Friendship
The mother of a Brooklyn teen is blaming 50 Cent for the merciless bullying of her son, and is now suing the Department of Education for $5.5 million.

Myasia Dickerson believes her 14-year-old son Davian Fraser's friendship with 50 Cent has made him a target, the New York Daily News reports. Now, Dickerson has filed a claim against the city, accusing Williamsburg Charter School of not protecting her son after he was regularly attacked by fellow students.

After the students learned about Fraser's relationship with the rapper at the beginning of the school year, some of them started to harass him. "It caused a big uproar in the school," Dickerson told the outlet. "The kids started to follow my son around, tried to put him on Snapchat, tried to take videos of him. They were following him to the train station."

During Fraser's lunch break on Dec. 16, four classmates came up to him near a stairwell and started punching him. "He was attacked from behind as he tried to walk away," Dickerson said. "He was punched in the head and then the student proceeded to fight him and then he slammed my son's head onto the ground."
---
Gymnastics Coach Allegedly Sexually Abused Teen Student In Front Of His Own Child 
A San Antonio gymnastics and cheerleading coach has been accused of sexually abusing his teen student — once while his own child was playing in the same room where the alleged assault took place.

Robert Thomas Kotara, 33, is facing a charge of sexual assault of a child after one of his longtime students, now 18, reported the coach had been regularly having sex with her since she was 16 years old, police said, according to the San Antonio Express-News.

The sexual abuse allegedly began when Kotara asked the 16-year-old to help supervise a sleepover at the cheer gym for other students, according to court documents obtained by KENS. But after the teen arrived at the gym, she told authorities Kotara asked her to accompany him on an errand and drove her to a hotel instead, where he allegedly plied her with alcohol and sexually assaulted her.
Legion of Christ accused abuser removed from priesthood
---
Christian school expelled student over a 'gay' rainbow cake, family says
A Christian school in Louisville expelled a student last week after her family said school officials discovered the girl had celebrated her birthday with a rainbow-themed cake.
---
Calif. Mom Says She Was Brutally Beaten While Going to School Principal About Daughter's Bullying
California police are investigating an attack outside a high school where a mother alleged she'd been beaten by teens who were bullying her daughter.

Police were called to James Logan High School last Tuesday morning just before 9 a.m. after they received a report of a "fight in progress," Union City Police Lt. Steve Mendez tells PEOPLE.

"We were told multiple people were involved in the fight," he says.
---