Gay+
---
Welcome to Errattic! We encourage you to customize the type of information you see here by clicking the Preferences link on the top of this page.
Philadelphia police are investigating a white man who pointed his gun at a black cyclist because he told diners outside a restaurant to practice social distancing 
Pennsylvania police are investigating an incident that was captured on video that showed a white man pointing a gun at a black man for telling people to practice social distancing as he cycled by a restaurant with outdoor seating.

In the disturbing video, the white man, who has been identified as Jemil Atlig, is seen standing in front of a dining table as he points the gun at the black man.

A woman, who jumped in between the two men is heard yelling: 'Put the gun away! He's doing nothing!'
PICTURED: Man, 27, who knocked down and killed Black Lives Matter protester when he 'drove down ramp the wrong way'
Two Jimmy John's employees in Georgia are fired after they were filmed staging a mock lynching with a noose made out of bread dough while wishing followers a happy July 4th
Black man says he feared 'lynching' in Indiana Fourth of July attack
Calls for Whole Foods boycott grow after employees wearing BLM masks are sent home
Red Sox dogged by claims of racism, sexual abuse
Eagles' DeSean Jackson accused of anti-Semitism after posting quotes attributed to Hitler, praising Farrakhan
---
An 8-year-old was fatally shot in Atlanta near Wendy's restaurant where Rayshard Brooks was killed, police say 
Gunfire broke out on Fourth of July weekend in Atlanta, injuring over 20 people and killing three, including an 8-year-old girl, police said.

An investigation is underway after the 8-year-old was fatally shot Saturday night across the street from the Wendy's restaurant where a former police officer killed Rayshard Brooks, officials said.

Secoriea Turner was riding in a car with her mother and an adult friend on I-75/85 when they exited onto University Avenue, police spokesman Sergeant John Chafee told USA TODAY. As the driver tried to enter a parking lot at 1238 Pryor Road, a group of armed individuals blocked the entrance, Chafee said.
Donald Trump warns he's 'ready' to intervene as 80 are shot in Chicago and 44 in NYC - with cops fired at in their car - and 32 are killed across US including girl, 7, as July 4 bloodshed continues
Atlanta mayor says Wendy's occupied by protesters will be cleared after shootings; 8-year-old girl killed
'Who do we call when the murderer wear the badge': Massachusetts detective, 30, is fired over Black Lives Matter post that suggested people should shoot back at the police
NYPD hunts for gunman who shot dead a 20-year-old man and injured a woman in broad daylight in Brooklyn
Portland demonstration declared a riot after protesters launch fireworks at federal courthouse
Riverchase Galleria shooting: Man charged in death of 8-year-old Royta Giles Jr.; other gunmen sought
---
Driver kills non-binary "Black Lives Matter" protestor by slamming his car into them 
Summer Taylor, a 24-year-old non-binary protestor in Seattle, was murdered early Saturday morning after a 27-year-old Black driver named Dawit Kelete deliberately slammed his white Jaguar car into Taylor and another protestor as they blocked the city's I-5 highway in a protest against anti-Black police violence.

Police arrested Kelete and booked him into the King County Correctional Facility on Saturday. He has since been charged with two counts of vehicular assault and denied bail. He has not offered a motive for his actions and police believe intoxication likely played no role.
Another Black trans woman killed after brutal shooting in Florida. Despite deadnaming from the media, her name was Bree Black
Trans person walking their dog pelted with stones by a group of teens
---
The Disunited States: Heavily armed Black Panthers target Confederate monument used by KKK as American flags are burned near Trump Tower and in Washington as Fourth of July protests sweep the country 
More than a hundred heavily armed Black Panthers descended on the country's largest Confederate monument to demand its removal, while demonstrators burned American flags near Trump Tower as tens of thousands across the country attended Fourth of July protests.

On Saturday, as Donald Trump hosted hundreds at the White House for a July Fourth fireworks display, thousands of Americans ditched their traditional cookouts and celebrations for rallies and sit-ins, including a march in Washington DC in the searing 90-degree heat near the National Mall.

Flag burnings were also seen in Washington, as well as in New York City outside the Trump Tower, and on Trump's Hollywood Walk of Fame star.
Nightmare in New York: How Covid-19, BLM protests and a liberal mayor are turning the city into a no-go zone as murders skyrocket, shops are looted and 500,000 middle-class residents flee
Shootings soar 205 percent after NYPD disbands anti-crime unit
Shooting investigation, alleged wild chase top Staten Island crime stories of week
The Mug Shot, a Crime Story Staple, Is Dropped by Some Newsrooms and Police
NYPD arrests suspect in slashing of 2-year-old boy in stroller
Black Lives Matter protesters return to St. Louis mansion where lawyer couple drew guns on demonstrators because 'they feared for their lives' - but this time they just sit and watch from their balcony
Predominantly Black armed protesters march through Confederate memorial park in Georgia
---
77% of White Voters Approve of Police, Just 26% of Black Americans Agree 
While approximately 68 percent of American voters approve of the job the police are doing, according to a new Hill-HarrisX poll, that percentage drops down to 26 when only Black voters are counted. Comparatively, 77 percent of white voters approve of how police are doing their jobs, revealing a racial divide when it comes to how police are perceived.

An online poll of 951 registered voters conducted between June 22 and 23 asked respondents whether they approved or disapproved of the jobs of different workers. These groups included the police, healthcare workers, local politicians, journalists and national politicians.

Overall, healthcare workers had a 94 percent approval rating amongst all voters, local politicians received 62 percent, journalists got 59 percent and national politicians got 56 percent.
There is no epidemic of fatal police shootings against unarmed Black Americans
Controversy over keeping police in Chicago schools rages on, moves to City Council
Wealthy Hamptons Residents Are Hiring Security Guards After Protests
Portland police declare riot as protests turn violent again
Fact check: 1994 crime bill did not bring mass incarceration of Black Americans
---
Everlane clothing brand is accused of racism by former employees 
A group of former employees that worked at the sustainable clothing retail brand Everlane is calling for people to boycott the company in the wake of their experiences of racism in the workplace.

The group has taken to social media, calling themselves the "Everlane Ex-Wives Club" and shared a lengthy Google document titled "Everlane's Convenient Transparency" — aptly named after the company's own promise of "radical transparency" — outlining numerous displays of racism or micro-aggressions. According to the document, the group is made up of former Black, POC, and white allied employees.

One of the sections detailed a Black woman's experience in which she wrote the chief creative officer, Alexandra Spunt, would plunge her hands into the woman's hair "pulling at my roots and referring to us being 'soul sisters.'" Still more shared stories of their creative ideas being stolen by their white colleagues.
Michigan business owner under fire for 'ghetto' Black Lives Matter post
Torrance Park Woman in Anti-Asian Rant Faces Battery Charges
Anti-LGBTQ+ Alabama Mayor Resigns After Denouncing Black Lives Matter
---
Tragedy of the teen killed by CHOP security revealed: Homeless 16-year-old's friend reveals he drove the stolen Jeep into the 'cop-free' zone for safety and then told her on the phone: 'I don't want to die'
The 16-year-old boy who was shot dead by CHOP security in Seattle was homeless and had just carjacked a Jeep when he was told by a friend to drive to the cop-free zone 'for safety', DailyMail.com can reveal.

Antonio Mays Jr died in a hail of bullets in the early hours of Monday morning and his passenger, a 14-year-old, was critically injured after armed security guards fired on their white Jeep Cherokee, which crashed into the barriers of the Capitol Hill Organized Protest (CHOP) security zone.

Ciara Walker, 25, described the two boys as her 'street brothers' and said Mays Jr and the other teen had been living with her and her husband in a tent at the nearby Cal Anderson Park, located just outside the CHOP zone.

Walker revealed she was on the phone with the boys when they were shot, saying: 'The last thing I heard was a crash and pop pop pop, I'm not sure who said what, but one of them said, '''Ah s**t I'm hit, I don't wanna die.'' Then the phone went dead.'
---
'You've been warned': Florida sheriff says he may deputize gun owners against protesters
Clay County Sheriff Darryl Daniels, no stranger to making viral videos appealing to tough-on-crime politics, released a video Tuesday that said he will make "special deputies of every lawful gun owner in this county" if he feels the county is overwhelmed by protesters.
---
Woman Yells 'You Live Off White People' in Racist Rant at BLM Protesters 
A woman in Pennsylvania shouted racist abuse at Black Lives Matter protesters on Sunday and told them, "You live off white people."

As the protesters in Watsontown chanted "No justice, no peace," the white woman shouted "trash" and "fuck you, we're going to give you no peace."

A protester can be heard off camera shouting "We love you" as the woman says "b****, f****** b****." She shouts at the protesters, "You live off of white people" and they again reply with "We love you," to which she responds: "you f****** communists" and "fuck off, keep your HIV over there."
Employee of a Miami restaurant quit after he says one of its owners jokingly referred to blackened chicken wings menu item as 'I Can't Breathe'
University of North Carolina Wilmington professor behind 'vile' racist and sexist tweets to retire
Univ. of Wisconsin students want Lincoln statue removed: Sure, he was 'anti-slavery,' but he wasn't 'pro-Black'
White man charged with pointing gun at Black homeowner
Former Everlane Employees Are Calling For A Boycott After Speaking Out About Workplace Racism
Restaurant Co-Owner Cites Husband's Mental Health After He Refuses Black Customer in 'I Can't Breathe' Shirt
YouTuber Liza Koshy apologizes after backlash for videos mocking Japanese accent
YouTube Has Suspended Monetization On Shane Dawson's Channels After He Apologized For
Morphe has removed Shane Dawson's makeup range from its online store after he was accused of sexualizing Willow Smith as a minor and wearing blackface
---
A White Couple Was Caught on Video Pointing Guns at Black Lives Matter Protesters in St. Louis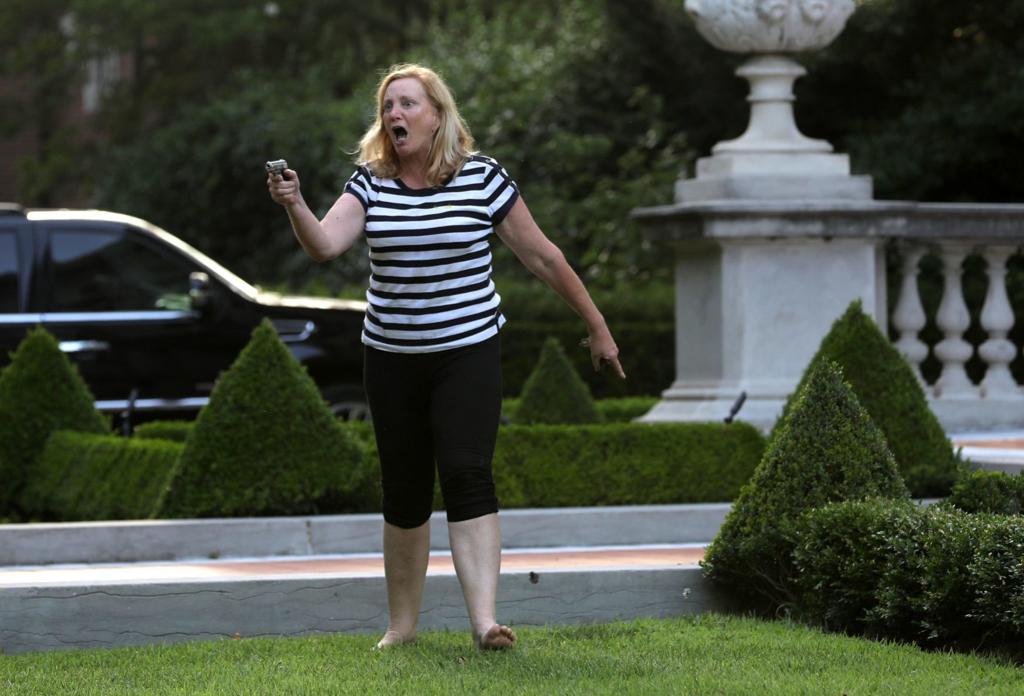 An armed white couple waved their guns and yelled at Black Lives Matter demonstrators in St. Louis on Sunday, during a protest march to St. Louis Mayor Lyda Krewson's home.

At least 500 people peacefully marched through St. Louis' Central West End neighborhood on Sunday demanding Krewson's resignation, according to the St. Louis Post-Dispatch. Krewson appeared in a Facebook Live video last week reading the names and addresses of people who had called for defunding the city's police department.
Man Fired for Racist Rant Supporting Slavery and Lynchings of Black People
John Wayne's son responds to resolution calling for John Wayne Airport to be renamed
Michigan Woman Yells Racial Slurs at New Neighbors in Viral Video
San Jose man charged with hate crime in Santa Cruz assault incident
Adam Carolla defends Jimmy Kimmel over blackface backlash: 'We've lost our minds'
Little Caesars fired two employees after a couple found a swastika made of pepperoni on their pizza
---
Black Lives Matter co-founder describes herself as 'trained Marxist' 
"The first thing, I think, is that we actually do have an ideological frame. Myself and Alicia in particular are trained organizers," she said, referring to BLM co-founder Alicia Garza.

"We are trained Marxists. We are super-versed on, sort of, ideological theories. And I think that what we really tried to do is build a movement that could be utilized by many, many black folk," Cullors added in the interview with Jared Ball of The Real News Network.

It also expresses its appreciation for the work of the US Communist Party, "especially Black communists," as well as its support for "the great work of the Black Panther Party, the American Indian Movement, Young Lords, Brown Berets, and the great revolutionary rainbow experiments of the 1970s," Breitbart reported.
'I'm leaving and I'm just not coming back': Fed up with racism, Black Americans head overseas
---
Anti-cop protesters make Portland 'look like a war zone' with fires, looting
Anti-cop protesters started huge fires near a Portland police precinct early Friday, as looters plundered nearby stores, according to police and local reports.

"North Portland looks like a war zone right now," journalist Andy Ngô tweeted alongside videos of numerous large fires in the Oregon city.

He said militants "tried to establish an autonomous zone outside" the North Precinct in the city and "they then started fires in the street."
---
Gay Trump supporter throws epic tantrum after being told to by airline staff to wear a mask on his flight 
Self-described "former liberal" Brandon Straka reacted in sheer disbelief when American Airlines staff politely asked him to wear a mask on a flight from New York to Dallas.
Customer spits in bartender's face & flees after being told to wear a mask in a gay bar
---
Atlanta Police Officers Call Out Sick After Charges Announced Against Two Officers 
A number of reports out of Atlanta suggest police officers there have called in sick, en masse, in response to the filing of criminal charges Wednesday against the two officers present during the fatal shooting of Rayshard Brooks.

According to CNN, the Washington Post, and WRBL, a "blue flu" has spread across Atlanta's police ranks, with officers insisting Wednesday evening they were too sick for their night shifts.

The Post reports the city struggled to fill the unexpected gaps in its patrols, and actively tried to temper social media chatter about a mass police walkout.
Police have traditionally protested anti-police rhetoric by making fewer arrests. Right now that's exactly what the public wants.
---
California man who was seen on video pulling AR-15 rifle on George Floyd protesters and yelling 'Back the fuck up' is charged with assault with a deadly weapon
A California man was was caught on video earlier this week pulling an AR-15 and yelling profanities at a large group of George Floyd protesters has been charged with assault with a deadly weapon.

Jacob Bracken, 38, of Rancho Cucamonga, was arrested on two felony counts of assault of a firearm stemming from his actions during a June 1 clash between Black Lives Matter demonstrators and Donald Trump supporters carrying American flags in Upland.
Queens man under fire for tearing down Black Lives Matter sign, using racial slurs
Video: One driver is very upset that the protesters are out tells them to "stop looting." This has been a peaceful protest
Moment a baseball bat-wielding grandmother confronts peaceful protesters in Michigan and accuses them of 'rioting'
---