All Posts Tagged as 'Social Media'
Welcome to Errattic! We encourage you to customize the type of information you see here by clicking the Preferences link on the top of this page.
Florida teen arrested for making race-based threats of violence on Twitter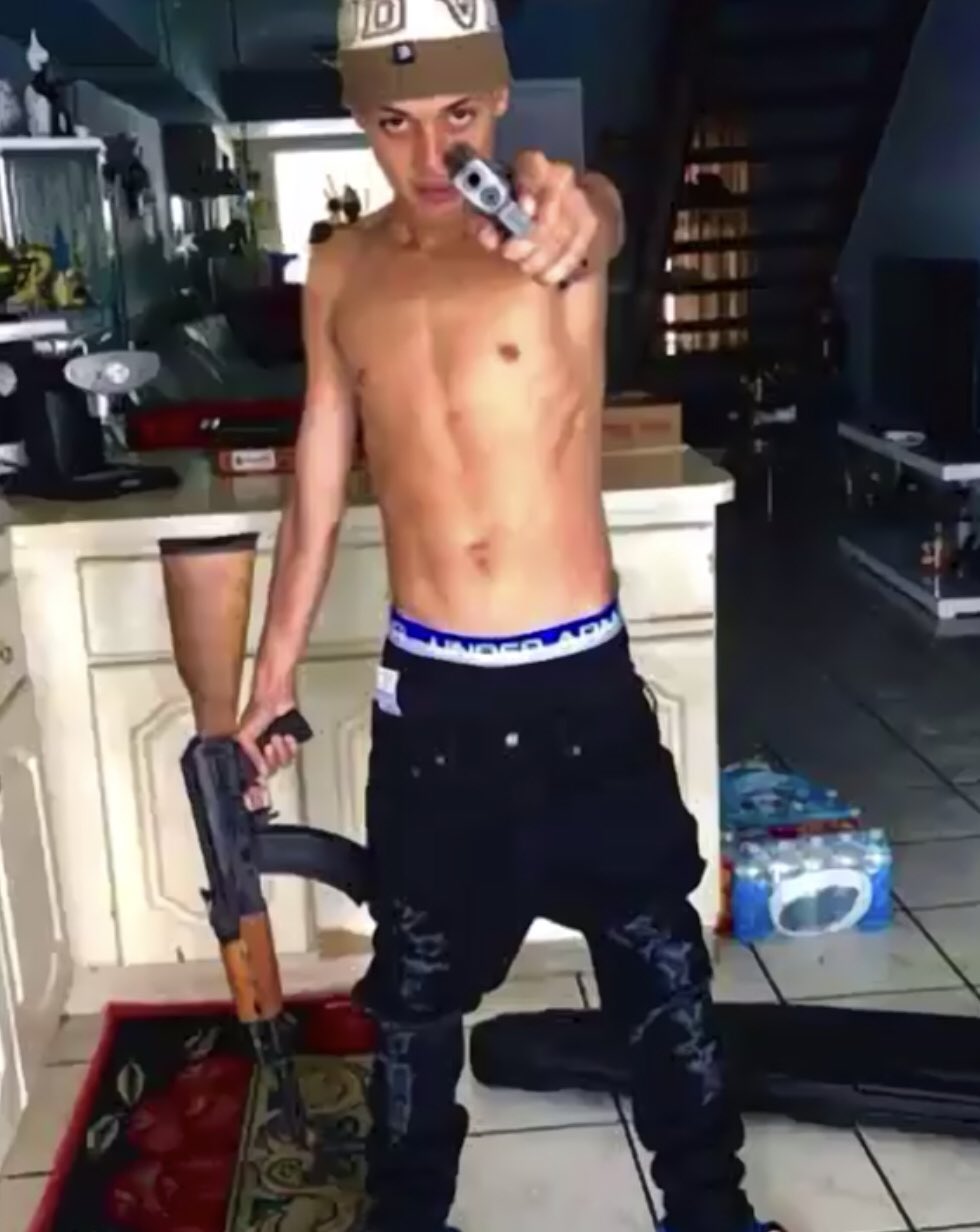 A Florida teenager was arrested for making threats of violence against several racial groups on Twitter.

Nineteen-year-old Lazaro Lesteiro-Diaz was arrested on Tuesday after police were notified of the threats by the Bureau of Alcohol, Tobacco, Firearms and Explosives.

Police took the threats seriously because he was very specific about a location that he was going to travel to in order to murder homosexuals, blacks, Nicaraguans, Colombians and "all types of Indian people."
---
Latest Data Confirms Anti-Vaxxers Are Winning: Measles Is On the Rise
If you thought that measles episode of The Brady Bunch was hilarious and that measles is just such a cute old-timey virus, then you'll be happy to hear: Measles is back! Thanks to the efforts of down-home anti-vaxxer folk, we're now officially living in a world that has more cases of measles since 1992. Nostalgia for the '90s is out of control! We should have resurrected Nirvana, not measles. RIght?
---
WATCH: 'Trans-surgery ruined my life': Trans woman transitions back to man 
On Tuesday's episode of Slightly Offens*ve, Elijah Schaffer, sat down with Abel Garcia, a transgender woman who regrets transitioning medically from a man to a woman at age 18.

After hormone and surgical procedures, Abel realized the lie he says was pushed on him as a young person -- too young, in fact, to even buy alcohol or cigarettes. But when he decided it was time to go back to being a man, he found out it's not as simple as it sounds.
---
Mother Files $5.5 Million Lawsuit After Son Is Bullied Over 50 Cent Friendship
The mother of a Brooklyn teen is blaming 50 Cent for the merciless bullying of her son, and is now suing the Department of Education for $5.5 million.

Myasia Dickerson believes her 14-year-old son Davian Fraser's friendship with 50 Cent has made him a target, the New York Daily News reports. Now, Dickerson has filed a claim against the city, accusing Williamsburg Charter School of not protecting her son after he was regularly attacked by fellow students.

After the students learned about Fraser's relationship with the rapper at the beginning of the school year, some of them started to harass him. "It caused a big uproar in the school," Dickerson told the outlet. "The kids started to follow my son around, tried to put him on Snapchat, tried to take videos of him. They were following him to the train station."

During Fraser's lunch break on Dec. 16, four classmates came up to him near a stairwell and started punching him. "He was attacked from behind as he tried to walk away," Dickerson said. "He was punched in the head and then the student proceeded to fight him and then he slammed my son's head onto the ground."
---
Stephen King slammed for 'ignorant' tweet about not considering 'diversity' when voting for the Oscars 
Famed writer Stephen King has stirred up controversy after admitting he "would never consider diversity in matters of art," a remark made in reference to his status as a member of the Academy of Motion Picture Arts and Sciences (AMPAS) voting on Oscar contenders. His remarks come a day after the 2020 Oscar nominations were announced, prompting complaints that women and people of color were largely overlooked. Many critics bemoaned the exclusion of women like Greta Gerwig from the Best Director category, while Harriet's Cynthia Erivo spoke out about being the only person of color to be nominated across four acting categories.
We are bullying someone because they are putting the quality of work before race, sex or creed. Isn't that how equality works? You can't expect to be rewarded because you are diverse. Diversity in film is at an infancy and it takes experience and hard work to establish quality. Haven't we already doled out enough pittance awards? Just have fun proving them wrong.
14-Jan-2020
---
Would you give up having children to save the planet? Meet the couples who have
When people ask her if she has children, Münter, who is 44, has a prepared answer: "No, my husband and I are child-free by choice." Saying child-free, she argues, doesn't imply you are deprived, as the more standard "childless" might. And by letting them know it isn't a sad topic to be avoided, she says, "it opens up the door for them to ask: 'Oh, that's interesting, why did you choose not to?'" Münter wants to move the awkward topic of overpopulation into the mainstream. "The more we talk about it, the more comfortable people will feel talking about it and then, maybe, things will change."

For too long, she feels, the issue has been swept under the rug. "We can talk about emissions and climate change, but talking about population gets such an emotional reaction."

The last thing she wants to do is make parents feel guilty, or to shut them out of the conversation. Procreation, after all, is natural. And if you have two children, you are only replacing their parents, rather than adding extras. But if you're not yet a parent and can't suppress your parental instincts, says Münter, "my ask is that you consider adopting one of the 153m orphan children that are already on the planet and need a home. Or, if you are dead set on having your own, my hope would be that you just have one and then if you want more, adopt." Ultimately, she says, "your kids and your kid's kids will be the ones who benefit from humans deciding to slow down our rate of growth. It will slow down climate change, ocean acidification, cutting down the wild places."
---
Ricky Gervais fires back at angry liberals for intolerant reaction to support from Christians, conservatives
Comedian Ricky Gervais fired back at critics who are upset that he is accepting support from Christians and conservatives.
---
Delaware GOP Chair Resigns After Facebook Comment That 'Faggots Cannot Handle Reality' 
Chris Rowe, the chair of Delaware's New Castle County Republican Committee resigned on Friday after using an anti-gay slur on Facebook. "Faggots cannot handle reality," said Rowe in response to a follower's comment.

The AP reports: "New Castle County Republican Party Chairman Chris Rowe said he agreed to resign after GOP chairwoman Jane Brady called him Wednesday and asked him to step down from the appointed position. Rowe told The Associated Press that he made the decision 'begrudgingly and only under duress.'"
Alleged Christian domestic terrorist regularly posted anti-LGBTQ content online
Arizona Republican introduces bill to ban the word "homosexuality" from public schools
Arizona senator drops plans to ban the word "homosexuality" from schools
---
Tweet on the Struggle of Growing Up Queer Goes Viral
"Queer people don't grow up as ourselves, we grow up playing a version of ourselves that sacrifices authenticity to minimise humiliation & prejudice. The massive task of our adult lives is to unpick which parts of ourselves are truly us & which parts we've created to protect us," he wrote on Twitter.
---
Charlamagne tha God Gifts DJ Envy a Mold of His Butt
It can be difficult sometimes figuring out what to give someone for the holidays, but the best approach is to try and pick up on clues that tell you what that person wants. Charlamagne tha God claims to have done just that when he presented his The Breakfast Club co-host DJ Envy with a gift on his first day back to the show from vacation.

"It's no secret that Envy flirts with me constantly on this radio [show]," Charlamagne said as Envy denied his claim. "He constantly flirts with me. I tried to get to this to him before the holidays 'cause I know he missed me over the past few weeks."
---
Five of your Facebook friends are psychopaths – but which ones?
It's official: five of your Facebook friends are probably psychopaths.

Thanks to research from the Mind Research Network, it's estimated that about 1% of the population qualify as psychopaths - which, we hasten to point out, doesn't mean that they're ruthless cold-blooded killers.

"People often referred to as 'psychopaths' are those with Anti-social Personality Disorder," social psychologist Dr Dina McMillan explains to Cosmo Australia.

"Traits include an inflated view of themselves, excessive selfishness, a complete lack of empathy and an unrelenting anger towards anyone who thwarts their efforts, insults them or humiliates them."
---
Trolls turned 911 into a weapon. Now cops are fighting back
Anyone with a grudge and someone's address can make a 'swatting' call, but what was once a niche prank played by gamers has become a favored means of terrorizing famous, controversial and vulnerable people. It has also become more organized in recent years, with online forums and chat rooms dedicated to targeted attacks on individuals, including YouTube personalities, tech executives, activists, authors and journalists.

Law enforcement agencies and city officials around the country have responded with anti-swatting procedures and tools to blunt this weaponization of the 911 system. In Seattle, the police department has launched a three-pronged approach that includes special training for officers and 911 operators and — a first for the U.S. — a registry for residents who think they may become swatting targets. The registry gives first responders a warning that an emergency call about a violent situation may be a hoax.
---
People Are Freaking Out About the Dicks on TV This Week
I'm just going to put it out there: I don't watch enough television as someone who writes about pop culture. To be fair to myself though, there's too much television to watch. One just can't know all of the good shows on television. Nor which shows may not be good but that you should watch because … reasons. Thank god for Twitter.

The thing about Twitter is that when something good is happening on a show, someone's going to tweet about it. And a lot. Whether it's the fact that the plot is good, or there was just one epic scene, someone's going to post it. Many shows, particularly on Netflix, count on this as a way that possible fans will discover the show. But sometimes it's not the whole plot, it's not an entire scene … it's just … a clip. Or a still. Especially when its explicit.
---
The War on Christmas has a new hero. A shero, if you will.

Shelby Gash, a 24-year-old in Lenexa, Kansas, made a giant penis out of Christmas lights on her roof. "Sorry neighbors..I felt the need to make a giant dick on the roof 'tis the season!" Gash wrote on Facebook.

I so appreciate this need. In these dark times, a glowing dick can bring so much joy.
---
Jason Derulo Angry After Instagram Removes His Revealing Underwear Photo: 'I Can't Help My Size'
Jason Derulo can't believe Instagram took down his steamy viral photo.

On Tuesday, the "Talk Dirty" singer, 30, shared a screenshot of the notice he received from the social media platform, which claimed the content went against Instagram's guidelines.

Derulo also took the opportunity to protest the removal by reposting the particular photo, which went viral last month after fans couldn't help but notice the visible outline of the star's crotch under his bottoms — a trending topic Derulo himself enjoyed participating in online.
---