Gay+
---
Welcome to Errattic! We encourage you to customize the type of information you see here by clicking the Preferences link on the top of this page.
Hollywood's identity crisis: Actors, writers and producers warn of 'reverse racism' in the film industry which has created a 'toxic' climate for anyone who is a white, middle-age man 
A revolution is under way. White actors are being fired. Edicts from studio bosses make it clear that only minorities – racial and sexual – can be given jobs.

A new wave of what has been termed by some as anti-white prejudice is causing writers, directors and producers to fear they will never work again. One described the current atmosphere as 'more toxic than Chernobyl', with leading actors afraid to speak out amid concern they will be labelled racist.

The first sign came with one of the most powerful black directors in Hollywood, Oscar-winning Jordan Peele – the man behind box office hits such as Get Out and Us – stated in public that he did not want to hire a leading man who was white.

'I don't see myself casting a white dude as the lead in my movie,' Peele said. 'Not that I don't like white dudes. But I've seen that movie before.'
Now the army of overgrown babies who say everyone must think like them are invading our bedrooms, says DOUGLAS MURRAY after the attempt to 'cancel' Killing Eve star Jodie Comer
Britney Spears defends criticized social media posts: 'This is me being authentic and as real as it gets'
'Stop being cry babies': NBA stars are blasted for complaining about Fyre Festival-like quarantine meals and 'Motel 6' hotel rooms as they isolate at Disney ahead of the season but Ja Morant takes a swipe at players saying 'I'm not a silver spoon guy'
Dancing With the Stars' Tom Bergeron Out as Host After 15 Years
CBS Commits to Developing Projects From Black, Indigenous Creators, Will Build More Diverse Writers' Rooms
---
T.I. on Snitch Accusations: 'Shoot Me in the Head Nigga If You Think I'm a Motherfuckin' Rat'
"One of the community service mandates was this commercial," T.I. explained. "Mind you, what they wanted me to do was to stand in front of some police and shit ... So, it got down to the last day before I had to turn in my thousand hours and motherfuckers were like 'You still gotta do this drop.' So, I did the drop. Tip has never gave any information to any law enforcement to get any man any amount of time, period."

Later, Tip justified his decision. "This is what I was speaking to, I was speaking to civilians, nigga. Nigga if you a civilian nigga and you see a motherfucker breaking in a motherfuckin' old lady house and that old lady got raped, beat up, robbed, or a kid missing or some shit like that, nigga if you ain't finna go out and handle that shit yourself nigga, you gon' have to goddamn get some authorities involved at some point and time."
---
Angry letter denounces DC resident for posting both Pride & BLM signs 
An unnamed D.C. resident who posted both Pride and Black Lives Matter signs was shocked to get a nasty letter in the mail from "black heterosexuals." The unsigned letter asserted that the two civil rights causes were not equal because "gays are the most racist group of people in America."

After a photo of the letter was posted on one of the city's most popular blogs, PoPville, the best part of the city reacted strongly to some of the worst.

"Gays are the most racist group in America," the letter continues, "the first to move in and gentrify a Black neighborhhod [sic] and discriminate against Black local community leaders in that neighborhood and put out racist properganda [sic] on your local racist blogs."
Costco Bans Employees From Wearing Masks That Say Black Lives Matter, Because It Is 'Political'
Daughter of Texas cop killed in ambush slammed for tweeting #bluelivesmatter
---
Kyle Queiro Apologizes After Questioning Jill Scott's Attractiveness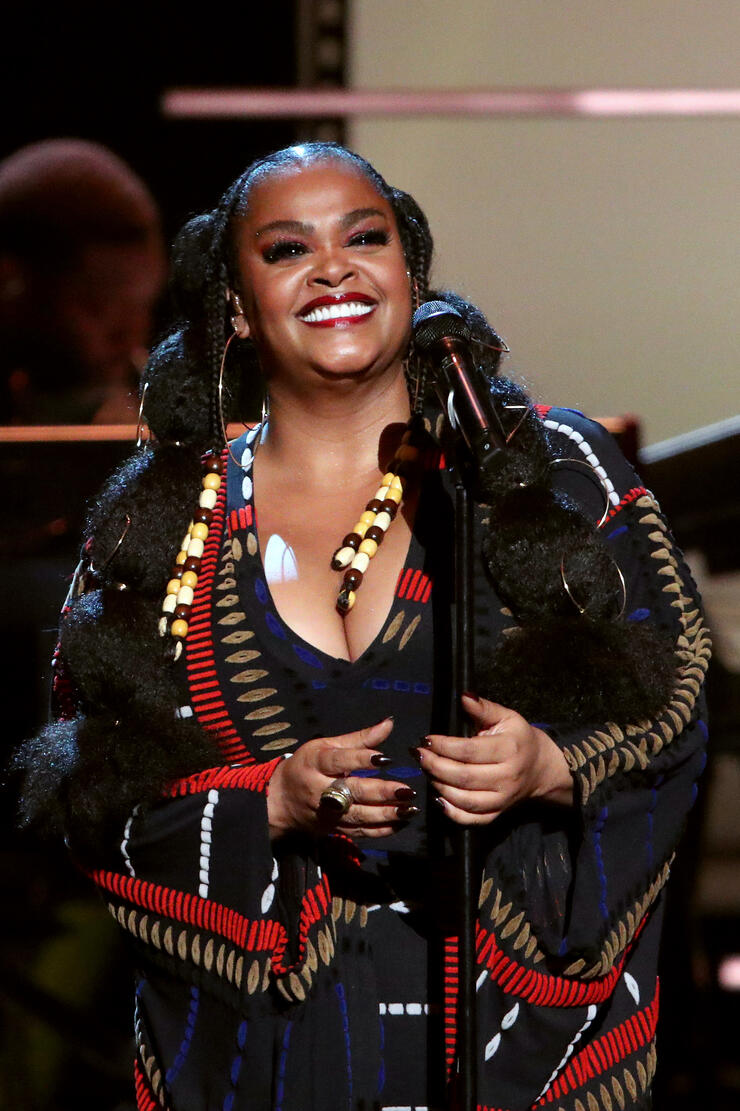 Kyle Queiro learned a hard lesson this weekend: Do not question Jill Scott's beauty.

On Friday night, the NFL linebaker Jill Scott posted a series of tweets in which he suggested the Grammy-winning artist was no longer sexually attractive.

"People are attracted to JILL SCOTT!?" Queiro he wrote in a since-deleted post. "And by no means is she ugly, but ya'll really sexually aroused by her?"
Peter Lenkov, 'MacGyver' & 'Magnum PI' Showrunner, Fired By CBS For Creating Toxic Work Environment
He flaunted private jets and luxury cars on Instagram. Feds used his posts to link him to alleged cyber crimes
---
An Unprecedented 14 Million Children Are Going Hungry Due To The COVID Crisis
Goya Foods CEO Won't Apologize for Complimenting Trump, Says Boycott Is 'Suppression of Speech'
Goya 'buy-cott' begins as customers load up on product after Trump backlash
On second thought. Give the lobster to them (the children.) I'll starve. Who gives a fuck.
11-Jul-2020
I am holding her and her tribe responsible for attempting to take food out of community mouths. Some people depend on cooking with Goya products. We enjoy the products because it reminds us of our heritage, its affordable and it's home. Some of us actually like who we are. I don't give a fuck where food comes from as long as we eat. Just because you are afforded privilege doesn't mean you get to take. Unless you are going to make whole every person denied food, keep your paws clipped.
PS: If you are going to make everyone whole, I want lobster...
11-Jul-2020
---
---
Black Woman Destroys White Privilege Myth
California man's angry tirade toward children's Black Lives Matter chalk art caught on camera
News: Former Black Panther, Elaine Brown, Says BLM Has 'Plantation Mentality'
---
Double win at Supreme Court elates religious conservatives
NEW YORK -- Conservative-leaning faith leaders and their allies, outspoken in recent years about what they consider infringements on religious liberties, cheered Wednesday as the Supreme Court issued a pair of rulings that protected certain rights of religious employers.

In Our Lady of Guadalupe School v. Morrissey-Berru, the high court sided with two Catholic schools in finding that certain employees of religious schools, hospitals and social service centers can't sue for employment discrimination. Critics fear the 7-2 ruling will embolden some religious organizations to fire or otherwise discriminate against LGBTQ employees.

And in Little Sisters of the Poor v. Commonwealth of Pennsylvania, also decided 7-2, the court upheld the Trump administration's allowance for a broad religious or moral exemption from the Obama-era Affordable Care Act's requirement that employers provide free contraception. Opponents say the decision could leave more than 70,000 women without it.
---
The rich brats of social media are finally getting their comeuppance
Remember the 20th century? Phones had dials; the closest thing anyone had to Internet erotica was waiting up until midnight for the Soloflex infomercial, and — most outdated of all — people who had money tried to be discreet about it.

None of those things would make sense to a child born after the year 2000. Today, every teenager is their own media brand, with all the technology they need to broadcast their lives on their smartphone, usually via the social media platform TikTok.

The cultural pressures of wealth and celebrity are explored in my new book, "Gatecrasher," but the past weeks have also brought fresh evidence that public opinion may finally be turning against young "influencers."

The trend for boasting about money began with hashtags like #daddysmoney and #richboycheck, in which teens of means competed to flaunt their material possessions.

"The hot new thing on TikTok is bragging about money," Lucas Cruikshank, a 26-year-old influencer whose YouTube channel has over 3 million subscribers, explained in a video posted on his channel in December. "Which I love — if somebody's entire social media personality is, 'I'm rich, I have so much money,' I'll follow them. Because it's just entertaining, and I like seeing the life they live."
---
Black Lives Matter Gets Indians Talking About Skin Lightening And Colorism 
In India, colorism is rampant. Darker-skinned Indians, especially women, face discrimination at work, at school — even in love. Some arranged marriage websites let families filter out prospective brides by skin tone.

So it may be no wonder that about half of all skin care products in India, according to the World Health Organization, are lighteners designed to "brighten" or "lift" — essentially to whiten — a user's skin color. WHO estimates that such products amount to about a $500 million industry in India alone. Until recently, some of them even came with shade cards — like paint swatches — so that users could track the lightening of their skin.
The Tale of 2 Black Chicago Police Veterans, 1 of Whom Does Not Patrol the Sunken Place
---
Court hears shocking audio of 'Johnny Depp HOWLING like an animal' on flight 'when he attacked Amber Heard and accused her of having sex with "rapist" James Franco' after 'cocaine, whisky, pills and champagne binge'
A court has heard a recording of Johnny Depp appearing to howl 'like an animal' after he attacked Amber Heard in a cocaine and alcohol fuelled tirade on a plane over accusations that she cheated on him with 'rapist' James Franco.

On the second day of Mr Depp's blockbuster libel trial in London, he was asked about 'the Boston plane incident' in May 2014, where he is alleged to have attacked Ms Heard on a flight from Boston to LA after consuming cocaine, whisky, pills and champagne before passing out in the plane's toilet.

He denied screaming about how Heard 'liked getting fucked on set' and making 'vulgar' comments while grilling her about sleeping with Adderall Diaries co-star Franco in 2014.

The Sun's lawyer, Sasha Wass QC, said Mr Depp made 'vulgar references to [Ms Heard's] genitalia' and called her a 'go-getter slut in front of crew members on a flight from Boston to LA.

He denied having launched the attack, commenting: 'That's quite a stretch of her imagination.'
---
Lawmaker Introduces 'CAREN' Act to Outlaw False Racially-Motivated 911 Calls 
A San Francisco supervisor has introduced legislation that would outlaw racially-motivated 911 calls such as those made by various "Karens" around the country.

The legislation is appropriately named: The CAREN Act, which stands for Caution Against Racially Exploitative Non-Emergencies. The bill would charge people who make false racially-biased emergency calls such as the one made by skincare CEO Lisa Alexander (seen above) in San Francisco's Pacific Heights neighborhood in early June.
Supreme Court sides with Catholic schools in employment suit
Oregon Politician Admits Writing 'Racist Letter' Telling Himself He's 'Not Welcome Here'
An Illinois man faces eviction for hanging Black Lives Matter banner from his balcony
Bigoted white woman who called Black Lives Matter protester 'a gay homosexual piece of crap' fired from her job
Real-estate developers won't rename 'plantation' properties in South Carolina, Florida
HHS Removes 'Gender Identity' from Meaning of 'Sex Discrimination' in Obamacare
Homophobic photographer sues state because he doesn't want to photograph gay weddings, even though nobody has asked him to
Drag Race billboard targeted with crude graffiti in sickening 'attack on the LGBT+ community'
I'm Through Being Silent About the Restaurant Industry's Racism
---
Jeffree Star is staying quiet while Shane Dawson's career lies in tatters. Here's why celebrities like him seem uncancelable.
Shane Dawson's reputation is currently hanging in the balance. He's lost over a million subscribers in the last two weeks after old footage resurfaced of his past involving racism and jokes about the sexualization of animals and children. The final straw for many came when Tati Westbrook dropped her video and claimed Dawson and Jeffree Star were the ones who manipulated her into almost ruining James Charles' career last year.

However, while Dawson responded to Westbrook's video in real time on an Instagram livestream, Star is nowhere to be seen. While several of Dawson's friends have publicly supported him, Star is not among them. There have been a few theories about his whereabouts thanks to fan photos cropping up on Twitter, but his own social media presence has been silent.

Some celebrities, like Star, seem bulletproof to criticism. Morgan Freeman, for example, was accused of sexually harassing eight women and issued a statement denying the allegations in 2018, which everyone seems to have forgotten about.

Chris Brown also still has fans despite being convicted of assaulting Rihanna in 2009 and a long history of violence towards women. High profile stars like Justin Bieber are among his fanbase, which vehemently defends his right to still make music. YouTuber Gus Johnson said in a video he "continues to be shocked" at how Brown's career is not over when he listed all the legal issues and charges he's been involved in over the last 15 years.
---
People Are Calling Kim Kardashian and Kanye West Out for Their Insensitive Posts 
For the common non-billionaire — lacking in Gap collaborations, shapewear empires, and private jets to whisk them away from it all — the past several months have been trying, to say the very least.

But for Kim Kardashian and Kanye West, this is a time to reflect on their personal wealth. West has a reported net worth of $1.3 billion, while Kardashian is a newly-minted $900 millionaire (though West would beg to differ).

On Monday, both parties decided to take their financial privilege to the timeline. Kardashian began, posting two photos of her 7-year-old daughter North West's "Freesian horse" (Horse twitter quickly corrected her spelling — it's Friesian), noting that they have 14 of the breed at their Wyoming ranch. Pricing differs depending on an array of factors, but a single Friesian horse can cost more than $50,000.
Cardi B hits back at accusations of homophobia and transphobia: "I support the LGBT community"
People Rip Terry Crews for Claiming 'Black Lives Matter' Could Become 'Black Lives Better'
New study reveals 'evident' racial bias in TV football commentary
---
California Abandons Equality under the Law
Here are some unexpected developments: In Mississippi, Republicans have decided to excise the Confederate flag; in California, Democrats have decided to legalize racial discrimination.

Who had that on their 2020 bingo card?

In 1996, California voters by a substantial margin enacted a constitutional amendment reading: "The state shall not discriminate against, or grant preferential treatment to, any individual or group, on the basis of race, sex, color, ethnicity or national origin in the operation of public employment, public education, or public contracting." The Democrat-run state legislature has just voted to repeal that amendment.

California had a long struggle with race-based admissions practices in its public universities, most famously with the Bakke case, in which the Supreme Court upheld race-based policies. The 1996 amendment was an attempt to sort that out in the most straightforward fashion, by insisting that the state take no notice of race at all in its policies. That was, for some generations, the great aspiration of most good-hearted Americans, who took it to be the dream of the Reverend Martin Luther King Jr.'s famous speech.

California Democrats such as Assemblyman Todd Gloria insist that eliminating rules against racial discrimination are necessary to "advance true racial and gender equity in this state." That is, of course, nonsense. It is, in fact, self-refuting nonsense — the fact that the ethnic makeup of California's state universities does not reflect the ethnic makeup of the state is not an indictment of colorblind university policies but an indictment of the state's K–12 education system and other institutions. Racial preferences do not create equality — they camouflage inequality.
---