Movies Posts Tagged as 'Writ Tight'
---
Rating key:
Welcome to Errattic! We encourage you to customize the type of information you see here by clicking the Preferences link on the top of this page.
Arrangement, The (1969)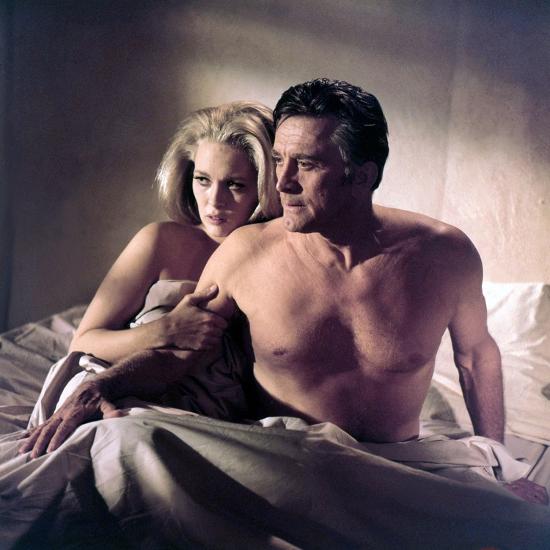 Alpha daddy is acting bonkers. He's disillusioned with his wife, can't communicate with his daughter and is suicidal. He drives his car into a truck, gets a better face, detaches from life and gets a second chance to make the same mistakes. Faye Dunaway was beautifully confident as the office slut that could reduce a happily married daddy to mush and make him pay for it. Deborah Kerr exposed her soul and sexuality as a wife waiting for a man that's never going to be there. Kirk Douglas roars as a man obsessed with orgasms and baby smells. Elia Kazan opened up as a director and tried new things (good and bad). It is a detailed examination of how love, sex, beauty and insanity correlate.
13-Sep-2021
---
Lady Takes A Sailor, The (1949)
Promising businesswoman gets hit by a submarine while sailing. A sunshine spitting mariner reluctantly rescues her. She becomes privy to a super submarine but its captain remains a mystery. Once ashore she galvanizes the press and her business support with the story of her rescue. They think she is lying so they cancel her. Business funding is out, the camera footage proving her truth has been stolen and she's losing followers. Meanwhile, daddy spit sunshine's career is being threatened if the public believes her. It's oneupmanship of a tingly kind, romance of another with two star legends willing to do anything for a laugh and adoration. Eve Arden never hurts. Screwball comedy masters.
06-Sep-2021
---
Stage Fright (1950)
Killer is setting her lover up to take the blame for her husband's murder. Setup is a tingly nincompoop that obliges the voice of love. Good girl is the bestie with a crush that will find proof to save him. Jane Wyman's talent had me swooning. Alastair Sim was sly and supportive. Richard Todd was psychological. Marlene Dietrich glimmered. Michael Wilding exhilarated. The shots don't disappoint, the puzzle is precise and the whole is enviously entertaining.
06-Sep-2021
---
Indecent Proposal (1993)
A fairytale can sustain a marriage until someone else's reality makes it true. Men are easily positioned by a punch to the face but a woman is a game worth dying for. A woman cannot be special unless she is hunted and adorned. A billionaire will pay a million dollars to have a sex with a loser's beauteous wife. Demi is full watt, totally worth a million dollars. Daddy Redford is an alpha watt hoarding the unattainable by deconstructing it. Harrelson is the cute schmuck torn between love, security, betrayal and insanity. Lyne is a Hallmark backend. It's psychological intuition sometimes gets marred by goop smear but the trio sparks, the music masters, the thought is clear and the atmosphere is bright.
26-Aug-2021
---
Edward Scissorhands (1990)
Creature with a grand imagination, magnificent capabilities and childlike inspired nobility is plucked out of isolation so he can partake of suburbia after his inventor dies. Depp's Edward is everything you don't expect. He is joyous and wondrous, living things he always envisioned but never realized and tempted by the evil that is a suburban housewife. Suburbia is welcoming, at first. Kathy Baker is splendiferous as a woman too hot to trot with. Michael Anthony Hall played himself marvelously. Dianne Wiest is a beautiful heart murmur. Alan Arkin schlepped. Vincent Price is a well deserved gay horror queen. Suburbia is where Karens are born, the religious take flight and nature goes to shit. Edward unites the community, becomes a hero but is deflated by a bully. A misconstrued wrongdoing leads to cancellation. He's no longer adorable but Frankenstein. There are plot holes. He eats which means he poops. How does he clean his butt? How does he pee? A hole in a water mattress makes the entire bed drain. Putting a teddy on it doesn't stop it from leaking. If Edward eats food is it necessary for his survival? Does the town receive free giant blocks of ice during the holidays? The inventor created a boy but had difficulty with hands? It doesn't matter. The music is magical, Wynona Ryder did the best by doing the least and Tim Burton is a master of creativity. He creates a place I want to live in, minus the people. I am Edward Scissorhands.
24-Aug-2021
---
Luca (2021)
A resplendent world where a sea monster gets out of his comfort zone, becomes a boy, makes connections and finds a purpose. The tale is beautifully animated, smoothly told and a sweetheart to watch.
09-Aug-2021
---
Shipwrecked (1990)
Twinkster disinherits himself from family business after father is injured on a boat. He wants to prance around at home and live a gay lifestyle but poverty is on the horizon and evictions are forthcoming. The twinkster becomes a cabin boy and a hero on his way to becoming a man. The mystery is well plotted, it connects with very simple realities, trials await all who become men and only little orphan/stowaway girls have the experience to kick it like a man.
16-Jul-2021
---
Johnny Guitar (1954)
At no point did I strum for Johnny when Joan was the instrument. She cowboy'd up, accomplished some manly maneuvers, looked great, flicked her own and sent the lesbian and her male posse out to the western stratosphere. Pazuzu from "The Exorcist" (Mercedes McCambridge) was the town Karen, interfering in bisexual woman's business by inciting a mob of lawmen to protect the town from unclassified hedonism. Battle ensues as the lesbian pretends she has a soft spot for one of Joan's goons. "Bitch, there's only one man in the room and her name is Joan!"
08-Jul-2021
---
Fear Street Part One: 1994 (2021)
Teen lesbians break up after the other moves to a better town and starts hooking up with boys. A jealous and violent prank accidentally disrupts a force that sends undead serial killers to obliterate them. The director has ballsy energy and the kids read well. It pays homage to the slasher film while making the violence more palpable and incorporating lots of baby kickass fun.
02-Jul-2021
---
No Place To Go (1939)
Big daddy brute that spits sunshine in your face, suddenly awakens from his lavish slumber to rescue his dad whose stuck in a senior vet dump. The wife is uncomfortable but accepting. She can't warm up to having a child in the house. His contribution is well-intentioned but it doesn't conform to the modern world and he embarrasses the crap out of her. The staff keeps rotating because of his interference and idiosyncrasies. The constant gripes fatigue grandpa into finding his own niche amongst the prosperous by giving back to the poor. He befriends a child and adopts a dog. It pokes fun lightly, it sweetens gently and it hits you instantly.
28-Jun-2021
---
Father, The (2020)
We become childlike again with machinations in our heads, dependent on and annoying the people we once cared for and inheriting a worn brain that keeps timing out of a complicated existence. The director assimilates what the disease feels like and with good writing, affords it various scenarios. The actors are masterclass.
28-Jun-2021
---
Security (2021)
Teen gets attacked and an investigator is tasked with rummaging through private security footage to resolve the crime. When the crime exposes the reality of his family life, he breaks. Our hero is a gruff everyman who doesn't want any more than what life offers and his wife is a power fucker that wants to get elected. Daughter is sleeping with her teacher because neither parent pays her any mind and she likes to torture daddy. Does daddy snoop on family trust to solve the case? A scary conundrum that no one wants to ponder.
28-Jun-2021
---
Child's Play 2 (1990)
This is primo Chucky and Andy. It's ridiculous but hilarious. The parents are knobs being foster parents to a teenage lesbian with survival skills and a traumatic Andy who's mother has been institutionalized for believing in human dolls. Chucky is alive, more expressive and an artistic cunt. The toy factory was it.
24-Jun-2021
---
Napoleon Dynamite (2004)
So stupid, it's funny.
22-Jun-2021
---
Velvet Touch, The (1948)
Broadway legend destroys many lives by extinguishing her commitment to a producer/lover. She's in love with a big nosed romantic, wants to change producers and to take risks in her career. Love has changed her. Angelina's so giddy that she makes amends with her nemesis and promises to return Brad to her. She plots a clean break but reality throws a curveball. The mare and the stallion have a violent showdown. He shoots her with accountability bullets, she kills him with rage and the crime scene shifts towards Jennifer. Rosalind Russell is a sharp wit, a cutthroat and a talent. She doesn't want to go to prison but can't allow an innocent person to take the blame. Her act within the act is marvelous and addictive. You follow her til the wrenching curtain call where her choices are bad for everyone but her luck remains the same. Sydney Greenstreet as Captain Danbury was a playful bear who appeared smarter than written. Theresa Harris expended tears and wit as a black assistant. Dan Tobin was gay significant. Claire Trevor looked like the type you leave. The movie had bitchy guts and a tight pussy.
19-Jun-2021
---