Movies Posts Tagged as 'Writ Tight'
---
Rating key:
Welcome to Errattic! We encourage you to customize the type of information you see here by clicking the Preferences link on the top of this page.
Everything Everywhere All At Once (2022)
It begins with family authenticity, struggling to keep current and afloat. Super reality sets in and the tingles begin. Oh no! It's going to be bonkers. The cast resolves it. I wasn't sure if the husband was Jackie Chan. I spent a lot of the time being jealous of how young he looked. It was driving me crazy. He can't be, right? When he utilized the master's moves, I thought, that's definitely Jackie Chan. It's a tribute to him and Michelle Yeoh as action heroes but why does he look so fucking young? Terrific surgery perhaps? Ke Huy Quan is as adorable now as he was as a kid in a Spielberg classic. The man was precise. To Lady Yeoh, we gently bow. Stephanie Hsu had fun being all iterations of evil because we had fun too. Jamie Lee Curtis was gnarly. James Hong added his queerisms. The film threw as many cliches as it did new ideas. A win win for art. A film that wipes its imperfections with glorious shots of legends reacting to wonder and giving us soul.
27-Nov-2022
---
Wonder, The (2022)
A child fasts to appease god and clear her family of their sins. Faith, in the hands of a child, can be a destructive thing. Pugh remains on, for the duration, as an investigative nurse that wants to clear the bullshit. The director keeps us trapped and enrapt. You can only fight a fable by trading it for another. Well done.
17-Nov-2022
---
Good Nurse, The (2022)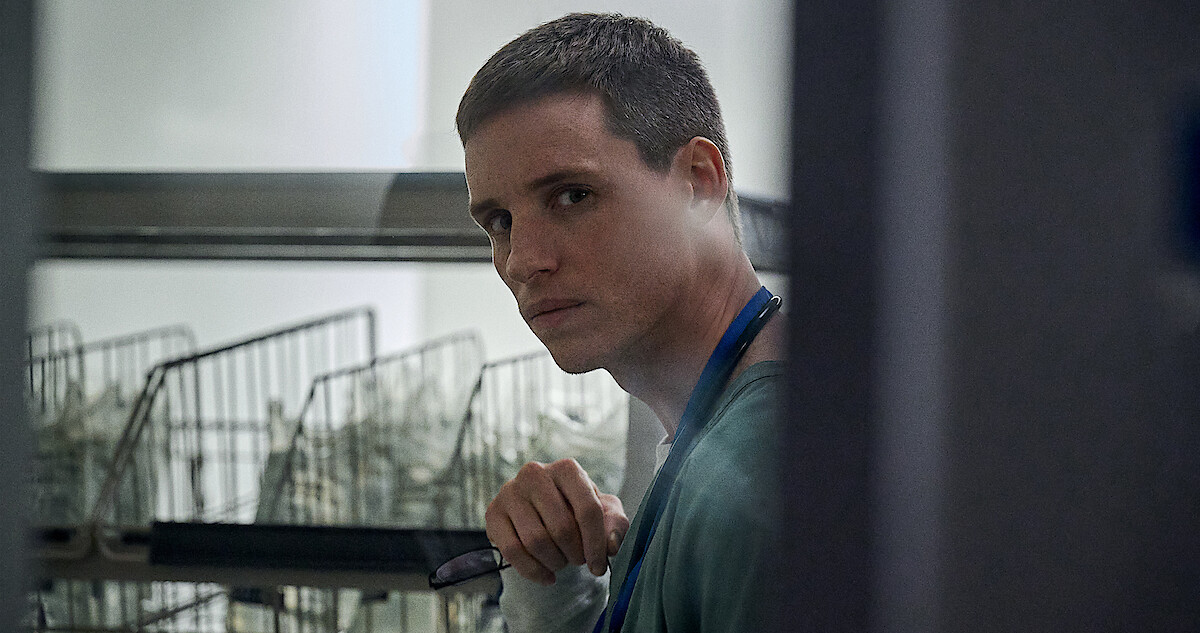 The angel of death is serving the ill and forgotten whilst deciding which deserves to stay amongst us. Lady Chastain introduces the audience to her pain, which we inhale and feel 'til the very end. Asomugha and Emmerich teamed up nicely. Hot boy proving he can investigate using his brain and Daddy Emmerich twitching the way I like. The cast didn't miss a beat, the story was tight, the procession, intriguing and the recapture well plated. Lord Redmayne spends a lot of the time hiding from view because that is how the angel of death would appear at work. Do a great job, kill them with kindness, keep history mum, don't be popular but make one sucker friend and kill up to a 1000 people. I couldn't believe that Redmayne would play a killer so controlled and unassuming until he outrants Ledger's Joker at the police station. I was inhaling Jessica's air when he punched me in the gut. Nice.
27-Oct-2022
---
A Doll's House (1973)
A woman moving in with a man must turn the home into a dollhouse in order to make her feel like she owns it. She owns him as much as he thinks he owns her, but a toy is the only home she will ever get to own. The cast played it without pity, the story excelled as it moved, even though status has changed, emotions remain the same and Jane Fonda flexed some beautiful muscles. Freedom comes after you stop lying to yourself. A real Christmas story.
17-Oct-2022
---
I Passed For White (1960)
Interracial girl struggles with her identity as a negro. Her career options are minimal and love opportunities arise from worst circumstances. God made her white and she needs to embrace it. She leaves her family and hut to explore buildings, money, pretty men, clothes, food and such. She ignores her nature and becomes the body she possesses, a woman with great choices and big mistakes. A Ken Doll makes her forget where she was born and she forgets about her family. The film has anger, insight, respect and hilarity. My favorite scene happens at a fancy business event where she dances like a black girl and the white guests notice.
28-Apr-2022
---
Wonderland (2003)
The washed up male porn star with a huge dick cliche. His 14" cock was the ladder that should have saved the world. John Holmes was a porn king who sold his soul to the devil to continue to do drugs and have sex. John Holmes was either the mastermind that plotted the worst heist of his life or he was really dumb. Baby Kate Bosworth was a great young innocent in love with the aura of a "man." Lisa Kudrow was Beatrice Straight from Network. Underwritten, marvelous and powerful. She didn't flinch. Val Kilmer softens the big cock brute by being genuine. The reenactments of what occurred that fateful night raced to a satisfying conclusion.
04-Apr-2022
---
Throne Of Blood (1957)
Kurosawa's imagining of Macbeth was intoxicating. He lingered until we felt the character's desperation. The background was still and intimidating. The actors wore silent film faces with impassioned speak. Toshiro Mifune was a beast royale as MacBeth. Isuzu Yamada was fabulously haunting as his Lady. The rustle of her dress, the scary predictions, the make-up and bouts of violent madness. She was a favorite thing. Deaths were choreographed with coherent math and geography. Inspiration is achieved. Masterpiece recreation is impossible because the best things in it happened by accident.
28-Mar-2022
---
Turning Red (2022)
Child's emotions are awakened when she experiences Leak Week. A family curse has her turning into a fuzzy red panda that transforms her life and liberates her loins. She's becoming a woman. The family wants to keep the hairy beast on the downlow but children can't be remote controlled. The child keeps it padded with the support of friends and the hope to attend a concert of sex gods (a boy band.) The film is fresh, the music is sprite and the art is gorgeous.
20-Mar-2022
---
Humoresque (1946)
Like Batman I focused on a minor detail that should have gotten someone fired and the picture burnt. Ms. Crawford's leg looks beat up. Is it make-up? Is it black nail polish? Did she fall down a flight of stairs? Are those surgery scars? Is that why she's sitting? Was she secretly dirty? It looks awful.
14-Mar-2022
Should you expect payback for endorsing a genius? The film ponders it and applies solutions. John Garfield was born to play broke hot daddies with genius and obsessive compulsions. Joan Crawford always "manned up" to cure them. Ms. Crawford was almost comical until she put on a pair of glasses and blossomed into a bona fide artist. It was classic thespian. The parents' interjection seemed appropriate to the traditions of a hard working family. The family worked to establish a genius and survive. Mama and papa were the mama and papa that lucky children got. Papa looked out while mama cared a lot. Flashbacks were insightful. Ms. Crawford was fashionably tailored to her specifications. The story happens. Oscar Levant was the wisecracking loser that coasted from genius because he failed on his own. He spoke the uncomfortable words the "damned" never listened to because he wasn't "hot." Funny.
04-Mar-2022
---
Mikey (1992)
The inestimable is the most hurtful. Brian Bonsall played Mikey, a throwaway child with trust, jealousy and psychotic issues. The actor had the smarts of an adult aware of its value. Everyone loves "new" adorable thing until it becomes codependent and angry. The conversations are the same as today, which freaked me out. "We're still talking about the same shit with the non-resolutions." Mikey is presented as an adoptive boy trying to adjust to a family that has suddenly enforced rules. They must die, the most inept investigators can't solve it and adorable little Mikey is psychoanalyzed for PTSD after secretly killing them. The psychiatrist frees him into the adoption system with an "all he needs is love" diagnosis and Mikey moves on to the next stupid family. Mikey has learned that electricity and water don't mix, you can hit real balls with bats, cops can't solve anything, mothers just stand there screaming while you're stabbing them to death and to remove the bullets from adult guns and disconnect their phones so they can't fight back. Empty guns waving in the dark. Elementary school sports training consisted of coaches deciding which boy would be a "skin" or a "shirt" for no apparent reason other than to be a pervert. Telling certain kids and not others to strip is insulting and absolutely gay. His favorite teacher becomes suspicious of the boy's monstrous tendencies when he adds marbles to her "marble game." A box is designated for the kids to drop marbles they earn for good deeds. The more marbles of goodness you inherit the quicker you can fill it so its doors burst open and you can receive a prize. She investigates his history but his adoption file is closed and the witnesses are minimal. There is no living thing that is safe when Mikey gets pissed. Will he spare no one? Kids dragging adult dead bodies, killing cats, feeding frogs to sharks, setting up the boyfriend and using a bow and arrow to kill are hilarious. Everything looks TV safe and appealing, the deaths are LOL and Bonsall keeps on giving. He is the conservative cunt that arises when successful families keep pushing the same subject without advancing. Mikey is the child liberated from bullshit. Baby boy is my new "Carrie."
PS: dudes, if she wants childrenx and you don't, show her this movie. Repeated viewing depends on her voracity for children and disdain for the film. Keep it downlow. We don't want to damage her. Keep it stealthily in the background and don't stop watching it. Make it a top ten of all time. Yeah, it's crap but its better than having a baby.
21-Feb-2022
---
Man In The Attic (1953)
Jack The Ripper is on the loose and living in "Our Town." He is compelled to kill because he can sense debauchery and orgasms from his female victims. He may be bunking with an actress and her left wing family. Aunt Bee from Mayberry is the "Karen" the town needs or she may be a nosey bitch. Jack Palance has the most muscular face in moviedom and is of great height. Whether he is or isn't is not the point of the film, are all actresses whores, is.
19-Feb-2022
---
Dune (2021)
Villeneuve attempts putting things prettier than Chalamet on screen and lending coherence to a confusing tale. The audience drives miles before the Jedi is matched with his fate and the communities are only taxed with suffering. The film doesn't allow them any fun. Everyone is a prisoner of religious fervor and nobody takes a dump. The ending is abrupt and the action doesn't build, it stays the same. Villeneuve envisions amazing things but nothing prettier than Chalamet.
19-Feb-2022
---
Diary Of A Madman (1963)
Hordas are turning confused souls into killers. Hordas are hard to describe. They are ghostly, invisible, well-spoken, manipulating, manly and turn your eyes green before possessing you to avenge their thirst. Vincent Price is a magistrate trying to rehabilitate a killer Horda being legally beheaded because of incriminating evidence. The killer confesses to murder but not being himself. His eyes turn green and threatens a Horda curse. Price fights for his life and accidentally kills him. Price becomes distraught. Things at home are out of place and he's having Venom type conversations with a Horda that lost its home. Counseling convinces him to leave law and punishment and return to sculpting. His first love before his wife and child died. A married goldigger entices Mr. Price to model for him. The bitch that tried to steal Darrin Stephens from Samantha is the model. As soon as she sniffs how affordability can accommodate luxury, her panties wet faster than his clay and her "hot" "poor" husband becomes a blur. The green eye effect is hilarious. It's someone flashing a green light on the actor's eyes and being effective if they never move. They move. They're actors! It's a niche. Gay daddy clinches his part and makes us imagine the rest. "I imagined what kind of gay sex Mr. Price preferred. He definitely smoked like a bandit but I didn't smell much ass action."
16-Feb-2022
---
A talented cast is assembled to remake a classic remade too many times with bigger bluster. A downfall of blockbusters but not of little films. They can sneak in some truth without being punished. It's a parody that attempts to bring circumstances, thoughts and decisions to the shenanigans. Idina has grade A moments in song and in soul sharing. Billy brought his showmanship. The prince passed the "inferno" test with a flip and a voice. We waited for Minnie Driver to awake and when it happens, it is fitting. 007 hits his marks like a gunslinger. Cabello looks like a waitress from different eras in all of her guises but she can sing, act, charm and have fun. I had fun. It belongs to a future cult.
13-Feb-2022
---
Quiet Man, The (1952)
It's a cultural fairy tale that vibrates with status and wondrous oblivion. It's as pretty as the people breathing life into it. Culture doesn't deny itself, it contributes to the world. White people made me feel good. So what?
23-Jan-2022
---