Movies Posts Tagged as 'Chemistry'
---
Rating key:
Welcome to Errattic! We encourage you to customize the type of information you see here by clicking the Preferences link on the top of this page.
Everything Everywhere All At Once (2022)
It begins with family authenticity, struggling to keep current and afloat. Super reality sets in and the tingles begin. Oh no! It's going to be bonkers. The cast resolves it. I wasn't sure if the husband was Jackie Chan. I spent a lot of the time being jealous of how young he looked. It was driving me crazy. He can't be, right? When he utilized the master's moves, I thought, that's definitely Jackie Chan. It's a tribute to him and Michelle Yeoh as action heroes but why does he look so fucking young? Terrific surgery perhaps? Ke Huy Quan is as adorable now as he was as a kid in a Spielberg classic. The man was precise. To Lady Yeoh, we gently bow. Stephanie Hsu had fun being all iterations of evil because we had fun too. Jamie Lee Curtis was gnarly. James Hong added his queerisms. The film threw as many cliches as it did new ideas. A win win for art. A film that wipes its imperfections with glorious shots of legends reacting to wonder and giving us soul.
27-Nov-2022
---
Disenchanted (2022)
The most enchanting thing about both films is Amy. When her magic is at full tilt, production continues her flow. Dempsey was saddled with a silly storyline and a "send him away" type direction. Women and men no longer want to fight together. It's women's turn to die for what they believe in. Marsden is a pro at acting douchy but cute. Gabriella was just right. Maya stopped fussing and was funny again. The music was almost but it felt like there was an intruder interrupting the grandeur. Some of the songs are juvenile. Idina Menzel wrecking her throat's gift on shitty songs is a never. They made her sing "Let It Glow," again and again. Her magnificent voice gets a full moon. Amy's everything makes you hungry for more. Suburbia works as a stand-in for a magical life but once true magic coaxes itself into reality the ink starts to dry. They gave no magic equations or rules of limitations that we could realistically follow. What kind of magic is in Andalucia? Why did the queen gain power? Is Andalucia in Wakanda? None of the above. They gave no rules because they didn't want to have to follow them. Dude, that's when the best art is created! Full moon to the production in front and back and a boo hoo to the writers for not coming up with something more substantial to say.
18-Nov-2022
---
Wonder, The (2022)
A child fasts to appease god and clear her family of their sins. Faith, in the hands of a child, can be a destructive thing. Pugh remains on, for the duration, as an investigative nurse that wants to clear the bullshit. The director keeps us trapped and enrapt. You can only fight a fable by trading it for another. Well done.
17-Nov-2022
---
Good Nurse, The (2022)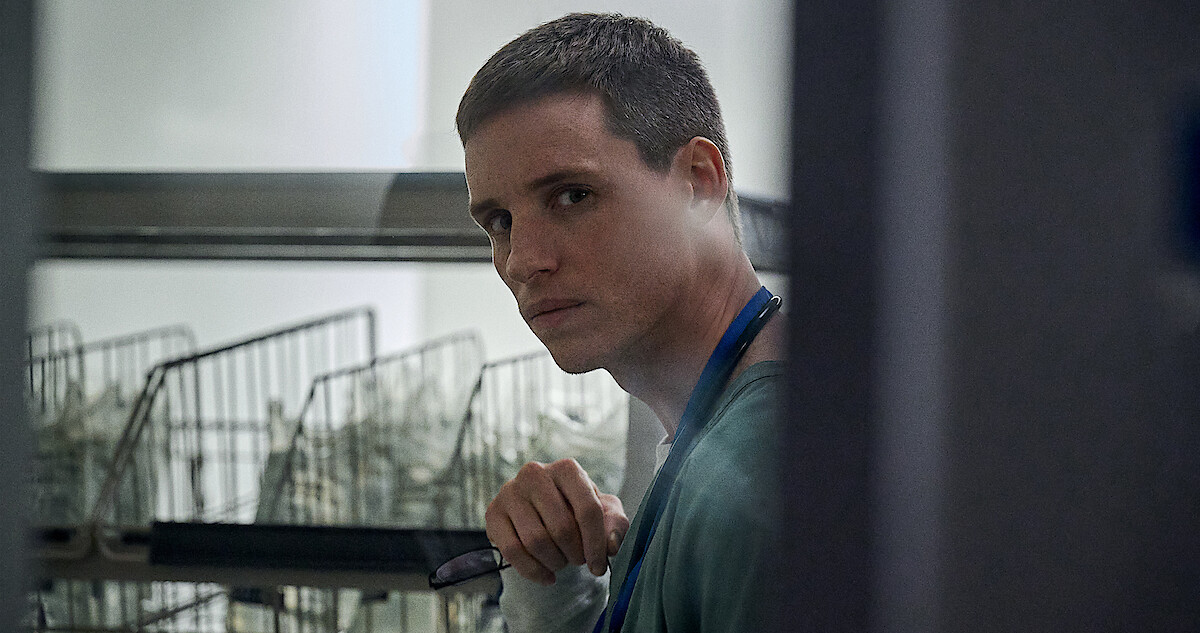 The angel of death is serving the ill and forgotten whilst deciding which deserves to stay amongst us. Lady Chastain introduces the audience to her pain, which we inhale and feel 'til the very end. Asomugha and Emmerich teamed up nicely. Hot boy proving he can investigate using his brain and Daddy Emmerich twitching the way I like. The cast didn't miss a beat, the story was tight, the procession, intriguing and the recapture well plated. Lord Redmayne spends a lot of the time hiding from view because that is how the angel of death would appear at work. Do a great job, kill them with kindness, keep history mum, don't be popular but make one sucker friend and kill up to a 1000 people. I couldn't believe that Redmayne would play a killer so controlled and unassuming until he outrants Ledger's Joker at the police station. I was inhaling Jessica's air when he punched me in the gut. Nice.
27-Oct-2022
---
Day Of The Animals (1977)
Depletion of the ozone layer is making animals at high levels territorial. Crows are the eyes, bears, the muscle, dogs are betrayers and mice, the vermin. There were no cats of the domestic kind. I presumed the dogs ate them. The cast is professional and appealing. The George's marriage radiated on screen. Michael Ansara played a dignified American Indian, proudly. Leslie Nielsen rages in the most asshole kind of way and we love it. He ripped his shirt to shreds because he was committed. I was enthralled. Nice shots of the animals grouping, the child, the after effects of a kill and Andrew Stevens body, face, smirk and Farrah-like hair. A story that deserves what new technology is capable of... without the preach.
26-Oct-2022
---
Last Woman On Earth, The (1960)
While on a scuba diving expedition in Puerto Rico a newly married couple and their lawyer end up the last humans on earth when they resurface. They survive and explain the cause through the progression of the environment and by applying science to their observations. Words were in tune with how a woman might feel being the last one. The men went caveman because the lawyer has needs and his boss' wife was the only relief. I kept feeling the script would have had more depth had it not been costly. Wife is a newlywed who lusts to spend more time with her gangster husband. Lawyer is a do-gooder schmuck whose tired of being manipulated by sore losers. Every time the story filled in a hole the director cut away to something exotic. They hardly pondered whether, as last adults, they were worthy enough to replenish the earth. Wife's legs dangling from atop the boat, the men fish-slapping each other, the atmosphere (Puerto Ricans in 1960), the woman's hair turning from blonde to black and jitter acting that enunciates realness, were shots I will remember.
Remake. (Pssst: I would have given her my sperm and fucked daddy. Yeah, let her decide the future of the world.)
25-Oct-2022
---
A Doll's House (1973)
A woman moving in with a man must turn the home into a dollhouse in order to make her feel like she owns it. She owns him as much as he thinks he owns her, but a toy is the only home she will ever get to own. The cast played it without pity, the story excelled as it moved, even though status has changed, emotions remain the same and Jane Fonda flexed some beautiful muscles. Freedom comes after you stop lying to yourself. A real Christmas story.
17-Oct-2022
---
Girl In The Shed (2022)
By eliminating all references to sex, the film loses its soul and inspiration. Sex is a fact and a trigger. If the creative team can't comply with artistically and forcefully presenting it, it isn't a cautionary tale. We need to talk about the burden god leant us. Over and over. Ben Savage is in kiddie acting mode and gives the monster, no quirks, edges or history. What made this idiot? Abby was an athlete and in top shape. Why didn't she fight more? Why was his violence directed at things he built and not Abby? Masters don't change beating styles. If they hit you on the first date, they will hit you every time esp. if no one can hear you. Erica Durance beautifully played a withering mother and deserves to be in courageous art. According to this film, teen gets kidnapped by craziness because he is lonely, likes her hair, kissed her once over tape and she's weak. They spent the rest of the time bonding. Lots of reading, cooking, getting spoiled, playing board games, sleepovers, hugging but no sex. It sounds like summer camp if you're ugly. There is not much here to make a teen tremble and aware esp. when the imagination can create worst things by hearing the facts on the news.
09-Oct-2022
---
Hocus Pocus 2 (2022)
The witches are back to eat a delicacy known as colored children. No one works harder than Bette and nobody outflanks her. It's her boat. The treat is hard Halloween candy that sometimes melts in your mouth. The trick is to watch without prejudice.
01-Oct-2022
---
Morbius (2022)
It's faithful to the psychology of its origins, someone brilliantly decided the actors should play characters instead of costumed heroes and its presentation feels like a team Burton aside. I would trade two investigators for a Krave The Hunter, a Blade or Felicia Hardy/Black Cat to up the flavor and sensuality. An MCU R-rated Batman opportunity best not lost.
13-Sep-2022
---
Fullmetal Alchemist The Revenge of Scar (2022)
I was enthralled with the animated version because the mythology was expansive, well explained and the leads were cute and courageous. An alchemy accident causes two brothers to drastically change and adapt to auto survival skills through a shady world. The Big Bads were vibrant, the fights creative. The live version lets us remember and appreciate the spectacle without superceding it.
21-Aug-2022
---
Prey (2022)
When Predator removes his cloak and mask, its cool. He is a Jamaican space bear with gadgets. A historical portrait of Native American life and how futurism disrupts it. It was clever establishing the unthinkable. Director kept it sturdy and crawling. The heroine was crafted with moxy, determination and brawn. It can proudly stand aside the first.
08-Aug-2022
---
No Time To Die (2021)
The action sequences were fantastic, daddy Bond exhibited sausage and skills. Having muscles didn't hurt. I couldn't decide if the villain was ridiculous because of the actor or the writing. Sap killed the end. Bond doesn't need to announce what he's going to do. It kills the surprise.
24-Jun-2022
---
Fire Island (2022)
It depicts our shortcomings in a sanitized environment. There is no outside telling us we suck so we are in a safe space. It paced itself naturally as not to impose. The cast was pleasantly supportive. The writing pondered some truth but resolved most of it with prom com magic. My Fire Island experience was rated XXX for rampant sex, sissy violence and "fuck you" friends. Family Shmamily.
05-Jun-2022
---
Ghostbusters: Afterlife (2021)
The mood is retro energized to soothe us into an 80's coma. There are three sexes applied to Bizarro Chalamet and I can't get over it. Daddy Rudd endured the right cosmetic procedure because he's yummy gay again except he was stupid, useless and shoed. The wall between the generations discouraged charisma amongst the replacements. There was a don't touch me vibe with babies helming a gimmick that keeps the franchise alive but old movie stars resentful. Why do possessed lizards change their outfits willy nilly but man has to suffer in shreds? The first half works because we presume the artist will add a great spin to propel the magic and replace original mistakes. He makes it more of the same. Reitman copies the spins with advanced tech but he doesn't sign off on it.
20-May-2022
---