All Posts Tagged as 'Study'
Welcome to Errattic! We encourage you to customize the type of information you see here by clicking the Preferences link on the top of this page.
Can I Use a Sick Day as a 'Mental Health Day'?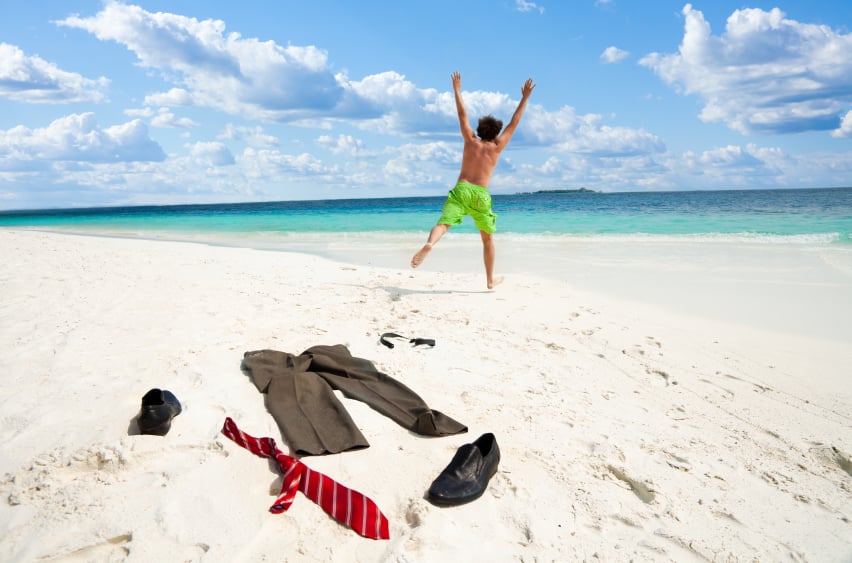 Rosenblatt is director of communications for Accessibility Partners, a small IT consulting firm. The company is so small that it doesn't fall under the Americans with Disabilities Act, and it doesn't have to follow the same federal rules with sick leave that large companies do.

However, her boss has been accommodating, allowing her time to attend therapy and psychiatric appointments, to deal with medication changes and even time in inpatient treatment.

That kind of treatment toward mental health might seem rare, but there's evidence that it's less taboo than it used to be.

The World Health Organization recently classified burnout as a diagnosable health condition.

According to an Australian study, one-third of workers have "faked an illness" to use a sick day for their mental health.

But 26 percent of employers have fired a worker for using a sick day for what they see as a "personal day."

So deciding to take your sick day as a mental health day can be a tricky decision, especially if you're worried your employer won't see it as legitimate.

Mental health is a disability
Here's the thing. Changes to the Americans with Disabilities Act (ADA) in 2008 expanded the definition of disability. This means that mental disorders like depression, bipolar disorder, anxiety and schizophrenia are protected.

So, if you've got a diagnosed mental disorder like about 44 million American adults, almost one in five people, you can't be fired for asking for accommodations, such as the occasional mental health day.
9 Surprising Changes That Occur In The Body When You Get Rejected
Hundreds weigh in on Chicago's mental health crisis as city task force examines solutions
More Millennials Are Dying 'Deaths of Despair,' as Overdose and Suicide Rates Climb
---
When it comes to hooking up, we really do have a type: study
Just as many of us suspected: When it comes to looking for love, we're stuck in a rut.

"The degree of consistency from one relationship to the next suggests that people may indeed have a 'type,' " says Geoff MacDonald, a University of Toronto psychology professor and co-author of a new study on the subject. "And though our data do not make clear why people's partners exhibit similar personalities, it is noteworthy that we found partner similarity above and beyond similarity to oneself."

The study, published in the journal PNAS, has the catchy title "Consistency between individuals' past and current romantic partners' own reports of their personalities." Using data from a nine-year-long German study of 332 people, the authors found that there are clear patterns for predicting future lovers based on past partnerships.

"So, if you find you're having the same issues in relationship after relationship," says lead author Yoobin Park, "you may want to think about how gravitating toward the same personality traits in a partner is contributing to the consistency in your problems."
---
23% of young black women in the US now identify as bisexual
According to the latest General Social Survey, 23% of black women between 18 and 34 in the US now identify as bisexual.

The scientists who conducted the study said the figure in the recent survey was three times higher than previously.

The survey, which is carried out every couple years, asks respondents about everything from race relations to drug use.

In 2008, the survey started including a question on sexual identity, according to African American news site, The Grio.

'As sociologists who study sexuality, we've noticed how more and more women are reporting that they're bisexual', The Grio reported the scientists as saying.
---
Support for trans people is growing in spite of Trump's nonstop assault on civil rights
A poll released by the Public Religion Research Institute (PRRI) last month points to growing acceptance of transgender people, in spite of attacks by the Trump administration aimed at trans rights.

More than six in ten (62%) of Americans surveyed say they've become more supportive of transgender rights over the last five years, with only 25% saying they've become more opposed to transgender rights over the same time period.

"Increase in support for transgender rights tracks fairly closely with the large increase in support for gay, lesbian and bisexual Americans," said Robert P. Jones, the head of PRRI, told TIME Magazine.
---
Straight Oklahoma Ally Creates Anti-Bigot Pride Truck, Ends Homophobia 
A straight man in Oklahoma became a viral queer ally after decorating his truck in honor of Pride month. Cody Barlow used colored duct tape to create a rainbow flag on the back of his truck, writing on Facebook that he'd "found a way to show my support for pride month" with the flag and using mailbox letters to write a message: "Not all country boys are bigots. Happy Pride month."

"This is important to me, not only because I have family and friends that are LGBTQ+, but also because countless people have dealt with hatred and judgement simply for who they are, and/or who they love, for far too long," wrote Barlow. "Obviously doing this isn't going to change the minds of those who are intolerant, but hopefully it can help drown out the hatred with love."
Vandals Target Gay High School Student's Home with 'Kill Yourself' Graffiti, Forks, and Suicide Hotline 'For-Sale' Sign:
1 in 3 LGBTQ+ Youth 'Seriously Considered' Suicide in the Past Year
White supremacist appears to urinate on an Israeli flag as nationalist group interrupts LGBT celebration in Detroit by tearing apart Pride flags and giving Nazi salutes
Gay man, 28, robbed, shot, and murdered in Atlanta, Georgia
HALSEY GIVES EMPOWERING SPEECH IN LONDON AFTER HOMOPHOBIC BUS ATTACK
Activists Call for Resignation of Mayor Who Posted About Killing Gays
Theater cancels shows after actors targeted in homophobic assault
Mom who won marriage equality now in a fight against 'religious freedom'
Texas school district donates cash from antigay church to local Pride festival
---
Left-handed boys more likely to be gay, say scientists
Scientists in Canada claim that left-handedness is one of three factors that make a boy more likely to be gay.

They also claim that having several older brothers and having other gay people in the family are also significant markers, the Daily Mail reported.

Gay men are around 34% more likely to be left-handed than heterosexual men. The report was complied by scientists at the University of Toronto.

Fraternal effect
---
Human rights in the US are worse than you think
A new report examining human rights in the United States and around the world has just been released, and its findings are disturbing: The US is doing abysmally in several key categories, including the right to freedom from extrajudicial killing, the right to participate in government, and the right to be safe from the state.

Of the 12 human rights categories, from press freedom to quality of life, measured by the Human Rights Measurement Initiative — a global nonprofit data analysis organization based in Wellington, New Zealand — there are several in which the US has "strikingly poor results," according to the report's authors.

It's a worrying sign that for all its resources and reputation for democracy, the US is not doing all that well in the world when it comes to human rights.

In fact, when compared with five other high-income Organization for Economic Cooperation and Development (OECD) countries the group looked at — Australia, Mexico, New Zealand, South Korea, and the United Kingdom — the US performs worse than average on empowerment rights, such as the right to participate in government, and on the right to be safe from the state.
---
1 Million People A Day Contract An STI, According To World Health Organization
A staggering new figure from the World Health Organization reveals that more than 1 million people contract curable sexually transmitted infections globally every single day.

The report, published Thursday, gathered data on the four STIs that make up 376 million new cases annually: chlamydia, gonorrhea, trichomoniasis and syphilis. Trichomoniasis, which is a parasitic infection contracted during sexual intercourse, is the most common STI, making up 156 million cases among men and women ages 15 to 49 in 2016 (the year with the most recent available data).

Each of the infections is treatable and curable. However, a lack of education surrounding STIs ? as well as the fact that in many cases a person does not experience symptoms when they contract one of them ? is troublesome. According to WHO, a global shortage of penicillin and a drug-resistant strain of gonorrhea pose a threat as well.
---
Goldman Sachs Sued After Firing Gay Executive 
An out executive fired by Goldman Sachs has now sued the banking firm, claiming he faced discrimination for being gay.

William Littleton, who led the company's internal LGBTQ network, said he was fired after filing complaints about a discriminatory atmosphere in the workplace, according to CNBC.
DA: Gay couples shouldn't get domestic violence protection
RuPaul on Trump's Pride Month tweet: 'Actions speak louder than tweets'
LGBTQ millennials have bigger financial struggles than anyone else
LESBIAN COUPLE SAYS RESTAURANT CANCELED WEDDING REHEARSAL DINNER AFTER LEARNING THEY WERE GAY: 'YOUR SPOUSE IS A WOMAN?'
---
Sexually transmitted superbug warning as infections soar 26% in a year
Gonorrhoea diagnoses in England have risen to their highest level for 40 years and jumped 26 per cent since 2017, sparking warnings from health chiefs about the threat from drug resistant strains.

Public Health England figures show there were 447,694 sexually transmitted infections diagnosed in 2018, a rise of 5 per cent in a year.

The biggest increase was in gonorrhoea where there were 56,259 cases diagnosed, 14,000 more than in 2017.
---
Crappy parenting can damage your kid's DNA: report
Blame your parents for all your problems? Science supports that.

A new report by researchers at Lomo Linda University suggests that aloof and unsupportive parenting damages their children's health on a genetic level, potentially leading to disease and early death in adulthood.

"The way someone is raised seems to tell a story that is intertwined with their genetics," says lead study author Dr. Raymond Knutsen, public health professor at Lomo Linda University.
---
Trauma Linked To Earlier Puberty, Premature Brain Development, And Mental Illness 
Growing up in poverty and experiencing traumatic events like a bad accident or sexual assault can impact brain development and behavior in children and young adults. Low socioeconomic status (L-SES) and the experience of traumatic stressful events (TSEs) were linked to accelerated puberty and brain maturation, abnormal brain development, and greater mental health disorders, such as depression, anxiety, and psychosis, according to a new study published this week in JAMA Psychiatry. The research was conducted by a team from Perelman School of Medicine at the University of Pennsylvania and Children's Hospital of Philadelphia (CHOP) through the Lifespan Brain Institute (LiBI).
Mental health training aims to turn police into 'social workers of last resort'
---
Sephora to shut U.S. stores for day of diversity training after racial incident 
LVMH's Sephora beauty chain said it will close all its U.S. stores, distribution centers and corporate offices on Wednesday to conduct diversity training for employees, a move that follows a racial incident involving a Grammy-nominated singer.
Americans who suffer abuse because of their skin colour 'show higher levels of inflammation which could lead to cancer, heart disease or dementia'
Restaurant Uses N-Word On Customer's Receipt, Says He Spelled Name Out That Way
---
Gay and bisexual Californians are at increased risk of sexual assault
A new report has shed a light on the sexual assault incidents reported by LGBTI Californians.

Particularly, overall Californians who identify as gay or bisexual are at higher risk of sexual harassment and assault than straight people.

Results also showed that reported sexual harassment is 5% higher for women and 10% higher for men than the national average.
---
An Unhealthy Obsession with Avoiding Sin 
Nowadays, having scruples means making good, moral choices. But as historian Joanna Bourke writes, in the first half of the twentieth century, scruples represented an unhealthy obsession with avoiding sin. Examples of scruples can be found among Protestants, Jews, and Muslims, but Bourke writes that in the U.S. and Britain, the phenomenon was most common among Roman Catholics.

Bourke writes that scrupulous people might worry that they had profaned rosary beads by touching them with dirty hands. Some feared that breathing represented stealing air that didn't belong to them.

Mahoney spent days before each confession cataloging her sins, and then shook uncontrollably in the confessional box.

Surveys of Catholic students in the 1940s and '50s found that a quarter of those in high school, and one in seven in college, were scrupulous. One woman named Priscilla O'Brien Mahoney described her own scruples, which began when she was a child in the 1920s. During her First Communion, she was gripped by terror that she might fail to confess a sin:
Roman Catholic diocese suspends priest accused of misconduct
LI Catholic deacon accused of decades-old sex abuse
W.Va. Catholic diocese releases more accused priests' names
Most gay Americans believe in God, but are far less likely to go to church
---