Movies Posts Tagged as 'Relationships'
---
Rating key:
Welcome to Errattic! We encourage you to customize the type of information you see here by clicking the Preferences link on the top of this page.
Everything Everywhere All At Once (2022)
It begins with family authenticity, struggling to keep current and afloat. Super reality sets in and the tingles begin. Oh no! It's going to be bonkers. The cast resolves it. I wasn't sure if the husband was Jackie Chan. I spent a lot of the time being jealous of how young he looked. It was driving me crazy. He can't be, right? When he utilized the master's moves, I thought, that's definitely Jackie Chan. It's a tribute to him and Michelle Yeoh as action heroes but why does he look so fucking young? Terrific surgery perhaps? Ke Huy Quan is as adorable now as he was as a kid in a Spielberg classic. The man was precise. To Lady Yeoh, we gently bow. Stephanie Hsu had fun being all iterations of evil because we had fun too. Jamie Lee Curtis was gnarly. James Hong added his queerisms. The film threw as many cliches as it did new ideas. A win win for art. A film that wipes its imperfections with glorious shots of legends reacting to wonder and giving us soul.
27-Nov-2022
---
Falling For Christmas (2022)
The good news: LL got her mojo back, the bad news: it's a stinker.
Oops, this is the poster for the sequel.
18-Nov-2022
---
Where The Crawdads Sing (2022)
Entertainment has wrung art dry. The artists are burdened with inciting memories of great historical art and erasing them, lest the audience think they pilfered them to bring a manipulative story to the screen. You can tell the director was probably very cool headed because a household with that much violent disarray would include more horrific things. Marsh girl would have turned out a creature less human instead of a starving foreign exchange student. Daisy Edgar Jones flattens the character by not bringing star charm to a mimicking portrayal. See Sandra Dee and Troy Donahue. Even when they couldn't act, they glowed with excitement and saved a crappy movie. Her ascension to sophistication is questionable. Either her mother had a great wardrobe or girl was doing something besides chucking clams. Also, why didn't she just eat the clams? The owners of the grocery store were inspired by a very special episode of "Little House On The Prairie" featuring the blacks. A little wild girl living all alone in the swamp would attract a lot of perversion. She couldn't read but she picked up on romance real quick. She flew into her "first" kiss. How did she know? What kind of nice daddy was hers before he booked? Why was she surprised to experience Tate Walker's natural findings in the swamp? Wouldn't she have discovered it whilst being the swamp? The crime and the courtroom boredom that follows had me eye rolling. The film is a cheer for womanhood but not art. It's a facsimile. I wanted to feel something. I am a man, after all. The ending knocked it out of the park but so did Harris Dickinson, to no avail.
16-Nov-2022
---
My Policeman (2022)
A very soft policeman. Harry Styles keeps it monotone and unenthusiastic. He pants oddly during blowjobs and he can't kiss for shit. His "s's" and "t's" were so crisp that I thought his accent was fake. I wanted to shake him. I came in the first few minutes and never got a hardon again. I felt like leaving so many times but felt obligated to stay. We prefer to talk about our olden times instead of setting a better path with a real story from today. We can be honest about the past without it burning us in the present. The laws have changed but we have not. It's 50s Britain, where cops live in Tarduses, aging twinks can become cops, twink cops get picked up by perverts and an innocent girl trashes her entire life so her husband and their bff can enjoy gay sex. Emotions run cold. Everything is so quiet and unassuming that you sometimes believe one of the lovers might be serial. P.S.: gays are only miserable at the end of their lives, all else is just fun.
05-Nov-2022
---
Chalk Line, The (Jaula/The Cage) (2022)
I would have preferred The Cage to the Chalk Line because the english title sounds like a gimmick used to limit production costs. The director accommodated the mood, the actors stood in place but its details provided little depth. I know the what but not the why. The script was written on a typewriter/tik tok adding machine with limited credit.
29-Oct-2022
---
Good Nurse, The (2022)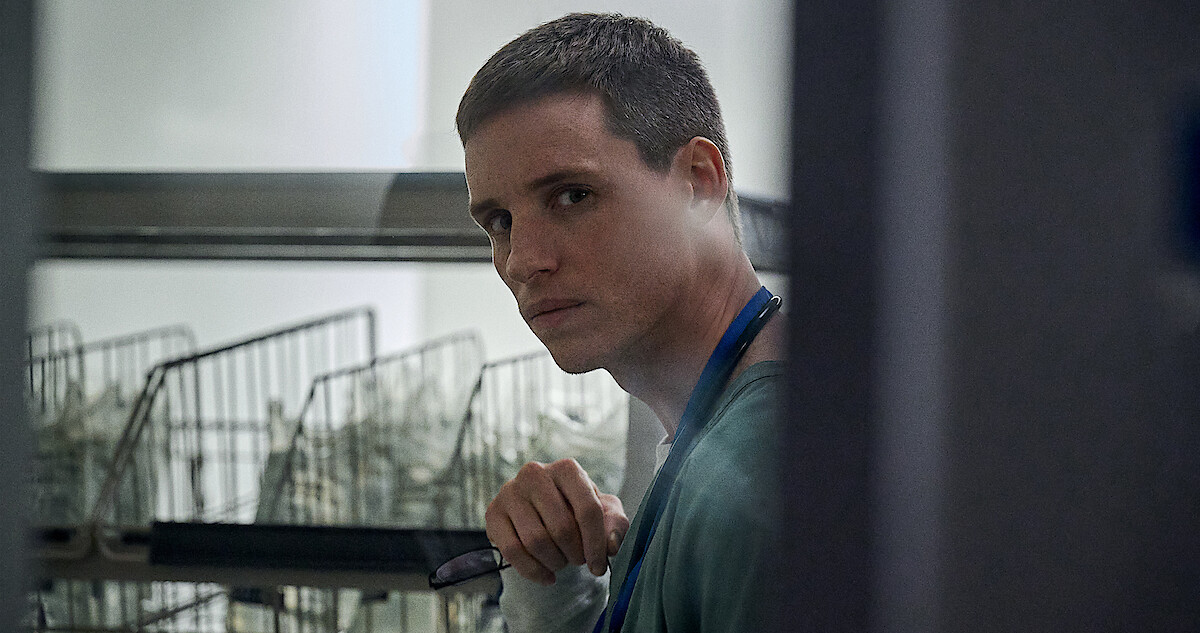 The angel of death is serving the ill and forgotten whilst deciding which deserves to stay amongst us. Lady Chastain introduces the audience to her pain, which we inhale and feel 'til the very end. Asomugha and Emmerich teamed up nicely. Hot boy proving he can investigate using his brain and Daddy Emmerich twitching the way I like. The cast didn't miss a beat, the story was tight, the procession, intriguing and the recapture well plated. Lord Redmayne spends a lot of the time hiding from view because that is how the angel of death would appear at work. Do a great job, kill them with kindness, keep history mum, don't be popular but make one sucker friend and kill up to a 1000 people. I couldn't believe that Redmayne would play a killer so controlled and unassuming until he outrants Ledger's Joker at the police station. I was inhaling Jessica's air when he punched me in the gut. Nice.
27-Oct-2022
---
A Doll's House (1973)
A woman moving in with a man must turn the home into a dollhouse in order to make her feel like she owns it. She owns him as much as he thinks he owns her, but a toy is the only home she will ever get to own. The cast played it without pity, the story excelled as it moved, even though status has changed, emotions remain the same and Jane Fonda flexed some beautiful muscles. Freedom comes after you stop lying to yourself. A real Christmas story.
17-Oct-2022
---
Mandy (2018)
An artful relentless mess in which Lord Nicholas takes on religion and splits his asshole kicking its butt.
12-Oct-2022
---
Hellraiser (2022)
Women commanding the gates of hell with a distorted Vogue look. The story is simple, shoots straight and pummels. Beauty is desecrated, the mind becomes distorted, anyone can be a sacrifice and the victims can fight back. The box has personality, the characters supply empathy and the deaths are nerve rackingly clever. Make-up, costume and effects wowed. A lady Pinhead origin story with lots of sex and violence would be most welcome.
09-Oct-2022
---
Morbius (2022)
It's faithful to the psychology of its origins, someone brilliantly decided the actors should play characters instead of costumed heroes and its presentation feels like a team Burton aside. I would trade two investigators for a Krave The Hunter, a Blade or Felicia Hardy/Black Cat to up the flavor and sensuality. An MCU R-rated Batman opportunity best not lost.
13-Sep-2022
---
Thor: Love and Thunder (2022)
Natalie Portman's linebacker is not the gayest thing about the movie, a bodyless rock pining for another rock is. Are you kidding me? I want to see Thor's beautiful ass fucked by Zeus.
12-Sep-2022
---
Fullmetal Alchemist The Revenge of Scar (2022)
I was enthralled with the animated version because the mythology was expansive, well explained and the leads were cute and courageous. An alchemy accident causes two brothers to drastically change and adapt to auto survival skills through a shady world. The Big Bads were vibrant, the fights creative. The live version lets us remember and appreciate the spectacle without superceding it.
21-Aug-2022
---
Fire Island (2022)
It depicts our shortcomings in a sanitized environment. There is no outside telling us we suck so we are in a safe space. It paced itself naturally as not to impose. The cast was pleasantly supportive. The writing pondered some truth but resolved most of it with prom com magic. My Fire Island experience was rated XXX for rampant sex, sissy violence and "fuck you" friends. Family Shmamily.
05-Jun-2022
---
Ghostbusters: Afterlife (2021)
The mood is retro energized to soothe us into an 80's coma. There are three sexes applied to Bizarro Chalamet and I can't get over it. Daddy Rudd endured the right cosmetic procedure because he's yummy gay again except he was stupid, useless and shoed. The wall between the generations discouraged charisma amongst the replacements. There was a don't touch me vibe with babies helming a gimmick that keeps the franchise alive but old movie stars resentful. Why do possessed lizards change their outfits willy nilly but man has to suffer in shreds? The first half works because we presume the artist will add a great spin to propel the magic and replace original mistakes. He makes it more of the same. Reitman copies the spins with advanced tech but he doesn't sign off on it.
20-May-2022
---
House of Gucci (2021)
The film epitomizes what Hollywood has become. Every hand must be held and head patted, no matter their importance. New and shit are not synonymous with good. Someone put something in their drinks because they were wheezing in and out of accents and it was 100% contagious. It was a Gucci movie made by Soviets. None of the Italian performers generated a complaint that their families didn't sound like that? Gaga clutches her star watt with brilliance, outrageousness and hysterics. Ridley Scott found his niche, upgrading a Wayans production to mastery.
13-May-2022
---