Health/Food Posts Tagged as 'All Rights'
---
Welcome to Errattic! We encourage you to customize the type of information you see here by clicking the Preferences link on the top of this page.
Trump signs executive order to expand school choice for Hispanic students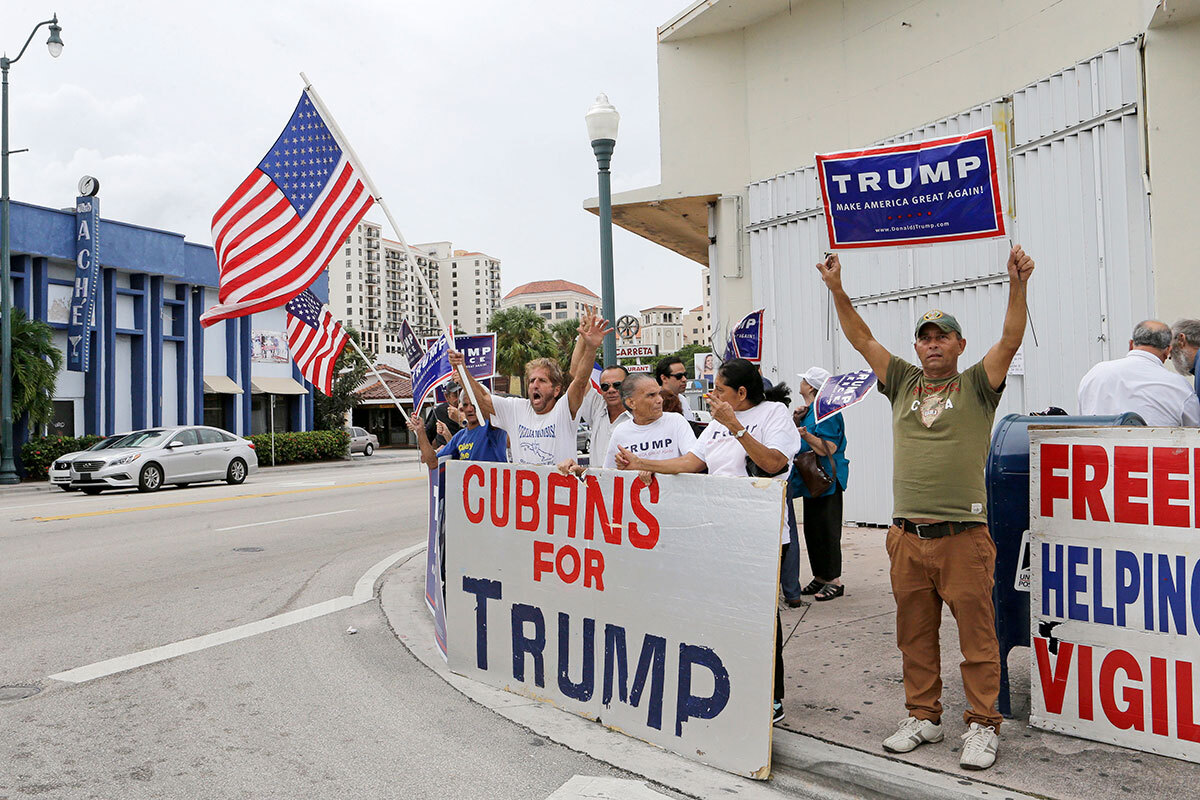 In a speech in the White House Rose Garden before signing the order, Trump touted the initiative as expanding school choice for Hispanics and one that would improve access to charter schools for students.

The initiative is also meant to create more career pathways for Hispanic students as well as boast investment in economically distressed communities, including Opportunity Zones, and offer more economic opportunities for small and minority-owned businesses.

"School choice is an incredible issue in many ways," Trump said. "Most people agree with us, the smart ones agree with us."
---
SCHILLING: 'Gender Identity' Has No Place in Medicine
The problem is obvious: "gender identity" has no basis in physical reality. It is impossible for a doctor to tell from simply examining a patient what his or her (or hir or zir) "gender identity" is. A person's "gender identity" is totally subjective and has no connection to one's physical body.

However, health care is very much connected to the physical body. Whether one is biologically male or female makes a great deal of difference in how one ought to be treated — from finding the right medicine dosages to judging the risks of getting certain diseases. To place "gender identity" above biological sex would be to ask medical professionals to ignore their education and their training and instead operate solely on what a patient believes to be true — a dangerous idea if there ever was one.
---
Asian American eligible voter population has ballooned 139 percent in 20 years: report
As the U.S. moves closer to the November election, the number of Asian American eligible voters will hit a record high, a new report from the Pew Research Center revealed Thursday.

The report examines the Asian American electorate, which is made up of more than 11 million eligible voters. Among the significant findings, the research noted that the number of those voters ballooned by 139 percent in the past 20 years, making Asian Americans the fastest-growing demographic of eligible voters compared to all other major races and ethnicities. In contrast, the white electorate grew by 7 percent in the same period.

Christine Chen, executive director of the civic engagement nonprofit APIAVote, said the group has amassed enough influence to have a profound impact in some races and, in some cases, swing districts.
---
Renters Are Being Forced From Their Homes Despite Eviction Moratoriums Meant to Protect Them 
Millions of people in America are under shelter-in-place orders requiring them to stay home whenever possible, but a growing number don't have that luxury. Their landlords are kicking them out for not paying the rent, despite moratoriums on evictions in more than 30 states and dozens of cities.

Some landlords change the locks when tenants are out. Others cut off power or utilities, or let themselves into tenants' apartments and throw their stuff onto the street. Landlords also take the doors off the hinges if tenants won't leave, says George Donnelly, an attorney at The Public Interest Law Center in Philadelphia. In most cases, experts say, the evictions are illegal, since landlords are required to go through the courts to evict tenants, and most courts are not currently processing eviction orders. In addition, sheriffs or marshals, not landlords, are supposed to enforce eviction orders, including supervising removal companies to carry away a tenant's belongings if the renter refuses to leave.
There's Been a Spike in People Dying at Home in Several Cities. That Suggests Coronavirus Deaths Are Higher Than Reported.
---
Study Reveals Gay and Bi Individuals Are 23% More Likely to Masturbate Weekly Than Their Heterosexual Counterparts 
The results of a major study exploring the masturbation habits of men and women around the world have just been revealed. Sexual pleasure brand TENGA, in conjunction with pollsters PSB, conducted the masturbation study and polled 13,000 men and women, aged 18 to 74, in 18 countries. This included the United States, India, United Kingdom, Australia, Japan, Russia and Germany.

It identified a handful of differences between LGB people and straight people. These include gay/bi people saying they started masturbating, on average at age 13, compared with 15 for heterosexuals.

Some major takeaways from that study included:

Globally, on average, 78% of people masturbate. This figure tends to be higher for men than women.

The top 5 male celebrities American fantasize about while masturbating are: ..., ..., Chris Hemsworth, ... and ...
---
Assault charges against workers in wild nail salon brawl thrown out
A Brooklyn judge has tossed out assault charges against two nail salon workers arrested for bashing customers with broomsticks during a 2018 melee over a botched eyebrow wax job that was captured in a viral video.

Brooklyn Supreme Court Justice John Hecht said prosecutors did not have sufficient evidence to continue pursuing charges against Huiyue Zheng and Ni Len, who worked at the now-shuttered Happy Red Apple Nails.

The brawl between black customers and Asian workers at the East Flatbush salon fanned racial tensions in the area, leading to protests outside the business and attracting the attention of elected officials who condemned the workers.

Scott Tulman, Zheng's lawyer, insisted that public backlash over the case was inflamed in part because the portion of the tape showing his client and Len striking Thomas with brooms was more widely circulated than the full video — in which Thomas is seen going ballistic on the workers.
---
Tone-deaf NYU dean sends video of herself dancing to students seeking tuition refunds
Hundreds of students at NYU's Tisch School of the Arts demanded a partial tuition refund since spring classes were moved online amid the coronavirus pandemic –and their dean responded with a bizarre video of herself dancing to REM's "Losing my Religion.''

As of Friday evening, a Change.org petition started by NYU students has garnered more than 2,600 signatures from people seeking the tuition relief.

Students say online classes and remote learning via video conferencing app's like Zoom are not worth the school's $58,000-a-year tuition.

The petition is pushing for the NYU Board of Trustees "to refund a portion of our Spring 2020 tuition paid for the resources, universally deemed crucial to arts education, lost in the recent switch to remote teaching."
---
JoAnn Fabrics Employees Are Furious They're Working in Crowded Stores After the Company Declared Itself 'Essential'
Well-intentioned crafters have been flocking to JoAnn Fabrics this week for free, do-it-yourself mask and gown kits so they can make crucial medical gear that's currently in short supply at hospitals treating coronavirus patients around the country.

But several employees who spoke to VICE News felt the company hadn't considered their health and safety — or their customers' — before making the decision to declare stores "essential," remain open during states' lockdowns, and launch an effort to draw even more shoppers.

At one store location in Colorado Springs, employees even picketed outside their store Wednesday. They stood a safe distance apart while holding signs that read "our health over their profit" and "fair wages for retail workers."
---
These Strippers Are Delivering Food To Stay Employed And Bring Joy During Coronavirus
No one has jumped on the "from necessity comes creativity" train sparked by the coronavirus outbreak in a more wonderfully weird way than Portland, Oregon, strip club owner Shon Boulden.

As government mandates have brought businesses like Boulden's to a screeching halt, he has come up with a way to raise spirits in the community and ensure his employees maintain some income: having dancers make food deliveries from the bar's kitchen.

And it all started as a joke one night at Lucky Devil Lounge, one of his two clubs.

"We were cracking jokes like we do every night, coming up with funny alternate Uber names," Boulden told HuffPost on the phone Monday, referring to the popular ride-hailing service. "Things like Doober for weed delivery, Luber to deliver lube. Then I was like, 'Boober, when a topless girl picks you up and takes you to a strip club.'"

When Oregon Gov. Kate Brown (D) ordered the closure of bars and restaurants save for takeout and delivery on March 16 in order to hopefully stop the spread of COVID-19 in the state, Boulden took an adapted version of that joke to Twitter.
---
Homeless centers say they have been forced to shut in order to prevent the spread of COVID-19
NEW YORK, March 23 (Thomson Reuters Foundation) - The coronavirus is causing the closure of homeless centers across the United States, putting LGBT+ people without housing at increased risk of suicide, health complications or hate crimes, according to homelessness experts.

Homeless centers said they have been forced to shut their doors in order to follow safety precautions over social distancing as enforced by international governments and health organizations.

There are about 10,000 shelters for homeless people in the United States with an estimated 250 LGBT+ centers, largely in metropolitan areas, according to The National Coalition for the Homeless, a network of homelessness advocates.

There are currently no estimates on the exact number of shelters closed in recent weeks due to the coronavirus outbreak.
---
My Partner Offered a Certain Sex Act to Do the Taxes—Then Backed Out
Dear How to Do It,

I'm a procrastinator; my partner is a do-it-yesterday-er. Earlier this year, I was kvetching about doing my taxes. My partner, by way of motivation, said "Get 'em done and I'll blow you." Because my partner is very Good at That, I got to work immediately, but was held up by some missing paperwork. Flash forward to now, and the missing form is in hand. Pleased with myself for filing, I mentioned to my partner that I'd be taking that BJ at their next earliest convenience. They scoffed and told me I can't expect an IRS EZBJ 2+ months after the fact. I call breach of contract! We've agreed to abide by your ruling, so what say you? (P.S.: There's plenty of non-IRS oral going around both ways here, but I want my refund!)

—Depth and Taxes
---
Elderly Woman 'In Tears' At Empty Supermarket Highlights Panic Buying Crisis
Countries around the world have witnessed unprecedented panic buying at supermarkets and pharmacies due to the coronavirus pandemic.

Aisles have been stripped bare every day as many try to get enough food to last them through a two week self-isolation.

However, there have been some people who have been greedier than others.

As a result, loads of shoppers have been left to get whatever is left and, in some cases, leave nearly empty handed with no idea how they'll get their groceries.

That was highlighted in a heartbreaking picture of an elderly woman in Australia standing in front of cleared out shelves that used to hold canned foods.

Channel 9's Seb Costello shared the picture on social media of the devastating reality that is facing many people across Australia and the world.

He reported the woman was left in tears at the bare aisles.
---
The Teens Have Spoken: Virginity Rocks
After generations of teens defied their parents, religion and society through daring acts of furtive fucking, today's teens have flipped the script, declaring virignity the most subversive sexual act of Gen Z.

"Virginity Rocks" is the seemingly chaste new slogan teens across the country are sporting on shirts, hats, lanyards and other merch, and while some bear it ironically, the trend has also caught the attention of pro-abstinence communities.

While the man behind the brand, 27-year-old YouTuber Danny Duncan, told the New York Times he began wearing the shirts as a joke in 2017, he added that he's glad to see fans have embraced the initially "tongue-in-cheek" slogan in different ways.
---
'Our 13-year-old was brainwashed into thinking she's transgender': Parents accuse school of secretly allowing girl to attend 'radicalising' mentoring sessions that convinced her that she was really a boy
A school has been accused of secretly allowing a 13-year-old girl to attend 'radicalising' mentoring sessions that convinced her that she was transgender.

Ashleigh and Ged Barnett allege that until the one-to-one sessions began last September, their daughter appeared comfortable in her body and showed little interest in transgender issues.

But they say she had changed completely by November, sporting a short haircut and talking about feeling that she was really a boy.

They were confused by the transformation until they met her headteacher to discuss another matter and learned that their daughter had been having weekly sessions with the head of the school's LGBT group.

Mrs Barnett said: 'The school didn't think it was fit to tell us. We are her parents, but responsibility to care for our child has been taken away. The attitude is that it's the child's choice and it's got nothing to do with us.

'Children at 13 or 14, especially girls, are sometimes not happy in their own bodies – that's what puberty does to you. They are very vulnerable. It only takes one person with an agenda to plant a little seed that they are "in the wrong body".'
---
A mother made her son do pushups in a store's bathroom because he wouldn't listen
Parents, have you ever asked your kiddo to do something or behave properly and they've ignored you? Yeah, you're not alone.

To combat that behavior, one Texas mom had her son drop down to pushup position in the middle of a shopping trip at a craft store.

Molly Wooden was in the restroom at a Hobby Lobby store in Killeen on Sunday when she saw another mom, Nicki Harper Quinn, disciplining her 10-year-old son. Wooden took a picture of the lesson Harper Quinn was teaching her son and posted it on Facebook with words of admiration.

"'Strong parenting' is huge for me, but you rarely see it being implemented," Wooden told CNN. "So when I finally saw it with my own two eyes, let alone in public, I felt strongly compelled to capture that moment!"
---