Health/Food Posts Tagged as 'Unity'
---
Welcome to Errattic! We encourage you to customize the type of information you see here by clicking the Preferences link on the top of this page.
In the poorest county, in America's poorest state, a virus hits home: 'Hunger is rampant'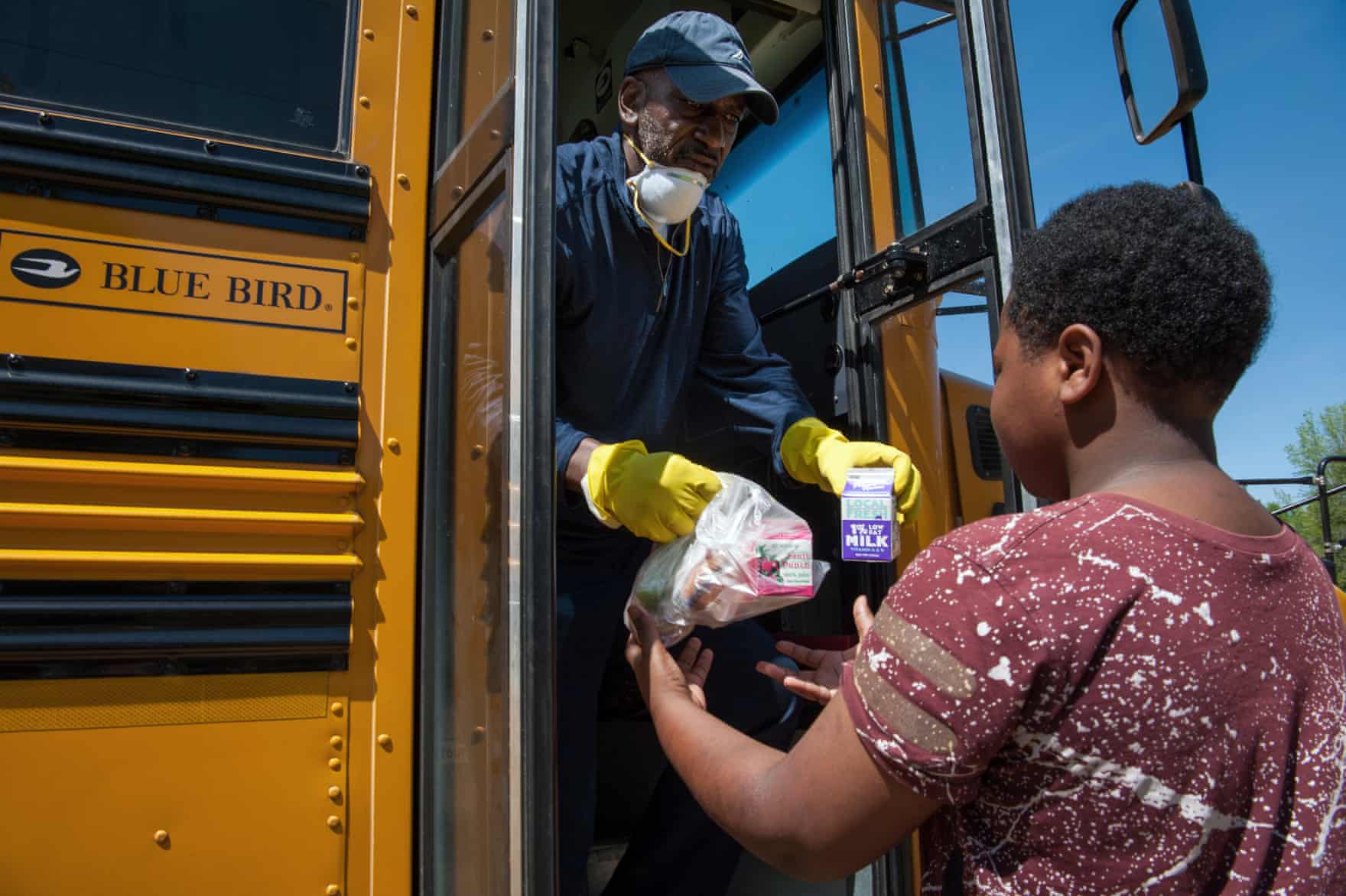 On the cracked country roads of Lexington, deep in the Mississippi delta, an empty yellow school bus drives slowly, making life-sustaining drop offs on the way.

Here, in the poorest county, in America's poorest state, the coronavirus has yet to ravage the jurisdiction with infection. There has been one recorded Covid-19 death in the county, Clinton Cobbins, Lexington's first African American mayor. But even now the coronavirus still poses a serious threat to life.

In Holmes county consolidated – the school district to which Lexington belongs – every single child qualifies for free school meals, a marker of pervasive poverty. For many, said superintendent Dr James L Henderson, breakfast and lunch at school are the only nutritious meals a student will eat in a day. For a few, they are the only meals.

When the coronavirus pandemic led to statewide school closures, Henderson, who was born in the county, left for most of his adult life, but returned in 2018 to assume his position, was left with a significant dilemma: how to feed the 3,000 children under his authority.
---
White House: Americans should avoid grocery shopping as coronavirus hits apex
The White House coronavirus task force is now warning against even going out to buy groceries or medication as the pandemic is expected to hit a deadly apex in the coming two weeks.

"The next two weeks are extraordinarily important," White House coronavirus response coordinator Deborah Birx warned at a press conference late Saturday.

"This is the moment to not be going to the grocery store, not going to the pharmacy, but doing everything you can to keep your family and your friends safe," Birx warned.
---
Most Americans will stay home this month even if lockdown lifted: poll
A majority of Americans are hunkering down and say they will continue to social distance or stay at home even if lockdown orders are lifted, according to a new poll.

While 87% of the American public is staying home — regardless of whether or not it's mandated by state or local municipalities — most plan on continuing to do so for all of April, according to the poll taken by the Huffington Post/YouGov survey.
---
New York may be weeks away from reaching a peak in coronavirus cases. Now other states are preparing for a surge
Several states are reporting a spike in coronavirus cases, raising fears more hotspots will emerge in the US after New York as soon as next week.

The US surpassed Italy and China this week to become the country with the most coronavirus cases in the world --- with more than 101,240 known cases, according to CNN's tally. At least 1,588 Americans have died. At least 402 of those deaths were reported on Friday alone.

More than a third of the country's cases are in New York -- which has been in a partial lockdown for a week as officials try to slow the spread of the virus and hospitals scramble to keep up with the patients streaming in.

Tracking coronavirus cases in the US

The state's healthcare system is already overwhelmed. One hospital was forced to create a makeshift morgue and another reported 13 patient deaths in 24 hours. New York and its National Guard are now assembling four 1,000-bed temporary, overflow hospitals in existing buildings.

The rate of new cases may be slowing in New York, but the governor says it may take 21 days for the state to hit its peak -- the highest point of reported cases before that number begins going down.

Gavin Newsom takes new tone with Trump as he steers California during coronavirus crisis

Meanwhile, officials in other states are warning they could be next. In Los Angeles County, cases more than tripled in six days and one official says numbers will keep going up. Health Director Barbara Ferrer says she expects to see case counts in Los Angeles double every four days for the next two to three weeks.
---
These Strippers Are Delivering Food To Stay Employed And Bring Joy During Coronavirus
No one has jumped on the "from necessity comes creativity" train sparked by the coronavirus outbreak in a more wonderfully weird way than Portland, Oregon, strip club owner Shon Boulden.

As government mandates have brought businesses like Boulden's to a screeching halt, he has come up with a way to raise spirits in the community and ensure his employees maintain some income: having dancers make food deliveries from the bar's kitchen.

And it all started as a joke one night at Lucky Devil Lounge, one of his two clubs.

"We were cracking jokes like we do every night, coming up with funny alternate Uber names," Boulden told HuffPost on the phone Monday, referring to the popular ride-hailing service. "Things like Doober for weed delivery, Luber to deliver lube. Then I was like, 'Boober, when a topless girl picks you up and takes you to a strip club.'"

When Oregon Gov. Kate Brown (D) ordered the closure of bars and restaurants save for takeout and delivery on March 16 in order to hopefully stop the spread of COVID-19 in the state, Boulden took an adapted version of that joke to Twitter.
---
Why You Shouldn't Go To Your Friend's House While Social Distancing
We get it: You're bored at home this weekend and would love to see your friends or family members that live nearby, especially given how stressed you are in the wake of the coronavirus pandemic. You're just one person, visiting a person or a handful of people you're close to; how much could it hurt?
A lot, in fact. Health experts urge you: Out of an abundance of caution, stay home.

As more and more cities and states move to establish stay-at-home executive orders ? California, New York ? we're all looking for potential loopholes for connectivity. We're grasping for normalcy.

But healthy self-distancing doesn't just mean avoiding bars and restaurants (not that you can go to them now anyway, sorry); it also means staying home and not visiting seemingly healthy friends at their homes.
---
The Teens Have Spoken: Virginity Rocks
After generations of teens defied their parents, religion and society through daring acts of furtive fucking, today's teens have flipped the script, declaring virignity the most subversive sexual act of Gen Z.

"Virginity Rocks" is the seemingly chaste new slogan teens across the country are sporting on shirts, hats, lanyards and other merch, and while some bear it ironically, the trend has also caught the attention of pro-abstinence communities.

While the man behind the brand, 27-year-old YouTuber Danny Duncan, told the New York Times he began wearing the shirts as a joke in 2017, he added that he's glad to see fans have embraced the initially "tongue-in-cheek" slogan in different ways.
---
Coronavirus in California: 'A logistical nightmare and a moral dilemma' for the hospitality industry
When she heard that BNP Paribas Open organizers had canceled the two-week tennis tournament, Lori Edwards Jonasson started crunching the numbers, answering emails, and scanning the calendar.

Her four-bedroom vacation rental home in La Quinta is less than two miles from the Indian Wells Tennis Garden, and it was booked solid with multiple reservations.

She knew most visitors would cancel. And she knew that would mean parting with thousands of dollars. Her typical rate is about $500 a night at the property, which sleeps about 10 people.

"This week has been a logistical nightmare and a moral dilemma," she said from her full-time home in Upland. "How do you tell a 70-year-old woman who calls you and says that she's afraid for her and her husband to fly, 'I'm going to keep all your money?' On the other hand, you're going, 'How am I going to pay my mortgage?'"
---
Meet The Man Who Thinks Humans Should Go Extinct
NASA has found it to be 'extremely likely' that the cause of climate change is down to human activity – our current carbon dioxide concentration levels stand at 412 parts per million which is an increase of over 45% on pre-industrial levels.

Due to this, Les believes the best thing we can do for the planet is 'live long and die out', which is the movement's motto.

It's evident humans are the leading cause of climate change. According to Les, it would take the Earth 3-10 million years to recover from our actions.

Because of this, Les feels humans should die out so the earth can begin to restore itself, and to do that, we need to stop procreating.

Wherever we go, extinctions occur and we [humans] are causing the sixth mass extinction. We may not be able to stop that from happening, but the sooner we go extinct and the more species that are left – the pasture and the biosphere can return to biodiversity.
---
Latest Data Confirms Anti-Vaxxers Are Winning: Measles Is On the Rise
If you thought that measles episode of The Brady Bunch was hilarious and that measles is just such a cute old-timey virus, then you'll be happy to hear: Measles is back! Thanks to the efforts of down-home anti-vaxxer folk, we're now officially living in a world that has more cases of measles since 1992. Nostalgia for the '90s is out of control! We should have resurrected Nirvana, not measles. RIght?
---
Americans Just Want Immigrants for the Food
In 2016, Donald Trump posed in front of a taco bowl, fresh from Trump Tower Grill, and declared "I love Hispanics!" It fooled only the very gullible. Taco bowls, while delicious, are to Mexico what unlimited salad and breadsticks are to Tuscany, and his love for one didn't stop him from trapping hundreds of Latinx migrants at border camps. Trump can eat as many taco bowls as he wants, but he's still racist.

Unfortunately, a new survey confirms that Americans, and people all over the world, tend to have Trump's mindset when it comes to immigrants (or just non-white people), their contributions to culture, and their food. A YouGov survey of seven European countries and the U.S. found that the "most commonly agreed benefit of immigration has been better food." The only country that responded differently was France, where everyone was more focused on how immigrants could make their soccer team better. And while the food may be a boon, Americans at least are still worried about providing welfare to migrants, and the (unfounded) crime risk of letting immigrants into the country. Though Americans were the most accepting of any of the countries surveyed, just "one in four Americans (30%) believe [immigration] only brings benefits." We want your food...we just don't want you.
---
Racism Is Literally Bad for Our Health
As a woman practicing medicine, raised by a first-generation immigrant father and Hispanic mother, I fit the image of an underrepresented minority. Yet my education and position belie that stereotype.

As a young girl, I remember walking in our small town in Maryland watching my Indian father's expression harden and eyes dim as he held back from reacting to racially directed comments—shouted as we walked by—urging him to return to his "home country."

I didn't understand at the time what racism meant or the traumatic impact that repeated experiences could have on health. Lately I have understood it all too well.
---
Amid Measles Outbreak, Texas Vaccine Exemptions Rise Again for 15th Straight Year 
The number of people in the state who chose to not immunize their children for non-medical reasons has jumped this past school year despite a record-breaking measles outbreak in the U.S., according to a Texas Department of Health Services report.

The number of parents who sought exemptions rose 14% in 2018-2019, continuing a 15-year upward trend that public health officials worry leaves communities susceptible to a resurgence of preventable diseases, the Houston Chronicle reported.
Europe measles outbreak infects 34,000: travel advisory
---
This Measles Outbreak Is a Manifestation of National Insanity
The following is a rhetorical question: how in the hairy, unholy fck did this country get to this point at this point in history? It's bad enough that we're being hauled back to the 1890s economically and judicially, but now we're going back there with regard to public health? What's next? Public water wells and horse troughs so we can go back to the Gilded Age of cholera? The country of Jonas Salk and his polio vaccine becomes the country of John R. Brinkley and his goat balls? Why not just close the CDC and run the operation out of a covered wagon that rolls from town to town?

Popular Science has the skinny.

A large chunk of these cases have been within tight-knit communities with low vaccination rates. The outbreak in Washington state originated within a Slavic community, and the two ongoing situations in New York—in Rockland County and Brooklyn—are both largely situated within the Orthodox Jewish groups living in the area. This is true of many of the recent severe measles years. In 2014, more than half of the total cases were from a single outbreak among the Amish in Ohio. A small, concentrated group of Somali-Americans in Minnesota were the epicenter of the main 2017 outbreak, and Orthodox Jews represented many of the 2018 cases.
---
Measles nears record in U.S. as cases continue to soar 
Health officials have confirmed 71 additional cases of measles in the U.S. bringing the total number of cases in 2019 to 626. This is the second-greatest number of cases in a single year since the disease was eliminated in the United States in 2000.

The current record is the 667 cases reported during all of 2014. The Centers for Disease Control and Prevention predicts that in the coming weeks, the numbers will surpass 2014 levels.

Outbreaks in New York state are driving up measles case counts. Earlier this month, New York City declared a state of emergency and ordered mandatory vaccinations in one Brooklyn neighborhood for people who may have been exposed to the virus. Just north of the city in Rockland County, cases have climbed to nearly 200 since an outbreak began in October.

There are also ongoing measles outbreaks in Washington, New Jersey, and California.
---