Gay+
---
Welcome to Errattic! We encourage you to customize the type of information you see here by clicking the Preferences link on the top of this page.
When a Binding Contract With God Means Staying Silent on Sexual Abuse 
God had a busy Tuesday this week.

In Alabama, leaders of the Southern Baptist Convention, the largest Protestant denomination in the country, gathered for their annual meeting, with sex abuse squarely atop the agenda. Meanwhile, 900 miles to the north, in Baltimore, US Catholic bishops met to discuss next steps in addressing the same problem, which has become a festering institutional crisis across the globe. But whereas sexual violence in the Catholic Church has been on the national radar for decades, similar crimes in the evangelical community didn't hit the mainstream until the past year or two, exploding in February with a six-part investigative series by the Houston Chronicle and San Antonio Express-News that documented 400 Southern Baptist leaders and volunteers accused of misconduct. Following the articles' release, the Southern Baptist Convention put out the "Caring Well" report, an acknowledgement of past lapses that offered some guidance on how to deal with abuse allegations. It was presented at the Tuesday meeting as well, where congregants voted on amendments aimed at curbing sexual abuse and racism.

The Southern Baptists met again Wednesday, praying at length after being inundated with horrific stories of criminal sexual abuse. But among the items some members of the faith hoped they might address was something you wouldn't expect to find in either Testament: the use of binding arbitration to settle disagreements between churches and their parishioners.
Tennessee Cop Turned Pastor Urges Execution of Gays
Holy Cross order releases list of accused abusive priests
---
SAN FRANCISCO IS USING AI TO TRY TO MAKE COURTS LESS RACIST 
We already knew an artificial intelligence could reflect the racial bias of its creator.

But San Francisco thinks the tech could potentially do the opposite as well, by identifying and counteracting racial prejudice — and it plans to put the theory to the test in a way that could change the legal system forever.
Phoenix Police Under Fire After Officers Assault Baby, Threaten To Shoot Father 'In The F—king Head'
Nearly 400 Police Officers Reportedly Members of Hateful Facebook Groups
Black ex-manager claims 1Oak is a hotbed for racism
---
CONNECTICUT WOMAN ATTACKS PREGNANT MCDONALD'S WORKER OVER 'MESSED UP' ORDER, TRIES TO MAKE HER OWN MCCHICKEN SANDWICH 
A Connecticut woman is accused of attacking a pregnant McDonald's worker and yelling that she hopes she loses her baby after becoming irate at staff for getting her order of McChicken wrong.
Day care worker caught on video abusing toddlers
---
Dave Bautista Slams Priest Calling for Pride Month Boycott: 'You Don't Speak for Most Catholics' 
Dave Bautista had no time for a Catholic priest denouncing Pride Month.

On June 1, the first day of Pride Month celebrating the LGBTQ community, Rhode Island bishop Thomas Tobin sent out a tweet urging his Catholic followers not to participate in any Pride related activities.

"A reminder that Catholics should not support or attend LGBTQ 'Pride Month' events held in June. They promote a culture and encourage activities that are contrary to Catholic faith and morals. They are especially harmful for children," Tobin wrote on Twitter.
Rhode Island bishop defends call to boycott Pride events
US Catholic Church reports big rise in sex-abuse allegations
CATHOLIC SCHOOL PRINCIPAL RESIGNS AFTER BEING ARRESTED AT STRIP CLUB DURING CLASS FIELD TRIP TO WASHINGTON D.C.
These Men Say the Boy Scouts' Sex Abuse Problem Is Worse Than Anyone Knew
Motorist drives into Delaware Pride organizer during the parade
Philippines president Rodrigo Duterte claims he used to be gay but 'cured myself' in a gross attack on a political rival
---
Child sex abuse victims tell of being 'fobbed off with a cup of tea and biscuits' after complaining of assaults and mistreatment at religious institutions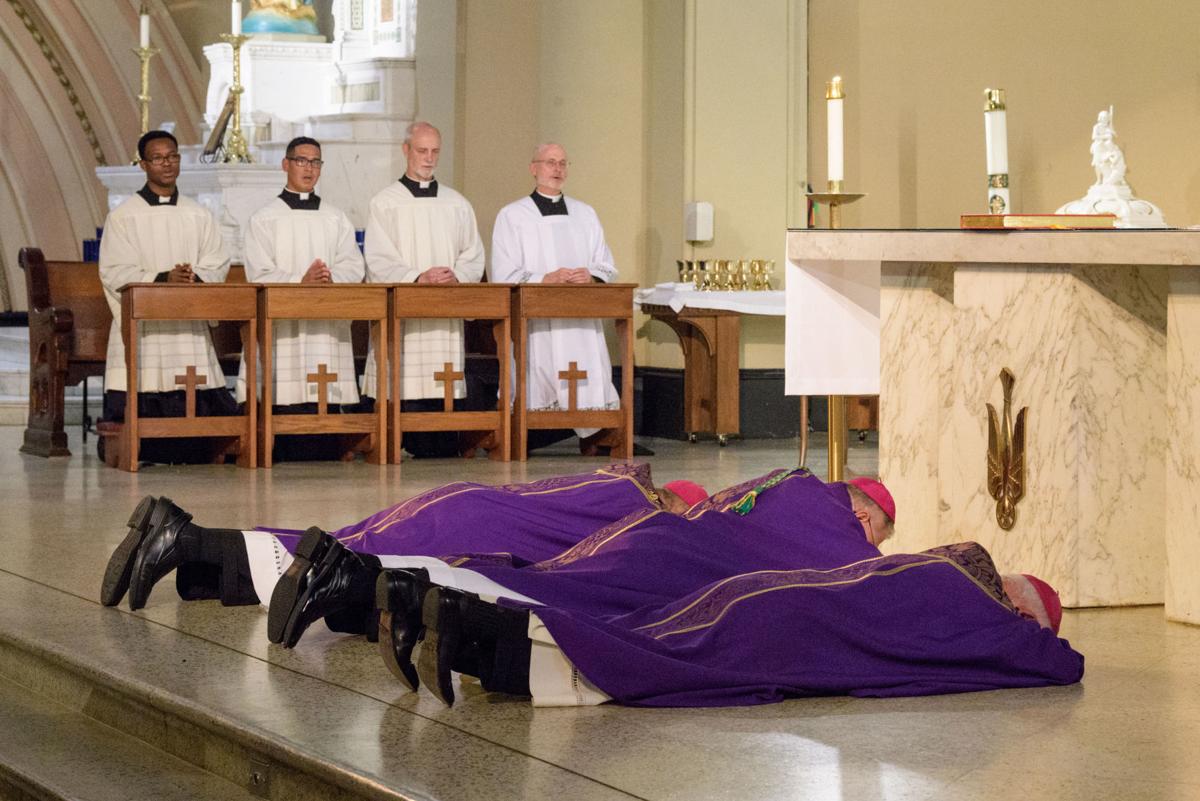 Survivors of child sex abuse in religious institutions have revealed 'shame and guilt' prevented them from reporting their horrific ordeals.

A new report found those abused in such institutions were also less likely to come forward than survivors of abuse in other settings.

The Truth Project spoke to 183 people abused via religion as children as part of the Independent Inquiry into Child Sexual Abuse and more than half said they felt 'embarrassment and guilt' over what happened to them.

Many also called for an end to the 'secrecy' around these institutions with one victim claiming they were 'fobbed off with tea and biscuits' after coming forward about the abuse.
---
5 former Michigan Catholic priests charged with sex crimes 
Michigan prosecutors announced Friday that five former Catholic priests are facing sexual abuse charges as part of the state attorney general's ongoing investigation into clergy abuse going back decades.

Attorney General Dana Nessel said the priests served in dioceses in Detroit, Lansing and Kalamazoo, and that they've been charged with various counts of criminal sexual conduct. Four of them were arrested this week in Arizona, California, Florida and Michigan, and the fifth awaits extradition from India.

A sixth priest faces an administrative complaint and has had his counseling license suspended by the state, officials said.
'Revolution' in Poland as nation confronts priestly abuse
---
Father Accused Of Setting Daughter Ablaze Inside Car
Family and friends are mourning a 3-year-old Queens, New York, girl this week after her father allegedly chained her inside of his car and set it on fire. The tragic event took place on Sunday night.

Martin Pereira, 39, is currently in police custody in relation to the crime.
---
Migrant 10-year-old sexually assaulted, given drugs in custody, lawsuit says 
A Guatemalan father filed a lawsuit against two nonprofits housing migrant children, claiming his 10-year-old son was given "powerful psychotropic drugs" without parental consent and sexually assaulted by another child during his time in government custody.

The father, identified only as J. E. B., claimed in the lawsuit filed in state court in Texas last week that both Southwest Key and Shiloh Treatment Center in Texas "acted with fraud, malice, and gross neglect" in their treatment of his son.

The lawsuit also claims that the boy, identified as F.C.B. in the suit, was subjected to physical assault, false imprisonment and intentional infliction of emotional distress by both facilities.
Ohio pastor who allegedly groomed teen for sex with others convicted
Man Gets Death for Rape, Murder of Girlfriend's Daughter in Front of Her; Mom Called Teen 'Nonentity'
---
Are YOUR children at risk? Child abuse charity reveals the five simple questions EVERY parent needs to ask before signing up youngsters to after-school activities 
A national charity is urging parents to ask five simple questions to make sure their children are safe when they attend out-of-school clubs.

Thousands of parents across the country use after-school and holiday clubs to help with childcare, but many do not realise these groups can be unregulated.

Now, Derby-based charity NWG Network, which supports survivors of child sex abuse, has started a campaign to get parents and clubs talking openly about safeguarding.
Prosecutor: Exam of 'Ravenously Hungry' Children Reveals Disturbing Child Abuse Case
Defrocked Jersey priest who molested boys now teaches kids English in Dominican Republic
West Virginia man convicted in baby's death, sex abuse
Man Sentenced to Life After Continuous Sexual Abuse of Child
Machelle Hobson: YouTube Star, 48, Arrested & Accused Of Abusing Her Adoptive Children
Daughter of 90 Day Fiancé Star Angela Deem Sentenced to 20 Years for Child Molestation
Michigan woman who 'turned a blind eye to her husband raping two teenage female relatives' he was supposed to be caring for accepts plea deal meaning she'll only get a maximum of ONE YEAR in jail
---
Fight over brownie leaves teen boy dead 
Police say a fight over a brownie has left a 14-year-old Houston boy dead of a stab wound to the eye and another 14-year-old boy on the run from authorities.

Houston Independent School District police say the boy died Friday of the knife wound suffered Wednesday afternoon.
A Couple Was Arrested For Child Abuse After An Olive Garden Waitress In Kentucky Shared A Photo Of Them On Facebook
Gay man and trans woman suing Burger King over employee 'hate crime attack'
---
6 Sneaky Signs a Trusted Adult Could Be a Child Sexual Abuser 
Michael Jackson is now deceased and consequently he will never be convicted in a court of law, but many of Jackson's alleged behaviors were typical of those exhibited by child sexual offenders who use grooming behaviors. Grooming behaviors are the behaviors and techniques a sexual offender employs so that they can engage in abuse without detection. Grooming behaviors are directed toward the intended victim, the child's parents or guardians and the community at large. They generally follow a series of stages that may include selecting a vulnerable victim, gaining access to the child, developing trust of the child and their guardians, and desensitizing the child to sexual touch so the abuse can take place without detection. However, many of these grooming behaviors also overlap with behaviors that caring, involved adults engage in and thus it is often hard for adults to recognize them before abuse takes place.

The following behaviors could be potential indications of grooming.
Elderly vicar found guilty of child sex abuse after Church of England cover-up
S. Carolina megachurch has history of child sex abuse claims
Man Accused of Murder Allegedly Sexually Assaults Teen With His Wife
Brett Ratner and Warner Bros. CEO Embroiled in Lurid Sex Scandal
How Florida police snared nearly 300 — including Robert Kraft — at spas used for sex trafficking
LaToya Jackson Accused Michael of Crimes Against 'Innocent Children' in Resurfaced Clip; Later Retracted Claim
A powerful & anti-gay Catholic cardinal was just found guilty of raping 2 teen boys
TEXAS MAN ACCUSED OF VIOLATING ADOPTED 5-YEAR-OLD DAUGHTER WITH DOLL, FOUND GUILTY
Man confessed to giving STDs to 3-year-old relative: court docs
---
Did Michael Jackson Abuse Because He Was Abused? 
When Amanda Robson's husband, Wade, first told her that he had suffered years of childhood sexual abuse at the hands of Michael Jackson, she grew worried for the safety of their son. "Is there any confusion as to what is appropriate in how you love [him]?" she says she asked Wade, in the HBO documentary Leaving Neverland.

Her concern, that as an alleged victim of molestation her husband may have been a threat that spread that evil to another generation, reflects a view so embedded in the culture that it rarely merits much discussion. But the "cycle of abuse," as it's often understood, is nothing less than psychological Lysenkoism: the belief, in the absence of clear, empirical evidence, that lived abuse tends to propagate across generations and reproduce itself in specific ways. The facts about the "intergenerational transmission of maltreatment," as scholars call it, are very complicated, and while there's some truth to the idea as it's generally portrayed, there's also a fair amount of falsehood.
D.L. HUGHLEY IF YOU GIVE MICHAEL JACKSON A PASS ... You're Blinded by His Talent
2 New Zealand Radio Stations Drop Michael Jackson Music After 'Leaving Neverland'
---
'My husband was molested and raped by a Brother. This is my message for Andrew Bolt.'
Dear Mr Bolt,

My name is Clare Linane. As you know, I am a Ballarat local who has been living with the aftermath of child sexual abuse for many years. My husband, Peter Blenkiron, is a survivor of clergy abuse at 11 years old. You met him whilst in Rome three years ago.

I am compelled to write to you after you expressed your opinion that George Pell has been falsely convicted (27 & 28 Feb, Herald Sun).

You are entitled to your opinion.

What concerns me, however, is your statement that your opinion is based on "overwhelming evidence". I believe this is misleading, irresponsible and ignorant. Your lack of genuine insight into the issue of sexual child abuse makes a mockery of survivors and all they have endured.
---
White Woman With Unleashed Pomeranian Harasses Black Family Taking Photos of Their 1-Year-Old
Franci Neely, a Houston socialite and the ex-wife of Astros owner Jim Crane, was recorded harassing a black family for taking photos on a scenic boulevard in celebration of their daughter's first birthday. Neely had her unleashed Pomeranian with her, and zero shoes.

Kelyn and Isaiah Allen hired a professional photographer to take pics of their baby daughter Anja. The couple had set up blankets and brought a few balloons to the North Boulevard in Houston, a picturesque esplanade frequented by individuals wishing to capture a special memory.

However, as the Allens were photographing their daughter, Franci Neely became angered that they were blocking the sidewalk. In a now-viral video, the barefoot Neely is seen with her leash-less dog, approaching the family and screaming at them for taking pictures on the esplanade. According to Kelyn, Neely passed several groups similarly taking photos to approach Kelyn and her family, yelling, "You are trampling the grass that we pay for."
---
A Pedophile Doctor Drew Suspicions for 21 Years. No One Stopped Him. 
At first, officials at the U.S. Indian Health Service overlooked the peculiarities of their unmarried new doctor, including the children's toys he hoarded in his basement on the reservation. They desperately needed a pediatrician at their hospital in Browning, Mont.

By 1995, after three years, they became convinced Stanley Patrick Weber was a pedophile and pushed for his removal from the government-run hospital.

"You're going to have to leave," Randy Rottenbiller, its clinical director at the time, recalled telling the doctor after learning a child patient had stayed the night in his house.

But the Indian Health Service didn't fire Mr. Weber. Instead, it transferred him to another hospital in Pine Ridge, S.D. He continued treating Native American children there for another 21 years, leaving behind a trail of sexual-assault allegations.
Vacaville Man Arrested On Suspicion Of Child Sexual Assault
After allegations of sexual abuse, Afghanistan women's soccer team fights for justice
Theodore McCarrick expelled from priesthood after sexual abuse scandal
Teacher awarded over $500K after principal sexually harassed her
CRUISE SHIP SEXUAL ASSAULT: EX-CHEERLEADING COACH ATTACKED DRUNK COLLEAGUE
Woman who alleged rape by Fairfax, Maggette spotlights issue of revictimization
Public Help Sought to Find Man Accused of Sexually Assaulting Woman in Riverside
---