Gay+
---
Welcome to Errattic! We encourage you to customize the type of information you see here by clicking the Preferences link on the top of this page.
Do transgender athletes have an unfair advantage?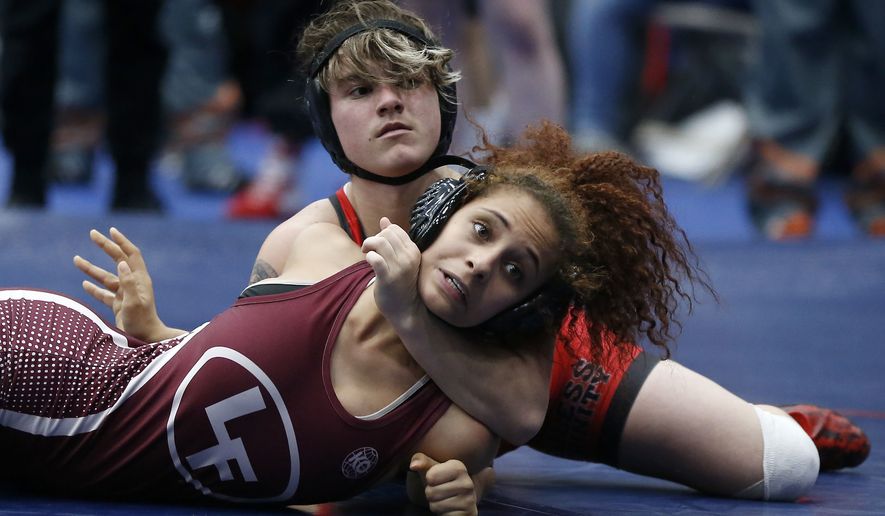 Does "science" show that transgender girls who compete as females in a sport have an unfair advantage?

That's the claim made earlier this month by a Tennessee state legislator who called for a law inflicting career-ruining sanctions on school officials who let trans-student-athletes compete in accord with their gender identities.

The proposal is neutral on its face: it would apply to both boys and girls. But the specter of trans girls (girls born as boys) gaining an unfair edge on "real" girls animates it and other proposals like it.
---
Group threatens to sue after blessing of 'official Bible' for swearing in Space Force commanders
The MRFF issued a statement expressing the organization's outrage over the ceremony, saying the group "condemns, in as full-throated a manner as is humanly possible, the shocking and repulsive display of only the most vile, exclusivist, fundamentalist Christian supremacy, dominance, triumphalism and exceptionalism which occurred at yesterday's 'blessing.'"
---
Delaware GOP Chair Resigns After Facebook Comment That 'Faggots Cannot Handle Reality' 
Chris Rowe, the chair of Delaware's New Castle County Republican Committee resigned on Friday after using an anti-gay slur on Facebook. "Faggots cannot handle reality," said Rowe in response to a follower's comment.

The AP reports: "New Castle County Republican Party Chairman Chris Rowe said he agreed to resign after GOP chairwoman Jane Brady called him Wednesday and asked him to step down from the appointed position. Rowe told The Associated Press that he made the decision 'begrudgingly and only under duress.'"
Alleged Christian domestic terrorist regularly posted anti-LGBTQ content online
Arizona Republican introduces bill to ban the word "homosexuality" from public schools
Arizona senator drops plans to ban the word "homosexuality" from schools
---
Black students say a teacher compared them to monkeys in front of their classmates. Now their parents are suing. 
A lawyer for the students, who attend Longwood High School on Long Island, filed a notice of claim, the first step to filing a lawsuit, on Tuesday. He later announced in a news conference that the group would sue their school district for $12 million.

The notice, which has been reviewed by Insider, said that a teacher took a photo of four black students, aged 16 to 18, standing behind one another during a field trip to the Bronx Zoo in November 2019

The notice alleges that the teacher later included the photo in a slideshow shown in class with the caption "monkey do," alongside a photo of a gorilla.
Oregon man charged with hate crimes for allegedly beating 70-year-old woman from India
---
LGBTQ Methodists were stuck loving a church that didn't love them back. Sound familiar?
LGBTQ inclusion in the policy and practices of UMC has been a long contentious and exhausting battle – both nationally and globally. The proposed schism to be voted on in May at General Conference in Minneapolis will divide the nation's third-largest denomination worldwide.

While the current UMC will allow LGBTQ marriages and clergy, the impending split will create a new "traditionalist Methodist" denomination, allowing outright discrimination and denunciation of LGBTQ people in the name of God.
---
Hallmark Channel Draws the Line at Kissing, Pulls Gay Wedding Ads 
Hallmark Channel, the romance movie purveyor so ubiquitous it now has its own convention, has decided to pull an ad featuring lesbian brides kissing, following a campaign by the conservative group One Million Moms. 25,000 people signed a petition started by One Million Moms earlier this week that urged Hallmark to remove same-sex wedding ads. According to The New York Times, the ad was pulled because Hallmark Channel does not accept ads "that are deemed controversial."
Hallmark's same-sex marriage gaffe shows how social media is raising the stakes for marketers
---
In late 2017, two bombshell investigations by The New York Times and The New Yorker revealed years of alleged harassment, sexual abuse, cover-ups, and retaliatory behavior against women by Hollywood mogul Harvey Weinstein. Those stories ultimately triggered hundreds of other voices across the film industry to speak out about its insidious nature. The #MeToo movement, originally created by Tarana Burke, was reborn, and people felt empowered to speak up about sexual violence in a way they hadn't felt previously permitted to.

It was a tidal wave of accountability for badly-behaved men that would reach all the way to Capitol Hill, and the blowback was as immediate as it was public with each new emerging allegation. By some indications, we had reached a time where there was little room in the zeitgeist for bad, privileged men.

But as the decade comes to a close, a look back reveals that this reckoning didn't quite reach everyone it was supposed to. On the other side of that shift exists a parallel reality where many men accused of offense still have jobs and have remained beloved by audiences and industry gatekeepers alike.
---
Indiana School Board Member Says 'Cry Me a River' Over Trans Suicides 
Activists in Evansville, Ind., caught a school board member on video appearing to dismiss their concerns about safety for LGBTQ kids.

This week, ten members of the Tri-State Alliance — a social service and educational organization serving LGBTQ communities in southeastern Illinois, southwestern Indiana, and western Kentucky — attended a board meeting of the Evansville-Vanderburgh County School Corporation to ask for greater protections for queer students.

After the meeting, the activists confronted school board members, according to posts on the group's Facebook page.

The Tri-State Alliance says board member Ann Ennis claimed there was no support on the board for addressing suicide concerns among trans students.

On a video posted to the group's Facebook page, Tri-State Alliance President Wally Paynter can be heard calling Ennis transphobic.
Trans Woman Sues Pharmacy for Revealing Her HIV Status
Utah school fires substitute teacher who told 5th-graders 'homosexuality is wrong'
---
Catholic School Students Protest Forced Removal From Gay 'Nutcracker'
Toledo, Ohio, Catholic school students were unceremoniously removed from a performance of The Nutcracker when chaperones realized that Clara's parents would be portrayed as gay dads. Despite an apology from the administration, students still protested by painting the "spirit rock" in rainbow colors and emblazoning it with "God Loves U" on Tuesday, according to TV station WTOL.
---
Anyone should be allowed to 'identify' as black regardless of the colour of their skin or background, say university leaders
Anyone should be allowed to 'identify' as black regardless of the colour of their skin or background, according to Left-wing university leaders.

The Universities and Colleges Union has set out its stance in a report on the ongoing row about whether men should be able to self-identify as women and be treated as female regardless of their anatomy.

The UCU's 'position statement' did not just stand by its support for self-identification of gender, but also insisted people can choose their own race, saying: 'Our rules commit us to ending all forms of discrimination, bigotry and stereotyping. UCU has a long history of enabling members to self-identify whether that is being black, disabled, LGBT+ or women.'
---
Two Chinese men claim they were racially profiled by Alaska Airlines employee at who asked 'how much are they paying you?' before sparking panic by screaming for evacuation at Newark Airport
The two Chinese men who were accused of acting suspiciously and triggered a panicked evacuation at Newark Liberty Airport last week are speaking out for the first time saying they were racially profiled by an Alaska Airlines employee.

The chaos unfolded at the New Jersey airport on September 3 around 8.30pm at Gate 30 of Terminal A when an Alaska Airlines approached Han Han Xue, 29, and Chunyi Luo, 20, and asked them pointed questions about their Asian heritage.

She asked assumed they knew each other and asked 'Why are you acting suspiciously' and 'What are they paying you?' before screaming 'Evacuate!', sending 200 panicked people running out of the gate amid fears of an active shooter.

'It was a very shocking experience...I couldn't believe this was happening,' Xue said on the incident to BuzzFeed News.
---
Sexual Abuse Against Gay and Bi Men Brings Unique Stigma and Harm 
At least 1 in 6 boys are sexually abused before their 18th birthday. This number rises to 1 in 4 men across their lifespan.

The rates of sexual abuse and assault are even higher in boys and men from sexual minority populations.

Sexual violation in gay, bisexual, transgender and intersex individuals often complicates their sense of self, and how they fit, or don't fit, into LGBTQ+ culture and communities. Such abuse may even impact their reaching out for help or reporting traumatic events as they fear stigmatization or victim-blaming.
Anti-groping stamp lets victims mark assailants
She Was Ordered To Pay Damages And Apologize To The Man Who Allegedly Assaulted Her — So She Left The Country
Workplace Study Finds Men Have Responded to MeToo by Becoming Even Shittier
---
The owner of the Pirates owns a newspaper that called marriage equality, trans rights 'dubious achievements'
A small newspaper owned and controlled by Pittsburgh Pirates owner Robert Nutting recently published an editorial that called into question its view of the LGBTQ community. If not for criticism by a progressive news site, few people outside Virginia's Shenandoah Valley might have seen the editors' choice of words. Those words also prompted words between Nutting and the publisher.

The Winchester Star is a daily publication with a circulation of less than 20,000, and is operated by Nutting's Ogden Newspapers, which is publisher of more than 40 newspapers and media outlets across the U.S. It was started by his great-grandfather in 1890. On August 7th, the staff published an editorial critical of Virginia Governor Ralph Northam for the Democrat's refusal to share a stage with President Donald Trump at the 400th anniversary celebration of the Jamestown settlement.
---
Odell Beckham Jr hits back at homophobes mocking his Calvin Klein shoot
The American football star, who currently plays as the wide receiver for the Cleveland Browns, has faced a string of anti-gay comments on his latest Instagram post, which sees him posing in his underwear for a new Calvin Klein campaign.

"Boy look gay as hell," wrote one Instagram user, while another added: "He low key gay tho."

Responding to the comments and rumours about his sexuality – which have followed him for years now – Odell re-affirmed that he is indeed straight and said he shouldn't need to keep addressing his sexuality.

"Yallll chilllll mann damnnnn! It be a lot of y'all sayin sus and alll the other comments that realllly be a direct reflection of who u are! Im straight! Like beyond it," he wrote.

"If I sit here and defend myself y'all gon say im tryna defend myself, if I sit there and say nothin yalll gon say 'seee he didn't say anything.' I'm good wit me. Which is dumb straightttt… Period.
---
Knife waving man screaming antigay & racist slurs in barbershop shot by Palm Springs police 
A man who burst into a barbershop brandishing a knife and started yelling antigay and racist slurs was shot by police in Palm Springs, California. The unidentified man was transported to the hospital with non-life threatening injuries.

Officers originally were called to reports of a fight outside of a Bank of America, but learned that the deranged man had previously entered the nearby barbershop before patrons pushed him out and into the bank parking lot.
Anti-LGBTQ groups are funding the bigoted opponent of this trans legislator
One of the leading causes of death for young gay & bi men is police violence
DC police release photos of gang of men who attacked a trans woman in gas station lobby
Queer Middle School Teacher Rebuked for 'Gender Unicorn' Explainer
Republican official says the 'sin' of homosexuality kills gay men at age 42
Bus driver refuses to operate vehicle that 'promotes homosexuality.' Now he's not working at all.
Restaurant employees get $40k after nonstop antigay harassment by coworkers
---