Health/Food Posts Tagged as 'Children'
---
Welcome to Errattic! We encourage you to customize the type of information you see here by clicking the Preferences link on the top of this page.
In the poorest county, in America's poorest state, a virus hits home: 'Hunger is rampant'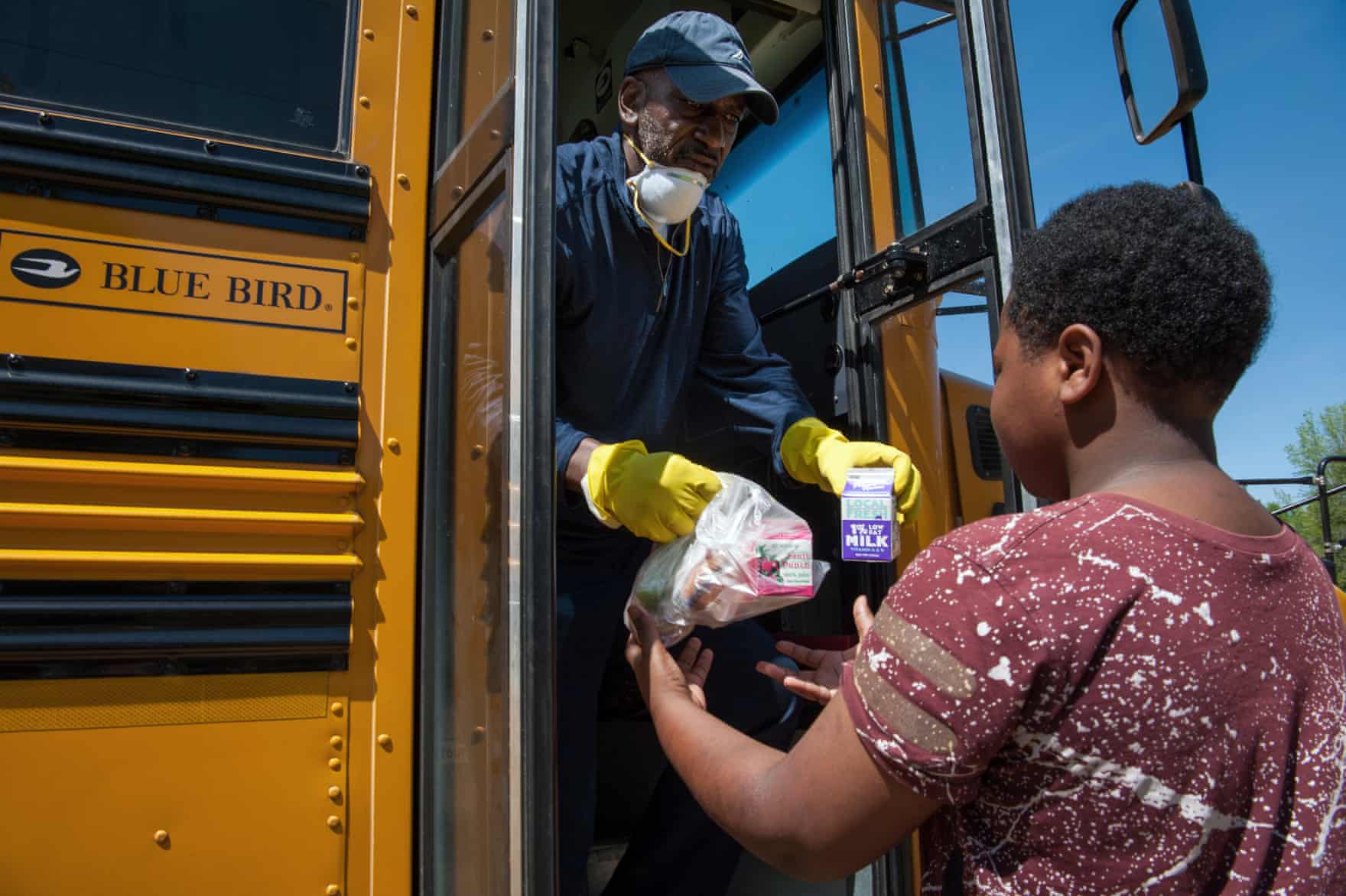 On the cracked country roads of Lexington, deep in the Mississippi delta, an empty yellow school bus drives slowly, making life-sustaining drop offs on the way.

Here, in the poorest county, in America's poorest state, the coronavirus has yet to ravage the jurisdiction with infection. There has been one recorded Covid-19 death in the county, Clinton Cobbins, Lexington's first African American mayor. But even now the coronavirus still poses a serious threat to life.

In Holmes county consolidated – the school district to which Lexington belongs – every single child qualifies for free school meals, a marker of pervasive poverty. For many, said superintendent Dr James L Henderson, breakfast and lunch at school are the only nutritious meals a student will eat in a day. For a few, they are the only meals.

When the coronavirus pandemic led to statewide school closures, Henderson, who was born in the county, left for most of his adult life, but returned in 2018 to assume his position, was left with a significant dilemma: how to feed the 3,000 children under his authority.
---
SNL's Michael Che Loses Grandmother to Coronavirus Pandemic 
Saturday Night Live mainstay Michael Che has lost his grandmother to the coronavirus pandemic, the comedian revealed Monday afternoon. In a sizable post on Instagram, Che revealed the news while warning others to begin taking the pandemic seriously, telling his hundreds of thousands of followers to adhere by any rules and regulations local governments may have in place at this time.

"Hi, I'm Michael Che, from TV. Last night my grandmother passed away from the coronavirus," Che writes in the post. "I'm doing ok, considering. I'm obviously very hurt and angry that she had to go through all that pain alone. But I'm also happy that she's not in pain anymore. And I also feel guilty for feeling happy. Basically the whole gamut of complex feelings everybody else has losing someone very close and special. I'm not unique. But its still scary."
Gay Deputy Sheriff Is Florida's First Line-of-Duty COVID-19 Casualty
Grocery workers are beginning to die of coronavirus
Tyson, JBS Closures Show Virus Hitting American Meat Production
Boy, one, is rushed to hospital after catching coronavirus from father when he brought it home from 'single short visit to Tesco'
Gay San Francisco Nurse Hospitalized With COVID-19
---
Some may joke about a coronavirus baby boom. Here's why you shouldn't try to conceive in quarantine 
As much of the world settles into a new routine of social distancing, couples are likely to have a lot more free time at home to snuggle together.

At first blush, you might think couples with some extra time on their hands would do things that could lead to a stork visiting nine months from now.
Yet with US Treasury Secretary Steve Mnuchin warning of dire scenarios and a possible 20% unemployment rate, couples whose jobs are vulnerable in this economy are likely to think again about kicking off their parenting journeys this spring.

Then there's the possibility of more couples splitting up. One marriage registry official in China said he saw a quarantine-related spike in divorces, showing that more time in closed quarters may be doing some couples more harm than good.

But for couples weathering this storm together, is this a time when many will choose to add to their brood?
Condom factory workers are considered "essential" now that a global shortage looms
A gender reveal party ignited a 10-acre brush fire in Florida, fire officials say
---
This 7-year-old is making and delivering care packages to the elderly shut in by the coronavirus
Cavanaugh Bell is a 7-year-old on a mission: "To help other people and let them know that I got their back," he told CNN.

At a time when senior citizens must stay in to avoid the coronavirus, the spirited boy in Gaithersburg, Maryland, decided to make them care packages.

"The packages include toilet paper, some flushable wipes, hygiene products and a bunch of food," he said.

'She's my best friend'

The idea came when Bell realized his 74-year-old grandmother is in a high-risk age group for coronavirus.
---
Matthew Broderick's sister said she received preferential treatment while battling coronavirus 
The sister of actor Matthew Broderick said she received preferential treatment at a California hospital while battling the coronavirus.

Janet Broderick, a pastor at All Saints Episcopal Church in Beverly Hills, was hospitalized last month after falling ill upon returning from a conference in Kentucky. She has since recovered and is back home.

Broderick told New York Magazine that her general practitioner didn't know about her famous familial connection and "didn't care very much." But that changed when the pastor went to an emergency room at a Beverly Hills hospital.

"As soon as I got ahold of the guy at the hospital who knew who Matthew was, I was given the name of the head of the emergency room," she said. "Well, trust me, the folks I've spent my lifetime working with in Jersey City would never have been given the name of the head of the emergency room. If they were, it would have been disregarded."

"I think I'm absolute living proof that this system is completely corrupt," she told the outlet.
A healthy 39-year-old DJ died of coronavirus. What his young widow and daughter want you to know
6-Week-Old Baby from Connecticut Dies, Believed to Be World's Youngest Coronavirus Victim: Governor
Chris Cuomo shares covid-19 experience: 'The beast comes at night'
Why the peak is coming after weeks of social distancing
---
Sex predator William Gordon carried out 'horror' attack on stranger after early prison release 
A serial sexual predator who carried out a "horror" attack on a stranger had been set free from prison despite posing a known risk to women and girls, a court heard.

William Gordon, 34, was released just weeks before he stalked a series of women in south London late at night while "scouting" for a victim.

When he struck, Gordon pinned a woman against an alleyway wall as he sexually assaulted her and, after she broke free, chased her down to continue the attack.
Girls sexually assaulted while mom underwent chemo, charges state
Watch Teen Wrestling Champ Manhandle 'Superhuman' Kidnap Suspect In New Mexico Gas Station Rumble
St. Louis Brass Remained Silent for Years as Women Accused Cops of Drugging, Raping Them
---
Woman Allegedly Drowned Grandson, Told Officers The 4-Year-Old Boy Was 'Better Off In Heaven' 
The Howard County Prosecutor's Office on Monday charged Helen Martin, 56, with murder and neglect of a dependent resulting in death, WTHR reports. Officers with the Kokomo Police Department took the grandmother into custody on Saturday after responding to a report at a private residence of an individual who was unconscious.

Upon their arrival, police found Martin's unresponsive 4-year-old grandson being treated by first responders, according to another WTHR report. He later died after being taken to the Community Howard Regional Health Hospital.

Martin's husband Brian Martin told police upon their arrival that his wife had drowned the child, and Helen allegedly admitted that she'd held the boy's head underneath the water while giving him a bath, WTHR reports.
---
Parents Say School Expelled Elementary Students After Raising Coronavirus Concerns
As the second full week of school closures comes to an end, many Bay Area parents are anxiously waiting to hear that it's safe for their kids to return to class. But for a group of parents in the South Bay, their kids still won't be allowed back on campus when classrooms reopen after administrators decided to withdraw their children from school in a move that left parents stunned.

The school's decision comes after a series of critical Facebook comments from parents questioning the school's response to the coronavirus pandemic.

"I was devastated," a parent told NBC Bay Area when she learned her child is no longer enrolled. "I feel the school is just retaliating against us."
Coronavirus Heroes Are Getting Tossed From Their Homes by Scared Landlords
'It's just despair': Many Americans face coronavirus with no water to wash their hands
---
Mom of 7-month-old with coronavirus speaks out: What parents should know
A mom in South Carolina is sharing a message to other parents after her 7-month-old son was diagnosed with COVID-19, a respiratory illness caused by a novel coronavirus.

Children do not appear to be at higher risk for COVID-19 than adults, according to the Centers for Disease Control and Prevention (CDC), but Courtney Doster, a mom of three, wants other parents to know it is possible for their children to get the virus.

Doster's 7-month-old son Emmett tested positive for COVID-19 on March 17. She and her husband, the parents of three children, took their son, their youngest child, to the hospital after his fever spiked to over 104 degrees.
---
Police Launch Investigation Into Video of Teenagers Coughing on Produce at Grocery Store 
Following reports of teenagers coughing on produce at a local grocery store for a video, one Virginia police department has launched an investigation. On Thursday, Purcellville PD released a statement to say it had learned the incident took place at an undisclosed store on Wednesday. Employees at the store removed the items immediately, and now officials have asked parents to monitor their children's activities and social media accounts in order to "avoid the increase of any further such incidents."

"We have learned that this appears to be a disturbing trend on social media across the country, and we ask for help from parents to discourage this behavior immediately," Purcellville police wrote in a Facebook post. "Please talk with your children and explain to them why such behavior is wrong, especially given the current situation regarding the spread of Coronavirus."
The internet is letting too many celebrities act like idiots during a pandemic
It's Absolutely Ok to Dump Someone Over Their Awful Pandemic Behavior
---
Parents are losing their minds having kids home during coronavirus
Home sweet home? More like home fresh hell.

New York City parents are losing their minds trying to balance working from home and playing teacher to their cooped-up kids amid the coronavirus outbreak. Schools shut down Monday, leaving mom and dad to their own devices.

"It's definitely chaos," says a 37-year-old Brooklyn lawyer and mom of two, who asked to withhold her name for work reasons. "Everything is out. Toys are everywhere. It's complete mayhem in here. Do you know how hard it is to research and write while I have two f?ucking kids running around?"
---
Parental diet affects sperm and health of future offspring
When parents eat low-protein or high-fat diets it can lead to metabolic disorders in their adult offspring. Now, an international team led by researchers at the RIKEN Cluster for Pioneering Research (CPR) have identified a key player and the molecular events underlying this phenomenon in mice.

The Developmental Origins of Health and Disease is a school of thought that focuses on how prenatal factors such as stress and diet impact the development of diseases when children reach adulthood. Experimental evidence indicates that environmental factors that affect parents do play a role in reprogramming the health of their offspring throughout their lifespan. In particular, parental low-protein diets are known to be related to metabolic disorders in their children, such as diabetes.
---
Philadelphia schools, citing inequity, won't teach online 
The Philadelphia School District will not offer remote instruction during the coronavirus shutdown, the superintendent announced Wednesday, citing equity concerns in a city where many students lack computers or high-speed internet at home.

School districts nationwide have been wrestling with the same issues as they explore ways to keep children engaged as classrooms are shuttered for weeks or longer.

In Philadelphia, where some teachers had been offering forms of optional remote instruction on their own, Superintendent William R. Hite Jr. said at a City Hall news conference that no students will be required to log on to a computer or submit assignments.

"If that's not available to all children, we cannot make it available to some," Hite said.
---
'Learn. Protect your children from clergy.' The ABC's Revelation reveals a tragic story
The ABC's Sarah Ferguson has taken us into a place where most Christians have not wanted to go – up close and very personal with pedophile Christian leaders in her series Revelation on the ABC. The series focuses in scarifying detail on abuse by pedophile Catholic Priests.

Chrissie Foster, who has seen extreme family tragedy from clergy pedophilia, tells Eternity her response to Revelation: "If you have a child in the Catholic system you will learn that your child is worthless to the Catholic priesthood.

"If you have had doubt about the guilt of Catholic clergy over child sexual assault, you will learn that the hierarchy do nothing to stop child sexual assault after complaints.

"Oral rape of children …

"You will learn that clergy live a public life as a holy man and in private a life as a crime figure.

"You may have the Christian values they preach, but they don't.

"Learn. Protect your children from clergy."
---
My Son Wants to Move His Family Across the Country so I Can Be Day Care
Dear Care and Feeding,

We have two adorable grandchildren, 4 and 6, on the other side of the country. Their parents, our son and daughter-in-law, are struggling with debt and living in a one-bedroom apartment. The financial problems are related to their own bad decisions and to serious medical problems, which are mostly resolved but may recur. Our son works remotely, but he needs to be at work, not caring for high-energy rambunctious kids who get very loud and excited playing video games or watching TV. Our daughter-in-law just got a job that involves a lot of overnight travel.

They have decided that the way to get ahead financially is to give up their apartment and move in with us for three months this summer. They would save on rent and child care. At first we were thrilled. We have plenty of room to put the four of them up. But then we faced the reality that they are counting on us for day care. We are both in our 70s and excited about being retired and finally doing the things we couldn't do when we were both working full time and raising children. We also get overwhelmed after a few days of nonstop child care (which they have counted on us for in the past so they could escape). Putting the kids in day care for nine weeks, which assumes we would take them full time for one week a month, would cost them over $5,000, on top of the cost of storage and moving the four of them and the dog across country. I think they would save about $6,000 in rent over three months. At first I wanted to lay out the math and tell them to rethink their assumptions about free day care.

But we have savings we could use to pay all or part of their day care over the summer (which would still leave us the recommended cushion but little more). We would treasure the time with the children. But part of me thinks we should just let them figure things out. I am sorely conflicted.

—Is This a Good Idea?
---