All Posts Tagged as 'Respect'
Welcome to Errattic! We encourage you to customize the type of information you see here by clicking the Preferences link on the top of this page.
Colin Fassnidge from My Kitchen Rules offers free food to those in need amid the coronavirus pandemic 
Colin Fassnidge has launched an online cooking show with his wife and daughters while in lockdown amid the coronavirus pandemic.

And on Wednesday, the celebrity chef stepped out of his home to offer free food.
Twitter founder Jack Dorsey pledges $1 billion donation to fight coronavirus
Here's who can get a laptop or tablet from CPS for home use
---
Teenager in lockdown spends his time 3D printing protective shields for health workers 
Video
Tyler Perry Leaves Massive $21,000 Tip For Atlanta Restaurant Employees
Celebrities keep saying, 'We're all in this together.' But Lady Gaga isn't so sure
Ex-NFL safety Myron Rolle now on front lines of coronavirus pandemic: 'I'm happy to be able to join the fight'
---
White savior narrative in film
This is the time for our brothers and sisters (of equality or not) to stand together and help however we can. Because I want the future Hollywood film to celebrate how not only we managed to protect ourselves but how we saved others. It's time to stop whining about a punishment that my generation and beyond suffered and move forward and trust people again. Go out there and prove you're equal!
06-Apr-2020
---
In the poorest county, in America's poorest state, a virus hits home: 'Hunger is rampant'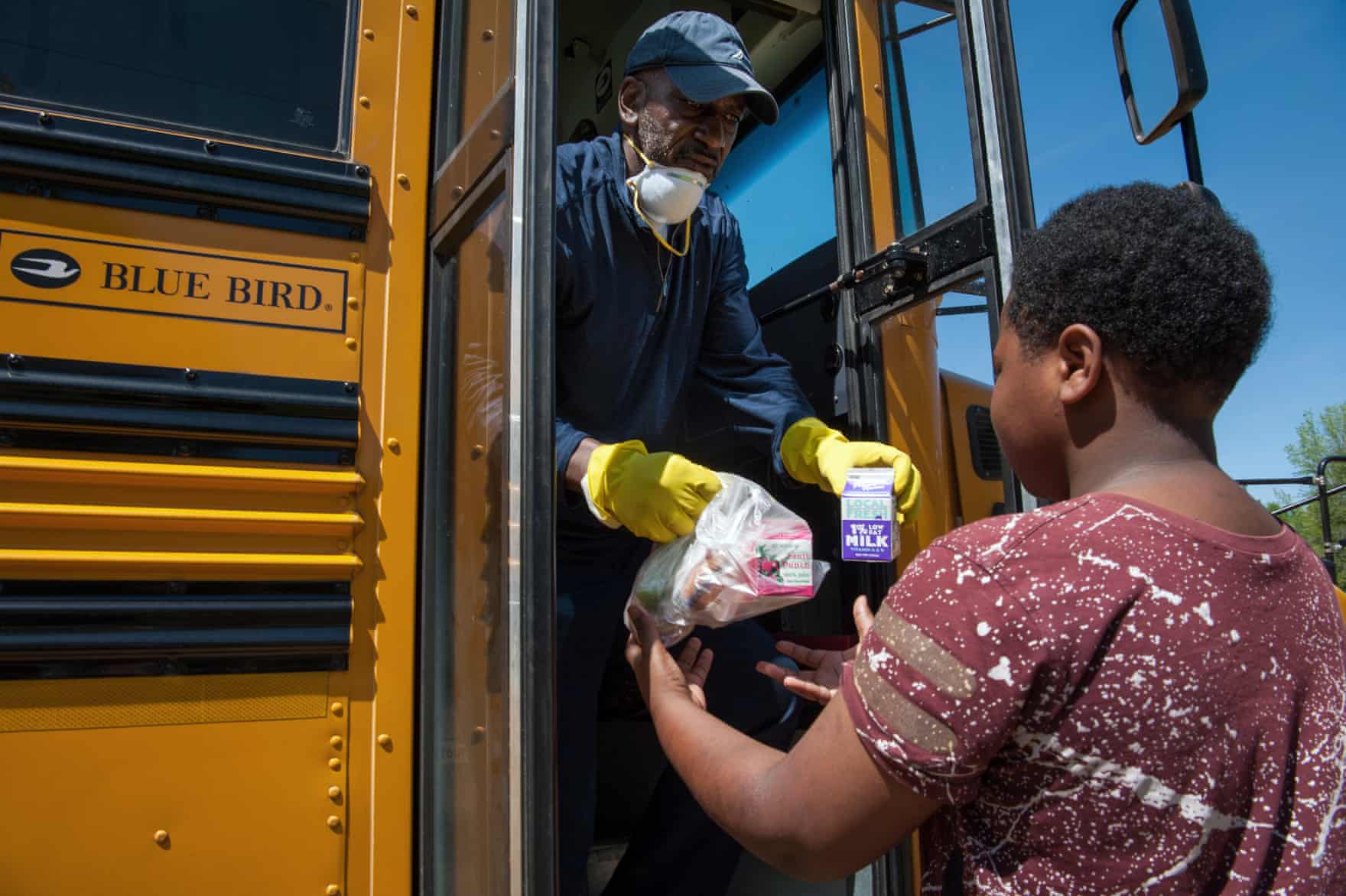 On the cracked country roads of Lexington, deep in the Mississippi delta, an empty yellow school bus drives slowly, making life-sustaining drop offs on the way.

Here, in the poorest county, in America's poorest state, the coronavirus has yet to ravage the jurisdiction with infection. There has been one recorded Covid-19 death in the county, Clinton Cobbins, Lexington's first African American mayor. But even now the coronavirus still poses a serious threat to life.

In Holmes county consolidated – the school district to which Lexington belongs – every single child qualifies for free school meals, a marker of pervasive poverty. For many, said superintendent Dr James L Henderson, breakfast and lunch at school are the only nutritious meals a student will eat in a day. For a few, they are the only meals.

When the coronavirus pandemic led to statewide school closures, Henderson, who was born in the county, left for most of his adult life, but returned in 2018 to assume his position, was left with a significant dilemma: how to feed the 3,000 children under his authority.
---
Cuomo urges the NYPD to be 'more aggressive' in breaking up funerals, large gatherings and people 'playing Frisbee in the park' as he raises fines to $1,000 for people who flout social distancing rules 
New York Governor Andrew Cuomo is urging the NYPD to be more aggressive in breaking up large gatherings, including funerals, as people continue to flout social distancing guidance rules.

On Monday, he announced he was increasing fines for individuals caught breaking the rules from $500 to $1,000 and said it was 'everyone's responsibility' not to be reckless.

New York is seeing its curve flatten - the death rate is slowing for the first time in weeks and while the number of cases and infections is still growing, it means social distancing has been effective until now.

Cuomo has extended the state-wide lockdown on non-essential businesses until the end of April and is telling people not to become 'over confident' because of the new figures.
Louisiana pastor cited for defying coronavirus order hosts hundreds on Palm Sunday
'Welcome to Nazi Germany': Cops get earful of 'fuck the police' while shutting down NJ house concert — with middle-aged attendees in lawn chairs
Police Break Up Hasidic Jewish Funerals in NYC: 'These Gatherings Must Cease' amid Pandemic
Anti-abortion activists in North Carolina are suing because they can't get together to protest
Tybee Island mayor fights Georgia governor's re-opening of city's beaches
Coronavirus: South African bride and groom arrested over lockdown wedding
Fox News Is Preparing to Be Sued Over Coronavirus Misinformation
Ongoing religious services spark debate over faith verses safety
Hobby Lobby closes all stores and furloughs most employees after initially resisting coronavirus shutdown orders
---
---
Irony: Hate Crimes Surge Against Asian Americans While They Are On The Front Lines Fighting COVID-19
There have been a lot of encouraging stories about peoples' acts of generosity and kindness during the COVID-19 crisis. Unfortunately, human nature has its bad side too and the crisis has brought out some of our worst qualities including xenophobia, racism and, in some cases, violence.

Hate crimes against Asian Americans and Asian immigrants in the United States have been surging. It has ranged from verbal harassment to denial of services to physical attacks. There is no way to know, but President Trump's insistence on calling COVID-19 the "China Virus" certainly doesn't help. It is true that the Chinese government acted abysmally, for example, initially denying that the virus could be transmitted person to person. But China is hardly a democracy and the Chinese people were the victims rather than the perpetrators of this cover-up.

In fact, Asian Americans and Asian Immigrants to the U.S. deserve our thanks for their role in responding to the COVID-19 crisis. First of all, they are vastly over-represented among the front line medical workers who are treating those who have been infected. Seventeen percent of doctors, 9 percent of physician's assistants and nearly 10 percent of nurses in the United States are of Asian descent.
---
This 7-year-old is making and delivering care packages to the elderly shut in by the coronavirus
Cavanaugh Bell is a 7-year-old on a mission: "To help other people and let them know that I got their back," he told CNN.

At a time when senior citizens must stay in to avoid the coronavirus, the spirited boy in Gaithersburg, Maryland, decided to make them care packages.

"The packages include toilet paper, some flushable wipes, hygiene products and a bunch of food," he said.

'She's my best friend'

The idea came when Bell realized his 74-year-old grandmother is in a high-risk age group for coronavirus.
---
Bill Withers' Legacy Is So Much Deeper Than The Hits We All Know
Withers was poised — along with Stevie Wonder, Elton John and Carly Simon — to become a generationally transcendent pop star, Withers went with his heart and his desire to write and record great songs, whether they would be pop hits or not. +'Justments, Withers' last album for Sussex, was released in 1974 and spawned three singles, none of which charted higher than 50 on the pop chart. No doubt +'Justments was hampered by the financial struggles at Sussex, but he was also not interested in recording simple pop songs. A key, but underappreciated narrative of Bill Withers' career is not his chart-topping early hits — or his so-called comeback in the late 1970s with "Lovely Day" and few years later with Grover Washington on the Grammy winning "Just the Two of Us" — but the thoughtful, introspective and brilliant albums that he recorded in the interim, with little airplay or fanfare.
---
---
---
Coronavirus-panicked dad locks son out of house after spring break trip 
Two weeks ago, Matt Levine's immediate concerns centered on where to find the best happy hour and coolest DJ. Now, he just wants his coronavirus-panicked dad to let him back in the house.

While residents in his hometown of Nanuet, NY, were hunkering down to avoid corona, 21-year-old Matt and his friends from Springfield College in Massachusetts hit up spring break in South Padre Island, Texas — and stayed there against the advice of his father, Peter Levine.

"I spoke with him every day and told him that maybe they should come home," Peter, 52, and a salesman, told The Post. "I was aggravated. The news here was getting worse and worse. Matt sent me pictures of him and his friends congregating outdoors and listening to live music. It's the scene you would not want to be in."

Finally, Peter told Matt and his buddies that they could not stay at the family home after the trip, as they'd planned. "His grandparents live here and there is no need to expose them to god knows what he had been exposed to!" Peter explained.
Miami Resident, Winter Party Attendee Israel Carreras Dies of COVID-19
---
"We Can't Be Silent": Asian Americans in Hollywood Denounce "Chinese Virus" and Racist Incidents
"I want us all to understand there is no 'Chinese Virus.' A virus knows no nationality, and wherever and however it started, it does us no good to point fingers, ostracize, attack or demonize Asian people."

Shannon Lee, daughter of martial arts film star Bruce Lee, recently wrote this message on her late father's Instagram, offering a not-so-subtle criticism of President Donald Trump and senior members of his administration who have continually referred to the novel coronavirus — which has caused a global pandemic comprising almost half a million confirmed cases of the disease COVID-19 and over 20,000 deaths — as a "Chinese virus," despite the World Health Organization's warning against using geographic locations when naming illnesses.

The phrase is now linked to a wave of racist attacks against Asians and Asian Americans, from hate-filled messages on social media platforms to physical assaults in public.

The Young Turks host Cenk Uygur tweeted about his children being bullied by classmates. Weijia Jiang, CBS News' White House correspondent, revealed that a White House official had referred to the coronavirus as the "Kung Flu" "to my face." Actor Daniel Dae Kim, who recently tested positive for the novel coronavirus, wrote that it had been "too heartbreaking" to initially comment on the "blatant acts of racism against Asian people during this outbreak."
---
These Strippers Are Delivering Food To Stay Employed And Bring Joy During Coronavirus
No one has jumped on the "from necessity comes creativity" train sparked by the coronavirus outbreak in a more wonderfully weird way than Portland, Oregon, strip club owner Shon Boulden.

As government mandates have brought businesses like Boulden's to a screeching halt, he has come up with a way to raise spirits in the community and ensure his employees maintain some income: having dancers make food deliveries from the bar's kitchen.

And it all started as a joke one night at Lucky Devil Lounge, one of his two clubs.

"We were cracking jokes like we do every night, coming up with funny alternate Uber names," Boulden told HuffPost on the phone Monday, referring to the popular ride-hailing service. "Things like Doober for weed delivery, Luber to deliver lube. Then I was like, 'Boober, when a topless girl picks you up and takes you to a strip club.'"

When Oregon Gov. Kate Brown (D) ordered the closure of bars and restaurants save for takeout and delivery on March 16 in order to hopefully stop the spread of COVID-19 in the state, Boulden took an adapted version of that joke to Twitter.
---
---