Health/Food Posts Tagged as 'Respect'
---
Welcome to Errattic! We encourage you to customize the type of information you see here by clicking the Preferences link on the top of this page.
In the poorest county, in America's poorest state, a virus hits home: 'Hunger is rampant'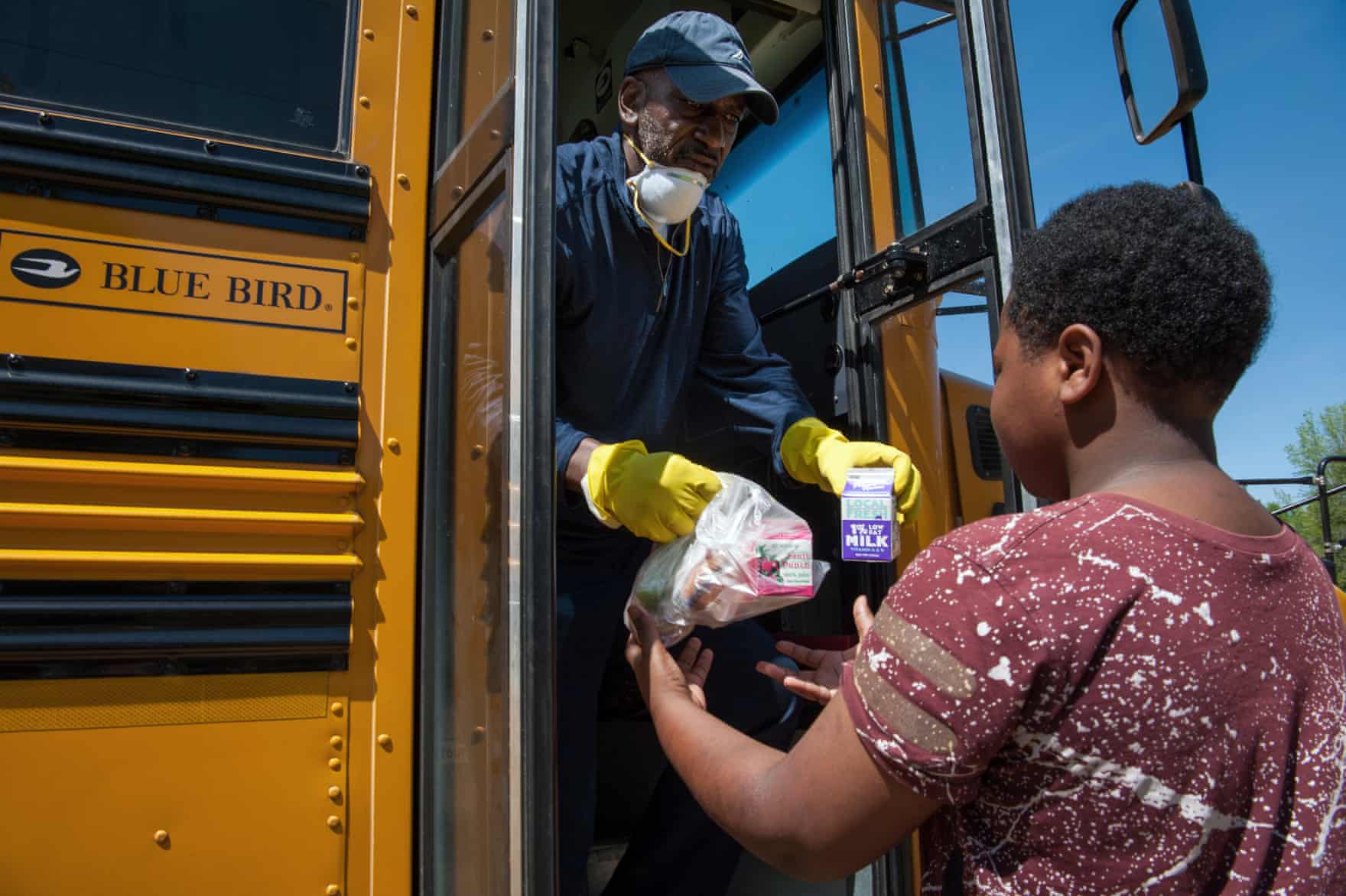 On the cracked country roads of Lexington, deep in the Mississippi delta, an empty yellow school bus drives slowly, making life-sustaining drop offs on the way.

Here, in the poorest county, in America's poorest state, the coronavirus has yet to ravage the jurisdiction with infection. There has been one recorded Covid-19 death in the county, Clinton Cobbins, Lexington's first African American mayor. But even now the coronavirus still poses a serious threat to life.

In Holmes county consolidated – the school district to which Lexington belongs – every single child qualifies for free school meals, a marker of pervasive poverty. For many, said superintendent Dr James L Henderson, breakfast and lunch at school are the only nutritious meals a student will eat in a day. For a few, they are the only meals.

When the coronavirus pandemic led to statewide school closures, Henderson, who was born in the county, left for most of his adult life, but returned in 2018 to assume his position, was left with a significant dilemma: how to feed the 3,000 children under his authority.
---
Cuomo urges the NYPD to be 'more aggressive' in breaking up funerals, large gatherings and people 'playing Frisbee in the park' as he raises fines to $1,000 for people who flout social distancing rules 
New York Governor Andrew Cuomo is urging the NYPD to be more aggressive in breaking up large gatherings, including funerals, as people continue to flout social distancing guidance rules.

On Monday, he announced he was increasing fines for individuals caught breaking the rules from $500 to $1,000 and said it was 'everyone's responsibility' not to be reckless.

New York is seeing its curve flatten - the death rate is slowing for the first time in weeks and while the number of cases and infections is still growing, it means social distancing has been effective until now.

Cuomo has extended the state-wide lockdown on non-essential businesses until the end of April and is telling people not to become 'over confident' because of the new figures.
Louisiana pastor cited for defying coronavirus order hosts hundreds on Palm Sunday
'Welcome to Nazi Germany': Cops get earful of 'fuck the police' while shutting down NJ house concert — with middle-aged attendees in lawn chairs
Police Break Up Hasidic Jewish Funerals in NYC: 'These Gatherings Must Cease' amid Pandemic
Anti-abortion activists in North Carolina are suing because they can't get together to protest
Tybee Island mayor fights Georgia governor's re-opening of city's beaches
Coronavirus: South African bride and groom arrested over lockdown wedding
Fox News Is Preparing to Be Sued Over Coronavirus Misinformation
Ongoing religious services spark debate over faith verses safety
Hobby Lobby closes all stores and furloughs most employees after initially resisting coronavirus shutdown orders
---
This 7-year-old is making and delivering care packages to the elderly shut in by the coronavirus
Cavanaugh Bell is a 7-year-old on a mission: "To help other people and let them know that I got their back," he told CNN.

At a time when senior citizens must stay in to avoid the coronavirus, the spirited boy in Gaithersburg, Maryland, decided to make them care packages.

"The packages include toilet paper, some flushable wipes, hygiene products and a bunch of food," he said.

'She's my best friend'

The idea came when Bell realized his 74-year-old grandmother is in a high-risk age group for coronavirus.
---
Coronavirus-panicked dad locks son out of house after spring break trip 
Two weeks ago, Matt Levine's immediate concerns centered on where to find the best happy hour and coolest DJ. Now, he just wants his coronavirus-panicked dad to let him back in the house.

While residents in his hometown of Nanuet, NY, were hunkering down to avoid corona, 21-year-old Matt and his friends from Springfield College in Massachusetts hit up spring break in South Padre Island, Texas — and stayed there against the advice of his father, Peter Levine.

"I spoke with him every day and told him that maybe they should come home," Peter, 52, and a salesman, told The Post. "I was aggravated. The news here was getting worse and worse. Matt sent me pictures of him and his friends congregating outdoors and listening to live music. It's the scene you would not want to be in."

Finally, Peter told Matt and his buddies that they could not stay at the family home after the trip, as they'd planned. "His grandparents live here and there is no need to expose them to god knows what he had been exposed to!" Peter explained.
Miami Resident, Winter Party Attendee Israel Carreras Dies of COVID-19
---
These Strippers Are Delivering Food To Stay Employed And Bring Joy During Coronavirus
No one has jumped on the "from necessity comes creativity" train sparked by the coronavirus outbreak in a more wonderfully weird way than Portland, Oregon, strip club owner Shon Boulden.

As government mandates have brought businesses like Boulden's to a screeching halt, he has come up with a way to raise spirits in the community and ensure his employees maintain some income: having dancers make food deliveries from the bar's kitchen.

And it all started as a joke one night at Lucky Devil Lounge, one of his two clubs.

"We were cracking jokes like we do every night, coming up with funny alternate Uber names," Boulden told HuffPost on the phone Monday, referring to the popular ride-hailing service. "Things like Doober for weed delivery, Luber to deliver lube. Then I was like, 'Boober, when a topless girl picks you up and takes you to a strip club.'"

When Oregon Gov. Kate Brown (D) ordered the closure of bars and restaurants save for takeout and delivery on March 16 in order to hopefully stop the spread of COVID-19 in the state, Boulden took an adapted version of that joke to Twitter.
---
Why You Shouldn't Go To Your Friend's House While Social Distancing
We get it: You're bored at home this weekend and would love to see your friends or family members that live nearby, especially given how stressed you are in the wake of the coronavirus pandemic. You're just one person, visiting a person or a handful of people you're close to; how much could it hurt?
A lot, in fact. Health experts urge you: Out of an abundance of caution, stay home.

As more and more cities and states move to establish stay-at-home executive orders ? California, New York ? we're all looking for potential loopholes for connectivity. We're grasping for normalcy.

But healthy self-distancing doesn't just mean avoiding bars and restaurants (not that you can go to them now anyway, sorry); it also means staying home and not visiting seemingly healthy friends at their homes.
---
Rihanna's Foundation Donates $5 Million To Coronavirus Response
As various celebrities step up in the wake of the new coronavirus pandemic, Rihanna has donated $5 Million to fight COVID-19 via her Clara Lionel Foundation, the organization announced on its official website. "When we first began this year, never could we have imagined how COVID-19 would so dramatically alter our lives," read the statement. "It doesn't matter who you are or where you're from, this pandemic will affect us all. And for the world's most vulnerable, the worst may be yet to come."
---
Californians are calling 911 on their coughing neighbors over coronavirus fears
Multiple police departments in Southern California say they have been receiving more 911 calls from residents concerned that their coughing neighbor may have the coronavirus.

The phone calls have increased concurrently with the number of coronavirus cases in Riverside and San Bernardino County, the Desert Sun reported.

Sgt. Mike Casavan of the Palm Springs Police Department told the outlet on Monday that dispatchers have received at least five of these types of calls in the past week. Police Cmdr. Paul Herrera of neighboring Cathedral City said dispatchers have received similar calls.
---
A mother made her son do pushups in a store's bathroom because he wouldn't listen
Parents, have you ever asked your kiddo to do something or behave properly and they've ignored you? Yeah, you're not alone.

To combat that behavior, one Texas mom had her son drop down to pushup position in the middle of a shopping trip at a craft store.

Molly Wooden was in the restroom at a Hobby Lobby store in Killeen on Sunday when she saw another mom, Nicki Harper Quinn, disciplining her 10-year-old son. Wooden took a picture of the lesson Harper Quinn was teaching her son and posted it on Facebook with words of admiration.

"'Strong parenting' is huge for me, but you rarely see it being implemented," Wooden told CNN. "So when I finally saw it with my own two eyes, let alone in public, I felt strongly compelled to capture that moment!"
---
Black model at FIT fashion show refuses to wear 'racist' lips, ears
A black model claims she was pressured to wear a "racist," monkey-like costume during a Fashion Institute of Technology runway event in New York City.

The ensemble included large prosthetic ears, lips and overgrown eyebrows.

"As soon as I saw the pieces, I started shaking. I felt it was very racist," Amy Lefevre, 25, told TODAY Style. "I made it clear that I was uncomfortable."
---
Racism is already mainstream – soon it might be the norm
Was it the whipping up of white working-class voters in Trump's election campaign? Or the toxic debate around immigration during the Brexit referendum? Or was it as early as the birth of social media, when a platform was handed to racists? However it happened, public discourse around race in the last decade slowly morphed from polite political correctness and justified outrage at even a hint of racism in public to a slow accommodation with extremist views on the far-right – setting up 2020 to be the year that the veil lifts altogether, finally normalising racism in ways that we haven't seen for decades.

Racism has long existed in politics and academia, and persists in structural discrimination and everyday bias. But the idea that the ideology driving racist actions and rhetoric should somehow be given space for discussion has only recently (re)gained currency. In recent years far-right intellectuals have subtly and skilfully changed the rules of engagement, arguing for "viewpoint diversity" in the disingenuous insistence that they have been unfairly silenced. They argue that racial differences are so profound that the mere presence of immigrants is damaging a country's genetic stock and cultural fabric.
---
The Rare Truth About Sexual Compulsivity
Today we have a tiny number of true sexual compulsives who do things like getting repeatedly arrested for public masturbation. We also have a large number who fear or believe or have been told they're sex addicts. But oddly, when surveyed about what purported addicts actually do sexually, they don't have any more sex or any wilder, less controlled sex than boatloads of people who feel certain they're psychologically fine.

Many women cannot fathom why so many men feel such a deep need to polish pipe. Many also believe that only evil men watch porn. Actually, almost every man has and does. Canadian researchers wanted to compare sexual attitudes among men who had and had never watched porn. They couldn't find a single adult man who hadn't—not one.

Porn is not evil. It's a cartoon version of men's fantasies of effortless sexual abundance. Virtually every Internet-connected man on Earth has seen porn, many frequently, some daily or more.
---
William Shakespeare gets a digital make-over for the 'Instagram Generation'
Shakespeare has been given a digital makeover, in an effort to inspire the Instagram generation to connect with arguably the world's greatest playwright.

New research from the digital technology company, Adobe, has revealed 77% of 11-18 years olds struggle to understand William Shakespeare's plays because of the "challenging" language used.

42% do not understand how studying his work will help them get a job in the future - while 29% said modern day interpretations of his plays would help them understand them.
---
A jogger trashed a homeless man's stuff. What happened next?
In September 2018, a UN report condemned Oakland's treatment of its homeless residents as "cruel and inhuman" and "a violation of multiple human rights".

"I've seen squalor, I've seen homelessness in countries around the world," said UN Special Rapporteur Leilani Farha said. "I've seen really horrific things. And I saw all of that in Oakland, but I also witnessed a cruelty there that might be unparalleled."
---
Starbucks releases statement after barista boots police officers because customer 'did not feel safe'
Starbucks officially apologized in a company statement Saturday after a barista at Arizona Starbucks location tossed six police officers on July Fourth.

Six Tempe police officers, who had just begun their holiday shift, were asked to leave a Starbucks coffee house last Thursday after a customer complained they "did not feel safe" in the presence of law enforcement.

In a public apology, Starbucks executive vice president Rossann Williams said the coffee chain will take steps to ensure police officers are welcomed at all Starbucks locations moving forward.
---