All Posts Tagged as 'Parental Burden'
Welcome to Errattic! We encourage you to customize the type of information you see here by clicking the Preferences link on the top of this page.
Texas Boy, 5, Was Playing with Dad on Balcony When Stray Bullet Struck and Killed Him 
A Houston family was sitting on their second-floor balcony just after 9 p.m. on March 31 when tragedy struck.

Jordan Allen Jr., 5, and his dad had been making TikTok videos when the boy asked for some juice. As his dad stepped into the house to get him a drink, he heard five to six gunshots — followed by his son's pleas for help. Jordan had been struck in the head by a stray bullet.

"Everybody ran in the house and the kids' room in the house," Jordan's father, Jordan Allen Sr., told ABC13.com. "So I ran to the porch, and then I see my son on the ground holding his head asking for my help."
Tx. Baby Clinging to Life After Mom's Boyfriend Allegedly Shot Him, Plus His Mother, Sister
'I'm disgusted': Father of choirboy who accused George Pell of sexual abuse says he has lost faith in the justice system after cardinal was released on appeal
---
In the poorest county, in America's poorest state, a virus hits home: 'Hunger is rampant'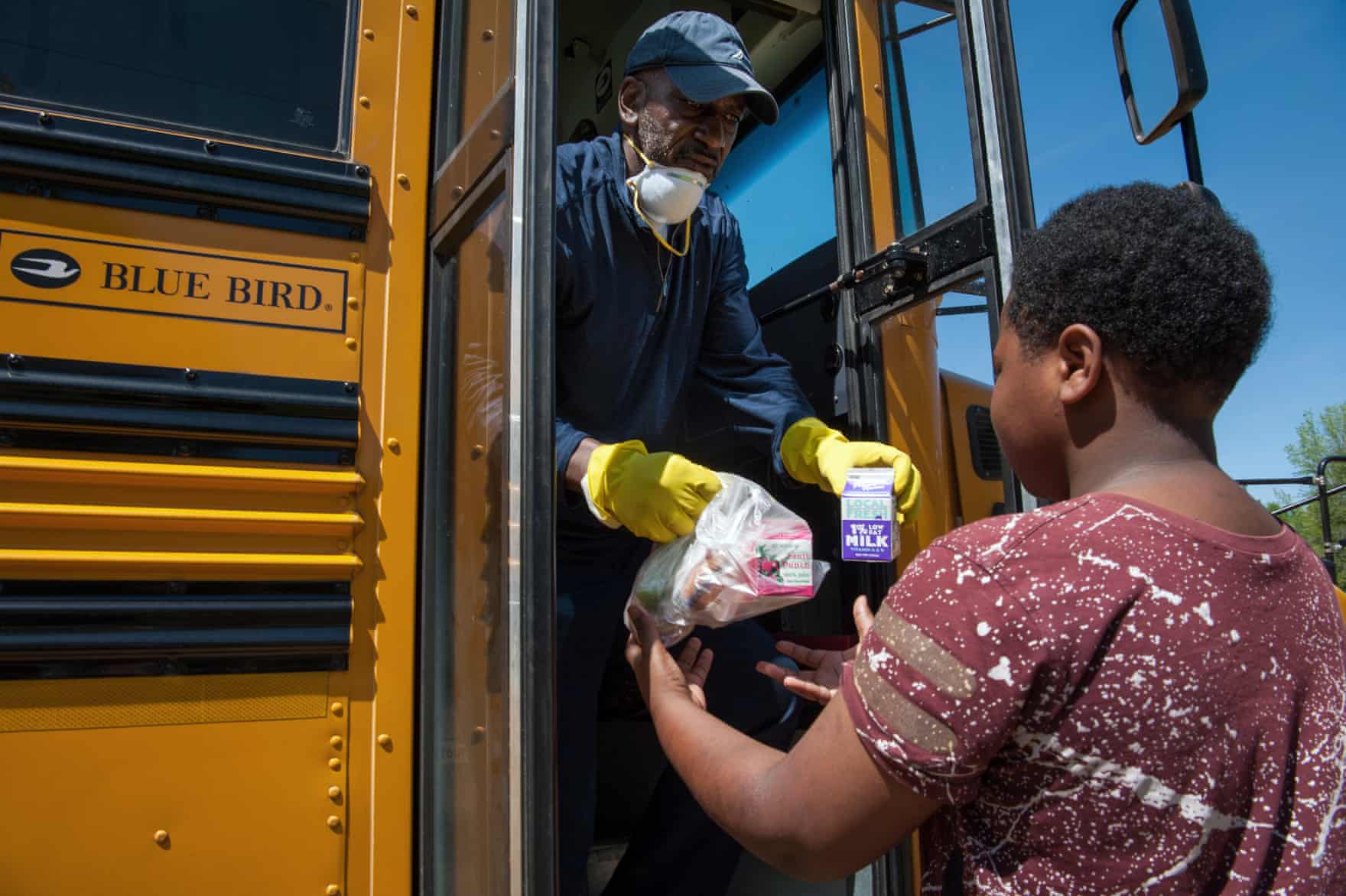 On the cracked country roads of Lexington, deep in the Mississippi delta, an empty yellow school bus drives slowly, making life-sustaining drop offs on the way.

Here, in the poorest county, in America's poorest state, the coronavirus has yet to ravage the jurisdiction with infection. There has been one recorded Covid-19 death in the county, Clinton Cobbins, Lexington's first African American mayor. But even now the coronavirus still poses a serious threat to life.

In Holmes county consolidated – the school district to which Lexington belongs – every single child qualifies for free school meals, a marker of pervasive poverty. For many, said superintendent Dr James L Henderson, breakfast and lunch at school are the only nutritious meals a student will eat in a day. For a few, they are the only meals.

When the coronavirus pandemic led to statewide school closures, Henderson, who was born in the county, left for most of his adult life, but returned in 2018 to assume his position, was left with a significant dilemma: how to feed the 3,000 children under his authority.
---
SNL's Michael Che Loses Grandmother to Coronavirus Pandemic 
Saturday Night Live mainstay Michael Che has lost his grandmother to the coronavirus pandemic, the comedian revealed Monday afternoon. In a sizable post on Instagram, Che revealed the news while warning others to begin taking the pandemic seriously, telling his hundreds of thousands of followers to adhere by any rules and regulations local governments may have in place at this time.

"Hi, I'm Michael Che, from TV. Last night my grandmother passed away from the coronavirus," Che writes in the post. "I'm doing ok, considering. I'm obviously very hurt and angry that she had to go through all that pain alone. But I'm also happy that she's not in pain anymore. And I also feel guilty for feeling happy. Basically the whole gamut of complex feelings everybody else has losing someone very close and special. I'm not unique. But its still scary."
Gay Deputy Sheriff Is Florida's First Line-of-Duty COVID-19 Casualty
Grocery workers are beginning to die of coronavirus
Tyson, JBS Closures Show Virus Hitting American Meat Production
Boy, one, is rushed to hospital after catching coronavirus from father when he brought it home from 'single short visit to Tesco'
Gay San Francisco Nurse Hospitalized With COVID-19
---
Cuomo urges the NYPD to be 'more aggressive' in breaking up funerals, large gatherings and people 'playing Frisbee in the park' as he raises fines to $1,000 for people who flout social distancing rules 
New York Governor Andrew Cuomo is urging the NYPD to be more aggressive in breaking up large gatherings, including funerals, as people continue to flout social distancing guidance rules.

On Monday, he announced he was increasing fines for individuals caught breaking the rules from $500 to $1,000 and said it was 'everyone's responsibility' not to be reckless.

New York is seeing its curve flatten - the death rate is slowing for the first time in weeks and while the number of cases and infections is still growing, it means social distancing has been effective until now.

Cuomo has extended the state-wide lockdown on non-essential businesses until the end of April and is telling people not to become 'over confident' because of the new figures.
Louisiana pastor cited for defying coronavirus order hosts hundreds on Palm Sunday
'Welcome to Nazi Germany': Cops get earful of 'fuck the police' while shutting down NJ house concert — with middle-aged attendees in lawn chairs
Police Break Up Hasidic Jewish Funerals in NYC: 'These Gatherings Must Cease' amid Pandemic
Anti-abortion activists in North Carolina are suing because they can't get together to protest
Tybee Island mayor fights Georgia governor's re-opening of city's beaches
Coronavirus: South African bride and groom arrested over lockdown wedding
Fox News Is Preparing to Be Sued Over Coronavirus Misinformation
Ongoing religious services spark debate over faith verses safety
Hobby Lobby closes all stores and furloughs most employees after initially resisting coronavirus shutdown orders
---
9 Reasons Why Anxiety Disorders In Teens Is On The Rise
Anxiety has become the most common mental-health disorder in the country. Unfortunately, it does not only affect adults.

According to the National Institute Of Mental Health, almost 32 percent of adolescents have an anxiety disorder.

However, the troubling part of this statistic is that anxiety is only becoming more prevalent as the years go on, increasing 20 percent since 2007.

So, why is anxiety in teens on the rise?
---
Some may joke about a coronavirus baby boom. Here's why you shouldn't try to conceive in quarantine 
As much of the world settles into a new routine of social distancing, couples are likely to have a lot more free time at home to snuggle together.

At first blush, you might think couples with some extra time on their hands would do things that could lead to a stork visiting nine months from now.
Yet with US Treasury Secretary Steve Mnuchin warning of dire scenarios and a possible 20% unemployment rate, couples whose jobs are vulnerable in this economy are likely to think again about kicking off their parenting journeys this spring.

Then there's the possibility of more couples splitting up. One marriage registry official in China said he saw a quarantine-related spike in divorces, showing that more time in closed quarters may be doing some couples more harm than good.

But for couples weathering this storm together, is this a time when many will choose to add to their brood?
Condom factory workers are considered "essential" now that a global shortage looms
A gender reveal party ignited a 10-acre brush fire in Florida, fire officials say
---
Amid coronavirus pandemic, black mistrust of medicine looms
NEW YORK -- Just as the new coronavirus was declared a global pandemic, gym members in New York City frantically called the fitness center where Rahmell Peebles worked, asking him to freeze their memberships.

Peebles, a 30-year-old black man who's skeptical of what he hears from the news media and government, initially didn't see the need for alarm over the virus.

"I felt it was a complete hoax," Peebles said. "This thing happens every two or four years. We have an outbreak of a disease that seems to put everybody in a panic."

Peebles is among roughly 40 million black Americans deciding minute by minute whether to put their faith in government and the medical community during the coronavirus pandemic. Historic failures in government responses to disasters and emergencies, medical abuse, neglect and exploitation have jaded generations of black people into a distrust of public institutions.

"I've just been conditioned not to trust," said Peebles...
---
Coronavirus hits poor, minority communities harder
The coronavirus doesn't discriminate, but minorities and low-income families are bearing the brunt.

Why it matters: The impact of the coronavirus is reflecting the racial and socioeconomic disparities of the cities where it's spreading and the health care system that's struggling to contain it.

The big picture: New York Gov. Andrew Cuomo last week called the virus "the great equalizer," because anyone can get it. And while it's true everyone's at risk, New York itself is a stark illustration of just how unequal the virus' toll really is.

The highest concentration of cases in New York City are in neighborhoods in Queens with large immigrant populations and low average incomes, according to city data analyzed by the Wall Street Journal.

And New York is not alone.

By the numbers: Nationwide demographic data aren't available, and the quality of state and local recordkeeping varies widely. But the clear trend in preliminary data from multiple metro areas is hard to ignore.

The county that contains Charlotte, N.C. is about 33% black, but black residents make up roughly 44% of its coronavirus cases, according to the Charlotte Observer.
Doctors say India must prepare for an 'onslaught' as one of Asia's biggest slums reports first coronavirus death
Bodies are being left in the streets in an overwhelmed Ecuadorian city
Early Data Shows African Americans Have Contracted and Died of Coronavirus at an Alarming Rate
'Children in a dog cage': how coronavirus puts Asia's most vulnerable at greater risk of homelessness, human trafficking
'We could get wiped out': American Indians have the highest rates of diseases that make covid-19 more lethal
---
Matthew Broderick's sister said she received preferential treatment while battling coronavirus 
The sister of actor Matthew Broderick said she received preferential treatment at a California hospital while battling the coronavirus.

Janet Broderick, a pastor at All Saints Episcopal Church in Beverly Hills, was hospitalized last month after falling ill upon returning from a conference in Kentucky. She has since recovered and is back home.

Broderick told New York Magazine that her general practitioner didn't know about her famous familial connection and "didn't care very much." But that changed when the pastor went to an emergency room at a Beverly Hills hospital.

"As soon as I got ahold of the guy at the hospital who knew who Matthew was, I was given the name of the head of the emergency room," she said. "Well, trust me, the folks I've spent my lifetime working with in Jersey City would never have been given the name of the head of the emergency room. If they were, it would have been disregarded."

"I think I'm absolute living proof that this system is completely corrupt," she told the outlet.
A healthy 39-year-old DJ died of coronavirus. What his young widow and daughter want you to know
6-Week-Old Baby from Connecticut Dies, Believed to Be World's Youngest Coronavirus Victim: Governor
Chris Cuomo shares covid-19 experience: 'The beast comes at night'
Why the peak is coming after weeks of social distancing
---
Murders, shootings up after first quarter of 2020 
Chicago saw an uptick in murders and shootings during the first quarter of 2020, compared to the same period last year, according to data collected by Chicago police.

However, the 24 murders in March 2020 alone was a 36% drop from the 35 murders in March 2019, police said. The number of shootings in March 2020 rose about 7% from March 2019, from 136 to 145.

In total, 93 people were killed in Chicago between Jan. 1 and March 31st, police said. That is a rise of about 13% compared to the 82 murders during the same period last year.

The Chicago Sun-Times also counted 93 murders so far this year.

Through the end of March, the city recorded 419 shootings, or a rise of about 22% from the same period in 2019, when there were 344 shootings, police said.
Pregnant Chicago teen was gunned down after $5,000 bounty was placed on her head for testifying in murder trial, prosecutors say
---
Woman Allegedly Drowned Grandson, Told Officers The 4-Year-Old Boy Was 'Better Off In Heaven' 
The Howard County Prosecutor's Office on Monday charged Helen Martin, 56, with murder and neglect of a dependent resulting in death, WTHR reports. Officers with the Kokomo Police Department took the grandmother into custody on Saturday after responding to a report at a private residence of an individual who was unconscious.

Upon their arrival, police found Martin's unresponsive 4-year-old grandson being treated by first responders, according to another WTHR report. He later died after being taken to the Community Howard Regional Health Hospital.

Martin's husband Brian Martin told police upon their arrival that his wife had drowned the child, and Helen allegedly admitted that she'd held the boy's head underneath the water while giving him a bath, WTHR reports.
---
I'm Having a Lifesaving Affair, but Social Distancing Is Keeping Us Apart
Dear How to Do It,

I'm having a wonderful affair with a man. We're both married, but we're careful and responsible—it's what we both need to survive in our marriages, and it's what's best for both of us. (Without saying too much, in our situation, divorce would destroy our big, happy, extended immigrant families. I'm not looking for judgment on that.)

The problem is social distancing because of the coronavirus. Our spouses and kids are now both home full time, and getting away to see each other has been impossible. I'm miserable without the sex and companionship, and so is the man I'm seeing. At one point, he suggested meeting in our cars by the grocery store. I obviously declined. Then today, he called me and said to go to my window and waved to me from his car (we live about two neighborhoods apart). I was moved by the gesture, but it worried me. I feel like I am on the verge of doing something risky, and all this time with my husband, who is a kind man, is making me want to lash out and tell him I don't love him.

What can I do to keep my head on straight here? I would be cast out of my family if this came out, but this whole situation is making me feel out of control.

—Swelter in Place
---
"Twinks for Trump" founder held a "corona potluck" to spread the virus 
"Twink for Trump" Lucian Wintrich talked to the New York Post about a "corona potluck" – a get-together he organized where he discouraged people from washing their hands – that he organized earlier this month.

Wintrich, who parlayed his notoriety from the group Twinks for Trump into a paid gig at the far-right website Gateway Pundit, said that the idea was inspired by "chickenpox parties" – where parents take their kids to deliberately infect them with the disease.
Rodney Howard-Browne, Megachurch Pastor Who Flouted Virus Rules, Arrested
University that punishes students for being gay told kids to go to class during coronavirus. Now they're really ill
'Sick experiment': Arizona not implementing coronavirus lockdown measures
Crowds ignore social distancing rules to watch USNS Comfort
Feds: Price-Gouging Suspect Coughed on FBI Agents, Said He Had Coronavirus
THE HAMPTONS BEACHES FILLING UP ... Social Distancing Struggle Is Real!!!
Be a good Samaritan: N.Y. lawmaker calls out minister for anti-LGBTQ remarks
Woman Charged With Terrorist Threat After Coughing On $35,000 Worth Of Groceries
Who's the biggest COVIDIOT of them all — you be the judge
---
Teen with lesbian moms forced to listen to anti-LGBTQ "sermons" before school basketball practice
In a lawsuit filed earlier this month, two mothers in Tennessee allege that their son's middle school basketball coach forced kids to attend his sermons in order to stay on the team.

The lawsuit, filed by the mothers who identified themselves only as "K.K." and "K.K.," says that their son signed up for the school's basketball team, but no one told him that he would have to participate in any religious instruction to be on the team.

But Coach Chuck Comer then allegedly told the students that participating in a "Teens for Christ" program was a requirement for the team. Specifically, students had to show up 30 minutes before practice in the morning on Tuesdays and Thursdays to listen to Comer "read from and interpret the Bible for approximately 30 minutes."

Even worse, the son went to one of the sermons, which was allegedly about LGBTQ people and "sin." The teen was forced to endure "harassment on the basis of his parents' sexual orientation" to be on the team, the lawsuit states.
---
Parents Say School Expelled Elementary Students After Raising Coronavirus Concerns
As the second full week of school closures comes to an end, many Bay Area parents are anxiously waiting to hear that it's safe for their kids to return to class. But for a group of parents in the South Bay, their kids still won't be allowed back on campus when classrooms reopen after administrators decided to withdraw their children from school in a move that left parents stunned.

The school's decision comes after a series of critical Facebook comments from parents questioning the school's response to the coronavirus pandemic.

"I was devastated," a parent told NBC Bay Area when she learned her child is no longer enrolled. "I feel the school is just retaliating against us."
Coronavirus Heroes Are Getting Tossed From Their Homes by Scared Landlords
'It's just despair': Many Americans face coronavirus with no water to wash their hands
---