Movies Posts Tagged as 'Music Swings'
---
Rating key:
Welcome to Errattic! We encourage you to customize the type of information you see here by clicking the Preferences link on the top of this page.
Wonder, The (2022)
A child fasts to appease god and clear her family of their sins. Faith, in the hands of a child, can be a destructive thing. Pugh remains on, for the duration, as an investigative nurse that wants to clear the bullshit. The director keeps us trapped and enrapt. You can only fight a fable by trading it for another. Well done.
17-Nov-2022
---
Chalk Line, The (Jaula/The Cage) (2022)
I would have preferred The Cage to the Chalk Line because the english title sounds like a gimmick used to limit production costs. The director accommodated the mood, the actors stood in place but its details provided little depth. I know the what but not the why. The script was written on a typewriter/tik tok adding machine with limited credit.
29-Oct-2022
---
Good Nurse, The (2022)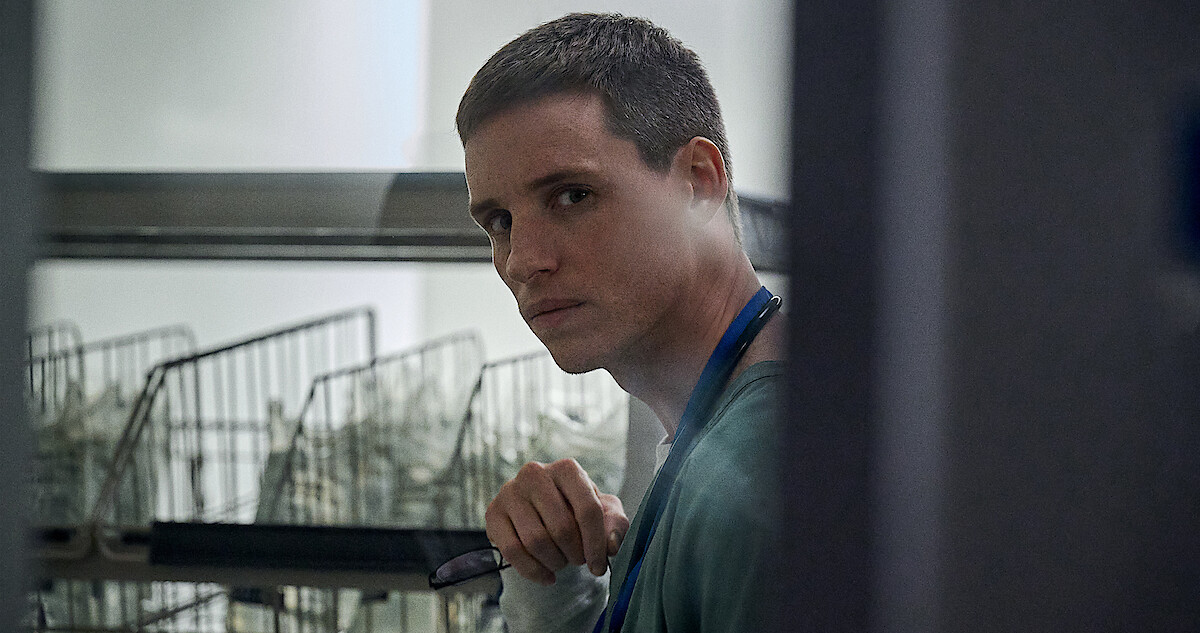 The angel of death is serving the ill and forgotten whilst deciding which deserves to stay amongst us. Lady Chastain introduces the audience to her pain, which we inhale and feel 'til the very end. Asomugha and Emmerich teamed up nicely. Hot boy proving he can investigate using his brain and Daddy Emmerich twitching the way I like. The cast didn't miss a beat, the story was tight, the procession, intriguing and the recapture well plated. Lord Redmayne spends a lot of the time hiding from view because that is how the angel of death would appear at work. Do a great job, kill them with kindness, keep history mum, don't be popular but make one sucker friend and kill up to a 1000 people. I couldn't believe that Redmayne would play a killer so controlled and unassuming until he outrants Ledger's Joker at the police station. I was inhaling Jessica's air when he punched me in the gut. Nice.
27-Oct-2022
---
Last Woman On Earth, The (1960)
While on a scuba diving expedition in Puerto Rico a newly married couple and their lawyer end up the last humans on earth when they resurface. They survive and explain the cause through the progression of the environment and by applying science to their observations. Words were in tune with how a woman might feel being the last one. The men went caveman because the lawyer has needs and his boss' wife was the only relief. I kept feeling the script would have had more depth had it not been costly. Wife is a newlywed who lusts to spend more time with her gangster husband. Lawyer is a do-gooder schmuck whose tired of being manipulated by sore losers. Every time the story filled in a hole the director cut away to something exotic. They hardly pondered whether, as last adults, they were worthy enough to replenish the earth. Wife's legs dangling from atop the boat, the men fish-slapping each other, the atmosphere (Puerto Ricans in 1960), the woman's hair turning from blonde to black and jitter acting that enunciates realness, were shots I will remember.
Remake. (Pssst: I would have given her my sperm and fucked daddy. Yeah, let her decide the future of the world.)
25-Oct-2022
---
A Doll's House (1973)
A woman moving in with a man must turn the home into a dollhouse in order to make her feel like she owns it. She owns him as much as he thinks he owns her, but a toy is the only home she will ever get to own. The cast played it without pity, the story excelled as it moved, even though status has changed, emotions remain the same and Jane Fonda flexed some beautiful muscles. Freedom comes after you stop lying to yourself. A real Christmas story.
17-Oct-2022
---
Mandy (2018)
An artful relentless mess in which Lord Nicholas takes on religion and splits his asshole kicking its butt.
12-Oct-2022
---
Jurassic World: Dominion (2022)
The dinos are stunning and grandiose, the familiar faces are warm, whatever stole Chris Pratt's mojo ain't giving it back and Bryce Dallas Howard would have stolen the whole shebang had someone written in a Tammy Faye Bakker impression. The movie confirms that in order to save the planet, we must die. (You didn't think we were sacrificing for us or our children, did you?)
11-Oct-2022
---
Hellraiser (2022)
Women commanding the gates of hell with a distorted Vogue look. The story is simple, shoots straight and pummels. Beauty is desecrated, the mind becomes distorted, anyone can be a sacrifice and the victims can fight back. The box has personality, the characters supply empathy and the deaths are nerve rackingly clever. Make-up, costume and effects wowed. A lady Pinhead origin story with lots of sex and violence would be most welcome.
09-Oct-2022
---
Morbius (2022)
It's faithful to the psychology of its origins, someone brilliantly decided the actors should play characters instead of costumed heroes and its presentation feels like a team Burton aside. I would trade two investigators for a Krave The Hunter, a Blade or Felicia Hardy/Black Cat to up the flavor and sensuality. An MCU R-rated Batman opportunity best not lost.
13-Sep-2022
---
No Time To Die (2021)
The action sequences were fantastic, daddy Bond exhibited sausage and skills. Having muscles didn't hurt. I couldn't decide if the villain was ridiculous because of the actor or the writing. Sap killed the end. Bond doesn't need to announce what he's going to do. It kills the surprise.
24-Jun-2022
---
Spider-Man No Way Home (2021)
The film needed a script doctor. The younglings have endured enough ugly world to be acting like babies. They turned Dr. Strange into a goofball with quips. They took away Spider-man's scathing witticisms and replaced them with awkward and cute. Electro is only as good as his paycheck and its effect. Sandman shook. Dock Ock was a fond memory. The boys came back, all grown up, giving us the feels. I wish Aunt May had not given a shit. She had no backbone. The younglings were greater than their material. They needed a drip of Willem Dafoe to stay great because they looked exhausted. Tech was brilliant comic book magic served on a flying carpet.
02-May-2022
---
I Passed For White (1960)
Interracial girl struggles with her identity as a negro. Her career options are minimal and love opportunities arise from worst circumstances. God made her white and she needs to embrace it. She leaves her family and hut to explore buildings, money, pretty men, clothes, food and such. She ignores her nature and becomes the body she possesses, a woman with great choices and big mistakes. A Ken Doll makes her forget where she was born and she forgets about her family. The film has anger, insight, respect and hilarity. My favorite scene happens at a fancy business event where she dances like a black girl and the white guests notice.
28-Apr-2022
---
Made In Paris (1966)
Ann-Margret plays a girl who advances in the fashion industry because of hard work and drop dead gorgeousness. Father and son heads offer her the opportunity to become a Paris buyer when the original gets married. Father and son dispute her capabilities but acknowledge that beauty can surpass it. Louis Jordan is the Paris client with sexual arrangements to the previous buyer. There is little proof that Margret's character impresses at her job because she spends most of her time in Paris, drinking, partying, flirting, dancing, singing and clobbering boys who want to go further than a kiss. The most beautiful boy in the world, Chad Everett, the hottest tongue in France, Louis Jordan and the slub who accepts leftovers, Richard Crenna, are the men vying for Lady Margret's baby's breath. Ann's character is written with confused sensibilities. She riles the men up then 2x4s them later. She wants to live a fantasy without all that icky stuff, like sex. The ex-buyer getting married on short notice without telling her french lover/client gets no clarification. Edie Adams was unfortunately a short lived thing disrespected in the film's best storyline. Margret dolled up in fashion chic and hit the dance floor to Count Bassie and Mongo Santamaria like a sexual beast. Edits and choreography are a mess but Lady Margret's magnitude never lets up. The fashion is creative, the only laughs are violent, the idea that a girl becomes a woman if she gets married is primitive, when men exclaim that a girl is too young to fuck, they mean right now.
26-Apr-2022
---
Parallel Mothers (2021)
When Almodovar embraces Hitchcockian ambience it is sublime but when he attempts a Spielbergian signature it deprives the film of a punch. Two mothers, both strangers share a common thread that conflicts with their lives. Even though the outcome is easy to determine, the presentation is a shivering buildup. Penelope Cruz maintains her hold until Almodovar gives up. Her mother doesn't crumble as the film's psychology implies. She wraps it up without a challenge. The ending is part Schindler's List and part Indiana Jones/Jurassic Park. I welcome a latin Spielberg inspiration with cheeky heroes and dinosaurs but I can't forgive a spanish mother that doesn't wreck. A spanish mother is the T-Rex of emotion.
23-Apr-2022
---
Throne Of Blood (1957)
Kurosawa's imagining of Macbeth was intoxicating. He lingered until we felt the character's desperation. The background was still and intimidating. The actors wore silent film faces with impassioned speak. Toshiro Mifune was a beast royale as MacBeth. Isuzu Yamada was fabulously haunting as his Lady. The rustle of her dress, the scary predictions, the make-up and bouts of violent madness. She was a favorite thing. Deaths were choreographed with coherent math and geography. Inspiration is achieved. Masterpiece recreation is impossible because the best things in it happened by accident.
28-Mar-2022
---