All Posts Tagged as 'Policy'
Welcome to Errattic! We encourage you to customize the type of information you see here by clicking the Preferences link on the top of this page.
430,000 people have traveled from China to the US since the COVID-19 outbreak appeared – including nearly 40,000 who arrived after President Trump imposed travel restrictions
At least 430,000 people have traveled from China to the United States on direct flights since the COVID-19 disease surfaced last year - with nearly 40,000 arriving in the two months after President Trump imposed travel restrictions.

Additionally, there were more than 1,300 direct passenger flights and 381,000 travelers arriving to the United States from China in January. Around a quarter were Americans.

The New York Times reports that thousands of these passengers flew directly from China as US health officials were just beginning to gauge the severity of the outbreak.

The first reported cases of coronavirus emerged in Wuhan, China, at the end of last year.
---
Texas City Mandates People Wear Masks in Public or Face $1,000 Fines 
Should you wear a mask during the coronavirus pandemic? The city of Laredo, Texas, has decided that yes, you do. And if you don't wear one, they could fine you.

The city's emergency mandate, which went into effect on April 2, states that every person over the age of five must wear "some form of covering over their nose and mouth" when using public transportation, taxis, ride shares, pumping gas or when inside a building open to the public. That face covering can include a homemade mask, scarf, bandana or handkerchief. The penalty for violating the order is a Class C misdemeanor, punishable by a fine up to $1,000.
Coronavirus FAQs: Is A Homemade Mask Effective? And What's The Best Way To Wear One?
A Florida county is reminding people to maintain a distance of at least one alligator between each other
In the 1918 flu pandemic, not wearing a mask was illegal in some parts of America. What changed?
NYC health workers asked for masks, hospital execs gave them gags
---
Nowhere to go: Some inmates freed because of coronavirus are 'scared to leave' 
John Mele is one of roughly 700 inmates who were released from county jails in New Jersey to address the growing novel coronavirus pandemic. But when he was handed two bus tickets and freed, he said he was frightened, not relieved.

"I was scared to leave," Mele told CNN. "There ain't too much sh** that I'm scared of. I'm scared of heights and I'm scared of going to something I don't know about."

He said he was given five minutes notice last Thursday after he was told he was leaving the jail three months earlier than his sentence for breaking into a fishing store. He had no place to go and no assurances that he was healthy.

"No temperature check. Nothing. They gave me two bus tickets," Mele said. He was steered toward a homeless shelter, but said he refused, concerned the virus would be spreading inside the cramped housing complex.

"I'm telling you the honest truth, if I had to go to a homeless shelter, I'm going back to jail.
Child rapist ordered released to keep him safe from coronavirus
---
Peru, Panama Limit Movement By Gender In Bid To Slow The Coronavirus
Across the world, officials have been desperately adopting sweeping measures in a bid to keep people separated and the coronavirus at bay. But even among the wide range tried so far, one attempted solution in Peru and Panama has proven unusual: Officials in both countries have begun to limit their residents' movement by gender — with men only allowed to leave the home on some days and women on others.

"We have to get fewer people on the streets every day," Peruvian President Martín Vizcarra explained in comments to his Cabinet ministers Thursday.

So until at least April 12, the country's police and security forces are enforcing a new regulation: Men can leave their homes on Mondays, Wednesdays and Fridays with an ID, while women can do so on Tuesdays, Thursdays and Saturdays. On Sundays, meanwhile, the stay-at-home order applies to everyone.
---
Legal Sex Workers And Others In Adult Industry Denied Coronavirus Aid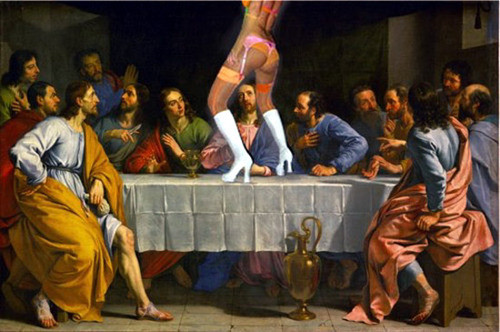 When Congress passed the massive $2 trillion bailout bill last week, it made sure that self-employed people or other independent workers could apply for loans or grants from the Small Business Administration. But there was one very specific ? and puritanical ? exception: legal sex workers and others in the adult entertainment industry.

The very first page of the online application says that in order to be an "eligible entity" that can receive monetary relief from the bill, an applicant cannot "present live performances of a prurient sexual nature or derive directly or indirectly more than de minimis gross revenue through the sale of products or services, or the presentation of any depictions or displays, of a prurient sexual nature."

Prurient, which is defined by Oxford as "having or encouraging an excessive interest in sexual matters," is a vague categorization that broadly includes thousands of workers in the U.S. As stated, the clause excludes everyone who works in the legal (and, worth noting, booming) sex industry including strippers, porn performers, producers, directors, sex toy manufactures and many others. It's unclear whether this clause includes other professions that don't explicitly deal in the sex industry, but do cover subjects that are of a "prurient sexual nature" such as sex therapists and authors of erotica novels.
---
'Shoot them dead,' Philippine's Duterte warns coronavirus lockdown violators 
In a televised address, Duterte said it was vital everyone cooperates and follows home quarantine measures, as authorities try to slow the coronavirus contagion and spare the country's fragile health system from being overwhelmed.

The Philippines has recorded 96 coronavirus deaths and 2,311 confirmed cases, all but three in the past three weeks, with infections now being reported in the hundreds every day.

"It is getting worse. So once again I'm telling you the seriousness of the problem and that you must listen," Duterte said late on Wednesday.

"My orders to the police and military ... if there is trouble and there's an occasion that they fight back and your lives are in danger, shoot them dead."

"Is that understood? Dead. Instead of causing trouble, I will bury you."
New York City murders rise from one to five in a week and burglaries increase 18% as overall crime drops during the coronavirus lockdown and residents report more minor incidents
Here's a look at what states are exempting religious gatherings from stay at home orders
MAN JAILED FOR SIX MONTHS AFTER STEALING MASKS AND HAND SANITIZER FROM AMBULANCE
Gay personal trainer epically shuts down guys on Grindr who're begging to use his gym during coronavirus crisis
99-year-old in New Jersey charged after attending party during state ban on gatherings
Staff Said The Free Mask Kits At Jo-Ann Fabrics Are Just Scraps From The Clearance Bin
Trisha Paytas spreads more misinformation about the coronavirus in a new video, saying it's just 'the flu' and young people can't catch it
Regina police chief promotes new tip line for public health order violations
---
CDC considering recommending general public wear face coverings in public
Should we all be wearing masks? That simple question is under review by officials in the U.S. government and has sparked a grass-roots pro-mask movement. But there's still no consensus on whether widespread use of facial coverings would make a significant difference, and some infectious disease experts worry that masks could lull people into a false sense of security and make them less disciplined about social distancing.

In recent days, more people have taken to covering their faces, although it remains a scattershot strategy driven by personal choice. The government does not recommend it.

That may change. Officials at the Centers for Disease Control and Prevention are considering altering the official guidance to encourage people to take measures to cover their faces amid the coronavirus pandemic, according to a federal official who spoke on the condition of anonymity because it is an ongoing matter of internal discussion and nothing has been finalized.
---
How we know ending social distancing will lead to more deaths, in one chart
President Donald Trump already wants to pull back social distancing policies and guidances implemented in response to the coronavirus pandemic. But we know, based on the nation's history with past outbreaks, what will happen if we do this too early: People will die.

In 1918, the world was ravaged by a horrible flu pandemic, which was linked to as many as 100 million deaths globally and about 675,000 deaths in the US. In response, cities across America adopted a variety of social distancing measures to combat the pandemic. Based on several studies of the period, these measures worked to reduce the death toll overall.

But many cities, also worried about the effects of social distancing on normal life and the economy, pulled back their social distancing efforts prematurely. When they did, they saw flu cases — and deaths — rise again.
---
Why You Shouldn't Go To Your Friend's House While Social Distancing
We get it: You're bored at home this weekend and would love to see your friends or family members that live nearby, especially given how stressed you are in the wake of the coronavirus pandemic. You're just one person, visiting a person or a handful of people you're close to; how much could it hurt?
A lot, in fact. Health experts urge you: Out of an abundance of caution, stay home.

As more and more cities and states move to establish stay-at-home executive orders ? California, New York ? we're all looking for potential loopholes for connectivity. We're grasping for normalcy.

But healthy self-distancing doesn't just mean avoiding bars and restaurants (not that you can go to them now anyway, sorry); it also means staying home and not visiting seemingly healthy friends at their homes.
---
New Jersey Homeowner Arrested For Allegedly Hosting Pop-Up Wedding
A Lakewood, New Jersey homeowner was arrested Friday by police for allegedly violating the state's recently enacted ban on gatherings of 50 or more people.

Eliyohu Zaks, 49, reportedly hosted a pop-up wedding at his home that included more than 50 attendees, a violation of the ban enacted by Democratic New Jersey Gov. Phil Murphy in an effort to curtail the spread of the novel coronavirus.
---
Most renters won't receive protections under Trump proposal
NEW YORK (AP) — Most Americans who rent their home, many of whom have lost their jobs in the sudden economic slowdown caused by the coronavirus outbreak, will not be eligible for eviction protections, despite what President Donald Trump said this week.

Under the Department of Housing and Urban Development's plan released Wednesday, foreclosures and evictions would stop for 60 days on single-family homes with loans through the Federal Housing Administration. That would apply to roughly 8 million units, according to HUD. Only FHA homes lived in for at least a year can be rented out.

That's compared with the roughly 43 million households who rented in 2019, according to the U.S. Census. Roughly half of renters rent their home from an individual investor, while the other half rent from a business or multi-unit property owner. The ones renting from a business will not receive any protections according to HUD's proposal.

"That's the problem with (HUD's proposal). It only impacts a very small amount of people. We need big-scale solutions," said Andrea Shapiro of the Metropolitan Council on Housing, a New York-based housing advocacy organization.
---
Parents are losing their minds having kids home during coronavirus
Home sweet home? More like home fresh hell.

New York City parents are losing their minds trying to balance working from home and playing teacher to their cooped-up kids amid the coronavirus outbreak. Schools shut down Monday, leaving mom and dad to their own devices.

"It's definitely chaos," says a 37-year-old Brooklyn lawyer and mom of two, who asked to withhold her name for work reasons. "Everything is out. Toys are everywhere. It's complete mayhem in here. Do you know how hard it is to research and write while I have two f?ucking kids running around?"
---
Video released of officers arresting 6-year-old girl
The girl was arrested in September 2019 at The Lucious and Emma Nixon Academy in Orlando. The school resource officer who was involved in her arrest was fired shortly after the incident.
---
11-year-old girl brings loaded AR-15 to gun legislation hearing in Idaho
An 11-year-old girl appeared Monday at a legislative hearing in Idaho, toting a loaded AR-15 assault weapon. Bailey Nielsen was with her grandfather, who is supporting a proposal that would allow visitors to Idaho who can legally possess firearms to carry a concealed handgun within city limits.

Charles Nielsen addressed the committee that voted to send the legislation to the full House as his granddaughter stood at his side with the weapon slung over her right shoulder. She did not speak.

"Bailey is carrying a loaded AR-15," Charles Nielsen told lawmakers. "People live in fear, terrified of that which they do not understand. She's been shooting since she was 5 years old. She got her first deer with this weapon at 9. She carries it responsibly. She knows how not to put her finger on the trigger. We live in fear in a society that is fed fear on a daily basis."

He said Bailey was an example of someone who could responsibly handle a gun, and lawmakers should extend that to non-residents.
---
Students thought their Mormon university was OK with gay people for a second. Oops. 
Students kissed people of the same-sex in celebration of Brigham Young University's (BYU) new honor code, which no longer prohibits "homosexual behavior."

But the school is saying there was "some miscommunication" about what it means, leaving LGBTQ students confused about their rights on campus.

BYU is affiliated with the Church of Jesus Christ of Latter-Day Saints (Mormon Church), which teaches that homosexuality is a "serious transgression" and whose members donated around $20 million to ban marriage equality in California in 2008.

According to Deseret News, BYU's honor code used to say: "Homosexual behavior is inappropriate and violates the honor code. Homosexual behavior includes not only sexual relations between members of the same sex, but all forms of physical intimacy that give expression to homosexual feelings."

The new honor code continues to assert that only a married man and woman should engage in sexual relations, but it no longer includes the section that mentioned "homosexual behavior."
Teacher forbids student with lesbian moms from speaking in favor of same-sex marriage
Middle school teacher is suspended without pay after she 'squirted hand sanitizer into the mouth of a student who would not stop talking'
---