Gay+
---
Welcome to Errattic! We encourage you to customize the type of information you see here by clicking the Preferences link on the top of this page.
Sidewalk Preachers Say They Want to 'Take a Sword' to Gays 
In a new video posted to YouTube, preachers from a religious sect have expressed a desire to put a sword to queer people.

Captured on the streets of Dalston in East London, the video was posted on a YouTube channel for The Church of Yahawashi. The organization is an extremist sect of Black Hebrew Israelites. In the video, the preachers say that their main channel was recently deactivated. They then went on to threaten LGBTQ+ people.

"There's a lot of stupid people here," the main preacher in the footage says, referring to Dalston. "Because we've just come out of the — I don't know if it's a pub or a slash restaurant. We had two faggots in there that we've had to keep eyes on because certain brothers, most of the brothers, no actually all of the brothers, we don't like faggots." Brothers surrounding him chime in with their agreement.
Trans woman left in tears after being slapped & spit on in "disgusting" subway attack
Gay man pepper sprayed for holding hands with a man in the subway
---
Two trans women beat the snot out of men harassing them in a restaurant 
After being harassed by men in a restaurant, two transgender women decided they had dealt with enough and took matters into their own hands. Those hands formed fists after the men continued to denigrate the women, leaving the two harassers bloody and dazed.

The incident began when a male customer slides into the women's booth and mocks one of them, saying in Spanish, "I'd like to sit with a lady." After the women push him away, he and another customer continue the verbal abuse.
After a trans woman's cat was cut in half in a gruesome hate crime her neighbors painted her house
---
Uber driver tells gay men to stop kissing: "I'm a Christian!"
An Uber driver asked two men to stop kissing in the back of her car because of her Christian faith.

One of the passengers, Finn Davies, had attended a birthday party on Saturday night at his friend's home in London, where he met and flirted with "a handsome man" who it turned out lived in the same direction as he did.
---
Florida teen arrested for making race-based threats of violence on Twitter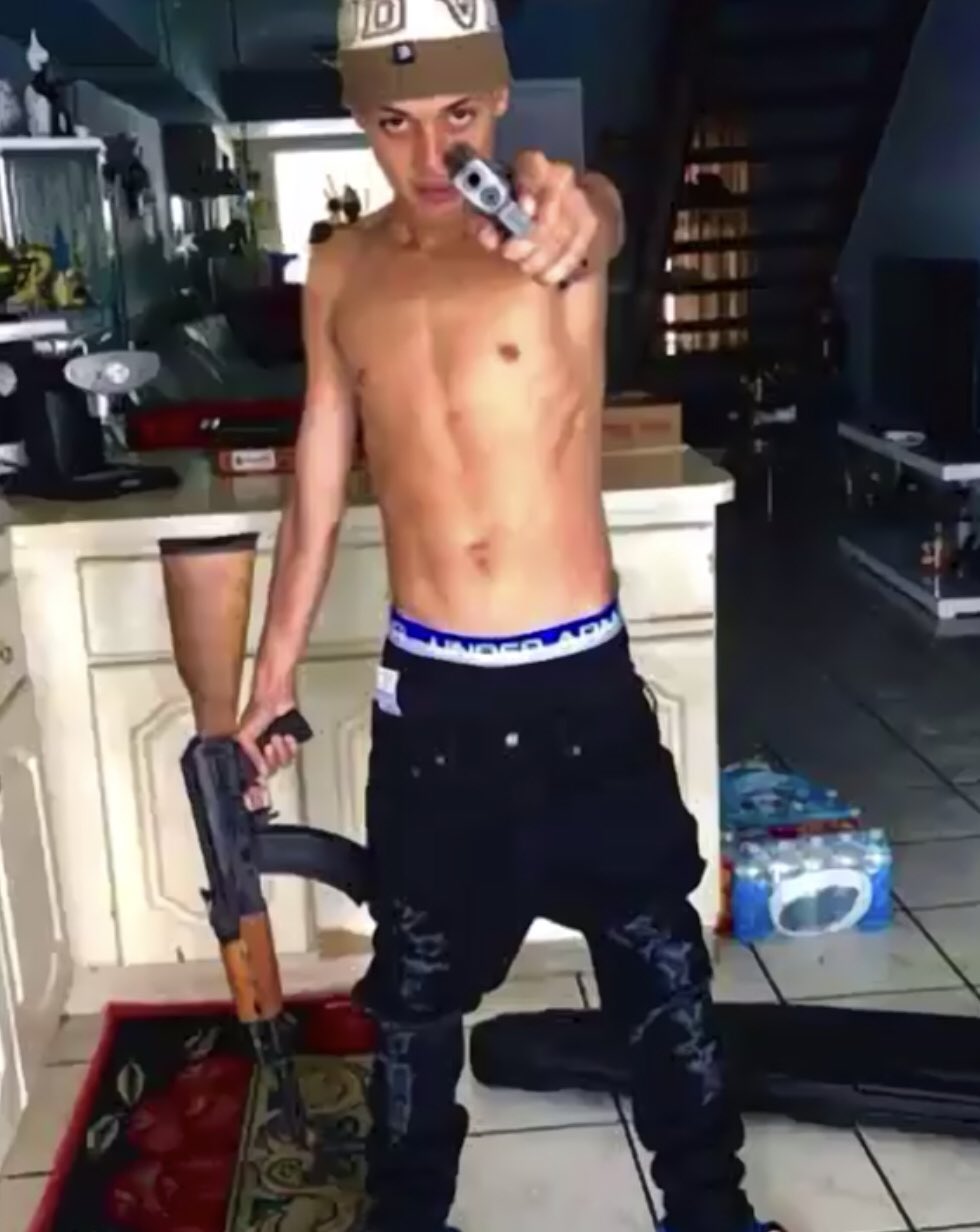 A Florida teenager was arrested for making threats of violence against several racial groups on Twitter.

Nineteen-year-old Lazaro Lesteiro-Diaz was arrested on Tuesday after police were notified of the threats by the Bureau of Alcohol, Tobacco, Firearms and Explosives.

Police took the threats seriously because he was very specific about a location that he was going to travel to in order to murder homosexuals, blacks, Nicaraguans, Colombians and "all types of Indian people."
---
Christian school expelled student over a 'gay' rainbow cake, family says
A Christian school in Louisville expelled a student last week after her family said school officials discovered the girl had celebrated her birthday with a rainbow-themed cake.
---
Calif. Mom Says She Was Brutally Beaten While Going to School Principal About Daughter's Bullying
California police are investigating an attack outside a high school where a mother alleged she'd been beaten by teens who were bullying her daughter.

Police were called to James Logan High School last Tuesday morning just before 9 a.m. after they received a report of a "fight in progress," Union City Police Lt. Steve Mendez tells PEOPLE.

"We were told multiple people were involved in the fight," he says.
---
The less we brag, the less they'll hate. (If we are all equal, what is the need?)
09-Jan-2020
---
An art professor beat her colleague with a poker after confessing unrequited "love" for the woman 
Rie Hachiyanagi, a 48-year-old art professor at Mount Holyoke College in Massachusetts, has been charged with attempting to murder an unnamed female co-worker over the age of 60 with a rock, a fire poker, and garden shears after the colleague didn't return Hachiyanagi's romantic advances. The alleged attack occurred in the early morning hours of Christmas Eve.
Kentucky judge accused of having a threesome in the courthouse
Priest removed from ministry after he was busted taking "disturbing" pics of high school wrestlers
---
Black students say a teacher compared them to monkeys in front of their classmates. Now their parents are suing. 
A lawyer for the students, who attend Longwood High School on Long Island, filed a notice of claim, the first step to filing a lawsuit, on Tuesday. He later announced in a news conference that the group would sue their school district for $12 million.

The notice, which has been reviewed by Insider, said that a teacher took a photo of four black students, aged 16 to 18, standing behind one another during a field trip to the Bronx Zoo in November 2019

The notice alleges that the teacher later included the photo in a slideshow shown in class with the caption "monkey do," alongside a photo of a gorilla.
Oregon man charged with hate crimes for allegedly beating 70-year-old woman from India
---
Baton Rouge Teenager Arrested for Allegedly Ripping Boyfriend's Testicles
A Baton Rouge teenager has been arrested for allegedly ripping another man's testicles during a fight, the local CBS-affiliate reports.
---
Woman who allegedly ripped hijab off student's head charged with hate crimes
A woman who allegedly snatched a hijab from the head of a Saudi Arabian college student and tried to choke her with it has been charged with hate crimes, authorities in Portland, Oregon, said.
---
Ex-teacher harassed, ousted from Upper East Side middle school for being gay: suit
A former social studies teacher at an Upper East Side public middle school was relentlessly hectored by students and colleagues — and eventually let go — because he is gay and stood up for a bullied student, a new lawsuit alleges.

During his two-year tenure as a full-time teacher at Robert F. Wagner Middle School, Robert Halkitis suffered a campaign of harassment that included vandals scrawling a slur on his bulletin board and a student calling him a "f—ing f—-t" in his classroom, alleges a lawsuit filed in Manhattan federal court on Monday.

The torment also included a school clerk suggesting that he was having a sexual relationship with a male colleague on school grounds, court papers say.
---
MASSIVE BRAWL INVOLVING OVER A HUNDRED TEENS CLOSES DOWN TWO CALIFORNIA MALLS
A conflict involving well over 100 teens in Stockton, California, resulted in the closure of two malls as the violence spread wildly out of control.

KCRA reported that the chaos began at around 5:30 p.m. Thursday at the Weberstown Mall. Police say that between 150 and 200 juveniles were involved in a large-scale skirmish at the shopping center. Fifteen police cruisers were dispatched to the scene, and officers worked to evacuate the combatants and lock down several entrances to the mall to prevent them from coming back inside.

Once the brawling teens were escorted to the parking lot, a number of additional fistfights began to erupt as police and security tried to calm the crowd.

---
One Million Moms Lose Hallmark Channel, Fly Off Deep End
"The culture war, better yet the war for the soul of man, is definitely heating up," reads a message on the organization's website. "1MM will keep fighting because souls are at stake. This LGBTQ spirit is the same spirit we read about in the Bible that confronted Lot. It's relentless but the good news is we serve the God who is King of kings, Lord of lords, and will not be mocked. Hallmark, Zola, etc. and all that make up those companies will ALL bow to the Lord."
---
Tampa Man Charged With Threatening to Wipe Out City's Gay Community 
A Tampa, Fla., man has been arrested on charges of making a threat to wipe out the city's gay community in a mass shooting.

Ralph Perkins, 50, made the threat after being rejected on a dating app, police told the Tampa Bay Times. The app was not identified.
Terrorists planted a bomb in their gay brother's luggage because he brought "shame" to the family
Attackers kicked & punched a gay man while shouting slurs. Now the victim is fleeing New York City.
Gay newlyweds say their honeymoon was ruined after cruise ship staff mocked them nonstop
Judge who was sanctioned for being anti-LGBTQ sues to get a religious exemption from the law
---