Gay+
---
Welcome to Errattic! We encourage you to customize the type of information you see here by clicking the Preferences link on the top of this page.
American Girl company is 'disgusted' by parody ad of a gun-wielding 'Karen' doll who refuses to wear face mask during the coronavirus crisis 
American Girl said it is 'disgusted' by an online advertisement parody that features a gun-wielding Walmart shopper dubbed 'Karen' who refuses to wear a face mask during the coronavirus pandemic.

The parody features an American Girl doll altered to wear a purple track suit, hold a semi-automatic handgun and appears to be in a Walmart store without a face mask.

'Meet Karen,' the fake image reads. 'She's an independent thinker who refuses to wear a mask in public places!'

The name 'Karen' has been used to describe entitled middle-aged white women in modern slang, but can apply to people who use their privilege to exert power in oftentimes unnecessary instances.
Fury at BBC over race podcast where presenters branded white women 'Karens' and said they should 'read some books' and 'stop being so loud'
---
Ellen DeGeneres' Treatment Of Staff, Guests Revisited After Producers Denied Cancellation Rumors 
Ellen DeGeneres' treatment of her staff and guests has been revisited after the producers of her talk show denied the cancellation rumors.

In the past months, DeGeneres has been slammed on Twitter for allegedly being mean. The "Ellen Show" crew was reportedly furious about the lack of communication over their pay during the pandemic. When the show stopped airing due to the coronavirus outbreak, about 30 core crew members were affected.

Meanwhile, several people also came forward to share their encounter with the host. It started with comedian Kevin T. Porter launching a thread on Twitter calling those who had "insane" stories about "Ellen being mean." Benjamin Siemon responded and said that DeGeneres has a "sensitive nose."

"So everyone must chew gum from a bowl outside her office before talking to her and if she thinks you smell that day you have to go home and shower," he wrote.
Ellen DeGeneres is too Arrogant to Realize She Will Be Cancelled
---
An 8-year-old was fatally shot in Atlanta near Wendy's restaurant where Rayshard Brooks was killed, police say 
Gunfire broke out on Fourth of July weekend in Atlanta, injuring over 20 people and killing three, including an 8-year-old girl, police said.

An investigation is underway after the 8-year-old was fatally shot Saturday night across the street from the Wendy's restaurant where a former police officer killed Rayshard Brooks, officials said.

Secoriea Turner was riding in a car with her mother and an adult friend on I-75/85 when they exited onto University Avenue, police spokesman Sergeant John Chafee told USA TODAY. As the driver tried to enter a parking lot at 1238 Pryor Road, a group of armed individuals blocked the entrance, Chafee said.
Donald Trump warns he's 'ready' to intervene as 80 are shot in Chicago and 44 in NYC - with cops fired at in their car - and 32 are killed across US including girl, 7, as July 4 bloodshed continues
Atlanta mayor says Wendy's occupied by protesters will be cleared after shootings; 8-year-old girl killed
'Who do we call when the murderer wear the badge': Massachusetts detective, 30, is fired over Black Lives Matter post that suggested people should shoot back at the police
NYPD hunts for gunman who shot dead a 20-year-old man and injured a woman in broad daylight in Brooklyn
Portland demonstration declared a riot after protesters launch fireworks at federal courthouse
Riverchase Galleria shooting: Man charged in death of 8-year-old Royta Giles Jr.; other gunmen sought
---
'You started the corona!' As anti-Asian hate incidents explode, climbing past 800, activists push for aid 
Wearing their masks, Donalene Ferrer and two other generations of family members were walking along an Oceanside neighborhood in April when a car pulled up and a woman yelled: "You started the corona!"

The accuser, with a baby and a toddler in tow, turned out to be her mother's neighbor, Ferrer said. Still in shock, the victim said she stepped near the woman to ask, "Why are you targeting us? I'm a nurse and my father fought for this country. You shouldn't be teaching your children racism."

Ferrer, 41, a Filipina, remembered the unmasked woman taunting them back: "Come over here. Say it to my face." But worried that the person might be carrying a hidden weapon, Ferrer said she left.
Black Family Escorted Off Oregon Beach After 7 Men Launched Racist July 4 Attack
It Was Meant To Be A Small Black Lives Matter Rally In Rural Ohio. Then The Bikers Showed Up.
---
Jeffree Star is staying quiet while Shane Dawson's career lies in tatters. Here's why celebrities like him seem uncancelable.
Shane Dawson's reputation is currently hanging in the balance. He's lost over a million subscribers in the last two weeks after old footage resurfaced of his past involving racism and jokes about the sexualization of animals and children. The final straw for many came when Tati Westbrook dropped her video and claimed Dawson and Jeffree Star were the ones who manipulated her into almost ruining James Charles' career last year.

However, while Dawson responded to Westbrook's video in real time on an Instagram livestream, Star is nowhere to be seen. While several of Dawson's friends have publicly supported him, Star is not among them. There have been a few theories about his whereabouts thanks to fan photos cropping up on Twitter, but his own social media presence has been silent.

Some celebrities, like Star, seem bulletproof to criticism. Morgan Freeman, for example, was accused of sexually harassing eight women and issued a statement denying the allegations in 2018, which everyone seems to have forgotten about.

Chris Brown also still has fans despite being convicted of assaulting Rihanna in 2009 and a long history of violence towards women. High profile stars like Justin Bieber are among his fanbase, which vehemently defends his right to still make music. YouTuber Gus Johnson said in a video he "continues to be shocked" at how Brown's career is not over when he listed all the legal issues and charges he's been involved in over the last 15 years.
---
Stamford man caught in Cove video charged with hate crime, assault 
City police have charged a Stamford man, who was caught on video berating a group of young Black and Latino men at Cove Island Park last month, with a hate crime and multiple counts of assault.
Steven Mike Dudek, 57, who police say sprayed four of the men with pepper spray, was videoed shouting at the group and then calling police to report he was being harassed by a "bunch of Black men."

On Thursday Stamford police charged Dudek with four counts of second-degree assault, first-degree intimidation based on bigotry or bias and falsely reporting an incident to police, according to Stamford Police Capt. Richard Conklin and Lt. Tom Scanlon.

One of the men asks for his name and Dudek replies, "My name is God."
Police: 2 women hit by car on Seattle highway amid protest
Florida man charged for pointing gun, unleashing racist tirade against Black homeowner
6-YEAR-OLD KICKED OUT OF SCHOOL ... Over BLM Shirt
MYSTIC INN BRUTAL RACIAL ATTACK
The Neighbor Kids Tore Up My Garden. Now Their Mom Says I'm a Bigot.
A White Couple Was Arrested After Pointing a Gun at a Black Family In a Chipotle Parking Lot
Man faces hate crime enhancements after threats against 12-year-old Black youth in SF
---
Ask Not for Whom the Mob Brays / Opinion 
Amid the current season of activism, young people have enthusiastically taken both to the streets and the internet, participating in the national discussion over race relations in America.

The New York Times recently reported about a new front in what feels increasingly like a political war: high schoolers creating social media accounts to call out classmates for alleged "racist" speech. Students post screenshots of comments, videos and posts they deem to be hateful, identify the authors through crowdsourcing, and then mercilessly "cancel" them online—sometimes with assistance from social media personalities with millions of followers. Obviously, no effort is made to examine context, understand the commenter's mindset or offer an alternative point of view; the point, after all, is to ruin someone's life for an indiscretion.
---
Everlane clothing brand is accused of racism by former employees 
A group of former employees that worked at the sustainable clothing retail brand Everlane is calling for people to boycott the company in the wake of their experiences of racism in the workplace.

The group has taken to social media, calling themselves the "Everlane Ex-Wives Club" and shared a lengthy Google document titled "Everlane's Convenient Transparency" — aptly named after the company's own promise of "radical transparency" — outlining numerous displays of racism or micro-aggressions. According to the document, the group is made up of former Black, POC, and white allied employees.

One of the sections detailed a Black woman's experience in which she wrote the chief creative officer, Alexandra Spunt, would plunge her hands into the woman's hair "pulling at my roots and referring to us being 'soul sisters.'" Still more shared stories of their creative ideas being stolen by their white colleagues.
Michigan business owner under fire for 'ghetto' Black Lives Matter post
Torrance Park Woman in Anti-Asian Rant Faces Battery Charges
Anti-LGBTQ+ Alabama Mayor Resigns After Denouncing Black Lives Matter
---
'We Have A Black People Problem': Facebook Worker Claims Racial Discrimination 
A Black Facebook employee is accusing his employer of racial discrimination.

In a complaint filed Thursday with the Equal Employment Opportunity Commission, Oscar Veneszee Jr. said the social network does not give Black workers equal opportunities in their careers.

"We have a Black people problem," Veneszee told NPR. Veneszee is a Navy veteran who recruits other veterans and people of color as part of diversity initiatives at Facebook's infrastructure division. "We've set goals to increase diversity at the company, but we've failed to create a culture at the company that finds, grows and keeps Black people at the company."

Veneszee, who has worked for Facebook since 2017, filed the employment discrimination charge along with Howard Winns, Jr., and Jazsmin Smith — both of whom Veneszee recruited — who said they applied to work at Facebook but had not been hired, they alleged, because they are Black. The claim, they said, was filed on behalf of "all Black Facebook employees and applicants to Facebook."
After This Teen Posted A Selfie Comparing Herself To An Avatar The Last Airbender Character She Got Racist Comments
A 911 call, a racial slur, a refusal to cash a check. This is what it's like for some Black bank customers
Catholic Priest In Indiana Suspended After Calling Black Lives Matter Protesters 'Maggots'
2,120 hate incidents against Asian Americans reported during coronavirus pandemic
Historian David Starkey says slavery wasn't 'genocide' or there 'wouldn't be so many damn blacks'
MIT Takes Down Popular AI Dataset Due to Racist, Misogynistic Content
Washington's NFL nickname under new scrutiny in wake of anti-racism protests
White woman who pointed gun at a Black mom and her teen daughter charged with assault
Black families pay significantly higher property taxes than white families, new analysis shows
---
Black Exotic Dancers Demand Better Treatment With 'Stripper Strike' 
At the start of the coronavirus pandemic, when strip clubs across the country were shuttering and dancers found themselves abruptly out of work, the Portland, Oregon strip club the Lucky Devil Lounge started a food-delivery service called Boober Eats in order to provide some of its employees work. The concept went viral (and was, in fact, covered by this publication), but local black dancers noticed something odd: its Instagram featured relatively few black dancers.

This wasn't surprising to some black dancers in Portland, like Cat Hollis and Brianna Cistrunk, who say the club has a reputation for almost exclusively hiring white dancers. "They say they're a 'rock 'n roll club' [which means] they only hire a certain aesthetic," Cistrunk says. "It's an unspoken thing but it's very well-known among most girls." This perception was magnified a few weeks later, following the death of George Floyd, when the club posted a (now-deleted) photo on Instagram of #BlackLivesMatter flags festooning the stage. "There was a huge argument that happened in the comments," says Hollis. She commented: "There are more #BlackLivesMatter signs than there have ever been black butts on that stage." (Shon Boulden, owner of the Lucky Devil Lounge, tells Rolling Stone the controversy stemmed from "a lot of misconceptions of how our club operates," though he acknowledged that only two or three of the club's 30 dancers are black."If there ever was the idea that we weren't open to hiring all ethnicities, I guess I'd just want say, yes of course we do," he says. "In our hiring, maybe it didn't look like we were.")
Restaurant Dress Codes Have Long Been a Tool for Racist Discrimination
Black Survivor Contestants Say They Were Edited Into Stereotypes on the Show
A white man was arrested after pulling a gun on a Black homeowner in Miami-Dade County
Black Family Claims White Neighbor Falsely Accused Them of Assault After Patio Dispute
Woman Evicted After Hurling Racist Abuse at Black Soldier
Worker 'No Longer Employed' at Hotel After Calling Police on Black Family
31% of Asian Americans say they've been subject to racist slurs or jokes since the coronavirus pandemic began
Utah reinstates defensive coordinator Morgan Scalley after investigation into racist language
It's 'Our Fault': Nextdoor CEO Takes Blame For Deleting Of Black Lives Matter Posts
---
Black American Airlines passenger says she was called racial slur before being kicked off flight 
An American Airlines' customer tells WBTV she was kicked off a flight from Charlotte without warning. The Black woman says another customer called her a racial slur but that the company decided to remove her from the flight and not him.

Tarajiah Reed was returning from a vacation with her fiancé when she says a connecting flight in Charlotte escalated into a nightmare.

She says before boarding the flight she had her mask around her chin and was waiting for a new one when another passenger confronted her.
'I don't feel safe with you driving around my neighborhood': White man 'follows black woman, 21, for TWO MILES' demanding to know what she was doing there
Hampton Inn employee is fired after calling cops on a black guest and her two children, telling the mother that 'it's always people like you using the pool unauthorized'
---
SUPERMARKET 'KAREN' 2.0

ANOTHER MASK MELTDOWN ...

Chucks Food This Time!!! 
Another day, another person going berserk over face mask policy -- only this time, it happened down in Texas ... and food went flying everywhere.

A new video of a supermarket 'Karen,' if you will, is making the rounds online, which shows a lady having a complete and utter meltdown inside what appears to be a Fiesta Market in Dallas ... after she was apparently asked to put her mask back on to check out.
'Exhausted' by customers' rage over wearing masks, California taco chain shuts down
Video Shows Woman Spit at Gas Station Worker After Being Told to Wear Mask
---
A White Couple Was Caught on Video Pointing Guns at Black Lives Matter Protesters in St. Louis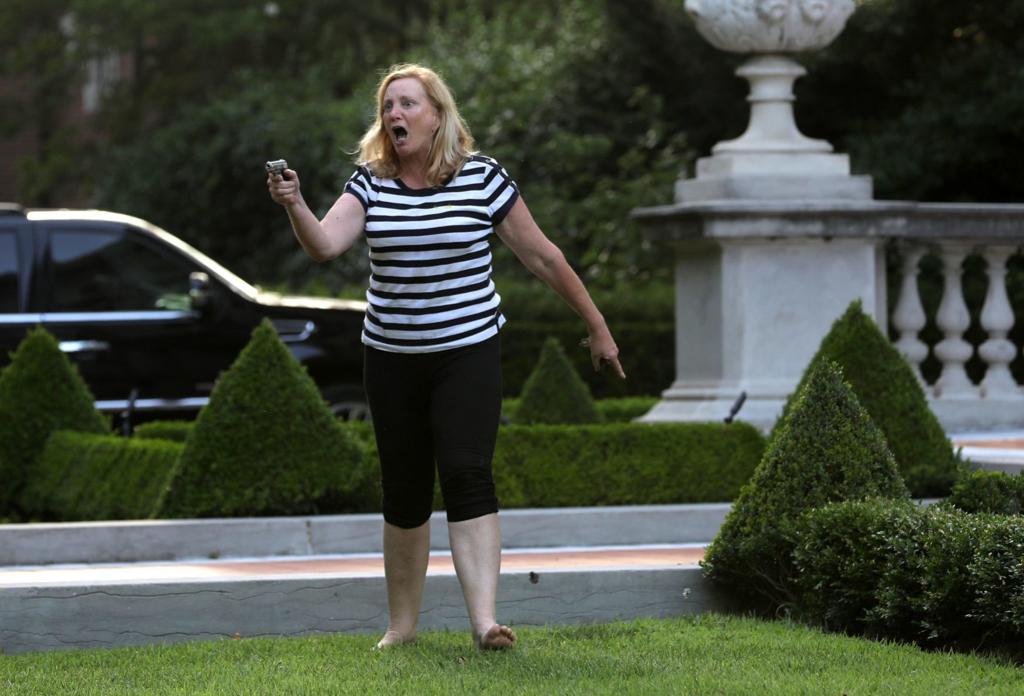 An armed white couple waved their guns and yelled at Black Lives Matter demonstrators in St. Louis on Sunday, during a protest march to St. Louis Mayor Lyda Krewson's home.

At least 500 people peacefully marched through St. Louis' Central West End neighborhood on Sunday demanding Krewson's resignation, according to the St. Louis Post-Dispatch. Krewson appeared in a Facebook Live video last week reading the names and addresses of people who had called for defunding the city's police department.
Man Fired for Racist Rant Supporting Slavery and Lynchings of Black People
John Wayne's son responds to resolution calling for John Wayne Airport to be renamed
Michigan Woman Yells Racial Slurs at New Neighbors in Viral Video
San Jose man charged with hate crime in Santa Cruz assault incident
Adam Carolla defends Jimmy Kimmel over blackface backlash: 'We've lost our minds'
Little Caesars fired two employees after a couple found a swastika made of pepperoni on their pizza
---
St. Louis mayor slammed for broadcasting names, addresses of 'defund the police' supporters 
The mayor of St. Louis is facing backlash for reading aloud during a public briefing the full names and street addresses of protesters who are calling on the city to defund the police department.

Democratic Mayor Lyda Krewson was answering questions during a Facebook Live briefing Friday afternoon, which she has held regularly during the coronavirus pandemic, when someone asked about a meeting she had with demonstrators outside City Hall earlier in the day.

The mayor responded that the conversation "wasn't really a two-way conversation… because there was a very loud response from the demonstrators," NBC's affiliate in St. Louis, Missouri KSDK reported.
'I Should've Killed You': Unrepentant White Supremacist Murderer Threatens Victim At Sentencing
Black Lives Matter Wants to End Police Brutality. History Suggests It Will Go Much Further.
---
Black Lives Matter co-founder describes herself as 'trained Marxist' 
"The first thing, I think, is that we actually do have an ideological frame. Myself and Alicia in particular are trained organizers," she said, referring to BLM co-founder Alicia Garza.

"We are trained Marxists. We are super-versed on, sort of, ideological theories. And I think that what we really tried to do is build a movement that could be utilized by many, many black folk," Cullors added in the interview with Jared Ball of The Real News Network.

It also expresses its appreciation for the work of the US Communist Party, "especially Black communists," as well as its support for "the great work of the Black Panther Party, the American Indian Movement, Young Lords, Brown Berets, and the great revolutionary rainbow experiments of the 1970s," Breitbart reported.
'I'm leaving and I'm just not coming back': Fed up with racism, Black Americans head overseas
---