Gay+
---
Welcome to Errattic! We encourage you to customize the type of information you see here by clicking the Preferences link on the top of this page.
Kyle Queiro Apologizes After Questioning Jill Scott's Attractiveness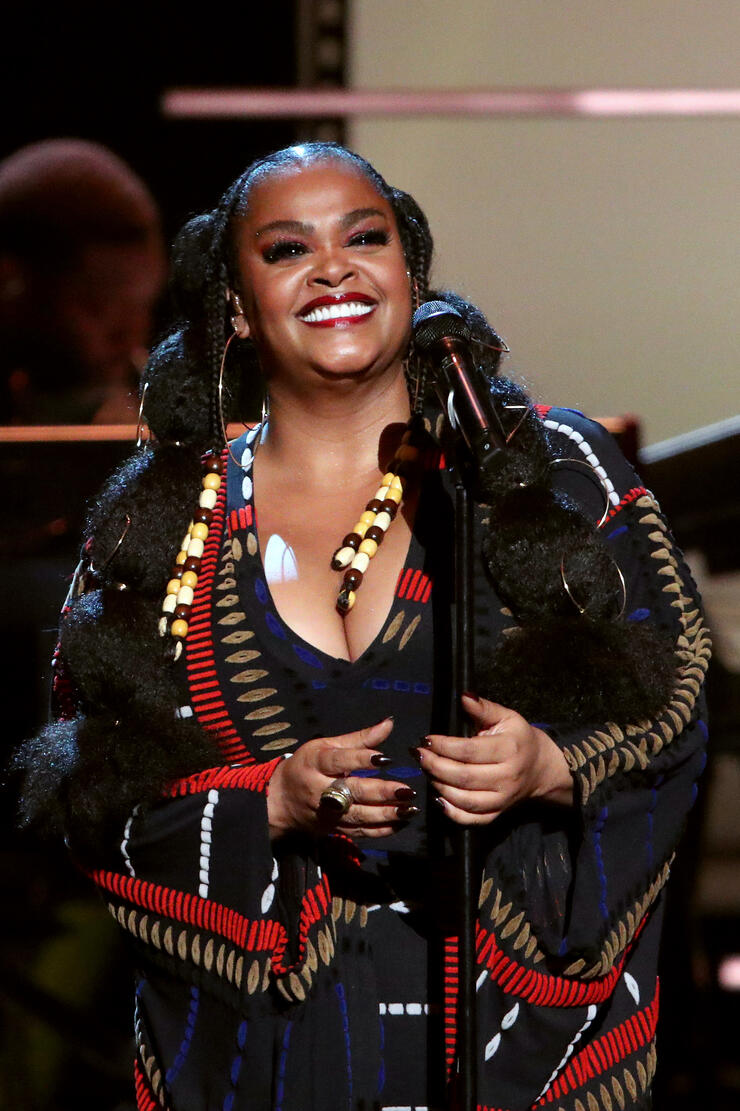 Kyle Queiro learned a hard lesson this weekend: Do not question Jill Scott's beauty.

On Friday night, the NFL linebaker Jill Scott posted a series of tweets in which he suggested the Grammy-winning artist was no longer sexually attractive.

"People are attracted to JILL SCOTT!?" Queiro he wrote in a since-deleted post. "And by no means is she ugly, but ya'll really sexually aroused by her?"
Peter Lenkov, 'MacGyver' & 'Magnum PI' Showrunner, Fired By CBS For Creating Toxic Work Environment
He flaunted private jets and luxury cars on Instagram. Feds used his posts to link him to alleged cyber crimes
---
Tiffany Haddish shaved her hair and then immediately shut down critics of her new style 
On Tuesday, the actor and comedian took to Instagram with a series of videos in which she's seen cutting and shaving her hair. In her first clip, Haddish said she's been talking about shaving her head "for years," but always faced people who tried to "block" her decision. Now, however, Haddish say she's no longer concerned with what other people, especially men, have to say about her hair and body.
Jodie Comer is getting canceled over supposed Trump-supporting boyfriend
Jim Jefferies Slams Millennials & Cancel Culture in New Netflix Special
---
'Dukes of Hazzard' Stars John Schneider and Tom Wopat Respond to Renewed Controversy Over Car's Confederate Flag 
For a family show about two good old boys, The Dukes of Hazzard has seen its share of controversy.

Before it even premiered on CBS on Jan. 26, 1979, then-CBS programming chief B. Donald Grant squared off with a roomful of TV critics who hated it. Among their objections was that "the two male leads appear to be on the wrong side of the law, that the subject of illegitimate parenthood was treated humorously, and that one of the female regulars is often seen in skimpy costume," according to a Hollywood Reporter account. One North Carolina critic went further, calling the show's stereotypes "out of line with the New South."

Grant ignored the critics and Hazzard went on to air on CBS from 1979 to 1985, winning over millions of ardent fans in the process. In its initial run, the series drew as many as 20 million viewers per episode and by its third season had become the second-biggest show on TV.

"I have never had an African American come up to me and have any problem with it whatsoever," John Schneider (Bo), 60, tells THR, adding that "the whole politically correct generation has gotten way out of hand."

"There are 80 million descendants of the Confederacy — one out of four people has that heritage. Most of them have no problem with the flag at all," Jones asserts. "This was a family show. Black families watched it for generations. I know this. I had a [congressional] office right there in the Martin Luther King district. King's right-hand man Andy Young is a dear friend of mine. We couldn't care less about rebel flags."
Liberal writers, activists sign open letter calling to end 'cancel culture'
---
Why Joss Whedon's Angel Was Cancelled After Season 5
Debuting in 1999 on The WB after Angel's season 3 departure on Buffy the Vampire Slayer, Angel both continued and expanded the Buffyverse, allowing characters from Buffy to find new potential—and better character story arcs—on the spin-off. Though the show revolved around the titular character, Angel (David Boreanaz), it expanded on a much larger universe and centered around the realistic setting of Los Angeles rather than the fictional, Hellmouth-based Sunnydale, California. This setting change not only allowed for more realism, but allowed Whedon and his writers to explore the gritty, crime-laden underworld of the city's seedy underbelly that was practically littered with demons.

Angel was not only a stark contrast from Buffy in terms of him being a brooding, dour ringleader, but the show took a darker premise and made him out to be almost Batman-esque in terms of his desire to intervene and "help the hopeless" with his team at Angel Investigations, a private investigating firm that specialized in doing battle with those who found themselves under demonic influence or in harm's way due to some supernatural threat. It took what worked for Buffy the Vampire Slayer—a "monster of the week" format, Whedon's signature humor, and lovable characters—and managed to become another success for The WB. Even so, it was canceled, which came as a shock to fans, as it hadn't seen a decline in ratings or viewership, and in the lead-up to season 5, seemed to have a lot more story to tell.
---
Twitter engineers replacing racially loaded tech terms like 'master,' 'slave' 
For Regynald Augustin, a Black programmer at Twitter, the impetus for change arrived in an email last year with the phrase "automatic slave rekick."

The words were just part of an engineering discussion about restarting a secondary process, but they prompted Augustin to start trying to change Twitter's use of words with racist connections. Augustin was used to seeing the term "slave" in technical contexts. "But with 'rekick' -- I was madder than I ever thought I'd be in the workplace," he said.

First on his own and then joining forces with another engineer, Kevin Oliver, he helped spearhead an effort to replace terms like "master," "slave," "whitelist" and "blacklist" with words that didn't hearken back to oppressive parts of United States history and culture. He recounted his thoughts at the time: "This has to stop. This isn't cool. We have to change this now."
Delaware city removes whipping post once used to punish Black people from public plaza
Dr. Benjamin S. Carson Sr. Statues of George Washington and other heroes are being razed. We should be celebrating them.
'Mad Men' Adding Disclaimer to Episode Containing Depiction of Blackface
How can we have a conversation about race when we don't talk about it?
Silencing 'Song of the South': Why Disney's most racist film remains a cultural flash point
---
Black Exotic Dancers Demand Better Treatment With 'Stripper Strike' 
At the start of the coronavirus pandemic, when strip clubs across the country were shuttering and dancers found themselves abruptly out of work, the Portland, Oregon strip club the Lucky Devil Lounge started a food-delivery service called Boober Eats in order to provide some of its employees work. The concept went viral (and was, in fact, covered by this publication), but local black dancers noticed something odd: its Instagram featured relatively few black dancers.

This wasn't surprising to some black dancers in Portland, like Cat Hollis and Brianna Cistrunk, who say the club has a reputation for almost exclusively hiring white dancers. "They say they're a 'rock 'n roll club' [which means] they only hire a certain aesthetic," Cistrunk says. "It's an unspoken thing but it's very well-known among most girls." This perception was magnified a few weeks later, following the death of George Floyd, when the club posted a (now-deleted) photo on Instagram of #BlackLivesMatter flags festooning the stage. "There was a huge argument that happened in the comments," says Hollis. She commented: "There are more #BlackLivesMatter signs than there have ever been black butts on that stage." (Shon Boulden, owner of the Lucky Devil Lounge, tells Rolling Stone the controversy stemmed from "a lot of misconceptions of how our club operates," though he acknowledged that only two or three of the club's 30 dancers are black."If there ever was the idea that we weren't open to hiring all ethnicities, I guess I'd just want say, yes of course we do," he says. "In our hiring, maybe it didn't look like we were.")
Restaurant Dress Codes Have Long Been a Tool for Racist Discrimination
Black Survivor Contestants Say They Were Edited Into Stereotypes on the Show
A white man was arrested after pulling a gun on a Black homeowner in Miami-Dade County
Black Family Claims White Neighbor Falsely Accused Them of Assault After Patio Dispute
Woman Evicted After Hurling Racist Abuse at Black Soldier
Worker 'No Longer Employed' at Hotel After Calling Police on Black Family
31% of Asian Americans say they've been subject to racist slurs or jokes since the coronavirus pandemic began
Utah reinstates defensive coordinator Morgan Scalley after investigation into racist language
It's 'Our Fault': Nextdoor CEO Takes Blame For Deleting Of Black Lives Matter Posts
---
Producers respond to rumors 'Ellen DeGeneres Show' will be canceled
Rumors are swirling that Ellen DeGeneres might have her last dance.

Insiders are whispering that the "Ellen" show could be canceled soon, amid reports of falling ratings and allegations of DeGeneres, 62, being "rude" to her staff, the Sun reports.

However, when reached by The Post for comment about the claims, DeGeneres' production company reps said,...
---
'Golden Girls' blackface episode removed from Hulu 
Not even "The Golden Girls" are immune to blackface backlash.

"Mixed Blessings," a 1988 episode of the beloved comedy series, has been yanked off the content-streaming platform Hulu for its depiction of two white characters sporting darkened faces, according to The Hollywood Reporter.

The episode features Michael (Scott Jacoby), the son of Bea Arthur's Dorothy character, planning to wed African-American fiancée Lorraine (Rosalind Cash), who's twice his age.

While Dorothy is anxious over the extreme age difference, Lorraine's family disapproves of her marrying a white man. The two families then scheme to sabotage the couple's engagement.
Cosmetic giants removing the word 'whitening' from products, realtor association stops using the word 'master bedroom'
A Blackface Moment From "The Office" Has Officially Been Edited Out Of The Series
---
Petition Calls on Officials to Replace Columbus Statue With Chef Boyardee 
An online campaign is calling for Cleveland officials to replace a Christopher Columbus statue with one of "the iconic" Ettore Boiardi, also known as Chef Boyardee.

The petition stated that Columbus statue, located at the Tony Brush Park in Cleveland's Little Italy, celebrates a person who "initiated the genocide against Indigenous Americans."
Black Mississippi Mayor Tears Up as He Signs Order to Remove State Flag: 'Time for Waiting Is Over'
Democratic Party of Orange County Demand John Wayne Airport to be Renamed
Community Episode Removed From Streaming Over Chang's Dungeons & Dragons Blackface
---
(l-r) Dennis Weaver, Flip Wilson as Geraldine, O.J. Simpson
25-Jun-2020
---
Jimmy Kimmel: TV host sorry for blackface sketches 
US TV host Jimmy Kimmel has apologised for using make-up to impersonate black stars like Snoop Dogg, Oprah Winfrey and basketball player Karl Malone.

Kimmel said he had thought of his performances as "impersonations of celebrities and nothing more".

But, looking back, he admitted they were "embarrassing" and described them as "thoughtless moments".

He said sorry "to those who were genuinely hurt or offended by the make-up I wore or the words I spoke".
If Blackface Is So Offensive Why Does Jimmy Kimmel Get Away With It?
Celebs who were fired due to alleged racism
---
'Gone With the Wind' Returns to HBO Max, With Context
Over two weeks after HBO Max initially removed the 1939 Southern war epic Gone With the Wind from its service, the film has returned, with additional context and a disclaimer attached.

Now, before the film plays on the service, it is preceded by a video from TCM host and University of Chicago cinema and media studies professor Jacqueline Stewart, who tells viewers, "You're about to see one of the most enduringly popular films" of all time, but warns "the film has been repeatedly protested, dating back to the announcement of its production" due to its romantic depiction of the antebellum South and stereotypical Black characters.

The film, 1940's best picture winner at the Oscars, also is now accompanied by "extras" including videos titled "Gone With the Wind: A Complicated Legacy" and "Hattie McDaniel: What a Character!" as well as Stewart's introduction as its own video.

In her introduction, Stewart adds, "Watching Gone With the Wind can be uncomfortable, even painful. Still it's important that classic Hollywood films are available to us in their original form for viewing and discussion." Watching such films can prompt viewers to reflect on their values, Hollywood history and what pop culture says about a previous era, she suggests.
---
'Days of Our Lives' star Melissa Reeves under fire for anti-Black Lives Matter stance 
"Days of Our Lives" actress Melissa Reeves is catching heat from her co-stars and the long-running soap's fans for coming out against the Black Lives Matter movement.

Earlier this week it was revealed that Reeves — who has played Jennifer Horton on the NBC sudser on and off for the past three decades — "liked" several anti-BLM posts from right-wing activist Candace Owens on Instagram.

We all have our own opinions and views! That's what make the USA the land of the free and home of the brave! ????????????????

— Donna Wyche Abshure (@DonnaKayAbshure) June 23, 2020

Reeves' "Days" cousin, Linsey Godfrey, wasted little time responding. After one Twitter user defended Reeves' right to express her opinion, Godfrey countered, "Nah there is no difference of opinion on racism, homophobia, transphobia and xenophobia."
Jenny Slate Exits 'Big Mouth': 'Black Characters Should Be Played by Black People'
Terry Crews Says Brooklyn Nine-Nine Trashed 4 New Episodes Amid Protests
Following backlash, Chelsea Handler apologizes for posting controversial Louis Farrakhan video clip
'Scrubs' Episodes Featuring Blackface Removed From Hulu
Black staffers, athletes leave Liberty University after Jerry Falwell Jr. tweet
Mohamed Hadid Says He Has to Demolish His $50 Million Mega-Mansion Because of "Racism"
---
Resurfaced clip shows Jimmy Kimmel laughing as Megan Fox talks about Michael Bay sexualizing her when she was 15 
"I'm taking this summer off to spend even more time with my family," Kimmel said. "There's nothing wrong. I'm healthy, my family's healthy, I just need a couple of months off."

Many wondered if Kimmel was taking time off to allow the heat die down over resurfaced video clips of him in blackface doing an exaggerated impersonation of former Utah Jazz legend Karl Malone, especially since this has been the summer of canceling people.

On the heels of Kimmel's blackface controversy, another old clip has emerged that shows the progressive TV host in a very negative light.
Old Joe Rogan Podcast Clip Sparks Discussion About Male Comedians and Rape Culture
Megan Fox Clarifies She Was Never Sexually 'Assaulted or Preyed Upon' by Michael Bay
Ron Jeremy Charged With Raping Three Women
Multiple Women Accuse Games Writer Chris Avellone Of Sexual Misconduct
Precinct 4 constable deputy offered $80 to teen for sexual act, police allege
Is Singapore's Pervert Problem Getting Worse?
---
UFC news: Joe Rogan slammed for Black Lives Matter protest comments on podcast 
Speaking with biologist Bret Weinstein on last week's The Joe Rogan Experience, the 52-year-old commented that the Black Lives Matter movement was 'leaderless' and 'attractive to young people [who] feel disenfranchised by the system'.

"What's the end goal? That doesn't seem to be very clear. There are kids out, chanting no justice, no peace. I'm like 'what justice are you talking about?'," Rogan questioned.
Geraldo Rivera Frets About 'Black on Black Crime': There's a 'Ghetto Civil War Going On'
University of Cincinnati will remove Marge Schott's name from baseball stadium
Kendrick Sampson, Tessa Thompson and Over 300 Black Artists and Execs Call for Hollywood to Divest From Police (EXCLUSIVE)
Dizzee Rascal clashes with Piers Morgan during heated Black Lives Matter discussion: "You're not going to do this to me"
Chris D'Elia dropped by CAA after sexual misconduct allegations
Winona Ryder Resurfaces More Genuinely Shocking Anti-Semitism From Mel Gibson
Tina Fey Pulls 30 Rock Episodes and Apologizes Amid a Reckoning on Blackface in Comedy
Customers Hound Black-Owned Bookstore Probably for Not Shipping Copies of White Fragility Faster
The Latest: Michigan mayor resigns after racial remark
---