Gay+
---
Welcome to Errattic! We encourage you to customize the type of information you see here by clicking the Preferences link on the top of this page.
French Montana sued for sexual battery, allegedly drugged victim
A woman is suing French Montana for sexual battery, alleging she was drugged and raped in his home.

The victim, referring to herself by the pseudonym Jane Doe, is also suing Montana's employee, Mansour Bennouna, and Coke Boy Records for assault and battery, sexual battery, intentional infliction of emotional distress, negligent hiring, supervision and retention and negligence.

In legal documents, obtained by The Blast, Doe claims the 35-year-old rapper "had a longstanding practice of inviting women to their recording sessions, or choosing women at bars, and inviting them back to the Hidden Hills house."

Doe goes on to allege that the defendants would supply women with drinks and drugs, "with the purpose of engaging in sexual acts with them, without any regard to whether or not they consented, or were able to consent."
---
Michael Rapaport Drops 24 F-Bombs In Angry Rant Against Coronavirus Revelers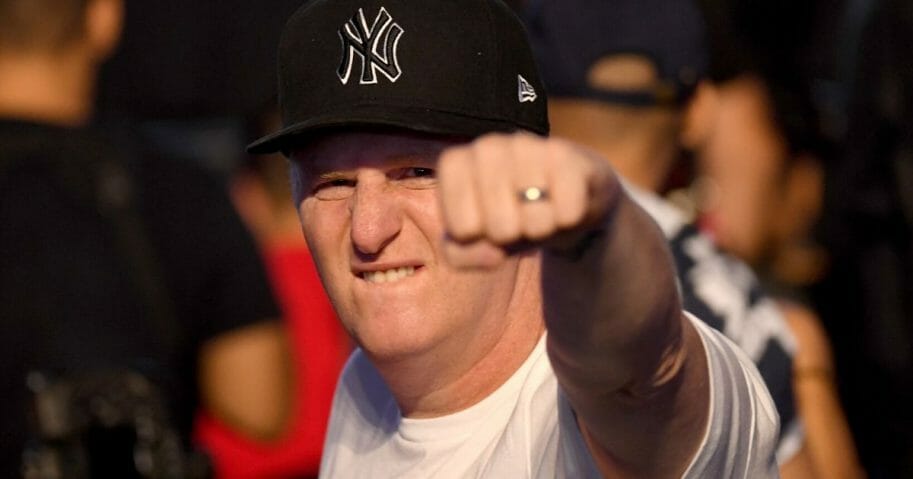 Public health officials are urging people to remain inside as much as possible to prevent the spread of coronavirus, yet news footage shows crowded parks and beaches in some places.

And actor Michael Rapaport is pretty angry about the whole thing.

Readers be warned: Rapaport's language is salty.

"Get your little, dirty, fucking grubby, selfish, YOLO fucking dumb tattooed faces in the fucking house," he said, addressing younger people.

And parents? You're not off the hook, either.

"Parents, get your fucking kids," Rapaport said. "This nice guy shit? It's done. Get your fucking kids in the fucking house."
N.J. Man Faces Charges for Allegedly Coughing on Grocery Worker, Saying He Had Coronavirus
---
Trans woman Monika Diamond killed after being shot at inside an ambulance 
Trans woman Monika Diamond, 34, has become the fourth trans or gender non-conforming person to be murdered in the United States this year. Monika was killed after a man, identified as Prentice Bess, 32, entered the ambulance she was in and shot her.
Transgender woman, 29, awaiting trial says she was repeatedly raped by two inmates while housed with men in a federal jail
---
How Berkeley High's Whisper Network Sparked a Movement
BERKELEY, Calif.—Last month, a list appeared, scrawled with thick black marker on a stall door in a girls' bathroom at Berkeley High School. "Boys to watch out 4," it read. Six names followed, each appearing alongside allegations including "rapist" and "susAF" (suspicious as fuck). Written next to the list were instructions: "add names if you want," "stay safe, ladies," and "support each other always," followed by a drawing of a heart with an arrow through it.

The previous week, a lawsuit had been filed by a student against the school for allegedly mishandling an on-campus sexual assault case. It was far from the first time that Berkeley High was accused of failing to protect its students; a few years earlier, the school district even became the subject of a related federal investigation. Now, a student had taken things into her own hands.

The message went up during a morning class period and, just a few bell rings later, students poured into hallways now reeking of the harsh cleaning chemicals used to strip the list from the stall door.
---
Virginian County Supervisor claims rainbow sticker signifies the "collapse of humanity"
Virginian County Supervisor Stacy Terry is under fire after he posted a homophobic rant onto Facebook after he saw a rainbow sticker on a classroom door at the Rural Retreat High School.

The sticker, for a Gender-Sexuality Alliance, when translated into English simply reads: "Safe Space." However, this was enough to irritate Terry who claimed that Christian groups weren't allowed to meet on the school campus, although this was contradicted by school officials.

In a post, where he claimed not to be homophobic but against "indoctrination" he wrote: "The photo on the right is of a classroom in one of our county high schools. It is a gay pride flag.

"Translated to English it says safe space. I want to know where the classroom is with a picture of a cross and Bible that says safe space?

"I am sick and tired of hearing folks hide behind tolerance and equality!
---
Transgender woman sexually assaulted at ICE site, advocates say 
A transgender woman seeking asylum should be released after she was sexually assaulted and harassed while being detained in an Arizona immigration facility with men for nine months, advocates said Thursday.

Alejandra Alor Reyes, who is from Mexico, is suffering from PTSD and should be released on humanitarian grounds while she awaits an appeal in her asylum case, according to several groups, including ACLU of Arizona, Trans Queer Pueblo and Detention Watch Network.

They say her case is a further indication that transgender immigrants face unsafe conditions and that none are being held with members of the gender they identify with.
Trans Man Murdered in Puerto Rico, Hours After Assault Report
Two homophobes trap and brutally beat gay man to death in Nigeria 12 MAR 2020
---
Nearly 90 per cent of men and women hold some biases against women: UN report
A new study from the United Nations Development Programme (UNDP) says that nearly 90 per cent of both men and women still hold biases against women in some form.

"The world is not on track to achieve gender equality by 2030," the report states, referring to goals the UN had adopted in the 2030 Agenda for Sustainable Development.

The 2020 report sheds light on how the invisible barriers keeping women from achieving equal opportunities and treatment in society are supported by negative biases ingrained in both men and women.

Equality for women remains a distant goal: UN report

Using the Gender Social Norms Index, (GSNI), which looks at data collected by the World Values Survey from 75 countries, which accounts for 81 per cent of the global population, the report found that "91 percent of men and 86 percent of women show at least one clear bias against gender equality in areas such as politics, economic, education, intimate partner violence and women's reproductive rights."

It added that "almost 30 per cent of people agree it is justifiable for a man to beat his partner."
---
Franklin Graham is suing an event venue for refusing to let him spread anti-LGBTQ rhetoric 
After a Glasgow venue canceled an event hosted by Franklin Graham, the notoriously anti-LGBTQ preacher has started legal proceedings to sue for "religious discrimination." The minister regularly bashes LGBTQ people on social media and from the pulpit.

Graham's claim of discrimination comes after he has spent years defending anti-LGBTQ bakery owners' rights to turn away LGBTQ couples. Graham has repeatedly praised the business owners for standing up for their private beliefs.

The Billy Graham Evangelistic Association (BGEA) is claiming the venue, the SSE Hydro, is being discriminatory against Christians by refusing to give the pastor a platform to spread anti-LGBTQ rhetoric. Graham's May 30th event was canceled after the venue's primary shareholder, the Glasgow City Council, voiced strong concerns about hosting Graham because it was likely hate speech and anti-LGBTQ rhetoric would be used at the event.
Archdiocese finally admits it pushed out two teachers that were gay & engaged
---
Utah is considering decriminalizing polygamy. The right wants to blame marriage equality.
Of all the issues facing Utah, the state senate has decided the one that really merits its attention is polygamy. Or, more specifically, the need to legalize polygamy.

This week, the Utah state senate voted unanimously to remove the threat of jail time for 'anyone' engaged in polygamy (in this context, polygamy is entirely about men having multiple wives.) The argument for the bill was that it would allow people to report abuses, like underage wives.

Needless to say, the right wing sees it all as a gay plot.

"Gay marriage was always leading to polygamy," The Federalist, a conservative magazine, declared. "The reason polygamy became inevitable is that once untethered from the concept of man and wife, there is simply no basis for constraining marriage to two people," the magazine argued.
---
SEXUAL 'CLEANSING' Iran is forcing thousands of gay people to have gender reassignment surgery against their will or face execution 
"The ayatollah's are seeking to eliminate homosexuality by pressuring or forcing gay men to undergo gender reassignment surgery to make them 'women'.

"Some gay men agree to become trans women to protect themselves from prosecution and execution when they have sex with men.

"They don't want to be trans but fear being hanged if they don't transition.

"Iran's policy of encouraging gender reassignment has nothing to do with supporting trans people.
Man set fire to a trans woman's apartment: "Anyone who is a tr***y offends me"
Christian parents sue their school district to force it to out trans kids
Mormon Church Formalizes Punishments for Trans Members
---
Why is rape still so prevalent in 2020?
The #metoo movement has made talking about rape far less taboo, so why isn't sexual violence being reduced? In honour of Sexual Abuse and Sexual Violence Awareness Week 2020, Lizzy Dening, founder of Survivor Stories, reports on the reasons why we're still shockingly at risk

It's 2020 and we're slowly getting better at talking about rape, thanks in part to initiatives like #metoo and the Million Women Rise march. But for every forward step, the statistics around sexual violence remain bleak – and things are actually getting worse.

It's estimated that one in five women and 4% of men have experienced some type of sexual assault since the age of 16, with roughly 3.1% of women experiencing a sexual assault each year. Meanwhile, rape cases referred by police to the Crown Prosecution Service have fallen by 32%, and convictions have dropped by 21%, in the year leading up to September 2019. So what exactly is going on?
---
Tanzanian Official Banned From U.S. for Antigay Witch Hunt 
A Tanzanian official has been barred from entry into the United States due to his attacks on the LGBTQ community.

Paul Christian Makonda, the regional commissioner of Dar es Salaam, Tanzania's economic capital, launched a state-sanctioned witch hunt of gay people in 2018. In this campaign, Makonda urged all citizens to report "homosexual behavior" and created a surveillance team to track down gay people and arrest them.

Under a law dating from when Tanzania was a British colony, sexual acts between men carry a maximum sentence of life in prison. Even though antigay rhetoric has been abundant in Tanzania for some time, it has ramped up since the 2015 election of noted homophobe John Magufuli as president; he once said that even cows condemn gay sex.
Man Convicted of Hate Crime in Beating of Oregon Trans Woman
Three men brutally stabbed & kicked a gay couple while filming it
Florida legislators putting their LGBTQ bigotry into law. Don't let them do it / Editorial
---
Priest refuses communion to state lawmakers who voted for pro-abortion bill
A Rhode Island priest is refusing to serve Holy Communion to state lawmakers who supported a pro-abortion bill.

In 2019, Democratic Gov. Gina Raimondo signed a bill preserving federal abortion protections into state law. According to U.S. News and World Report, the law says that Rhode Island will not restrict a woman's right to abortion "prior to fetal viability or afterward if an abortion is necessary for the health or life of the mother."

What are the details?

According to the Providence Journal, the Rev. Richard Bucci, 72, passed out flyers at West Warwick, Rhode Island's Sacred Heart Church publicly highlighting all state lawmakers who voted on a pro-abortion bill.

Bucci also said that these lawmakers will not be able to serve as marriage witnesses, godparents, or lectors at church-sponsored events.
---
Republicans scrap child marriage ban because they're worried about a pro-LGBTQ proposal
Republicans are pulling a bill that would have raised Indiana's minimum marriage age from 15 because a Democratic proposal to repeal the state's ban on marriage equality got attached.

According to the AP, Indiana House Speaker Brian Bosma (R) refused to call the marriage bill to the floor after it came to light that Indiana Rep. Matt Pierce (D) wanted to propose an amendment to end the state's same-sex marriage ban, which was already declared invalid by the U.S. Supreme Court in the 2015 Obergefell v. Hodges decision.

As such, the bill was not filed in time to meet a Thursday deadline, which, WOWO explains, means it cannot be called again until next year.
---
Trump administration removed LGBTQ protections from Department of Interior guidelines
During the Obama administration, that list was "race, color, religion, gender, sexual orientation, age, or disability."

The words "sexual orientation" were crossed out in red in a draft of a letter obtained by the HuffPost that was sent by then-Deputy Interior Secretary David Bernhardt in August 2017.

The organization Friends of the Earth obtained the letter through a FOIA request.

A spokesperson for the DOI said that the words "sexual orientation" are not necessary in the expression and are already covered by the word "sex."

"Per the Equal Employment Opportunity Commission, under Title VII the term 'sex' includes gender, gender identity, transgender status, sexual orientation, and pregnancy," the spokesperson said, calling the elimination of the words a "non-story."
---