Gay+
---
Welcome to Errattic! We encourage you to customize the type of information you see here by clicking the Preferences link on the top of this page.
Infant grazed by stray bullet in Lawndale 
A 7-month-old boy was shot Wednesday in Lawndale on the West Side.

He was riding in a vehicle with two family members about 10 p.m. in the 1100 block of South Albany Avenue when a black SUV pulled up alongside and someone inside opened fire at a group standing on the corner, Chicago police said.
Man charged with murder in fatal Albany Park beating
Man dies over a week after Englewood shooting
Black Lives Matter mural in Oak Park vandalized
Vermont Black Lives Matter roadway murals defaced, state police say
Philadelphia waives 100s of protest-related code violations
Baby dies after being left in hot car in Fullerton
Victim of alleged hate crime in northern New York still 'in shock'
St. Louis police captain charged with stealing after 'double-dipping' investigation
UFC'S MIKE PERRY PUNCHES OLD MAN IN RESTAURANT TIRADE ... Allegedly Struck 3 People
---
'Are You Two a Couple of Fags?' — Oklahoma Realtor Beaten Unconscious After Honking to Get Into Parking Space: WATCH 
Christian Council, an Oklahoma City-area realtor was beaten unconscious last week by two people, identified as Amery Dickerson and Bennett Stone, who used anti-gay slurs as they hit him in the head.

Council said it was early Saturday morning when he arrived home with a friend and honked when he saw a car was blocking his parking space. the car moved and after he parked and got out two people approached him.
People Keep Attacking Black Lives Matter Protesters With Their Cars
Man Attacks Woman With Stranglehold, Antigay Slurs Over Parking Job
Bystander critically wounded in Brooklyn double shooting
Trio stabs, punches, kicks 35-year-old man in the Bronx, leaving him in critical condition
Cops make arrest in fatal shove of Queens man, 76, after initially refusing to probe case
2 more suspects charged with 1st-degree murder after woman shot in east-end Toronto
Records: Man accused of killing Tulsa officer threatened him
Gardena security guard accused of killing man after dispute over mask at market; couple charged: DA
Tennessee Mom Who Changed Story Several Times About Shooting Death Of Daughter Now Charged With Her Murder
---
Black Americans report hate crimes, violence in wake of George Floyd protests and Black Lives Matter gains 
When it comes to families, a viral video shows a white woman pointing a gun at a Black family in a Michigan parking lot and a Black Muslim woman and her two children allegedly had a gun pulled on them by their neighbor in Washington state.
Three people killed, cop injured in Florida shooting over 'dangerous' dog
Video shows fatal restraint of Cornelius Fredericks, 16, in Michigan foster facility
Comedian Rickey Smiley reveals his daughter was shot twice and hospitalised in Houston road rage shootout
All-white Mississippi county board votes to keep Confederate statue standing in their city square, claiming its removal would do nothing to help ease racial tensions
'The Five' rips CNN's Don Lemon for dismissing Terry Crews in heated interview
Michigan drivers met with startling billboard message: 'Driving while Black? Racial profiling just ahead'
Suspect arrested in connection to vandalized Palm Springs community center
2 Birmingham teens, man charged in deadly shooting at Riverchase Galleria mall in Hoover
Car drives into protesters at rally for the Black victim of an 'attempted lynching' in Indiana
---
Citing violent crime in Atlanta, Georgia governor declares state of emergency and calls up National Guard 
Georgia Gov. Brian Kemp on Monday declared a state of emergency and activated as many as 1,000 National Guard members.

Kemp, a Republican, said the executive order follows "weeks of dramatically increased violent crime and property destruction in the City of Atlanta."

The governor's statement says more than 30 Georgians were wounded by gunfire over the extended holiday weekend, including five people who died.

One of the five deaths was that of an 8-year-old girl who was shot while riding in a car with her mother and another person. Secoriea Turner was killed Saturday night as the car tried to enter a parking lot that had illegal barricades, police said.
Brother of Little Rock mayor steals car with two kids inside: cops
At least 6 kids killed by gun violence over holiday weekend
Michigan 4-year-old shoots sister in head while parents were asleep
Grandfather of 11-year-old gun violence victim says police are not the problem: 'Go after the people that look like me that hurt people that look like me'
---
Mayor Lightfoot calls violence against the city's children personal, as one person is charged in weekend shooting death of 7-year-old girl
Mayor Lori Lightfoot on Monday said she wants "all of us to feel this loss" after another weekend of violence in Chicago yet again took a toll on the city's children, including the killing of a 7-year-old girl.

Lightfoot said she outlined an "all hands on deck" strategy on Thursday to head off another weekend of bloodshed, a plan that included police and street outreach groups. And yet, "we still saw a four-day weekend of 87 Chicagoans shot, 17 Chicagoans killed, and two of them children. Our children," the mayor said at a news briefing.
Girl, 13, dies after violent carjacking of family van with 4 kids inside
Boy, 15, joins 14-year-old facing 1st-degree murder charge in shooting death of Danielle Cote
NYPD commissioner slams Bill de Blasio for slashing police budget as gun violence in the city surges 130% and video emerges of a father being shot dead while holding his four-year-old daughter's hand
Aaron Glee has been charged with murders of Oluwatoyin Salau and Vicki Sims in Florida. He 'would have killed again,' experts say.
Three More Trans Americans Killed; Another Hospitalized for Injuries
Chicago pastor says people are afraid to leave their homes and backs bringing in the military after 17 people - including a 7-year-old girl - were shot and killed during a July 4th weekend of bloodshed
Ex-Porn Star Mia Khalifa Slammed BangBros For Allegedly Capitalizing On Eric Garner's Death
Florida Prisoner Ripped Off Lowe's to Build Home—From Jail, Feds Say
Family Searches for Missing Trans Woman Dawn Manson
---
Stamford man caught in Cove video charged with hate crime, assault 
City police have charged a Stamford man, who was caught on video berating a group of young Black and Latino men at Cove Island Park last month, with a hate crime and multiple counts of assault.
Steven Mike Dudek, 57, who police say sprayed four of the men with pepper spray, was videoed shouting at the group and then calling police to report he was being harassed by a "bunch of Black men."

On Thursday Stamford police charged Dudek with four counts of second-degree assault, first-degree intimidation based on bigotry or bias and falsely reporting an incident to police, according to Stamford Police Capt. Richard Conklin and Lt. Tom Scanlon.

One of the men asks for his name and Dudek replies, "My name is God."
Police: 2 women hit by car on Seattle highway amid protest
Florida man charged for pointing gun, unleashing racist tirade against Black homeowner
6-YEAR-OLD KICKED OUT OF SCHOOL ... Over BLM Shirt
MYSTIC INN BRUTAL RACIAL ATTACK
The Neighbor Kids Tore Up My Garden. Now Their Mom Says I'm a Bigot.
A White Couple Was Arrested After Pointing a Gun at a Black Family In a Chipotle Parking Lot
Man faces hate crime enhancements after threats against 12-year-old Black youth in SF
---
An 8-Year-Old Boy Was Killed In A Mall Shooting In Alabama 
An 8-year-old boy was shot and killed when someone opened fire at a mall in Hoover, Alabama, on Friday.

The Hoover Police Department said they were called to the scene at the food court of Riverchase Galleria mall around 3:18 p.m. with multiple victims.

"I'm extremely saddened to report that an 8-year-old male victim was pronounced deceased shortly after arriving at Children's Hospital," Hoover Police Chief Nicholas Derzis said at a news conference.

Derzis did not release the name of the child, but AL.com reported his name was Royta.
Las Vegas Pastor Allegedly Killed Elderly Neighbor With A Shotgun While Young Daughter Watched
---
Arkansas man allegedly shoots into pizzeria after being snubbed on toppings 
An Arkansas man fired gunshots through the front window of a pizzeria after arguing with an employee over getting an insufficient amount of toppings on his pizza pie, according to police.

Michael Brown was arrested Monday on multiple felony charges after the violent encounter at Pie Five restaurant in Little Rock.
E-scooter robbery and assault caught on camera in Bronx
Pair now faces felony firearm charges after 3 gun-related calls Sunday
---
Fast food worker fired after mob beat him & called him a "faggot" in shocking video
A fast food employee in Florida was called anti-gay slurs as he was allegedly beaten by a mob of customers, left bruised and injured.

Later that same day, after he filed a police report, the victim was fired.
Black Trans Woman in Critical Condition After L.A. Shooting
Two Texas LGBT Facebook groups are sharing Islamophobic & anti-Black Lives Matter posts
Turk of Hot Boyz Criticized for Saying Trump Administration Has Done More for Black People Than Obama
Detroit Man Sentenced to Life in Murders of Two Gay Men, Trans Woman
RuPaul Just Inexplicably Wiped His Instagram — After Hiatus
German pastor charged with incitement for anti-gay comment
---
Bishop: North Carolina priest kept on leave on abuse claims 
A Catholic priest in North Carolina will remain on administrative leave after allegations of sexual abuse against him were revealed last year, the Charlotte diocese's bishop said.

Bishop Peter Jugis made the announcement to St. Matthew parishioners in a letter Wednesday, writing that he had accepted the recommendation of the diocese's Lay Review Board to keep the Rev. Patrick Hoare out of ministry, The Charlotte Observer reported.

Hoare was originally put on administrative leave in December after the diocese received "an allegation against him of child sexual abuse that was said to have occurred in Pennsylvania more than 25 years ago, before Father Hoare entered ministry" the Charlotte Observer quoted Jugis as writing.
Man sues Allentown Diocese, Hellertown school, says teacher molested him
Fox News Host Newly Fired For Sexual Misconduct Had Prompted Earlier Warning
Child marriage is "extremely prevalent" in U.S.: "The cycle perpetuates across generations"
Outrage as Indian judge calls alleged rape victim 'unbecoming'
Netflix's 'controversial' erotic drama '365 Days' sparks backlash: Here's why people are talking
---
2-year-old boy slashed in face in random unprovoked attack in New York City
A man slashed a toddler in a seemingly random and unprovoked attack in Manhattan Wednesday morning, leaving the 2-year-old boy with stitches and police hunting for the suspect.

Authorities say the man approached the boy and his nanny at 110th Street and Morningside Drive around 9:35 a.m.

He then struck the child with an unknown sharp object, cutting him above his right eye, before fleeing the scene.
---
A White Couple Was Caught on Video Pointing Guns at Black Lives Matter Protesters in St. Louis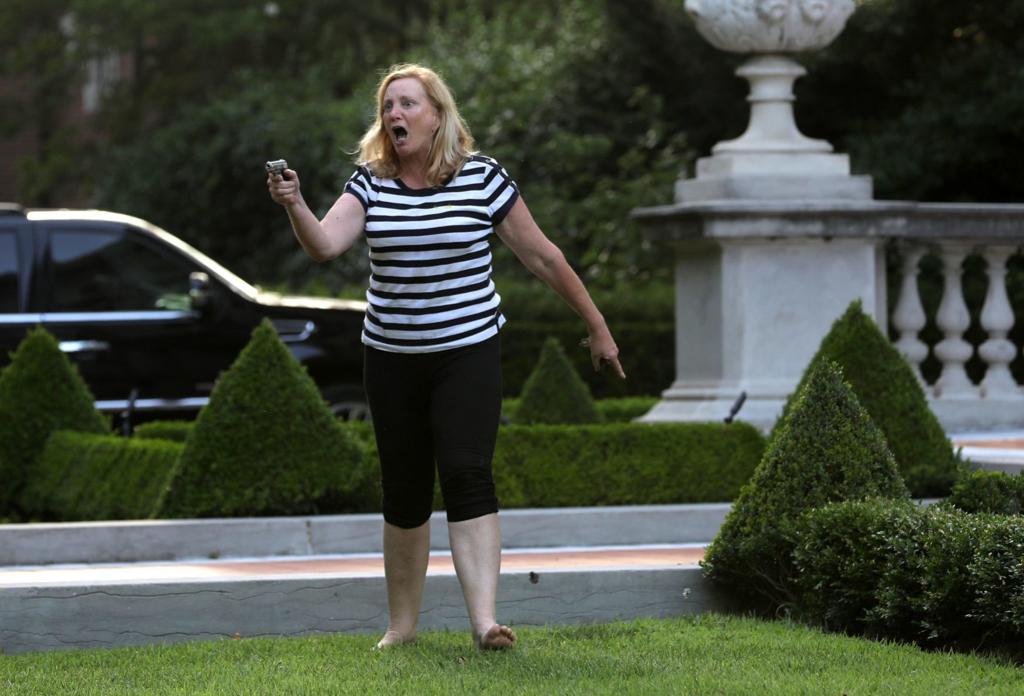 An armed white couple waved their guns and yelled at Black Lives Matter demonstrators in St. Louis on Sunday, during a protest march to St. Louis Mayor Lyda Krewson's home.

At least 500 people peacefully marched through St. Louis' Central West End neighborhood on Sunday demanding Krewson's resignation, according to the St. Louis Post-Dispatch. Krewson appeared in a Facebook Live video last week reading the names and addresses of people who had called for defunding the city's police department.
Man Fired for Racist Rant Supporting Slavery and Lynchings of Black People
John Wayne's son responds to resolution calling for John Wayne Airport to be renamed
Michigan Woman Yells Racial Slurs at New Neighbors in Viral Video
San Jose man charged with hate crime in Santa Cruz assault incident
Adam Carolla defends Jimmy Kimmel over blackface backlash: 'We've lost our minds'
Little Caesars fired two employees after a couple found a swastika made of pepperoni on their pizza
---
White couple blocks Mexican American from entering his building, called him 'criminal' 
A white couple blocked a young Mexican American man from entering the San Francisco apartment complex where he lives in, saying "they would not let a criminal into their complex as they needed to protect it."

Michael Barajas, a UC-Berkeley graduate and a community educator for a biopharmaceutical company, tried to park his car in the apartment complex's garage Tuesday night when the driver in front of him refused to pull forward.

Barajas, 28, told NBC's Bay Area affiliate KNTV that the situation kept escalating and turned dramatic when the white man in the car got aggressive, which prompted him to start recording.
White Men Light Black Teenage Girl's Face on Fire in Wisconsin
Kansas State players speak out after offensive George Floyd tweet made by student leader of white nationalist group
Whole Foods workers sent home for wearing Black Lives Matter masks
White man called police on Black and Hispanic men at marina
Indian restaurant vandalized with 'White power' and Trump 2020' gets donations, support
---
Man viciously stabbed in the stomach by someone who thought he's gay 
A man in the state of Washington has been taken into custody for allegedly stabbing two people he was hanging out with, and investigators believe that the attack was motivated by homophobia.

Court records say that Jose Mendoza Sandoval, 26, was at his home in Pasco this past Saturday night when he got into an argument with another man who was there, the Tri-City Herald reports.
Detroit Catholic Church Fires Music Director for Same-Sex Marriage
---
3-Year-Old Chicago Boy Is Fatally Shot While Riding in Car with Stepfather, as Police Seek Suspects 
A $4,500 reward is being offered for information that leads to the arrest of a suspect in the fatal shooting of a 3-year-old boy during a violent weekend in Chicago.

According to police, Mekhi James, 3, was shot Saturday night while in the back of his stepfather's car.

The stepfather was driving them home after both had gotten haircuts.

The shooting unfolded shortly after 6:30 p.m. along Chicago's Huron Street.

Investigators said a blue Honda SUV pulled up alongside the stepfather's vehicle and opened fire.
A Black Teen Died After Screaming 'I Can't Breathe' as Youth Home Employees Put Their Weight on Him
SEE IT: Man left with knife sticking out of head by Harlem mugger
Accused killer caught in Brooklyn gang bust left trail of Facebook posts boasting of violence: feds
White men in car chased down Black teens on bikes in Connecticut, 1 hurled slurs, police say
3 charged over killing of Black teenager who reportedly cried out 'I can't breathe' while being restrained at Michigan facility for 'at-risk youth'
Pa. Woman Who Vanished Last Month Is Found Dead in Trash Bag, and Man Is Arrested
Ga. Boy, 13, Was Walking with Dad on Sidewalk When Driver Allegedly Killed Him in Hit-and-Run
Baseball bat-wielding brute sought in unprovoked Bronx attack
Protestors brutally beat a gay Democratic lawmaker in Wisconsin. He says he's still "on their side."
---