Health/Food Posts Tagged as 'Protections'
---
Welcome to Errattic! We encourage you to customize the type of information you see here by clicking the Preferences link on the top of this page.
Can I Use a Sick Day as a 'Mental Health Day'?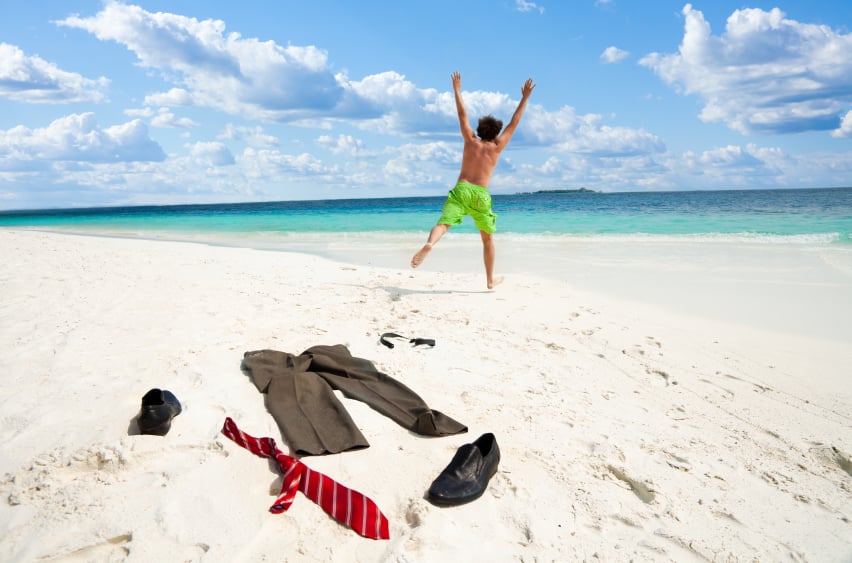 Rosenblatt is director of communications for Accessibility Partners, a small IT consulting firm. The company is so small that it doesn't fall under the Americans with Disabilities Act, and it doesn't have to follow the same federal rules with sick leave that large companies do.

However, her boss has been accommodating, allowing her time to attend therapy and psychiatric appointments, to deal with medication changes and even time in inpatient treatment.

That kind of treatment toward mental health might seem rare, but there's evidence that it's less taboo than it used to be.

The World Health Organization recently classified burnout as a diagnosable health condition.

According to an Australian study, one-third of workers have "faked an illness" to use a sick day for their mental health.

But 26 percent of employers have fired a worker for using a sick day for what they see as a "personal day."

So deciding to take your sick day as a mental health day can be a tricky decision, especially if you're worried your employer won't see it as legitimate.

Mental health is a disability
Here's the thing. Changes to the Americans with Disabilities Act (ADA) in 2008 expanded the definition of disability. This means that mental disorders like depression, bipolar disorder, anxiety and schizophrenia are protected.

So, if you've got a diagnosed mental disorder like about 44 million American adults, almost one in five people, you can't be fired for asking for accommodations, such as the occasional mental health day.
9 Surprising Changes That Occur In The Body When You Get Rejected
Hundreds weigh in on Chicago's mental health crisis as city task force examines solutions
More Millennials Are Dying 'Deaths of Despair,' as Overdose and Suicide Rates Climb
---
Brain disease linked to lychee toxins kills 47 children in India 
Almost 50 children have died in northern India over the past three weeks from a brain disease that has been linked to toxins in lychees.

Health authorities in the state of Bihar said Thursday that 47 children have died of acute encephalitis syndrome, which involves inflammation of the brain. Two hospitals in the city of Muzaffarpur had registered a total of 179 cases since January, they said, but the deaths occurred only in the past few weeks.

In 2013, at least 351 people died of encephalitis in the northern state of Uttar Pradesh.

"This year, the number [of cases] has gone up a bit. The heat wave has been too intense, and it has gone on for too long," said Sanjay Kumar, a senior state health official.
14,000 cases of a flour brand have been recalled nationwide because of E. coli fears
---
Patients' Needs, Not Personal Beliefs, Come First in Health Care 
Since taking office, the Trump administration has launched a systematic attack on laws that exist to protect all of us from discrimination when we seek basic health care. Today, we're taking them back to court over it.

Last month, the Department of Health and Human Services (HHS) resurrected a policy that allows health care providers — including hospitals, clinics, and doctors' offices — to use their religious beliefs to withhold critical information and obstruct patient's access to health care. In 2009, the ACLU challenged the original version of the rule. Ten years later, we filed a lawsuit to, once again, preserve access to evidence-based, nonjudgmental health care and ensure that medical standards — not religious belief — guide health care.
The Worst Patients in the World
---
New York is building a wall to hold back the ocean
When Superstorm Sandy slammed into the East Coast in 2012, New York City was devastated. Winds blew in at 80 mph, and storm surges pushed the ocean more than 9 feet above normal levels in Staten Island. Homes were leveled, subways flooded, and coastlines destroyed; 2 million people were left without power. Of the 43 lives lost in New York, more than half were residents of Staten Island.

Seven years later, many of the homes destroyed by the storm on Staten Island still sit empty. Government buyouts were able to relocate many people, but another major storm could bring the same or worse levels of devastation. With superstorms only becoming more common and sea levels rising faster each year, it's likely to happen again. It's too late to stop the storms, but can we design away future damage?
---
Here are the best US states for LGBT employees
Out Leadership just unveiled its grades for all 50 states on how well (or not) each state's legislative policies and social attitudes provide a safe and empowering living environment for LGBT employees and residents contributing to the state's economy.

The state topping The Business Climate Index is Massachusetts — the Northeastern state is strongest when it comes to making LGBT employees and residents feel most comfortable with their economic contributions. California ranked second and Connecticut ranked third.

"Companies that are doing business within those states are very aware of the economic impact of LGBT inclusion," said Out Leadership founder Todd Sears during an interview with Yahoo Finance On the Move."They're weighing in. They're using their economic power to say that anti-LGBT legislation is bad for business and that LGBT inclusion is good for business."

Mississippi came in last place, scoring 31.17 out of 100, on the index. The Business Climate Index uses five main factors to measure a state's index total: legal and nondiscrimination protections, youth and family support, political and religious attitudes, health access and safety, work environment and employment.
---
Trump's New Rule Could Effectively Allow Discrimination Based on Race and Age
A new Trump administration proposal would change the civil rights rules dictating whether providers must care for patients who are transgender or have had an abortion. While news stories have mainly focused on how the proposal might affect LGBTQ rights and abortion rights, the sweeping proposal has implications for all Americans, because the Department of Health and Human Services seeks to change how far civil rights protections extend and how those protections are enforced.
---
How Doctors Can Stop Stigmatizing — And Start Helping — Kids With Obesity
Kids with obesity face a host of health problems related to their weight, like high blood pressure, diabetes and joint problems.

Research points to another way heavier children and teens are at risk: their own doctors' bias. This prejudice has real health consequences for kids, making families less likely to show up for appointments or get recommended vaccines.

I am a family physician at a community health center in Washington, D.C., and many of my young patients have obesity. It's no surprise. Obesity is the most common chronic disease that affects children and teens in the U.S. One-third of American kids are overweight or obese.

But I often feel totally unprepared to talk about it in a way that puts kids at ease. We have to cram in a physical exam, shots and parent questions into a 15-minute appointment, and a discussion about a healthy lifestyle sometimes feels like an afterthought.
---
Thanks to anti-vaxxers, a measles travel ban may be coming 
As any armchair epidemiologist can tell you, it's really, really easy to spread disease through air travel. Now as measles become the hot new trend of 2019, health officials and federal authorities are considering banning people exposed to the measles from flying in the hopes of fighting the spread of the virus, which was declared eliminated in 2000.

Eight people across the country have "voluntarily" canceled their travel plans in lieu of being placed on a federal do-not-board list maintained by the Centers for Disease Control and Prevention (CDC), which would prevent them from stepping foot on a plane, the Washington Post reported. The eight individuals were either confirmed to be infected or had a high probability of having the disease (Read: They weren't vaccinated and hung out with someone who had the measles).
Measles : What you need to know before flying...
Maine bars residents from opting out of immunizations for religious or philosophical reasons
---
Group ranks best and worst countries in Europe for LGBTI rights
Azerbaijan, Turkey and Armenia are the worst countries in Europe for LGBTI rights, according to a new assessment from the International Lesbian, Gay, Bisexual, Trans and Intersex Association.

Malta, Belgium and Luxembourg come in at the top of the list of 49 nations ranked according to legal and policy practices for LGBTI people, according to a news release from advocacy group ILGA-Europe. LGBTI is an abbreviation for lesbian, gay, bisexual, transgender and intersex.
---
Health care providers need to learn LGBTI health is not only about sexual health 
Health experts have shared their ideas of how to improve the UK's health care for LGBTI people admitting a 'silver bullet' won't quickly fix the issues. They also said health care professionals need to learn that LGBTI health has more nuances beyond sexual health.

Those admissions came from a public session on how to improve health care access and experiences for LGBTI people.

'Healthcare professionals might not understand LGBTI people have specific needs,' said Sophie Meagher, policy officer, LGBT Foundation during Wednesday's session.

Last year, the UK government ran a survey 108,000 LGBTI people which found some had experienced inappropriate questioning and curiosity from healthcare staff. Many said they felt stigma – real or perceived – because of their gender identity or sexuality. Others said they felt their specific needs are not taken into account.

The subsequent enquiry received more than 60 written evidence submissions. Those submissions provided a range of insights into the problems associated with LGBT people. Those included LGBTI people self-excluding from health and social care services or failing to access the support that they need due to poor experiences.
Iowa Republicans push to ban use of Medicaid dollars on transgender surgeries
---
'Children welcome - as long as they stay seated, don't cry, eat off plastic plates and don't go to the toilet on their own': Restaurant's forbidding list of rules for customers with young ones sparks online anger
A restaurant has ordered parents to keep their children quiet at all times or they will be asked to leave.

The list of rules for diners at the Mediterranean restaurant in Llandudno, North Wales, also says youngsters must be 'seated at all times', accompanied to the toilet and eat off plastic plates.

The business scores four out of five stars on TripAdvisor, and ranked as one of the five best in the area.

It was posted online by charity worker Helen Hyland, reports The Sun, 52, from Stirling, Scotland, who was on holiday in the Welsh resort.
---
Nearly 5,000 students get shots at Temple University amid mumps outbreak 
A mumps outbreak on the campus of Temple University in Philadelphia has reached the triple digits. The city health department said the number of confirmed and probable cases of mumps at the school reached 108 as of Thursday.

Nearly 5,000 students and faculty members have taken advantage of free vaccine booster shots, with more than 2,500 people given shots Friday during the second clinic offering the MMR vaccine, according to city health officials. The first clinic at the school Wednesday saw more than 2,200 people.

"It's just really scary to me so I decided to go and get it," one student said, CBS Philly reported.
---
Psychologist who played a key role in opposing LGBT lessons in schools is to be investigated over links to material calling for gay people to be 'lashed and killed'
A psychologist, who has continuously opposed LGBT lessons in schools, is to be investigated over her opposition to homosexuality.

Dr Kate Godfrey-Faussett, who is a lead figure in the Stop RSE campaign and converted to Islam 25 years ago, is now under investigation by the Health and Care Professions Council over her views, The Guardian has reported.

An investigation carried by the Observer earlier this year found that the National Secular Society (NSS) had written to the Health and Care Professions Council, the governing body for Godfrey-Faussett's profession, over whether her role is compatible with the ethical standards of her professional body.

In a letter seen by the paper, dated on February 18, the NSS warned that the campaign group had 'promoted material which says the punishment for homosexuality is death.'
---
The happiest countries in the world protect their LGBTQ citizens from discrimination 
The latest edition of the World Happiness Report has been released, and one finding isn't a surprise to those of us who are LGBTQ: of the 156 countries covered in the report, nine out of the top ten have laws that protect their LGBTQ residents.

The top countries are, in order: Finland, Denmark, Norway, Iceland, The Netherlands, Switzerland, Sweden, New Zealand, Canada, and Austria.
Christian-based Azusa Pacific University now allows same-sex dating (again)
---
Tech Start-Up Wants to Help Travelers Avoid Homophobic Hotels 
The world's largest short-term rental marketplace dedicated to the gay community has launched a campaign designed help LGBTQ travelers avoid homophobic hotels.

Misterb&b recently announced a Wefunder campaign that gives the public the opportunity to invest in the company in order to help launch its expansion beyond short term rentals and into hotels.

"Misterb&b wants to build equality into the sharing economy and give back to a community that's been historically economically marginalized, by providing the misterb&b community with the power of part ownership of the company," the company said in a statement.

Already a half-million dollars have been raised through the campaign, which the company says will be used to provide gay and gay-friendly hotel rooms on the platform.
---