Gay+
---
Welcome to Errattic! We encourage you to customize the type of information you see here by clicking the Preferences link on the top of this page.
New poll shows very few Americans want to defund police 
A new poll found that many more Americans want funding for police to increase or stay the same than those that want police to be defunded.

Black Lives Matter protesters and activists have made the defunding of police forces a central platform of their political demands.

A Pew poll released on Thursday shows that few Americans support the policy.

A plurality of Americans, 42%, said that they want the funding for police to stay the same. Another 31% of Americans said they want funding for police to increase.
Clarence Thomas's wife criticized her town's 'Black Lives Matter' banner: report
Man Arrested in Miami Beach for Allegedly Harassing Beachgoers With a Knife
Man who flies Nazi flag from his car to show he is in 'total opposition of Black Lives Matter' claims he was attacked because of it
Pat Robertson prophesies (again) that God will destroy America if LGBTQ people get any (more) rights
---
St. Louis mayor slammed for broadcasting names, addresses of 'defund the police' supporters 
The mayor of St. Louis is facing backlash for reading aloud during a public briefing the full names and street addresses of protesters who are calling on the city to defund the police department.

Democratic Mayor Lyda Krewson was answering questions during a Facebook Live briefing Friday afternoon, which she has held regularly during the coronavirus pandemic, when someone asked about a meeting she had with demonstrators outside City Hall earlier in the day.

The mayor responded that the conversation "wasn't really a two-way conversation… because there was a very loud response from the demonstrators," NBC's affiliate in St. Louis, Missouri KSDK reported.
'I Should've Killed You': Unrepentant White Supremacist Murderer Threatens Victim At Sentencing
Black Lives Matter Wants to End Police Brutality. History Suggests It Will Go Much Further.
---
White couple blocks Mexican American from entering his building, called him 'criminal' 
A white couple blocked a young Mexican American man from entering the San Francisco apartment complex where he lives in, saying "they would not let a criminal into their complex as they needed to protect it."

Michael Barajas, a UC-Berkeley graduate and a community educator for a biopharmaceutical company, tried to park his car in the apartment complex's garage Tuesday night when the driver in front of him refused to pull forward.

Barajas, 28, told NBC's Bay Area affiliate KNTV that the situation kept escalating and turned dramatic when the white man in the car got aggressive, which prompted him to start recording.
White Men Light Black Teenage Girl's Face on Fire in Wisconsin
Kansas State players speak out after offensive George Floyd tweet made by student leader of white nationalist group
Whole Foods workers sent home for wearing Black Lives Matter masks
White man called police on Black and Hispanic men at marina
Indian restaurant vandalized with 'White power' and Trump 2020' gets donations, support
---
Black Lives Matter activist Shaun King says statues of Jesus Christ should be torn down — but just the white ones 
Black Lives Matter activist Shaun King said that it is permissible to tear down the statues of Jesus Christ that show him with European features because they support white supremacy.

"Yes, I think the statues of the white European they claim is Jesus should also come down. They are a form of white supremacy. Always have been," King tweeted on Monday.

"In the Bible, when the family of Jesus wanted to hide, and blend in, guess where they went? EGYPT! Not Denmark. Tear them down," he added.

"Yes. All murals and stained glass windows of white Jesus, and his European mother, and their white friends should also come down," he explained in a second tweet.
Black graduate student target of racist rant while walking in New York
Ohio Girl Writes 'Black Lives Matter' in Chalk, Neighbor Calls Police
A City Painted Over A Black Lives Matter Street Mural As Protests Continue
Steve McQueen calls race imbalance in UK film and TV "blindingly, obviously wrong"
'The greatest trick racism ever pulled was convincing England it doesn't exist'
Padma Lakshmi Is Tired of Being Delicate
---
Canada Among Very Worst White Supremacist Countries: Report 
Over 11 million online users globally have been reached by more than 6,600 right-wing extremist social media pages, groups, and accounts in Canada, according to a new report by a U.K.-based think tank that studies hate and extremism.

And researchers suspect that these users have been more active during the COVID-19 lockdown and anti-Black racism protests.

"We were really struck by the high level of engagement by Canadians," said Jacob Davey, the Institute for Strategic Dialogue (ISD) senior research manager and co-author of the report. "It's clear that Canada has a well established system of right-wing extremists very much comparable to that of the U.S. and U.K., and it's part of a global pattern."

Davey said the current anti-Black racism movements have likely led to more activity by these voices as they try to discredit the idea that racism is a problem in Canada.
Two Iowa men arrested in brutal, 'racially motivated' assault of Black man
---
Hollywood Celebs Are Praising an Anti-Semitic Hatemonger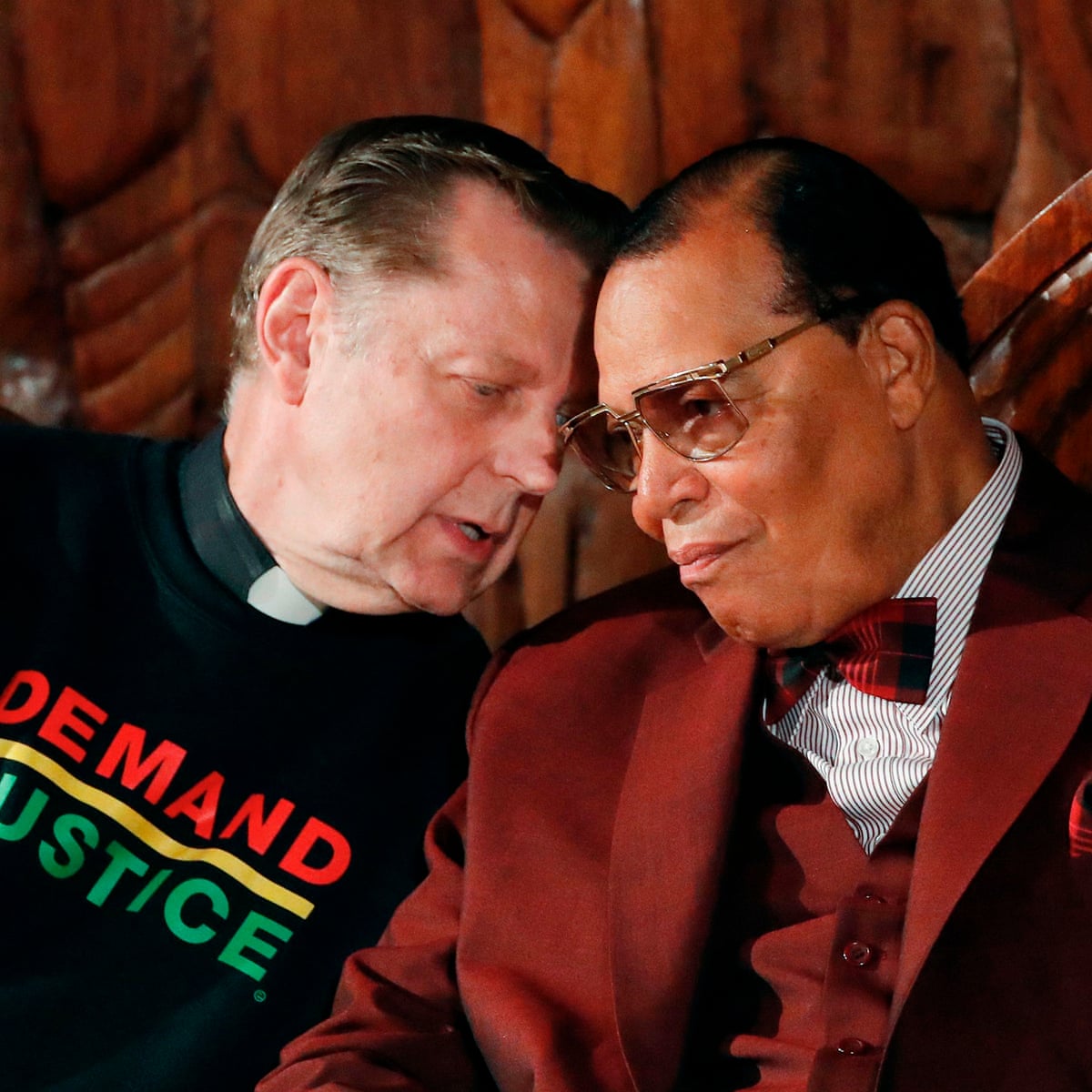 I regret to inform you the celebs are at it again.

On Sunday, in lieu of posting Instagram-friendly protest content, discussing White Fragility in a Zoom book club, or recording a mortifyingly tone-deaf PSA renouncing racism, the comedian Chelsea Handler shared a video clip to her 3.9 million Instagram followers. The clip featured Louis Farrakhan, leader of the Nation of Islam, during a 1990 appearance on The Phil Donahue Show.

In the clip, Farrakhan attempts to educate the rowdy, majority-white daytime TV audience on the subject of white supremacy.

"I really don't think you fully understand what has happened to these people you look at as second-class or inferior citizens in this nation," Farrakhan explains. "Black people who were brought to this country were stripped of their names, language, culture, religion, God, and taken totally away from the history of themselves. Here are 30 million people who don't wear their own names—they wear your names."
'Siesta Key' Fired Alex Kompothecras, Reportedly For Racism On Instagram
---
EXCLUSIVE: 'We prepare to stop these murders by any means necessary.' Black Lives Matter leader declares war on police and group is 'training our people to defend our communities' in Black Panther style armed 'patrols'
A Black Lives Matter leader has declared war on the police and plans to release a blueprint for change that involves Black Panther style armed 'patrols' monitoring the behavior of officers on the streets, DailyMailTV can reveal.

Hawk Newsome, Chairman of BLM's Greater New York chapter, says the black rights group is 'mobilizing' its base and aims to develop a highly-trained 'military' arm to challenge police brutality head on.

In an exclusive interview, Newsome says the BLM movement has marched for years to wake people up to the realities of police brutality and oppression.

And he believes that since the tragic death of George Floyd - who died after his neck was pinned under the knee of white police officer Derek Chauvin during an arrest on Memorial Day in Minneapolis - people have finally awoken.

'We want liberation. We want the power to determine our own destiny. We want freedom from an oppressive government, and we want the immediate end of government sanctioned murder by the police.

'And we prepare to stop these government sanctioned murders by any means necessary.

'We are preparing and training our people to defend our communities.'
---
Does All Black Lives Matter #Iyannadior
The question remains does all black lives matter? A trans women of color was brutally attacked in Minneapolis during one of the most craziest times a time we're black people should be united.
---
All you proved, is that the community is impossible to police.
31-May-2020
---
Far-Right Extremists Are Hoping to Turn the George Floyd Protests Into a New Civil War
Far-right extremists are showing up, with guns, to the protests against police brutality that have exploded across the country.

Others are egging on the violence from behind their computers, urging followers to carry out acts of violence against black protesters with the goal of sparking a "race war."

Their presence makes an uneasy addition to the escalating unrest, which was triggered by the death of George Floyd, a black man who was choked to death by a white Minneapolis police officer earlier this week.

But there's a range of motivations that's driving far-right interest toward the protests, which are being led by community members and Black Lives Matter, and bolstered by antifascists.

For example, the so-called Boogaloo Bois — a group of armed anti-government extremists made visible by their Hawaiian shirts — have reportedly shown up to some of the protests.
---
Hammer-wielding woman arrested after screaming racist tirade at Latino couple 
Dr. Lia Francoand and her husband, Arturo Cordovez, recorded a terrifying encounter with a woman yelling a racist tirade at them, telling them to "go back to your (expletive) country!" KPRC's Phil Archer reports.
---
Doja Cat, who's said f****t 15,000 times, accused of video chatting with alt-right incel group
Rapper Doja Cat has come under fire over a resurfaced 2015 song in which she appears to mock police brutality, and for allegedly video chatting with an alt-right incel group.

A 2015 song by the artist titled "Dindu Nuffin" has been spreading like wildfire across social media.

The phrase "Dindu Nuffin", a stylised pronunciation of "didn't do nothing", is used by racist alt-right groups to mock Black victims of police brutality.
---
97-year-old gay war veteran robbed and assaulted after helping attacker
On Monday (18 May), Rupert Starr – known to his friends as 'Twink' – was out for a walk on Neil Avenue in Columbus' Victorian Village when a stranger approached him and asked for money.

According to Sergeant James Fuqua from the Columbus Division of Police, Starr – in an act of kindness – "decided to give this man a dollar to help this person during this crisis. He felt it would be appropriate to help him."
Truck painted with "OPEN OUR GYMS F****T" cruises Colorado to protest safer-at-home order
Customer calls sassy Costco employee a "pussy little bitch" when asked to wear a mask
White Supremacists Deface Pulse Mural at Orlando LGBTQ+ Center
Queer People See More Harassment in Dating Apps Than Straights
---
Religious exemptions are gutting civil rights protections, advocacy groups warn
The Trump administration's expansion of religious exemptions is undermining civil rights protections and codifying discrimination against marginalized groups — particularly LGBTQ people — according to a report released Monday by three research and advocacy groups.

Using a combination of new rules, legal interventions and newly created divisions, the departments of Health and Human Services, Housing and Urban Development, Justice, Labor and State have all taken steps to advance "religious liberty," often at the expense of LGBTQ rights, the American Civil Liberties Union, the Center for American Progress and the Movement Advancement Project argue in their report.

The proposed rules — from the departments of Justice, Health and Human Services, Labor, Housing and Urban Development, Veterans Affairs, Homeland Security, Agriculture and Education, along with the U.S. Agency for International Development — would undo several Obama-era regulations, including those that require federally funded religious organizations to inform beneficiaries about certain rights.

For example, if a homeless LGBTQ teen sought help from a faith-based provider and the provider was not accepting of the teen's sexual orientation or gender identity, the provider would no longer have to inform the teen under the new rule about alternative providers that may be more accepting.

"These rules would be harmful to LGBTQ people, women, religious minorities and others during the best of times, but they're particularly unconscionable during a public health crisis when even more people than usual are relying on social services," said Rachel Laser, president of Americans United for the Separation of Church and State, which was not involved with Monday's report.
---
Cody Latimer's arrest set off by argument involving 4-year-old son: lawyer 
A sexual assault allegation involving Cody Latimer's 4-year-old son sparked a heated argument over the weekend that left the Washington Redskins wide receiver facing multiple felony charges, his lawyer said during a Monday hearing.

Latimer, who was released on $25,000 bond, was charged with assault in the second degree, menacing and illegal discharge of a firearm in Colorado, according to the Douglas County Sheriff's Department. He also is facing misdemeanor charges of prohibited use of a weapon and reckless endangerment.
Man Arrested in Miami-Dade for Allegedly Forcing Woman Into Human Trafficking
Man jailed for breaking lockdown to harass mother of his children
GEORGIA POLICE HUNT MAN AFTER 4-YEAR-OLD GIRL IS ACCIDENTALLY SHOT IN THE FACE BY SIBLING
SC man kills woman in jealous rage, daughters trying to help
Black man and his mother say police brutalized them after false accusations of TV theft. Cops say there's much more to the story.
Sheriff: Man gouges out neighbor's eyes over loud rooster
'They Came to Kill the Mothers.' After a Devastating Attack on a Kabul Maternity Ward, Afghan Women Face Increased Dangers
Couple Allegedly Rob Man After Luring Him In Snapchat Sex Scheme
---