All Posts Tagged as 'Safety'
Welcome to Errattic! We encourage you to customize the type of information you see here by clicking the Preferences link on the top of this page.
In the poorest county, in America's poorest state, a virus hits home: 'Hunger is rampant'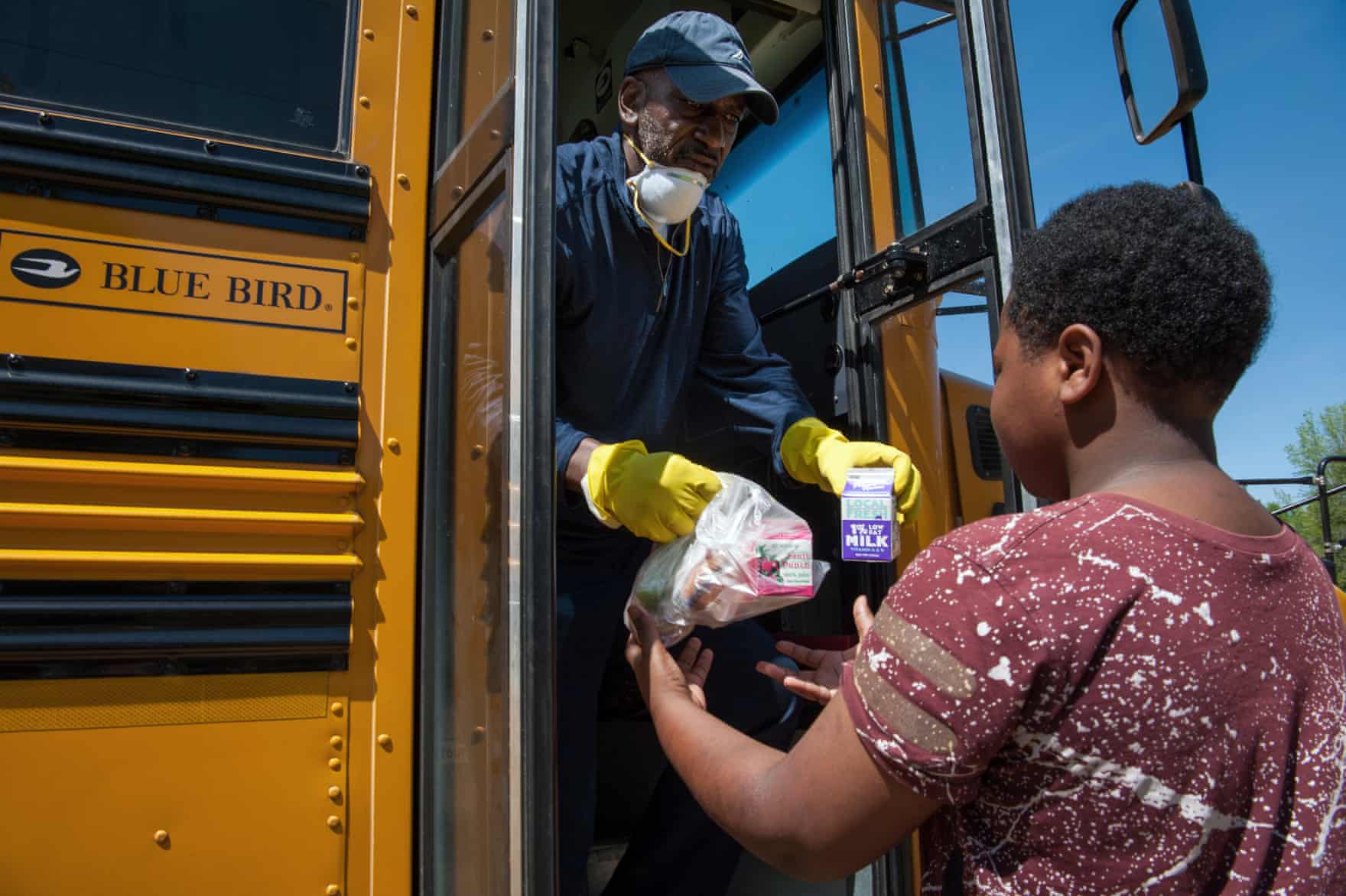 On the cracked country roads of Lexington, deep in the Mississippi delta, an empty yellow school bus drives slowly, making life-sustaining drop offs on the way.

Here, in the poorest county, in America's poorest state, the coronavirus has yet to ravage the jurisdiction with infection. There has been one recorded Covid-19 death in the county, Clinton Cobbins, Lexington's first African American mayor. But even now the coronavirus still poses a serious threat to life.

In Holmes county consolidated – the school district to which Lexington belongs – every single child qualifies for free school meals, a marker of pervasive poverty. For many, said superintendent Dr James L Henderson, breakfast and lunch at school are the only nutritious meals a student will eat in a day. For a few, they are the only meals.

When the coronavirus pandemic led to statewide school closures, Henderson, who was born in the county, left for most of his adult life, but returned in 2018 to assume his position, was left with a significant dilemma: how to feed the 3,000 children under his authority.
---
Cuomo urges the NYPD to be 'more aggressive' in breaking up funerals, large gatherings and people 'playing Frisbee in the park' as he raises fines to $1,000 for people who flout social distancing rules 
New York Governor Andrew Cuomo is urging the NYPD to be more aggressive in breaking up large gatherings, including funerals, as people continue to flout social distancing guidance rules.

On Monday, he announced he was increasing fines for individuals caught breaking the rules from $500 to $1,000 and said it was 'everyone's responsibility' not to be reckless.

New York is seeing its curve flatten - the death rate is slowing for the first time in weeks and while the number of cases and infections is still growing, it means social distancing has been effective until now.

Cuomo has extended the state-wide lockdown on non-essential businesses until the end of April and is telling people not to become 'over confident' because of the new figures.
Louisiana pastor cited for defying coronavirus order hosts hundreds on Palm Sunday
'Welcome to Nazi Germany': Cops get earful of 'fuck the police' while shutting down NJ house concert — with middle-aged attendees in lawn chairs
Police Break Up Hasidic Jewish Funerals in NYC: 'These Gatherings Must Cease' amid Pandemic
Anti-abortion activists in North Carolina are suing because they can't get together to protest
Tybee Island mayor fights Georgia governor's re-opening of city's beaches
Coronavirus: South African bride and groom arrested over lockdown wedding
Fox News Is Preparing to Be Sued Over Coronavirus Misinformation
Ongoing religious services spark debate over faith verses safety
Hobby Lobby closes all stores and furloughs most employees after initially resisting coronavirus shutdown orders
---
Vampire-obsessed teen murdered 90-year-old, ripped her heart out and drank her blood
A TEENAGE paperboy obsessed with vampires murdered a 90-year-old woman, ripped her heart out and drank her blood in the belief that he would become immortal, a new documentary reveals.

And Mathew Hardman would have gone on to prey on other elderly people had he not been caught for the murder of Mabel Leyshon, described by an officer as one of the most gruesome in British legal history. Mabel had been widowed for 40 years and had lived in her bungalow in Anglesey for 50 years when Hardman broke in as she watched TV on a 2001 December evening. Mabel, hard of hearing, 4ft 9in, and very thin, suffered 22 stab wounds as she tried to defend herself from Hardman, 17.
---
Some may joke about a coronavirus baby boom. Here's why you shouldn't try to conceive in quarantine 
As much of the world settles into a new routine of social distancing, couples are likely to have a lot more free time at home to snuggle together.

At first blush, you might think couples with some extra time on their hands would do things that could lead to a stork visiting nine months from now.
Yet with US Treasury Secretary Steve Mnuchin warning of dire scenarios and a possible 20% unemployment rate, couples whose jobs are vulnerable in this economy are likely to think again about kicking off their parenting journeys this spring.

Then there's the possibility of more couples splitting up. One marriage registry official in China said he saw a quarantine-related spike in divorces, showing that more time in closed quarters may be doing some couples more harm than good.

But for couples weathering this storm together, is this a time when many will choose to add to their brood?
Condom factory workers are considered "essential" now that a global shortage looms
A gender reveal party ignited a 10-acre brush fire in Florida, fire officials say
---
Drill rapper M24 sparks outrage as he shares footage of himself defying COVID-19 lockdown to film music video at crowded outdoor gathering 
Drill rapper M24 has sparked outrage, after he shared footage of himself defying lockdown rules to shoot a music video at an outdoor gathering on Saturday night.

The musician – a rising member of Brixton, south London, crew 150 – took to his Instagram account to upload clips of himself rapping to his latest track as a crowd surrounded him on a housing estate, clearly flouting social distancing rules.

Showing that they were aware of the risks of their actions amid the COVID-19 pandemic, a number of those featured in the clip were seeing sporting surgical masks as they danced and rapped along to his track in unison.
Coronavirus: Police pour water on barbecue amid lockdown
Man who narrated an expletive-filled video depicting people not social distancing arrested
Louisiana church holds services, defying coronavirus stay-at-home order
Woody Harrelson among stars sharing COVID-19 conspiracy theories tied to 5G
Woman spat, coughed on officers while claiming to have COVID-19, police allege
California Is Forcing Nursing Homes To Take COVID-19 Patients
---
Bronx Zoo tiger tests positive for coronavirus 
The coronavirus is infecting New Yorkers of all stripes.

A 4-year-old Malayan tiger at the Bronx Zoo has tested positive for the COVID-19 bug after developing a dry cough, the Wildlife Conservation Society said in a statement Sunday.

"Nadia, a 4-year-old female Malayan tiger at the Bronx Zoo, has tested positive for COVID-19. She, her sister Azul, two Amur tigers, and three African lions had developed a dry cough and all are expected to recover," the statement read.
The diagnosis was confirmed by USDA's National Veterinary Services Laboratory in Iowa "out of an abundance of caution," the society said.

The big cats are on the mend, the WCS said.
Here's What Wild Animal Experts Want You To Know About 'Tiger King'
TV writer says doctors have 'no doubt' he had coronavirus despite negative tests
Patrick Jones Wanted a Second Chance. He Got Coronavirus.
South Dakota lawmaker dies of coronavirus
Yet another attendee to the infamous Miami beach Winter Party – this time a gay nurse – is seriously ill from coronavirus
Neil Young's Fireside Sessions Delayed After Daryl Hannah Falls Ill
---
LGBT charity tells young people to 'hit pause' on coming out while in lockdown with parents 
The Albert Kennedy Trust (AKT), a charity that cares for the LGBT+ homeless, has warned young people to "think hard" before coming out at this time.

The advice comes as LGBT+ helplines see a surge in calls from people who are stuck self-isolating with abusive family and partners.

"If you're a young person and you're thinking of coming out, press pause on that until you get support," Tim Sigsworth, AKT's CEO, told Sky News.

He expressed concern for how families may react to their child coming out in this particularly stressful time, and warned of the dangers of being made homeless during the pandemic.
Coronavirus pandemic a perfect storm for LGBTQ homeless youth
---
Irony: Hate Crimes Surge Against Asian Americans While They Are On The Front Lines Fighting COVID-19
There have been a lot of encouraging stories about peoples' acts of generosity and kindness during the COVID-19 crisis. Unfortunately, human nature has its bad side too and the crisis has brought out some of our worst qualities including xenophobia, racism and, in some cases, violence.

Hate crimes against Asian Americans and Asian immigrants in the United States have been surging. It has ranged from verbal harassment to denial of services to physical attacks. There is no way to know, but President Trump's insistence on calling COVID-19 the "China Virus" certainly doesn't help. It is true that the Chinese government acted abysmally, for example, initially denying that the virus could be transmitted person to person. But China is hardly a democracy and the Chinese people were the victims rather than the perpetrators of this cover-up.

In fact, Asian Americans and Asian Immigrants to the U.S. deserve our thanks for their role in responding to the COVID-19 crisis. First of all, they are vastly over-represented among the front line medical workers who are treating those who have been infected. Seventeen percent of doctors, 9 percent of physician's assistants and nearly 10 percent of nurses in the United States are of Asian descent.
---
430,000 people have traveled from China to the US since the COVID-19 outbreak appeared – including nearly 40,000 who arrived after President Trump imposed travel restrictions
At least 430,000 people have traveled from China to the United States on direct flights since the COVID-19 disease surfaced last year - with nearly 40,000 arriving in the two months after President Trump imposed travel restrictions.

Additionally, there were more than 1,300 direct passenger flights and 381,000 travelers arriving to the United States from China in January. Around a quarter were Americans.

The New York Times reports that thousands of these passengers flew directly from China as US health officials were just beginning to gauge the severity of the outbreak.

The first reported cases of coronavirus emerged in Wuhan, China, at the end of last year.
---
Texas City Mandates People Wear Masks in Public or Face $1,000 Fines 
Should you wear a mask during the coronavirus pandemic? The city of Laredo, Texas, has decided that yes, you do. And if you don't wear one, they could fine you.

The city's emergency mandate, which went into effect on April 2, states that every person over the age of five must wear "some form of covering over their nose and mouth" when using public transportation, taxis, ride shares, pumping gas or when inside a building open to the public. That face covering can include a homemade mask, scarf, bandana or handkerchief. The penalty for violating the order is a Class C misdemeanor, punishable by a fine up to $1,000.
Coronavirus FAQs: Is A Homemade Mask Effective? And What's The Best Way To Wear One?
A Florida county is reminding people to maintain a distance of at least one alligator between each other
In the 1918 flu pandemic, not wearing a mask was illegal in some parts of America. What changed?
NYC health workers asked for masks, hospital execs gave them gags
---
This 7-year-old is making and delivering care packages to the elderly shut in by the coronavirus
Cavanaugh Bell is a 7-year-old on a mission: "To help other people and let them know that I got their back," he told CNN.

At a time when senior citizens must stay in to avoid the coronavirus, the spirited boy in Gaithersburg, Maryland, decided to make them care packages.

"The packages include toilet paper, some flushable wipes, hygiene products and a bunch of food," he said.

'She's my best friend'

The idea came when Bell realized his 74-year-old grandmother is in a high-risk age group for coronavirus.
---
College Made Them Feel Equal. The Virus Exposed How Unequal Their Lives Are. 
The political science class was called "Forced Migration and Refugees." Students read accounts of migrants fleeing broken economies and seeking better futures, of life plans drastically altered and the political forces that made it all seem necessary.

Then suddenly, the subject matter became personal: Haverford College shut down and evicted most students from the dormitories as the coronavirus spread through Pennsylvania.

Like many college courses around the country, the class soldiered on. The syllabus was revised. The students reconvened on a videoconferencing app.

But as each logged in, not everyone's new reality looked the same.

One student sat at a vacation home on the coast of Maine. Another struggled to keep her mother's Puerto Rican food truck running while meat vanished from Florida grocery shelves. As one young woman's father, a private equity executive, urged the family to decamp to a country where infections were falling, another student's mother in Russia couldn't afford the plane ticket to bring her daughter home.
Yale students are using the coronavirus crisis as an excuse to lower standards
---
SF outlaws reusable bags, which the city once championed
San Francisco, which once championed reusable shopping bags to reduce plastic waste, has banned the environmentally friendly totes in an effort to prevent the spread of the novel coronavirus.

An amendment to the city's Department of Health's social-distancing protocols requires that stores restrict customers from bringing their own bags, mugs or other reusable items from home.

How the ban affects city's prohibition on plastic bags is not clear — the ordinance did not address that regulation. In 2007, San Francisco became the first major city in the nation to outlaw single-use plastic bags.
---
Most Americans will stay home this month even if lockdown lifted: poll
A majority of Americans are hunkering down and say they will continue to social distance or stay at home even if lockdown orders are lifted, according to a new poll.

While 87% of the American public is staying home — regardless of whether or not it's mandated by state or local municipalities — most plan on continuing to do so for all of April, according to the poll taken by the Huffington Post/YouGov survey.
---
Coronavirus hits poor, minority communities harder
The coronavirus doesn't discriminate, but minorities and low-income families are bearing the brunt.

Why it matters: The impact of the coronavirus is reflecting the racial and socioeconomic disparities of the cities where it's spreading and the health care system that's struggling to contain it.

The big picture: New York Gov. Andrew Cuomo last week called the virus "the great equalizer," because anyone can get it. And while it's true everyone's at risk, New York itself is a stark illustration of just how unequal the virus' toll really is.

The highest concentration of cases in New York City are in neighborhoods in Queens with large immigrant populations and low average incomes, according to city data analyzed by the Wall Street Journal.

And New York is not alone.

By the numbers: Nationwide demographic data aren't available, and the quality of state and local recordkeeping varies widely. But the clear trend in preliminary data from multiple metro areas is hard to ignore.

The county that contains Charlotte, N.C. is about 33% black, but black residents make up roughly 44% of its coronavirus cases, according to the Charlotte Observer.
Doctors say India must prepare for an 'onslaught' as one of Asia's biggest slums reports first coronavirus death
Bodies are being left in the streets in an overwhelmed Ecuadorian city
Early Data Shows African Americans Have Contracted and Died of Coronavirus at an Alarming Rate
'Children in a dog cage': how coronavirus puts Asia's most vulnerable at greater risk of homelessness, human trafficking
'We could get wiped out': American Indians have the highest rates of diseases that make covid-19 more lethal
---