All Posts Tagged as 'Heart Writ'
Welcome to Errattic! We encourage you to customize the type of information you see here by clicking the Preferences link on the top of this page.
Not A Stranger (1955)
Stallone was The Robert Mitchum of his era but no one could beat Mitchum in his own. He had a back like Hulk, Rocky eyes and Superman's countenance. Mitchum wanted to become a doctor but couldn't afford it. His father was a drunk that drank his wife's suffering money and wasted their son's future. His medical student enrollment will be terminated if he doesn't pay his fee. Olivia de Havilland is the good nurse captivated by Dr. Hulk and exhibiting fangirl craze and saved up money. He is the distant thing that doesn't find her distracting but she's someone to talk to. He'd rather become a doctor. Olivia is an independent foreigner that mistakes his intentions of marriage as fairytale truth. He just wants to be a doctor. That's why he got drunk on his wedding night. Big man gains a god complex once his superiority is solidified and success follows. He believes that the medical profession needs to follow code, even though he breaks them at home. Olivia wants to start a family but the giant wants to fuck things he likes. Actor watt was at 100%. Olivia wrecked her accent and our hearts. Frank Sinatra was a hardy friend that tried to tame the hulk's rage. Anytime a surgical procedure went wrong bigback clobbered the shit out of the culprit, even if they were his boss. Doctor withstands life with a wife he's not absorbing and becomes a maniac doctor. Sympathy, miracles and delusions. How do you cure a god complex? Have him fail. Gloria Grahame was a Poison Ivy sketch ready to buckle a giant. Her lip liner was everything. Passionate mischief enacted with horses. Cute.
27-Nov-2023
---
Nun II, The (2023)
If beliefs cause faith why can't we believe there are no demons? We have to fight them first so we know we're good. Taissa gave great face and Storm Reid was her partner, lapping it all up. They had an interracial team-up that felt genuine. Jonas Bloquet was eliciting Hammer tremors. The nun was still glorious, showing up scantily but creepy and ready to blow. Her backstory held. It's fun watching scared little mean girls.
17-Nov-2023
---
S2. The series gains momentum for a purpose. Owen Wilson hates life more than ever. Ke Huy Kwan is a welcome addition that fits this universe. Miss Minutes is awesome. Jonathan Majors hits a bump. He thought he could make stammering sound normal, it failed. Someone needed to dress him up as Rama-Tut. The afterlife is explored by a vision that is the creator's own.
12-Nov-2023
S1E3. Even after 4 cups of coffee, I fell asleep. Is that old lady his girlfriend?
24-Jun-2021
Loki's Quantum Leap. Bewitched and I Dream Of Jeannie generated enough magic effects per episode to keep its fantasy alive. A lot of the effects weren't right but they kept trying until the magic was perfected. Loki used his magic to dry his clothes. Whoppee. Cheap Disney. It'd be nice if Loki could interact with our world but the writers' imagination don't fly that high.
17-Jun-2021
It elicited no words or thoughts from me. I appreciate that Tom Hiddleston did not swing the character of Loki towards Jerry Lewis caricature. Loki is a ridiculous puny god that whines about birthrights and shit. He's a loser tasked with saving the world to betray it. His life is as insignificant as his death. Hiddleston and Owen Wilson have chemistry but that's probably because Owen hates life. It's a mish mash of things that don't inspire me.
12-Jun-2021
---
Rifleman, The (1958-1963)
A postwar generation that fought the enemy to insure that cell phones and toilet paper made it to the future. Respect for the law and its protection kept western towns reposed and progressive. Strangers would stop by with stories of city worlds, vast education and diversity. The contemptible came to cause a ruckus, crush everyone's dreams and takeover. Guns were a man's best friend because it was a contemptible's only friend. Death was also scientific in a world with very little of it. The rifleman assisted the Marshall by keeping people in line with threats, assistance, charm, height, beauty, and death. Death was an acceptable occurrence to be respected and expected. Even, the kids were savvy to it. You kill an animal for necessity, not sport. Death happens esp. in this town. Daddy longlegs was a widower, a rifle expert with a sweet boy whose devotion to daddy went beyond the screen. They heightened the father/son duo by being super. Connor was classic cowboy. The rifleman had gun skills, was a jean god, made money after every kill and was a fair man that allowed no one to fuck with his kid. They tell stories beyond the shooting. It had a contemporary mindset and there were plenty of useful life-lessons. Responsibilities of gun ownership included, when to point, shoot, run or put them down.
09-Nov-2023
---
Gen V (2023)
The finale entered the Buffyverse and maintained its excellence. The massacre was surprisingly joyful. Creativity was active. The newbies accomplished. We like them, even the evil ones.
03-Nov-2023
I felt yesteryear's essence. When access is limited, you shoot for the heart. Creating superheroes with limitations makes them more susceptible to bleeding. Hurt is the crux of the Superworld because it is in every other world.The series mind-blows and sets the future of comicbook heroes by having heart, progressive CGI and identifiable respect.
22-Oct-2023
---
Jake Wheeler is becoming quite a twink daddy. Devon Evans is aging in reverse. He looks like a kid. Lexy is gutsy without a personal life to lift her up. Jennifer T. and Jennifer C. need to battle for best bitch titles. The writers toned down Jennifer's character and shenanigans and she beams because of it. Devon Sawa has the best character, up to-date. I kept seeing Sawa's name on the credits but couldn't match him to his character, until now. Wow. You mean he was the hot method actor who plays the President? He is as precise in his acting as the puppeteers were on Chucky. The lip sync is perfect, different movements are being explored and the bastard is as funny and wicked as ever. The focus of this season is The White House and aging. Love it!
03-Dec-2021
---
Fall Of House Of Usher, The (2023)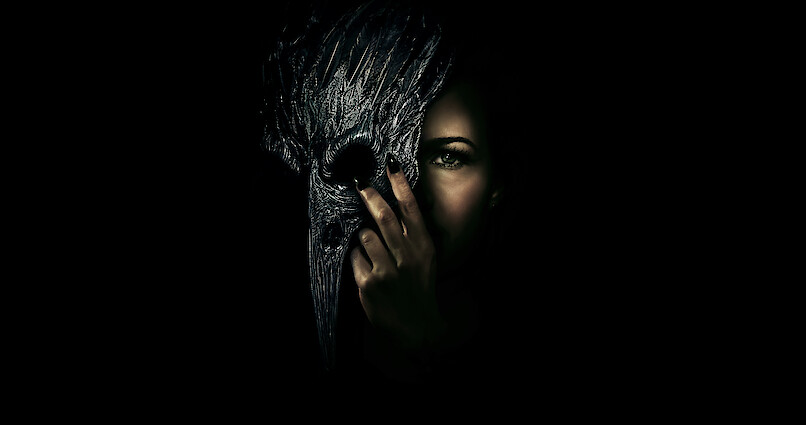 I understood the excuses but I didn't get the obscurity. The finale was a realization of how much of a merry-go-round the production put us through. The Final Destination kills should have ascended from that. When you add magic to horror it teeters on fanto realism. It made my head overload...with questions. Where was Lenore when daddy redecorated her mother's room? She asks to see her mom 5 days later? I believe one of the Dupin's got taller? Bless you, Sir Hamill. Once his character clicks we look forward to seeing him again. The mumbo jumbo accommodated what was easiest for the storytellers. The merry go round speeds up, there are few surprises but the cast and dialogue are superb. What fabulous creature is Gugino's character supposed to be? Is Pinhead her boss? I hope it's the girl one.
21-Oct-2023
SE5. There are so many crisp performances to marvel at. The story captivates but the horror aspect diminishes it. Whenever he gets a vision, we realize how the next victim will die. Stretching the story doesn't mean much if it once ended up in the trash because it contained too much information. The flashbacks are served nilly willy. The saboteur has no meaning but I love her. Poe's themes are observed but not acknowledged. When a creator succumbs to the title of the story he is manipulating things to fit not click.
20-Oct-2023
S1E2. Succession musical score adaptation is too blatant and soon to describe rich family hierarchy. The actors play it well but the characters are as interchangeable as their sexual proclivities. The scares are great ideas that are poorly executed. The mother's beginning is a testament of that. It should be scary but it's not, it didn't grip or create empathy. Flanagan name drops everything but the art he's pilfering. The story does not flatter Gugino and her character is beyond mysterious. I heard Hamill do a Joker laugh and I was amused. Flanagan still hasn't figured out how to shoot in the dark. The admirable parts are the ones created by accident.
19-Oct-2023
---
Ozzie and Harriet (1952- 1966)
S1-8. There were no constant reruns of this classic for me to add it to my American history library but I heard it was corny and wholesome as fuck. Its claim to fame was family hierarchy, whining, beauty and pimping. As the parents' talents/fame wavered the prettiest twinks on television began to ascend. Rick was the teenage dream with dead eyes impersonating a musical talent. David's personality was pleasantly approachable and glistening. Ozzie was a grumpy Seinfeld who worried about everything and complained about nothing that mattered. In the beginning Ozzie had a buddy named Thorny. He lived next door but they never showed his family. I wouldn't want to be associated with that name either. Harriet's hair rarely moved but she had impeccable taste and versatility. She performed her chores like she lived them. She conveyed dismay with sarcasm, was not lovey dovey and enjoyed watching her husband suffer. The cast changes were inevitable and sometimes fun. It was nostalgic seeing some of Lucy's posse rippling for someone else. It's run lasted way longer because of the the adoration that horny teens lavished on pretty Ricky. He was on top of the world with daddy grasping the strings.
10-Oct-2023
---
Woman Possessed (1958)
A mother who has dedicated her whole life to making sure her son could take care of himself are reunited after two years of studying and accomplishing. He's a doctor, now and engaged to be married. His fiancee is with him and she's staying over. Love with sex will repel motherly adoration until time makes him realize mother was right and he returns to his mother's heart. and he's brought her along to get married. The introductions are awkward, full of rich people manners that can't mask hate. The conversations are human. Mother expounds an opinion that changes their lives forever. The couple bicker about how much control the mother has over her son and the backhanded humiliation future wife receives. Sometimes he was right, other times she was and half the time, both were. The mother blames the fiancee's weakness as to why she needs to suffer in her world. She was horrible when no one was around and she never let them see her sweat in a dress. The jury flip flops as did I. Uncle was cute, old maid was tired, of course, she had a mansion to clean, dress and cook for and young maid's exit was fucked up. The birthday party was a topper. The irony explains itself, the ladies were in good form and was that a lesbian ending?
22-Jul-2023
---
Girl Next Door, The (2007)
A boy learns the word slut from his mother. An orphan teenager and her polio stricken sister are adopted by a single mom and her 7 children. All is good until it's tragically not. Based on fact, the story follows the boy next door with a crush on a teen dream that tears his world apart. The aunt's brood are the product of perversion and horror. The abuse was horrendous enough to make you pull your hair out. Some of the scenes are oxygen intolerant. The boys/men faired better than the girls/women. The boys interpreted it as a sport while the girls/women dreaded everything. Had the aunt had Piper Laurie chops I would have shat my pants. Safe and artless. Teen dream did not give us more than was written but she was effective. The film works because when a monster has the power to influence one person, the whole community will join in. How does a child get help with that kind of force? Heartbreaking.
17-Jul-2023
---
Porn Theatre (2004)
Before social media, gay men congregated in straight porn theaters for sex and sympathy. They made money, were entertained, became excited, desired, it curbed loneliness and they got to fuck some woman's husband. Drags, trans and sissy boys roamed the theater like rats, scurrying around, scoping the cheese and avoiding the light while cheese daddy sat still with his legs wide open, waiting to be licked clean for respect and/or money. Street King Daddy shit. Sex is thrust upon us. It makes the impact real. The hunt is on. Sexual simulation stimulated when real or fake. Conversations skillfully explained where the community was at. Some of the players counted how many big dicks they sucked that night. Were they given a discount? The ticket manager was a sad hetero too old to attract a fuck. She thinks that convincing a gay crush to marry her would become an arrangement they both could enjoy. I could see it as a Broadway musical. It takes very little time to establish character purpose and that's great for the film. It provides the map to how we got here.
27-Jun-2023
---
Avatar: The Way Of Water (2022)
A piece of art can be flawed, silly and gargantuan. My favorite moment happened when Master Cameron upgraded his past achievements, served them with pride and reminded us what we were missing. A gloriously perfect Spiderman movie? A master of science.
14-Jun-2023
---
Superman & Lois (2021-)
Invisible sister jumped off the screen, again. I couldn't see her, at all. The Amazing Valdez returned. Him and Lana found the cure for teenage angst... slave wages. Clark giving Valdez a super flick was everything. I'm sure his ass tightened instantaneously. Peia's dilemma kept us interested, the cast blended more and Superman is a dick for allowing anyone to cut Lois' tits off. I thought about his explanation for not using alien tech to save his wife. It's a privilege of consequences. He shouldn't save anyone, then. Ever. It's the same type of interference. I think I fucked up the mythology for myself.
07-Jun-2023
A magic spell not concocted with superpowers. Lana Lang and Sam Lane hooking up. Yay!
10-May-2023
The episode where I lost respect for Superman. Bruno one upped Clark's manhood by giving a million fucks for his dying wife while the Supe has technology that can save his but wont. The boys care enough to do everything to save their mom but she's waiting for Superman to become one. Clark Kent has become background wallpaper. Is Sarah's first lesbian affair going to happen with that Beppo woman? Ack! I actually felt sorry for Lana. The Amazing Valdez was missing and the invisible sister went invisible again.
05-May-2023
S3E6. It wrung emotions that overwhelmed the mythology. It's a well liked family drama with hillbilly charm. Like an aunt. Superman has no concerns about Superboy except teaching him how to hide for safety. A teen with superpowers of mixed cosmic race has no sexual malfunctions, ever? The Kents just want to be part of the team (earth). The boring part. They finally gave Lois a good excuse to not put food in her mouth. Lana's invisible child is given an abandonment storyline so a Kent can inspire her quest to save the world in the future and because the writers couldn't write another male fucking thing. Why does someone always know where the missing kid might have gone? That rose faced lady bothers me. Erik Valdez is auditioning for Jimmy Oleson, undercover. Wow, he has massles. He's hyped as fuck. What an adorable prick. He's fucking the town crier and the person Lana and the kids are most likely to bump into and he doesn't give a shit. Out of respect, he should try finding his steady fucks out of town. Why didn't they shave Chad Coleman and make him Lex? Why does Clark act like he's getting fired at a button's notice? Dude, kill it. I know they're not as cute as those wolf fuckers but fuck that, go wild. Touch Lana's ex latin prick's ass and make them pop. Laser the buttons off the snitch's blouse as she sits by the prick and have Lana and the kids show up. If the Kents start wearing cowboy hats and line dancing we know the button has been pushed. What's ok for the Ewings on Dallas is off base for comic book heroes. We devoured the comic adventures because it allowed entry into a world where fantasy science could inspire the gifted to take on the fight, leave real life misery behind and take our imagination to justice. We watched Dallas because they were fun, conniving, evil, drunk, violent, cheating, thieving, dreaming and killing assholes, like our families without the luxury, class or survival skills. The show is homebound.
29-Apr-2023
S3E6. Clark goes to death therapy to support Lois. Clark summarizes that his chances of death are kryptonite based and the threat of it doesn't happen often. He doesn't understand why his super sperm didn't save her. It helped Lana and she became mayor of Toontown.
27-Apr-2023
Oh, no. Are they going to change the name to "The Women and Clark"?
23-Mar-2023
I smell a Lana & Lois season. They already found a way to have daddy Supe lapse into comas. Lana banned all Kent men from her lesbian daughter and herself. They are toxic. She would have banned her ex-husband too but he needs to pay her rent. Sometimes daddy Supe appears to be the same height as Lana.
10-Jun-2022
Jonathan didn't need to fashion a leather jacket and lace gloves to make us accept his coolness. A close up touch, a pre-alopecia treatment, a tattered t-shirt and some skinny jeans would have kept us onboard. Lois starves in both dimensions, Superman's crotch measures the same in every universe, Lana doesn't burst any bubbles in either, Lang's daughter pontificates lesbianism against a boy that fails in both dimensions. Old bitches are making it difficult for male heroes to survive.
07-May-2022
---
Danny Thomas Show, The (1953-1965)
There seems to be silence on the legacy of this classic sitcom. It started as Make Room For Daddy and mushroomed into The Danny Thomas Show. I saw all of the latter and only a handful of the other. The actress playing his wife, in the first half, had disdain for the man and it showed. Her composure did not scream nurturing, romantic or in love. Wrong place for the wrong actress. Danny played a version of himself. He was a singer/comedian who worked nightclubs. Jabbing at Danny's Lebanese culture was open, respectful and knowledgable. Lucy & Desi were his parents (friends) and Dick Van Dyke was his cousin (spin-off.) The show was blessed with energetic ideas, comic genius and non-stop showmanship. Danny must have learned how Lucy did it because he found his cute and sarcastic wit. Second wife was glamorous, vindictive, funny and hot. Marjorie Lord went shopping with Lucy Ricardo, cooked in fashion, got him in the mood and plotted her revenge in a very elegant and comical manner. The son is a scene stealer. Even when he made a mistake he diverted it with more funny. His adorability peaked in his tweens and crashed in his teens but he had a memorable run. Funny as fuck. The daughter was a prime teen that left before her character became unbearable. She had her moments. Louise was the household maid that was played by two elder pros. She got to hug white children, gossip with the wife, celebrate as a family member and sass the boss. A proud black woman. She isn't in all the episodes but the character remained til the end. The guest stars were numerous. The writers succeeded in incorporating them into strong storylines. The topics were basic, like feminism, how men can't do anything right, a woman can do anything men can do, a gift abolishes snarls and make-up sex is her way of accepting an apology. Penny from Lost In Space enters as a cute sister moppet that was supposed to bring adorability and sunshine. She was a work in progress. She laughs during line readings and when Mr. Thomas is doing his thing. She's cute and annoying. He was a great teacher, though. He hands a season to his working buddy and his domineering wife, played by the original Ursula from the Little Mermaid. It was an odd experiment giving supporting players full reign. They had to fill really big shoes and were no longer the sitcom air freshener. Ursula flopped around like she was getting paid to play charades on land. She was a bit too much. Danny was a ham. He sang in almost every episode. He shoved it down our throats but was so adamant and easy going that we learned to accept it and stopped praying that he didn't sing in the next episode. They had minorities galore and a successful run from the 50s through the 60s. Well-written, comical, consistent and timeless. One of a kind. Why don't we ever celebrate it?
06-Jun-2023
---
Hunchback OF Notre Dame, The (1996)
Laid out like an adult novel that kids can understand. There is no better marriage than broadway and Disney. The score may not be everlasting but it's made up of raw talent and emotion. The songs and singers soared. The animation splashed with celebratory colors while hellish fire represented its demise. Quasi is a molded adult broken by a murdered mother and a crippled body. He is adopted by the man who wronged him, controlled him and gaslit the kid to hide the monster inside of himself. The subjects are very adult. The adoptive father rules the town with sexual and racist motivation. Gypsies are taking over. The crime rate is through the roof and they are to blame. A Festival of Fools sets up the threads that make all the characters intersect for a grande finale. The monster convinces himself he can attend. A military captain has just been initiated. Esmeralda seduces all the men with her gypsy dance and her unapologetic heart. Evil master Frollo becomes obsessed with dominating her. The good men compete with each other to protect her. Everything is big, everything is right but it begged for a slow down. I know, the kiddies would've exploded in their seats but the adults might have watched it again. It's not the best but it's unique.
04-Jun-2023
---