Movies Posts Tagged as 'Heart Writ'
---
Rating key:
Welcome to Errattic! We encourage you to customize the type of information you see here by clicking the Preferences link on the top of this page.
Arrangement, The (1969)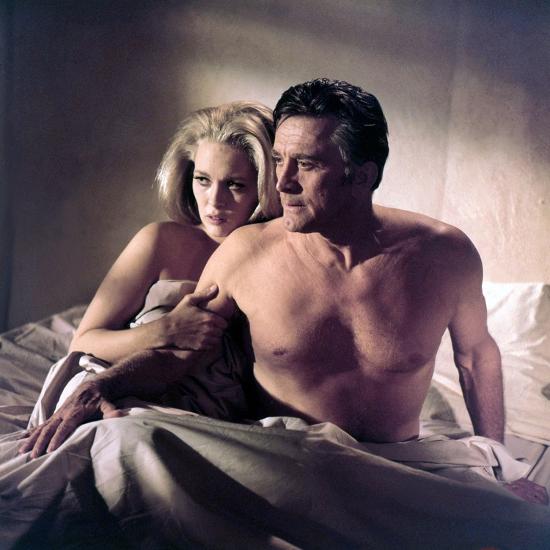 Alpha daddy is acting bonkers. He's disillusioned with his wife, can't communicate with his daughter and is suicidal. He drives his car into a truck, gets a better face, detaches from life and gets a second chance to make the same mistakes. Faye Dunaway was beautifully confident as the office slut that could reduce a happily married daddy to mush and make him pay for it. Deborah Kerr exposed her soul and sexuality as a wife waiting for a man that's never going to be there. Kirk Douglas roars as a man obsessed with orgasms and baby smells. Elia Kazan opened up as a director and tried new things (good and bad). It is a detailed examination of how love, sex, beauty and insanity correlate.
13-Sep-2021
---
Lady Takes A Sailor, The (1949)
Promising businesswoman gets hit by a submarine while sailing. A sunshine spitting mariner reluctantly rescues her. She becomes privy to a super submarine but its captain remains a mystery. Once ashore she galvanizes the press and her business support with the story of her rescue. They think she is lying so they cancel her. Business funding is out, the camera footage proving her truth has been stolen and she's losing followers. Meanwhile, daddy spit sunshine's career is being threatened if the public believes her. It's oneupmanship of a tingly kind, romance of another with two star legends willing to do anything for a laugh and adoration. Eve Arden never hurts. Screwball comedy masters.
06-Sep-2021
---
Stage Fright (1950)
Killer is setting her lover up to take the blame for her husband's murder. Setup is a tingly nincompoop that obliges the voice of love. Good girl is the bestie with a crush that will find proof to save him. Jane Wyman's talent had me swooning. Alastair Sim was sly and supportive. Richard Todd was psychological. Marlene Dietrich glimmered. Michael Wilding exhilarated. The shots don't disappoint, the puzzle is precise and the whole is enviously entertaining.
06-Sep-2021
---
Indecent Proposal (1993)
A fairytale can sustain a marriage until someone else's reality makes it true. Men are easily positioned by a punch to the face but a woman is a game worth dying for. A woman cannot be special unless she is hunted and adorned. A billionaire will pay a million dollars to have a sex with a loser's beauteous wife. Demi is full watt, totally worth a million dollars. Daddy Redford is an alpha watt hoarding the unattainable by deconstructing it. Harrelson is the cute schmuck torn between love, security, betrayal and insanity. Lyne is a Hallmark backend. It's psychological intuition sometimes gets marred by goop smear but the trio sparks, the music masters, the thought is clear and the atmosphere is bright.
26-Aug-2021
---
Luca (2021)
A resplendent world where a sea monster gets out of his comfort zone, becomes a boy, makes connections and finds a purpose. The tale is beautifully animated, smoothly told and a sweetheart to watch.
09-Aug-2021
---
Shipwrecked (1990)
Twinkster disinherits himself from family business after father is injured on a boat. He wants to prance around at home and live a gay lifestyle but poverty is on the horizon and evictions are forthcoming. The twinkster becomes a cabin boy and a hero on his way to becoming a man. The mystery is well plotted, it connects with very simple realities, trials await all who become men and only little orphan/stowaway girls have the experience to kick it like a man.
16-Jul-2021
---
Fear Street Part One: 1994 (2021)
Teen lesbians break up after the other moves to a better town and starts hooking up with boys. A jealous and violent prank accidentally disrupts a force that sends undead serial killers to obliterate them. The director has ballsy energy and the kids read well. It pays homage to the slasher film while making the violence more palpable and incorporating lots of baby kickass fun.
02-Jul-2021
---
Father, The (2020)
We become childlike again with machinations in our heads, dependent on and annoying the people we once cared for and inheriting a worn brain that keeps timing out of a complicated existence. The director assimilates what the disease feels like and with good writing, affords it various scenarios. The actors are masterclass.
28-Jun-2021
---
Security (2021)
Teen gets attacked and an investigator is tasked with rummaging through private security footage to resolve the crime. When the crime exposes the reality of his family life, he breaks. Our hero is a gruff everyman who doesn't want any more than what life offers and his wife is a power fucker that wants to get elected. Daughter is sleeping with her teacher because neither parent pays her any mind and she likes to torture daddy. Does daddy snoop on family trust to solve the case? A scary conundrum that no one wants to ponder.
28-Jun-2021
---
Napoleon Dynamite (2004)
So stupid, it's funny.
22-Jun-2021
---
Prodigal, The (1955)
A wealthy Hebrew is so tantalized by the beauty of a High Priestess that he cashes in his inheritance, dumps his fiancé and says adios to his family for a trip to pagan city. He meets nice assistance on the way and creates a family to help get him closer to his goal. She may serve two gods but he'll convince her there is only one. He woos her without losing his morality. Until he does. It is a lavish retelling of a bible story that is quite brutal and timely. God vs False Idols. Do we kill the people we don't agree with or enslave them? Lana Turner hit all the right Goddess marks and seduced our lenses. Edmund Purmon muscled his way through. The action held up. After the flirtation and consummation, arise feelings of conflict (him) and love (her.) It appeared that the most expensive fuck of his life was a bummer. He becomes a slave for holding on to his spirituality and starts a white slave uprising.
14-Jun-2021
---
Housemaid, The (2010)
Shuttered young woman accepts a job caring for a very well established family. Wife is made of plastic things and pregnant with twins. She believes her silent brute won't cheat on her because she's the perfect wife having miracle twins. "A man does not cheat on perfection." That is her motto and her curse. The eldest child is a delightful package. She is brave to say what's on her mind and sorry if it offends. A matriarch of servitude is the expert of the house, teaching the young woman how back breaking and useless it is making rich people happy. She is Mrs. Danvers, respectfully. Plotting, conniving, avenging, infiltrating and non-stop hurting to become like part of the family. Daddy is a self-absorbed god. Maid is a sexual magnet. An imperfect powerless naif to be completely his. The mother of the house is an awesome witch ready to set fire to anything that brings shame to their name. The scandal turns ingratiating maid into a hostile. The women cancel her for breaching family code... " you don't steal sperm from family gods that you are serving without asking the women first. Revenge is awesome.
10-May-2021
---
Curse Of The Golden Flower, The (2006)
Drop dead gorgeous. That's what I thought at the time I first saw it and its what I affirm now. I devoured and appreciated the crazy amount of artistic work that Zang's imagination and his crew realized. The story was simple and intoxicating. The empress is married to a punishing emperor obsessed with perfection, war and revenge. The empress is mother and stepmother to three boys who are next in line for the crown. Empress is in love with her stepson. He's grown up and doesn't want mama or to be emperor because he's in love with the servant daughter of the doctor that is helping the emperor to secretly poison the empress with enforced medicine. Daddy is back from battle hyped to finish his family war. Traditions are broken, inconsistancy becomes normal, traditions feel like enslavement and people are ready to revolt. Chow Yun-fat knows how to stomp his foot, wield a sword and kill a son. He's intimidating. Gong-Li is that unattainable thing that becomes easy prey once prized and possessed, thrusting her into a vengeful future because she is second in command. She serves gorgeous "Meryl Streep" face.
It's a slow burn to the battle sequences but they are worth it. Action was dressed, mapped and showcased exquisitively and the bloodbath was enervating. Men versus equally matched women with children by their side. Ouch. Amen.
22-Apr-2021
---
Blood Moon (2021)
This is an almost horror classic because it built good character relationships but sidestepped showing us the horror. Most scares evolved from the predicament of the main characters which added some suspense but the director was afraid to delve into action. Too bad. We all missed out.
29-Mar-2021
---
Owl And The Pussycat, The (1970)
Lady Barbra plays a hooker with aspirations. George Segal is the bookish wannabe writer whose life she upends. He rats on her for soliciting, she gets evicted and moves in. He inherits a lot of sexual frustration and mental exasperation. Nobody gay bashes like Streisand. (She can bash me all she wants as long as I win her over with my charming personality. That's how you make friends.) She's representing a full fledged character that served the writer well. Why not. If everybody were the same we'd all be Trump. Segal and Streisand are brilliantly funny, introspective, sexy, beautiful and artistic. The words are grand, it flows, we care and it means something. There is a point in your life where you realize that you will never amount to more than what you are. You can at least try to enjoy it with someone in the same boat.
25-Mar-2021
---