TV Posts Tagged as 'Timid'
---
Rating key:
Welcome to Errattic! We encourage you to customize the type of information you see here by clicking the Preferences link on the top of this page.
Watcher, The (2022)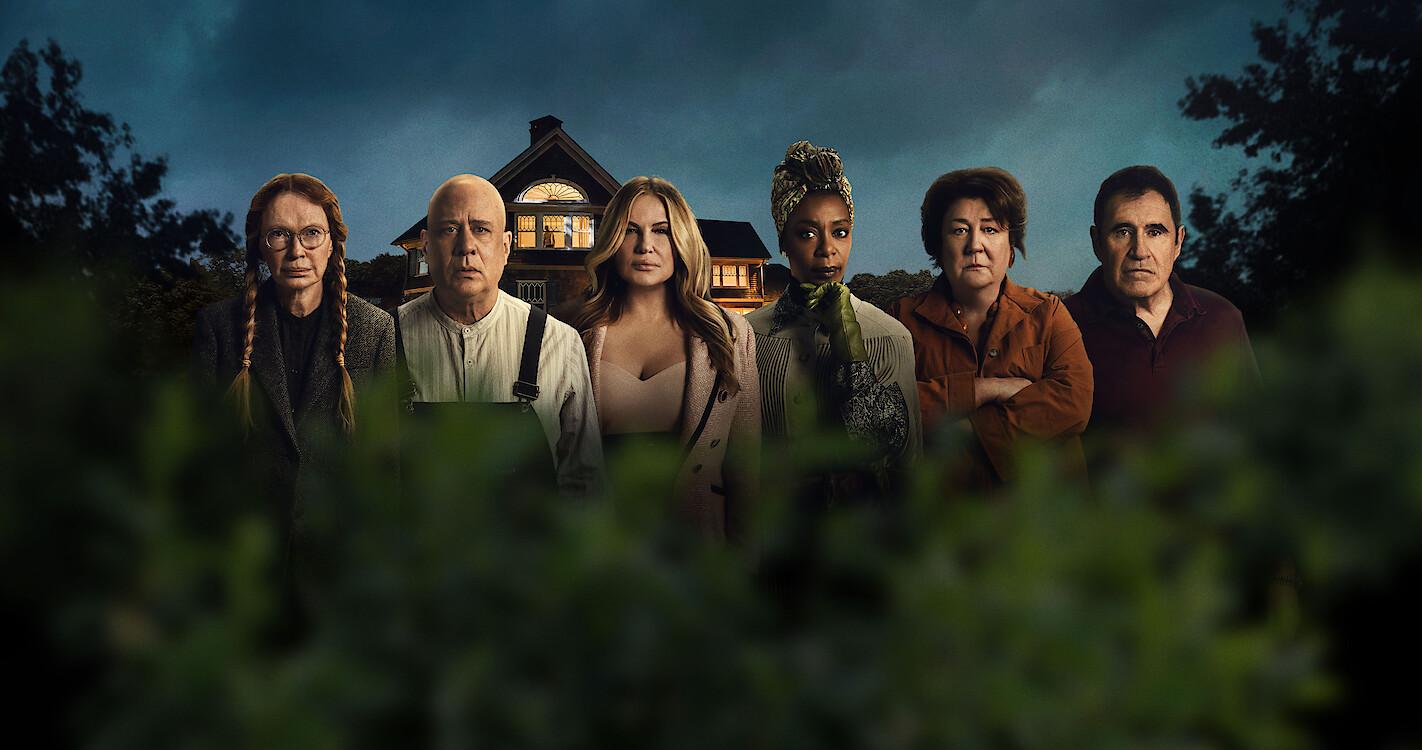 Moving to a new neighborhood is like finding extended family. Neighbors expect things of you. You fake your way out, you eventually fall into their trap and they change you. Jennifer Coolidge is in it. She was mighty confident pulling out question marks. She's all you'd expect and more. Margo Martindale is sublime as a sparring neighbor that's always lawfully right. The asshole who I think claimed all men want to sleep with their daughters was intriguing. Mia Farrow was wasted as a tree communicator/hugger/companion. A neighbor that excludes humans from the safety of the environment is a nag. Every time Papa Cannavale raged, my loins pleasantly shifted but when he didn't stop, I got ED. The Wakandan investigator seemed too fabulous to be in this realm. Real-life haunted house stories are bullshit. A bunch of brilliant people coming up with an idea of creating history by actually destroying people's lives and documenting it. All I wanted was to see Martindale and Coolidge go at it. Coolidge as a porn star neighbor with loud parties and sex orgies (ooh ooh, she can invite Stifler), colorful guests and Martindale doing what she does best with lesbian tendencies. Ryan puts our head in a tumbler and expects us to figure it out. On what basis?
14-Oct-2022
---
Sandman, The (2022-)
9-10. The showdown was anti-climactic because the Sandman's only defense is throwing sand in people's faces.
18-Aug-2022
S1E8. Raising Dion marks a return with a silly superhero suit, man nips and an unengaging sister. Lucienne hits dictation hard because she does not believe a word she says. Dream is making me laugh with how serious he is but the show is not. Corinthian grows wearisome and the raven and pumpkin feel out of place. Gault flickered economically. Good for her!
17-Aug-2022
Episodes 1-4 were a gliding introduction on skates but 5-7 cracked the ice. There is nothing in Patton Oswalt's voice that I would confuse for a mythological bird. The actors are best prior to the sixth episode with 5 being unbearable, 6 boring and 7 incapable of easing the many sexes and cultures gracefully. When the beautifully pale Morpheus with the tiniest lips and waist returns from episode hiatus, the interest is renewed. All else is Dr. Who/DC Christmas Special.
16-Aug-2022
---
I never will. Mindy Kalling of much success and little discernable talent.
15-Aug-2022
---
It made a cool exit.
18-Jul-2022
The rest of the season doesn't have to do much but charm.
23-Jun-2022
It feels fresh but safe. It doesn't want to infect it's magical world with too much reality. Accents fail aplenty but its energy is appreciated. A worthy adversary would abolish any doubts.
18-Jun-2022
---
Obi-Wan Kenobi (2022-)
S1E4. I bought a box of Depends so I could put up with the rest of the season.
13-Jun-2022
S1E1. The disease that made Hayden Christensen sink Darth Vader may have been borne from Star Wars speak not Hayden Christensen. The acting is horrible. The originals are the only ones that understood that nerdy language. The series recreates a legend whose ending has already been written but doesn't push it any further. To 2022? It's so corny I shit my pants backwards.
02-Jun-2022
---
I smell a Lana & Lois season. They already found a way to have daddy Supe lapse into comas. Lana banned all Kent men from her lesbian daughter and herself. They are toxic. She would have banned her ex-husband too but he needs to pay her rent. Sometimes daddy Supe appears to be the same height as Lana.
10-Jun-2022
Jonathan didn't need to fashion a leather jacket and lace gloves to make us accept his coolness. A close up touch, a pre-alopecia treatment, a tattered t-shirt and some skinny jeans would have kept us onboard. Lois starves in both dimensions, Superman's crotch measures the same in every universe, Lana doesn't burst any bubbles in either, Lang's daughter pontificates lesbianism against a boy that fails in both dimensions. Old bitches are making it difficult for male heroes to survive.
07-May-2022
---
Reunion. How did Nick Lachey get so pink? He looks like fried pork. I love fried pork. Sweet and sour and a dash of soy sauce. Yum. Vanessa disguises her witchcraft well. I'm almost beguiled. I get it. He's almost to the point where he doesn't remember Marvel movies. Take all his money and drop out of the hemisphere. Pregnancies are the pathway to a cheating man's heart. "He aint fucking no raptor in lingerie. No Way!" Why do bisexuals keep sneaking around? It's 2022. Are they perverts? Someone came out as a lesbian and I guessed it because the curls in her hair stopped bouncing. I knew there was something askew. Beautiful giants need to stop raging on women that record them doing what giants were born to do. It's not a giant's fault that women aren't with it. Lesbians need to stop pretending they like small cocks on giant men. Braids on a man never looked more Groot. Pretty other thing got criticized on national TV for not keeping his mate from going full lesbian. Dude, that's rough. He's so pretty. Love is the easiest thing to replace, just close your eyes...and wish it bigger. Gigolos will appear with free tickets to nowhere.
16-Apr-2022
S1E1. The quickest way to get your partner to acquiesce to children and marriage is to dump them. Works every time. They don't need to go on a stupid reality show. Isn't that what the Lacheys stated at the beginning of the show?
11-Apr-2022
---
Love Island (2019-)
Gays undercover have no idea how to deal with female toxicity.
06-Aug-2021
Gays undercover are still saving women. Men with sexual dysfunctions agreed to remain in their original coupling. Men think women are stupider than them because they believe everything they say.
30-Jul-2021
S3E9. The men are playing football, faking the women into doing behind the scenes porn in front of the team, their family and friends. Gay boys are undercover to make sure the rejected puppies don't get tackled. It's cheating but the show has an image to uphold. May the best cock, win!
26-Jul-2021
---
A "special" episode of "Lois and Friends." Sarah canceled Jordan because he spent 15 minute intervals without her. She now can venture safely into lesbian land. Daddy Latino with a white boy name almost burned to death for cheating. Karma. Jonathan rocked biker gear. He might actually become "someone." Natalie chastised her father for forgetting her mother. Daddy succumbed by opening old wounds, bleeding and remembering a lost love again and again and again.
30-Mar-2022
Daddy Supe can hear an avalanche in Russia but not his son inhaling drugs or the locals plotting against him. The writers gifted the women "no responsibility" for the maladies of life. Lana's husband didn't cheat on her because she became a teeny bore, he did it because he felt like it. Jordan's girlfriend wasn't selling drugs to be a criminal, she wanted to look good for him. Lois' sister was married to a dancer, enough said. That lady with the pendant and the books, keeps on living. Why? Lana's daughter is having a hard time with her boyfriend Jonathan because she feels lesbiany. Sarah is super upset because daddy loaded all of his troubles on a barkeep and not the family. Jonathan's superpowers don't include a sixth sense of empathy. He's worried that he can't see through his curls. Mama recommends confiding in a friend to heal daddy's misconduct and her boyfriend's disinterest. How about the lesbian she was munching on all summer? Daughter is going to get over daddy cheating by cheating. LOL! Lois gets excused from everything. She lost her baby because men debilitated her not because she couldn't down solid foods. No one in the world deserves a free pass. It's either beautiful because we all chipped in or it's lousy because that's what happens when people chip in.
18-Mar-2022
Lois sees a psychiatrist because she's allergic to meats, poultry, milk, eggs and bacon and she lives on a farm. The writers attempt to grab hearts with a refried miscarriage, making women swoon and men puke. Men don't cry over unfinished "things" or allow themselves to be defined by it for years. Puny woman. That's a dog's omelette. Fake Lex Luthor was a bust. How about a Martian Manhunter? Baby Supe is a ready-made Damien for "Omen: Oblivion." Prettier brother deserves better storylines before his hair falls out. If Superman is taller than everyone why does he only seem it in certain shots? Sometimes he teeters on his heels.
07-Jun-2021
My favorite part of the season is daddy breathing on son.
26-May-2021
I dipped in the CW DC waters before and I almost drowned. A loyalty to Superman waved me back. Tyler Hoechlin embodies the dutiful and conflicted alien come to earth to save the loathsome humans from themselves and to birth one or two with a lousy reporter. At least they're boys. Yay! Young boys get a storyline and maybe super powers! Awesome. We are not being ignored. I want to see all the deviant things we can come up with. Super orgasms would be a hilarious start. The sap is extra cum messing up our hair and it has the vibrations of a pusher but I liked the action and was happily surprised. I always wanted to see that. Superman is as boring as the person who recreates him.
25-Feb-2021
---
S1E6. The land of absolute magic couldn't accomplish turning a brilliant D'Onofrio into the behemoth that he deserves to be. How much ass kicking and arrow shooting can we take? It was a lost moment to be brilliant and make a childhood comic-book fantasy come to life.
03-Jan-2022
S1E5. Jeremy Renner plays "that little bitch" in his own series. The female "kickass" trope is extremely tired and damaging, to all sexes. Bad Russian speak has returned and I'm starting not to give a fuck. The MCU has created a complicated mythological puzzle that future audiences won't tolerate because they didn't live through it and will be too stupid to piece together.
01-Jan-2022
---
Witcher, The (2019-)
Daddy dropped the hush a notch and it was sexy. A daddypalooza overwrote the overwrought female wokeness. The RPG "come to life" was fun. The mythology became a scientific equation instead of a scientific marvel. Can we find another solution to good girl being possessed by evil besides giving her a conscious? Bummer. Istredd. Boom! Dijkstra. Yes! Joey Batey. Lick, yeah! Neneke. Your highness. Daddy Supe speaks for itself. The females need more realism and the mythology needs better surprises.
27-Dec-2021
Daddy is something else but it was the ladies that kept me glued.
18-Jan-2020
Of course, I'm disquieted by the froggish whisper of the Witcher but he delivers comitted action moves and steady alpha charisma. Interspersed characterization maintains the show's freshness. (Is it part of its mythology that all pretty twinks get killed?)
15-Jan-2020
---
Single All The Way (2021)
Gays take on family Christmas. Family doesn't want gay boy growing into an old maid. He has a bad picker. Family and friends decide to harass him into settling for the husband of their choice. He drags his bestie along to purport a lie that keeps his family nagging. Gays don't date. Unless bathrooms and dog walks count. The concept is repetitive, there is no conflict and it's an unsigned Christmas card. Michael Urie's hand gestures did not give me whiplash. Kathy Najimy needs a booster shot of tackiness. Jennifer Coolidge is a Christmas edible. Luke Macfarlane doesn't stop half smiling. Philemon Chambers couldn't muster friendship or romance. The film reminds without feeling. Chemistry is created when actors look at each other as if they were tonguing down. Straight actors are good at that. They're hungry. If we want to continue to represent we need to stop enjoying the gift and savor the opportunity. All the snow was indoors. Why do woke folks always put the ethnic person to work? White boy goes on dates while black boy fixes the white family's plumbing. Get out!
03-Dec-2021
---
The mythology exploded into bits. The Frankenstein and Gremlins intermingle registered anew. Tiffany erupted into a countess of evil. Our favorite orphans showed and blew shit up. In style. Little gay boys kicked ass. The twists and consequences were ridiculously entertaining. Chucky popped a different pill and surprised us. He's become a deeper hallucination. I love how his doll legs flail when he's killing someone. He says all the stupid shit we're thinking. He's hilarious. Lip synch has improved. He's fucking awesome. It was a bang with a but. I was not amused by the Chucky Show at the end.
03-Dec-2021
S1E6. Chucky celebrated Mother's Day by being a cruel adult. Black gay boyfriend is sweet. The babies are creating a vibe. Main baby needs to step up the emotion. I can see him staring at the nothing he sees when the director yells at him otherwise. Tiffany tickled. Chucky delighted and the show didn't give a shit. It dared cancel people we liked. That's scary.
24-Nov-2021
Hello Gladys Kravitz.
20-Oct-2021
Chucky's back and he hasn't aged. Tech needs to fix his lip-synching. It's off. Chucky is owned by an angry teen with artistic deficiencies and obscure classmates. Hateful characters abound so we can watch murder without guilt. The teenager walks around with a giant doll throughout the school day and makes it home safe. WTF? Chucky supplied giggles, guffaws and revenge. Go Chucky!
15-Oct-2021
---
Munsters' Scary Little Christmas, The (1996)
It keeps the family home and evokes some nice memories. Lilly looks the best but sounds the weakest. Grandpa got crypt. Herman was overstuffed with the wrong voice. The house was bigger. Spot sucked. The neighbor was military when she needed to be Gladys Kravitz. Marilyn supplied joy for being the ugliest one in the family and stumping the town. The men reacted to Marilyn the way everyone else reacted to her family. They screamed, tripped, fainted and ran. It never gets old.
15-Nov-2021
---
Maid (2021-)
S1E1. Confused mother abandons an angry husband that punches holes in the walls instead of punching them and has no history of physical violence. Oooooh. Scary. She runs with her daughter and gobbles up what the system has to offer. Her mate is a responsive Nick Robinson. Fuck her.
11-Oct-2021
---