Gay+
---
Welcome to Errattic! We encourage you to customize the type of information you see here by clicking the Preferences link on the top of this page.
Coronavirus hits poor, minority communities harder
The coronavirus doesn't discriminate, but minorities and low-income families are bearing the brunt.

Why it matters: The impact of the coronavirus is reflecting the racial and socioeconomic disparities of the cities where it's spreading and the health care system that's struggling to contain it.

The big picture: New York Gov. Andrew Cuomo last week called the virus "the great equalizer," because anyone can get it. And while it's true everyone's at risk, New York itself is a stark illustration of just how unequal the virus' toll really is.

The highest concentration of cases in New York City are in neighborhoods in Queens with large immigrant populations and low average incomes, according to city data analyzed by the Wall Street Journal.

And New York is not alone.

By the numbers: Nationwide demographic data aren't available, and the quality of state and local recordkeeping varies widely. But the clear trend in preliminary data from multiple metro areas is hard to ignore.

The county that contains Charlotte, N.C. is about 33% black, but black residents make up roughly 44% of its coronavirus cases, according to the Charlotte Observer.
Doctors say India must prepare for an 'onslaught' as one of Asia's biggest slums reports first coronavirus death
Bodies are being left in the streets in an overwhelmed Ecuadorian city
Early Data Shows African Americans Have Contracted and Died of Coronavirus at an Alarming Rate
'Children in a dog cage': how coronavirus puts Asia's most vulnerable at greater risk of homelessness, human trafficking
'We could get wiped out': American Indians have the highest rates of diseases that make covid-19 more lethal
---
Legal Sex Workers And Others In Adult Industry Denied Coronavirus Aid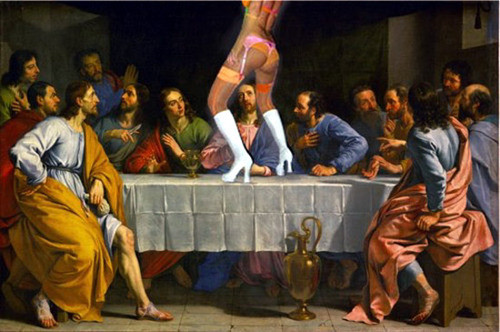 When Congress passed the massive $2 trillion bailout bill last week, it made sure that self-employed people or other independent workers could apply for loans or grants from the Small Business Administration. But there was one very specific ? and puritanical ? exception: legal sex workers and others in the adult entertainment industry.

The very first page of the online application says that in order to be an "eligible entity" that can receive monetary relief from the bill, an applicant cannot "present live performances of a prurient sexual nature or derive directly or indirectly more than de minimis gross revenue through the sale of products or services, or the presentation of any depictions or displays, of a prurient sexual nature."

Prurient, which is defined by Oxford as "having or encouraging an excessive interest in sexual matters," is a vague categorization that broadly includes thousands of workers in the U.S. As stated, the clause excludes everyone who works in the legal (and, worth noting, booming) sex industry including strippers, porn performers, producers, directors, sex toy manufactures and many others. It's unclear whether this clause includes other professions that don't explicitly deal in the sex industry, but do cover subjects that are of a "prurient sexual nature" such as sex therapists and authors of erotica novels.
---
Christian group opposes coronavirus vaccine research because it used aborted fetal tissue 
The Trump administration's decision to ban scientific research that uses human fetal cells has not only had a major impact on a potential cure for HIV, now it's hampering the search for a vaccine for COVID-19.

Evangelical Christian activists, who overwhelmingly support Donald Trump and oppose abortion, pushed the administration to ban the research. Now one group is attacking a potential vaccine for the novel coronavirus and claiming further research would be "morally" irresponsible.

"It is deplorable that anyone would want to exploit the remains of aborted babies for financial profit especially when so many people will refuse to use those products because of their deeply held religious, moral, and pro-life convictions?" Debi Vinnedge, Executive Director of Children of God for Life, asked.

In 2018, a scientist who was supposed to supply mice that have been modified with human fetal tissue for an HIV study emailed researchers that the Department of Health and Human Services (HHS) "has directed me to discontinue procuring fetal tissue."

"This effectively stops all of our research to discover a cure for HIV," he wrote.
White House-credentialed pundit says God sent coronavirus to kill Jews
---
Kathy Griffin Was Sent To A Coronavirus Ward With "Unbearably Painful" Symptoms — And Can't Get Tested
Donald J. Trump
@realDonaldTrump
Mar 25
Just reported that the United States has done far more "testing" than any other nation, by far! In fact, over an eight day span, the United States now does more testing than what South Korea (which has been a very successful tester) does over an eight week span. Great job!

So Kathy called out that claim and shared a terrifying experience of her own.

"He's lying," the comedian wrote.
---
Ed Asner Urges Trump Not to Kill Betty White
Ed Asner would very much like Betty White to live. Also Carl Reiner, William Shatner, Mel Brooks, and Cloris Leachman. Oh, and himself.

On Tuesday afternoon, the Emmy-winning TV legend (The Mary Tyler Moore Show, Lou Grant) directed a tweet at Donald Trump in response to the president's comments which insinuated that he plans to reopen the country in weeks. Doing so would defy the pleas of public health experts and put vulnerable populations of the country, including the elderly, at higher risk of deadly battles with the novel coronavirus.
---
LGBT+ ER nurse begs gay men to stop going out and hooking up 
An LGBT+ ER nurse has begged gay men to stop going out and bragging about it on social media and said they should protect themselves and others from coronavirus.

While many around the world are following government advice to stay at home and avoid unnecessary socialising, others are ignoring the rules.

If they catch COVID-19 they may get seriously sick themselves – even young people are ending up in hospital. But even more importantly, they will inevitably spread the coronavirus to more people who may be vulnerable and could die.

Meanwhile, others responded to the ER nurse, saying people are still hooking up on apps like Grindr and having sex parties. Because people during sex swap saliva, semen and sweat, it is high risk for passing on coronavirus.
3 more gay men who went to the Winter Party test positive for coronavirus & others are getting sick
---
Campuses shutter for coronavirus, leaving some LGBTQ students with nowhere to go
When she heard that her university campus would be shutting down after spring break due to the coronavirus pandemic, Alexis feared her life could fall apart.

She wasn't able to afford campus housing this semester and is living instead in a nearby homeless shelter. But she depended on her school's health and fitness center for daily showers and her school's library for quiet study time.

"My whole life revolves around the university, and the university is closed," said Alexis, a 34-year-old trans woman and student at the University of Eastern Michigan. (A university spokesperson told Vox that campus dining halls are still open for "grab and go" meals in accordance with a Monday order from Gov. Gretchen Whitmer; however, other services like the rec center are closed.)

When her school decided to shift to online classes, which meant finding a public space to study and attend classes, she knew that wouldn't be possible in the shelter. She also knew that other public spaces would likely soon close to promote social distancing. She worried she may have to move back home with her father, who doesn't support her transition and doesn't use her name or correct pronouns.

"My relationship with my parents is not good, particularly my dad," Alexis said. "My parents in general are just not very accepting of me, but [being] trans is kinda like the straw that broke the camel's back."
---
LBGTQ groups: South Carolina law is putting students at risk
A new federal lawsuit says that South Carolina is fueling a climate of discrimination in schools and putting students at risk. At issue is a law requiring teachers in sex education classes to avoid mention of relationships other than heterosexual ones unless discussing sexually transmitted diseases. The lawsuit now aims to change that. The lawsuit filed by several groups including The National Center for Lesbian Rights and Lambda Legal says the state's Comprehensive Health Education Act violates the equal protection clause of the 14th Amendment. The state Attorney General has issued an opinion stating that a court would likely conclude the law is unconstitutional.
A judge refused to recognize pro-trans law in a hate crime case. That's judicial misconduct.
GOP Lawmaker Whines About Being Labeled a 'Homophobe' After Filing Horrific Anti-Gay Bill: VIDEO
---
Montana Boy, 12, Is Found Dead in Home, and Police Say Grandparents and Uncle 'Tortured' Him 
A Montana boy is dead and his grandparents and teen uncle face charges after they were allegedly caught on camera torturing him.

On Wednesday, the Gallatin County Sheriff's Office arrested James Sasser Jr., Patricia Batts and a juvenile male following the death of 12-year-old James Alex Hurley, according to a sheriff's news release obtained by PEOPLE. The juvenile male was identified as James's uncle.

All three have been charged with deliberate homicide after James was found dead on Feb. 3 of blunt force trauma to the back of his head.
Outrage as Florida six-year-old taken to mental health facility because she was 'out of control' at school
12-year-old boy suffers fractured skull after school employee 'body slammed' him
---
Why is rape still so prevalent in 2020?
The #metoo movement has made talking about rape far less taboo, so why isn't sexual violence being reduced? In honour of Sexual Abuse and Sexual Violence Awareness Week 2020, Lizzy Dening, founder of Survivor Stories, reports on the reasons why we're still shockingly at risk

It's 2020 and we're slowly getting better at talking about rape, thanks in part to initiatives like #metoo and the Million Women Rise march. But for every forward step, the statistics around sexual violence remain bleak – and things are actually getting worse.

It's estimated that one in five women and 4% of men have experienced some type of sexual assault since the age of 16, with roughly 3.1% of women experiencing a sexual assault each year. Meanwhile, rape cases referred by police to the Crown Prosecution Service have fallen by 32%, and convictions have dropped by 21%, in the year leading up to September 2019. So what exactly is going on?
---
Pete Buttigieg has issues with people of color — on his own staff
In recent weeks, former South Bend Mayor Pete Buttigieg has campaigned tirelessly to improve his polling with Black and Hispanic voters, as he tries to establish himself as the front runner in the Democratic primary.

Recordings, internal documents, and recollections of points in the campaign by current and former staff members of color described what it was like for them. Many of the people interviewed in the report spoke anonymously due to "nondisclosure agreements or fear of retribution."

Reporter Reid J. Epstein writes that for Pete for America staff of color, "the workplace itself was a problem, and working for a candidate with so little support from Black and Hispanic voters had become demoralizing."

At least one of the organized diversity and inclusion events became "emotional" because many employees "believed that senior Buttigieg officials didn't listen to their concerns and ideas about the campaign." Examples they include are Hispanic staffers being asked to translate to Spanish, even if they don't speak the language, Black staffers trying to meet goals, and grievances related to diversity.
---
LA LGBT Center eliminates free STI screening after funding cuts
The LA LGBT Center has said that county budget cuts are forcing it to end free STI screenings.

In an announcement posted to their site yesterday, the LA LGBT Center said that the Los Angeles County Department of Public Health (DPH) cut testing and treatment funding to the center by $1 million from 2019 to 2020.

The DPH ended funding for testing at the center's Jeffrey Goodman Special Care Clinic as part of the funding cuts.
---
The less we brag, the less they'll hate. (If we are all equal, what is the need?)
09-Jan-2020
---
Tenn. Mom Fatally Shot 'Happy and Upbeat' 12-Year-Old Son Before Turning Gun on Herself 
Authorities in Tennessee have confirmed the deaths of a mother and her 12-year-old son were the result of a murder-suicide.

On Tuesday night, the bodies of Rachel Narancich, 43, and her son Asher Narancich were found inside their Franklin home by a family member.
Woman in Florida leaves three kids alone in bus overnight to smoke pot on boat
Zymere Perkins' sickening death exposes NYC's unforgivable child welfare failures
---
Man accused of ditching boy because he thought he was gay
A Florida man is accused of child neglect after leaving a child alone at night outside a police station because he thought the boy might be gay, police said.

Haines City police didn't say in an arrest report whether the boy was the son of Evenaud Julmeus, 30. The child's name, age or relationship to Julmeus wasn't included in the report.
---