Gay+
---
Welcome to Errattic! We encourage you to customize the type of information you see here by clicking the Preferences link on the top of this page.
Third Ex-Police Officer Charged In George Floyd's Death Released From Jail On Bond
A third former Minneapolis police officer involved in the killing of George Floyd has been released from jail.

According to Hennepin County jail records, Tou Thao was released from custody with conditions on Saturday morning after posting $750,000 bond.
---
The Disunited States: Heavily armed Black Panthers target Confederate monument used by KKK as American flags are burned near Trump Tower and in Washington as Fourth of July protests sweep the country 
More than a hundred heavily armed Black Panthers descended on the country's largest Confederate monument to demand its removal, while demonstrators burned American flags near Trump Tower as tens of thousands across the country attended Fourth of July protests.

On Saturday, as Donald Trump hosted hundreds at the White House for a July Fourth fireworks display, thousands of Americans ditched their traditional cookouts and celebrations for rallies and sit-ins, including a march in Washington DC in the searing 90-degree heat near the National Mall.

Flag burnings were also seen in Washington, as well as in New York City outside the Trump Tower, and on Trump's Hollywood Walk of Fame star.
Nightmare in New York: How Covid-19, BLM protests and a liberal mayor are turning the city into a no-go zone as murders skyrocket, shops are looted and 500,000 middle-class residents flee
Shootings soar 205 percent after NYPD disbands anti-crime unit
Shooting investigation, alleged wild chase top Staten Island crime stories of week
The Mug Shot, a Crime Story Staple, Is Dropped by Some Newsrooms and Police
NYPD arrests suspect in slashing of 2-year-old boy in stroller
Black Lives Matter protesters return to St. Louis mansion where lawyer couple drew guns on demonstrators because 'they feared for their lives' - but this time they just sit and watch from their balcony
Predominantly Black armed protesters march through Confederate memorial park in Georgia
---
Stamford man caught in Cove video charged with hate crime, assault 
City police have charged a Stamford man, who was caught on video berating a group of young Black and Latino men at Cove Island Park last month, with a hate crime and multiple counts of assault.
Steven Mike Dudek, 57, who police say sprayed four of the men with pepper spray, was videoed shouting at the group and then calling police to report he was being harassed by a "bunch of Black men."

On Thursday Stamford police charged Dudek with four counts of second-degree assault, first-degree intimidation based on bigotry or bias and falsely reporting an incident to police, according to Stamford Police Capt. Richard Conklin and Lt. Tom Scanlon.

One of the men asks for his name and Dudek replies, "My name is God."
Police: 2 women hit by car on Seattle highway amid protest
Florida man charged for pointing gun, unleashing racist tirade against Black homeowner
6-YEAR-OLD KICKED OUT OF SCHOOL ... Over BLM Shirt
MYSTIC INN BRUTAL RACIAL ATTACK
The Neighbor Kids Tore Up My Garden. Now Their Mom Says I'm a Bigot.
A White Couple Was Arrested After Pointing a Gun at a Black Family In a Chipotle Parking Lot
Man faces hate crime enhancements after threats against 12-year-old Black youth in SF
---
WA teen accused of child exploitation ring links, charged with 'abhorrent' sex child abuse 
A WA teenager has been charged with more than 200 child sex offences for allegedly abusing boys as young as three.

The abuse, which police have described as abhorrent, allegedly started when the 19-year-old Gosnells man was just a boy himself, aged 14.

Police will allege the man is linked to a national online child exploitation network and sexually assaulted five boys, who were aged between three and 11 and known to him through family and friends, between 2014 and 2020.
Evo Online canceled after co-founder accused of sexual misconduct
Ohio priest indicted on charges of child pornography and juvenile sex trafficking, US attorney says
Utah Teen, 15, Was Killed by Man Who Feared She'd Tell Police He Sexually Abused Her
Dog Kills 1-Month-Old Indiana Boy, and Mom Is Charged with Neglect
---
Case Of Parents Who Allegedly Used Cattle Prod To Punish Kids Also Involves Horrific Rape Accusations 
A South Dakota couple accused of giving their children drugs and shocking them with cattle prods has pleaded not guilty to the charges against them.

One of the children told investigators Lance had physically and sexually abused her—raping her at least 150 times since she was 14 years old. The teen alleged that if she refused to have sex with him, Lance would use the cattle prod or hit her or tie a dog collar around her thigh to shock her, court documents said.
Fla. Middle School Teacher Allegedly Admitted Sex Abuse of Minor at Party Before Mom Confronts Her
---
A White Couple Was Caught on Video Pointing Guns at Black Lives Matter Protesters in St. Louis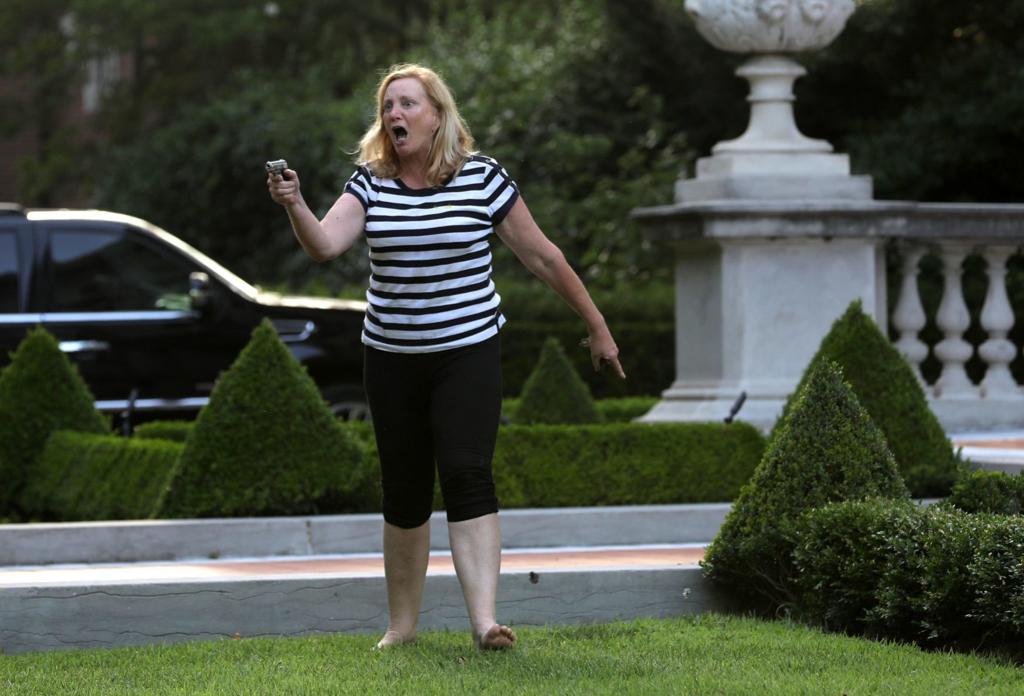 An armed white couple waved their guns and yelled at Black Lives Matter demonstrators in St. Louis on Sunday, during a protest march to St. Louis Mayor Lyda Krewson's home.

At least 500 people peacefully marched through St. Louis' Central West End neighborhood on Sunday demanding Krewson's resignation, according to the St. Louis Post-Dispatch. Krewson appeared in a Facebook Live video last week reading the names and addresses of people who had called for defunding the city's police department.
Man Fired for Racist Rant Supporting Slavery and Lynchings of Black People
John Wayne's son responds to resolution calling for John Wayne Airport to be renamed
Michigan Woman Yells Racial Slurs at New Neighbors in Viral Video
San Jose man charged with hate crime in Santa Cruz assault incident
Adam Carolla defends Jimmy Kimmel over blackface backlash: 'We've lost our minds'
Little Caesars fired two employees after a couple found a swastika made of pepperoni on their pizza
---
Police announce charges against suspect who viciously beat Macy's employee in 'unprovoked attack' 
Michigan police have finally announced criminal charges against the suspect who brutally attacked a Macy's store manager.

On Friday afternoon, Genesee County Prosecutor David Leyton announced he has charged 18-year-old Damire Palmer with "assault to do great bodily harm less than murder," WJRT-TV reported.

The crime is a felony and carries a maximum prison sentence of 10 years.
2 teenage boys shot to death after asking man how tall he was while buying candy
Police nab teen gunman who opened fire in East Harlem street, hitting 7-year-old girl with stray bullet
VIDEO: Black Lives Matter mob storms Target, threatens to 'shut down' business if they cooperate with police
What we know about a shooting at a protest in Louisville
---
7-Year-Old N.C. Girl Is Fatally Shot, Allegedly by Man Who Was Released from Jail Hours Earlier 
A 7-year-old North Carolina girl was fatally shot in the head while sitting in a car eating ice cream.

"We just lost a 7-year-old innocent child in our family for no reason," Kenneth Woods, a relative of Aaliyah Norris told WLOS at a memorial for the girl Thursday night.

Aaliyah was sitting in a car in Forest City when she was shot in the head. She was taken to a local hospital, where she remained on life support until succumbing to her injuries two days later, according to a Forest City police news release obtained by PEOPLE.

On Wednesday, Shaquille Marshon Francis, 26, was arrested and charged with murder.
Georgia Driver Charged With Homicide In Alleged Hit-And-Run Death Of 13-Year-Old
Missing Pennsylvania Woman Found Dead In Abandoned Lot, Man She Met On Train Charged With Murder
---
3-Year-Old Chicago Boy Is Fatally Shot While Riding in Car with Stepfather, as Police Seek Suspects 
A $4,500 reward is being offered for information that leads to the arrest of a suspect in the fatal shooting of a 3-year-old boy during a violent weekend in Chicago.

According to police, Mekhi James, 3, was shot Saturday night while in the back of his stepfather's car.

The stepfather was driving them home after both had gotten haircuts.

The shooting unfolded shortly after 6:30 p.m. along Chicago's Huron Street.

Investigators said a blue Honda SUV pulled up alongside the stepfather's vehicle and opened fire.
A Black Teen Died After Screaming 'I Can't Breathe' as Youth Home Employees Put Their Weight on Him
SEE IT: Man left with knife sticking out of head by Harlem mugger
Accused killer caught in Brooklyn gang bust left trail of Facebook posts boasting of violence: feds
White men in car chased down Black teens on bikes in Connecticut, 1 hurled slurs, police say
3 charged over killing of Black teenager who reportedly cried out 'I can't breathe' while being restrained at Michigan facility for 'at-risk youth'
Pa. Woman Who Vanished Last Month Is Found Dead in Trash Bag, and Man Is Arrested
Ga. Boy, 13, Was Walking with Dad on Sidewalk When Driver Allegedly Killed Him in Hit-and-Run
Baseball bat-wielding brute sought in unprovoked Bronx attack
Protestors brutally beat a gay Democratic lawmaker in Wisconsin. He says he's still "on their side."
---
5 retired priests arrested after allegations they sexually assaulted minors 
The abuse is alleged to have occurred while the men were teachers at a high school in Rigaud and at two institutions in Matane and Pohénégamook.

In 2016, the religious order agreed to a $30-million payment to students who attended the Montreal Institute for the Deaf.

In 2012, a number of former students said they were sexually assaulted by priests who worked there.

At least 60 deaf students were assaulted by members of the religious community and lay people working at the school between 1940 and 1982. The school changed its name to the Institut Raymond-Dewar in 1984.

About 270 alleged victims have joined a class action lawsuit against the order.
A Flood of Sexual Assault Allegations in the Porn Industry Are Met With Deflection
Foul Play Suspected in Case of Solider Who Complained of Sexual Harassment Before Vanishing: Army
Jeff Ross Denies Raping Underage Girl, Says 'Dangerous Environment' at Comedy Clubs Is 'Real'
RELATED VIDEO: Justin Bieber Refutes Sexual Assault Allegation: 'Sexual Abuse Is Something I Don't Take Lightly'
As sexual abuse allegations flood in, the world of video games faces a reckoning
---
A Black Lives Matter Activist Was Found Dead Days After Reporting A Sexual Assault, But Police Say The Two Aren't Linked 
The man accused of killing a 19-year-old Black Lives Matter activist is not the same person she described as sexually assaulting her the day of her disappearance, authorities say.

Police have released new details in the deaths of Oluwatoyin Salau and Victoria Sims, 75, who were both confirmed dead on Monday. A week earlier, on June 6, Salau tweeted about a man she alleged had sexually assaulted her earlier that morning, according to the Tallahassee Democrat. She disappeared the same day and was found dead at the home of 49-year-old Aaron Glee Jr., who has been accused in Salau and Sims' deaths, the Tallahassee Police Department said in a statement.
Charges dropped against black pastor who was assaulted; now 5 people are charged with hate crimes
Man Allegedly Admits to Kidnapping, Sexually Assaulting Black Lives Matter Activist Before Killing
---
David Guillod Charged With Multiple Counts of Sexual Assault
The former Primary Wave co-CEO's bail is set at $3 million.
David Guillod was charged on Monday with 11 felonies, including rape, by the County of Santa Barbara District Attorney's Office.

Guillod was also charged with kidnapping to commit rape, and rape of a drugged victim, among other crimes. The alleged multiple attacks took place in May 2012, December 2014 and January 2015, according to authorities. Guillod was producer on such movies as Atomic Blonde and most recently, Netflix's Extraction.
---
One dead, one in critical condition in early morning shooting at Capitol Hill protest zone known as CHOP 
Seattle police homicide and assault detectives are investigating an early morning shooting in the Capitol Hill protest zone known as CHOP that left one person dead and another in critical condition.

Seattle police said a 19-year-old man was pronounced dead at Harborview Medical Center. A second man suffered life-threatening injuries. Police have not identified the victims.

Sgt. Lauren Truscott, the department's public information officer, said no suspects were in custody and the department urged anyone with information to call its tip line, 206-233-5000. Truscott said the department is reviewing public-source video and body-camera video for clues.

Late Saturday, the department released security video from cameras overlooking Cal Anderson Park that recorded a rapid volley of gunfire, and then people running.
Tallahassee Man Confessed to Murders of BLM Activist and AARP Volunteer: Cops
---
Canada Among Very Worst White Supremacist Countries: Report 
Over 11 million online users globally have been reached by more than 6,600 right-wing extremist social media pages, groups, and accounts in Canada, according to a new report by a U.K.-based think tank that studies hate and extremism.

And researchers suspect that these users have been more active during the COVID-19 lockdown and anti-Black racism protests.

"We were really struck by the high level of engagement by Canadians," said Jacob Davey, the Institute for Strategic Dialogue (ISD) senior research manager and co-author of the report. "It's clear that Canada has a well established system of right-wing extremists very much comparable to that of the U.S. and U.K., and it's part of a global pattern."

Davey said the current anti-Black racism movements have likely led to more activity by these voices as they try to discredit the idea that racism is a problem in Canada.
Two Iowa men arrested in brutal, 'racially motivated' assault of Black man
---
What Danny Masterson Said About Rape Allegations and His Firing In 2017 
That '70s Show star Danny Masterson was charged with three counts of rape by force this week, but it isn't the first time his name has been associated with the alleged sexual assaults. Claims surfaced against Masterson all the way back in 2017, though this is the first time charges have been formally filed.
Leah Remini Calls 'Bullshit' on the LAPD and Danny Masterson
Chris D'Elia Denies Allegations of Sexually Harassing Teenagers
Bucks County School Bus Driver Accused of Raping 2 Teen Boys, Including Foster Child
Man jailed for child abuse after cop's school talk prompts girl to come forward and reveal sex assault
At Least 3,000 Children Were Victims of Sex Abuse in French Catholic Church
---