Health/Food Posts Tagged as 'Responsibility'
---
Welcome to Errattic! We encourage you to customize the type of information you see here by clicking the Preferences link on the top of this page.
In the poorest county, in America's poorest state, a virus hits home: 'Hunger is rampant'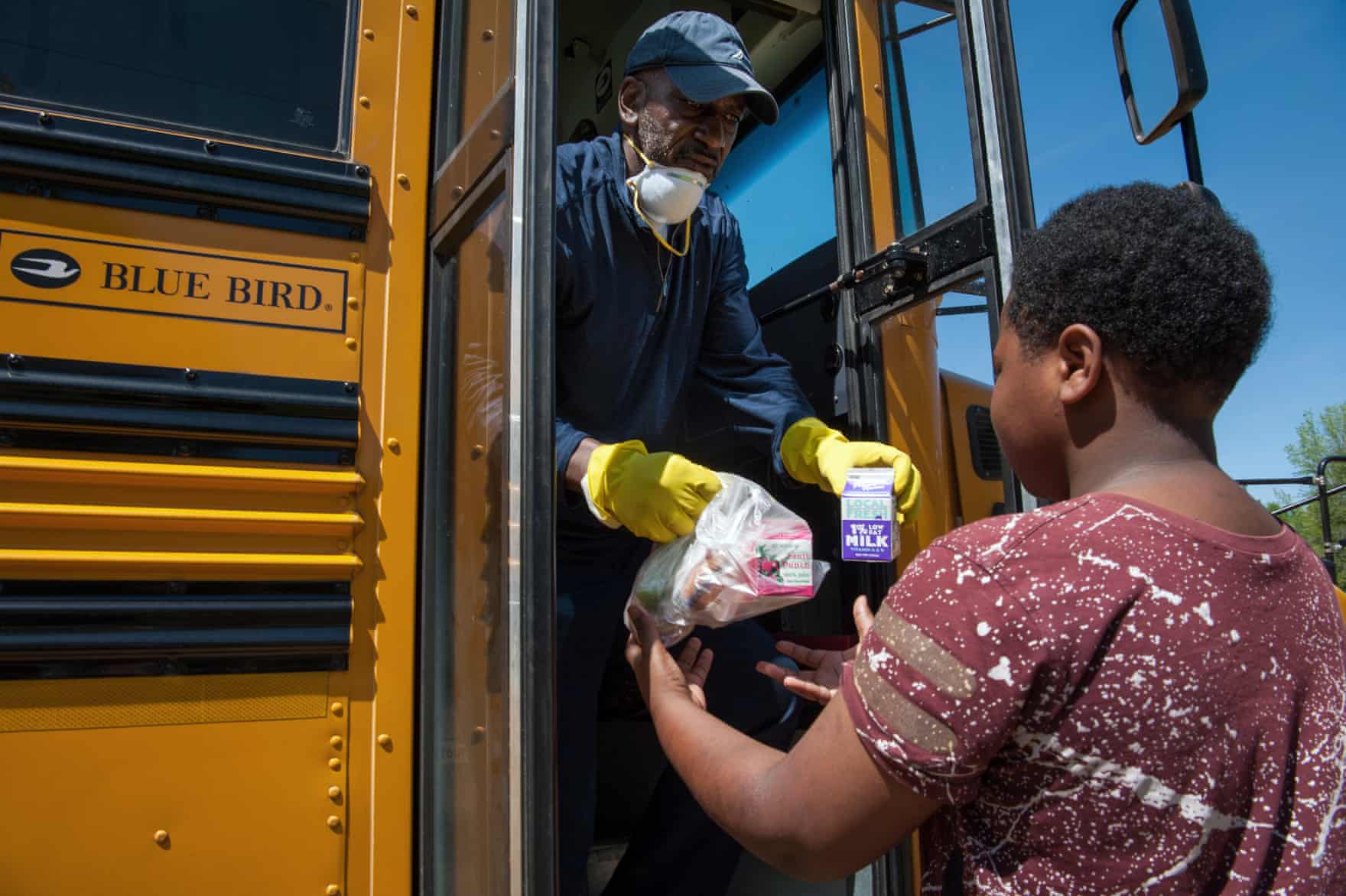 On the cracked country roads of Lexington, deep in the Mississippi delta, an empty yellow school bus drives slowly, making life-sustaining drop offs on the way.

Here, in the poorest county, in America's poorest state, the coronavirus has yet to ravage the jurisdiction with infection. There has been one recorded Covid-19 death in the county, Clinton Cobbins, Lexington's first African American mayor. But even now the coronavirus still poses a serious threat to life.

In Holmes county consolidated – the school district to which Lexington belongs – every single child qualifies for free school meals, a marker of pervasive poverty. For many, said superintendent Dr James L Henderson, breakfast and lunch at school are the only nutritious meals a student will eat in a day. For a few, they are the only meals.

When the coronavirus pandemic led to statewide school closures, Henderson, who was born in the county, left for most of his adult life, but returned in 2018 to assume his position, was left with a significant dilemma: how to feed the 3,000 children under his authority.
---
430,000 people have traveled from China to the US since the COVID-19 outbreak appeared – including nearly 40,000 who arrived after President Trump imposed travel restrictions
At least 430,000 people have traveled from China to the United States on direct flights since the COVID-19 disease surfaced last year - with nearly 40,000 arriving in the two months after President Trump imposed travel restrictions.

Additionally, there were more than 1,300 direct passenger flights and 381,000 travelers arriving to the United States from China in January. Around a quarter were Americans.

The New York Times reports that thousands of these passengers flew directly from China as US health officials were just beginning to gauge the severity of the outbreak.

The first reported cases of coronavirus emerged in Wuhan, China, at the end of last year.
---
Just because you're working from home doesn't mean your boss isn't watching you
Employee monitoring software comes in many forms. It could be something as simple as Slack giving your boss access to your private messages or as complex as dedicated programs that monitor how many minutes you spend using Slack (also Facebook, YouTube, and, of course, your actual job). Some programs allow the employee to self-report time spent on various tasks, and others can record it for them. Some take screenshots of an employee's monitor at random intervals, while others record every single key they press. Some employee monitoring features are so subtle you might not know they're there.

The videoconferencing software Zoom, for example, used to allow hosts on its paid service to turn on something called "attention tracking." This feature let them see if meeting attendees navigated away from the app for longer than 30 seconds during a meeting, which served as a good indication that they were looking at something else. It couldn't see what they were looking at instead, and it could only be activated when the host was in screen-sharing mode. Zoom told Recode the feature was really meant for training purposes, when it's important to know that people are actively watching a presentation.

Because attention tracking could be turned on without attendees' knowledge — and because many people didn't know the option existed until a string of reports recently raised alarm — many Zoom users felt like they were being spied on.
---
Church that thinks homosexuality is 'destructive' stays open during coronavirus because it's a 'divine institution' 
The Free Presbyterian Church of Scotland has announced that it is "not of the view" that services need to stop to prevent the spread of the coronavirus.

This statement was issued two days ago, in the wake of UK prime minister Boris Johnson's March 16 briefing that said everyone must avoid both "mass gatherings" and "pubs, clubs, theatres and other such social venues".

The Free Presbyterian Church of Scotland said: "Although many have interpreted UK government advice and remarks [about coronavirus] as meaning that all services in church buildings should cease, and have stopped meeting, the Church Interests Committee is not of that view."

Yes, really.
Extremist pastor claims the death of an LGBT+ lawyer from coronavirus was 'God's judgement'
Churchgoers all over world ignore physical distancing advice
Trump wants 'packed churches' on Easter. Pastors expect their doors to be shut.
At least 40,000 quarantined in India after single priest spread coronavirus
Blaze engulfs historic Baltimore church, topples its steeple
Bishop hits out at 'selfish' parishioners putting pressure on priests to hold mass
Evangelist who mocked coronavirus response as anti-Trump "mass hysteria" dies from COVID-19
---
Coronavirus-panicked dad locks son out of house after spring break trip 
Two weeks ago, Matt Levine's immediate concerns centered on where to find the best happy hour and coolest DJ. Now, he just wants his coronavirus-panicked dad to let him back in the house.

While residents in his hometown of Nanuet, NY, were hunkering down to avoid corona, 21-year-old Matt and his friends from Springfield College in Massachusetts hit up spring break in South Padre Island, Texas — and stayed there against the advice of his father, Peter Levine.

"I spoke with him every day and told him that maybe they should come home," Peter, 52, and a salesman, told The Post. "I was aggravated. The news here was getting worse and worse. Matt sent me pictures of him and his friends congregating outdoors and listening to live music. It's the scene you would not want to be in."

Finally, Peter told Matt and his buddies that they could not stay at the family home after the trip, as they'd planned. "His grandparents live here and there is no need to expose them to god knows what he had been exposed to!" Peter explained.
Miami Resident, Winter Party Attendee Israel Carreras Dies of COVID-19
---
Tone-deaf NYU dean sends video of herself dancing to students seeking tuition refunds
Hundreds of students at NYU's Tisch School of the Arts demanded a partial tuition refund since spring classes were moved online amid the coronavirus pandemic –and their dean responded with a bizarre video of herself dancing to REM's "Losing my Religion.''

As of Friday evening, a Change.org petition started by NYU students has garnered more than 2,600 signatures from people seeking the tuition relief.

Students say online classes and remote learning via video conferencing app's like Zoom are not worth the school's $58,000-a-year tuition.

The petition is pushing for the NYU Board of Trustees "to refund a portion of our Spring 2020 tuition paid for the resources, universally deemed crucial to arts education, lost in the recent switch to remote teaching."
---
New York may be weeks away from reaching a peak in coronavirus cases. Now other states are preparing for a surge
Several states are reporting a spike in coronavirus cases, raising fears more hotspots will emerge in the US after New York as soon as next week.

The US surpassed Italy and China this week to become the country with the most coronavirus cases in the world --- with more than 101,240 known cases, according to CNN's tally. At least 1,588 Americans have died. At least 402 of those deaths were reported on Friday alone.

More than a third of the country's cases are in New York -- which has been in a partial lockdown for a week as officials try to slow the spread of the virus and hospitals scramble to keep up with the patients streaming in.

Tracking coronavirus cases in the US

The state's healthcare system is already overwhelmed. One hospital was forced to create a makeshift morgue and another reported 13 patient deaths in 24 hours. New York and its National Guard are now assembling four 1,000-bed temporary, overflow hospitals in existing buildings.

The rate of new cases may be slowing in New York, but the governor says it may take 21 days for the state to hit its peak -- the highest point of reported cases before that number begins going down.

Gavin Newsom takes new tone with Trump as he steers California during coronavirus crisis

Meanwhile, officials in other states are warning they could be next. In Los Angeles County, cases more than tripled in six days and one official says numbers will keep going up. Health Director Barbara Ferrer says she expects to see case counts in Los Angeles double every four days for the next two to three weeks.
---
Do you wear contact lenses? You should switch to glasses to stop spreading the virus
Focus on this, contact lens wearers of the world: To reduce the spread of the pandemic virus that causes Covid-19, experts suggest it's time to put your contact lenses on the shelf and dazzle the world with your frames.

That's because wearing glasses can help you stop touching your face, according to the American Academy of Ophthalmology, a key way any virus is spread, including the novel coronavirus currently spreading across the world.

Why contact lens?

Contact lens users not only touch their eyes to put in and remove their lens twice or more a day, they also touch their eyes and face much more than people who don't wear contacts, said Dr. Thomas Steinemann, a clinical spokesperson for the American Academy of Ophthalmology.

"You touch your eye and then you touch another part of your body," said Steinemann, an ophthalmologist at MetroHealth Medical Center in Cleveland, Ohio.
---
Beachside towns in the Hamptons start filling up months before summer with rental properties now scarce as New Yorkers flee the city amid the coronavirus pandemic 
Beaches in the Hamptons are starting to fill up earlier than normal and rental properties are now scarce with New Yorkers fleeing the city as the coronavirus pandemic continues to spread.

The beachside communities in Long Island have seen a surge in population ever since New York Governor Andrew Cuomo issued a stay-at-home order to help stop the spread of the virus.

The unusual surge so early in the year has prompted local leaders in the Hamptons to urge Gov Cuomo to ban non-locals from the area during the outbreak.

Locals in the Hamptons, which is usually a summer hotspot for New Yorkers getting out of the city, have reported larger than normal crowds at beaches and busier beachside parking lots.
Trump tells a conference call of anti-LGBT+ pastors to pray for his re-election and forget about coronavirus
New poll finds Fox News viewers think the coronavirus threat is exaggerated
---
Parents Say School Expelled Elementary Students After Raising Coronavirus Concerns
As the second full week of school closures comes to an end, many Bay Area parents are anxiously waiting to hear that it's safe for their kids to return to class. But for a group of parents in the South Bay, their kids still won't be allowed back on campus when classrooms reopen after administrators decided to withdraw their children from school in a move that left parents stunned.

The school's decision comes after a series of critical Facebook comments from parents questioning the school's response to the coronavirus pandemic.

"I was devastated," a parent told NBC Bay Area when she learned her child is no longer enrolled. "I feel the school is just retaliating against us."
Coronavirus Heroes Are Getting Tossed From Their Homes by Scared Landlords
'It's just despair': Many Americans face coronavirus with no water to wash their hands
---
'Walking Dead' actor Daniel Newman 'disgusted' by $9K coronavirus test bill
Even celebrities can't get their coronavirus test results in the United States — just the bill.

After having a colleague test positive for COVID-19 and developing minor symptoms himself, "The Walking Dead" actor Daniel Newman sought to be tested in Georgia. He called around and discovered his own doctor and many urgent-care clinics didn't even have the tests available. When he finally found a large hospital in Atlanta that did have them, it was only after Newman was recognized for his role on the AMC horror TV series that he was given one.

"Preferential treatment is disgusting," Newman, 38, tells CNN of being among the few to receive a test for the novel coronavirus. But apparently, even fame isn't enough to get the results of the test — only an invoice to the tune of $9,116.
---
Homeless centers say they have been forced to shut in order to prevent the spread of COVID-19
NEW YORK, March 23 (Thomson Reuters Foundation) - The coronavirus is causing the closure of homeless centers across the United States, putting LGBT+ people without housing at increased risk of suicide, health complications or hate crimes, according to homelessness experts.

Homeless centers said they have been forced to shut their doors in order to follow safety precautions over social distancing as enforced by international governments and health organizations.

There are about 10,000 shelters for homeless people in the United States with an estimated 250 LGBT+ centers, largely in metropolitan areas, according to The National Coalition for the Homeless, a network of homelessness advocates.

There are currently no estimates on the exact number of shelters closed in recent weeks due to the coronavirus outbreak.
---
10 hurt in Chicago weekend shootings amid virus outbreak 
CHICAGO -- Ten people were shot during weekend attacks on Chicago's South and West sides, despite a statewide order that took effect requiring people to stay indoors because of the coronavirus pandemic.

One of the 10 people who were shot died , the Chicago Sun-Times reported. Last year, four people were killed and 10 others were wounded in shootings over the course of the same weekend.
50 Cent Speaks on Rappers Using Gang-Related Lyrics
---
An anti-LGBTQ cardinal calls for Catholics to go to church despite coronavirus
You have to hand it to Cardinal Raymond Burke – if nothing else, he's consistent. He used to let HIV wreak havoc on people. Now he wants coronavirus to do the same.

Burke has been one of the fiercest anti-LGBTQ prelates in the Catholic Church. He has called homosexuality an "ailment" and told parents that they should not allow their children to meet same-sex couples. Burke has also been a leader in decrying the use of condoms to prevent HIV. Of course, the Vatican's refusal to acknowledge condoms can save lives no doubt contributed to the death toll from AIDS.

Given his condom opposition, you might think that Burke simply wanted to consign LGBTQ people to death. But no, he's an equal opportunity grim reaper. He wants to do the same for pious Catholics.

In a message to his followers this weekend, Burke says people should keep going to church, despite the calls from public health authorities in Italy to avoid groups.

"Just as we are able to purchase food and medicine, while taking care not to spread the coronavirus in the process, so also [sic] we must be able to pray in our churches and chapels, receive the Sacraments, and engage in acts of public prayer and devotion, so that we know God's closeness to us and remain close to Him, fittingly calling upon His help," Burke writes.
---
Hobby Lobby CEO tells employees to come to work because his wife heard words from God
David Green, the billionaire CEO of Hobby Lobby, has determined that his employees – 43,000-plus people – shall continue showing up to work despite the upheaval caused by the coronavirus and social distancing orders. He asserts that they all will be fine because his wife, Barbara, received a message from God that they interpret as much.

Green describes how Barbara had a divine encounter that should qualm any concern for their family – and Hobby Lobby. "In her quiet prayer time this past week, the Lord put on Barbara's heart three profound words to remind us that He's in control. Guide, Guard, and Groom."
---