Gay+
---
Welcome to Errattic! We encourage you to customize the type of information you see here by clicking the Preferences link on the top of this page.
The rise of domestic abuse during COVID-19 in LGBTQ relationships and how you can get help 
The data I have been able to collate tells me this: that 1 in every 4 lesbians and up to half of gay men have been a victim of domestic abuse at one time in their adult lives and that this figure is nearly at 80% if you are a transgender. The Office for National Statistics collated "experimental" data that informed the reader as of 2017: 1.1 million people over 16 identified themselves as LGB (there is currently no data for those identifying as transgender) out of a UK population aged 16 or over of 52.8 million, just 2% of the population.

However, what do the figures tell us about right now for LGBTQ victims? Sadly nothing. If you were heterosexual I would be able to tell you that every domestic abuse charity in England and Wales has seen a rise in calls to their helplines and in daily visits to their websites (Refuge has recorded a 25% rise in calls and over 100% rise in daily visits to their website). I could even tell you with (disturbing) confidence that this rise has been recognised across the world, but the LGBTQ victim's voice remains shrouded.
Elderly San Francisco Woman Assaulted and Robbed In Home Invasion
Sheriff: 2nd arrest in connection with kidnapping, killing
A trans woman was out drinking with her friends. Minutes later, she was shot to death by a gang of thugs
Transgender people in Panama alarmed by gender-based coronavirus quarantine rules
New York Man Kills 12-Year-Old Daughter, Wife, Himself In Suspected Double Murder-Suicide
1,500 more county lines drugs gangs in just a year: New figures reveal shocking rise in number of young people being groomed into trade as cocaine consumption in the UK rockets 290 per cent since 2011
Police: Florida man fatally shoots wife, 2 sons and self
Tori Spelling slammed for charging $95 fee for virtual meet-and-greet
Blend is a powdery substance or paintball liquid that you apply to your skin so the blotches disappear and you shimmer even tones.
07-Apr-2020
I say, you do what you need to and survive, fuck politically correct because for as long as you didn't hurt anyone, we'll forgive it... later. Be safe.
Remember the Yentl model. She was a woman pretending to be a man so she can prove to the world she was an equal and a survivor. Do what looks best on you. Bring gender back! We need to blend, just for a little bit.
07-Apr-2020
---
Teenager in lockdown spends his time 3D printing protective shields for health workers 
Video
Tyler Perry Leaves Massive $21,000 Tip For Atlanta Restaurant Employees
Celebrities keep saying, 'We're all in this together.' But Lady Gaga isn't so sure
Ex-NFL safety Myron Rolle now on front lines of coronavirus pandemic: 'I'm happy to be able to join the fight'
---
Drill rapper M24 sparks outrage as he shares footage of himself defying COVID-19 lockdown to film music video at crowded outdoor gathering 
Drill rapper M24 has sparked outrage, after he shared footage of himself defying lockdown rules to shoot a music video at an outdoor gathering on Saturday night.

The musician – a rising member of Brixton, south London, crew 150 – took to his Instagram account to upload clips of himself rapping to his latest track as a crowd surrounded him on a housing estate, clearly flouting social distancing rules.

Showing that they were aware of the risks of their actions amid the COVID-19 pandemic, a number of those featured in the clip were seeing sporting surgical masks as they danced and rapped along to his track in unison.
Coronavirus: Police pour water on barbecue amid lockdown
Man who narrated an expletive-filled video depicting people not social distancing arrested
Louisiana church holds services, defying coronavirus stay-at-home order
Woody Harrelson among stars sharing COVID-19 conspiracy theories tied to 5G
Woman spat, coughed on officers while claiming to have COVID-19, police allege
California Is Forcing Nursing Homes To Take COVID-19 Patients
---
The last Chick-fil-A in the UK just closed for good
The last Chick-fil-A restaurant in the U.K. definitively closed its doors this past month.

Last year, a Chick-fil-A restaurant opened at the Oracle shopping center in Reading, England. This led to protests in October because of the fast food chain's years of donations to anti-LGBTQ causes.

Because of the protests, Oracle said that it would not renew Chick-fil-A's lease after its initial six-month period was up. On March 20, the restaurant closed for good.
---
States declare churches "essential" to exempt them from coronavirus prevention measures 
As more states order people to stay home as much as possible and close down commerce to prevent the spread of coronavirus, some states are making sure there's an exemption for church services.

Countries all over the world have been grappling with temporarily suspending church services, which bring hundreds, even thousands, of people together in small spaces, often touching many of the same objects.

But the desire to slow the spread of the disease is butting up against reticence to ask religious people to make sacrifices in a time of crisis.

In Florida, a stay-at-home order set to go in effect tomorrow will allow people to leave their homes to exercise, take care of pets, and attend "religious services conducted in churches, synagogues, and houses of worship."
At least 70 people infected with coronavirus linked to a single church in California, health officials say
PRAYER + PEROXIDE FAKE COVID-19 TREATMENTS LEAD TO ARREST OF BRITISH NATIONAL
---
Legal Sex Workers And Others In Adult Industry Denied Coronavirus Aid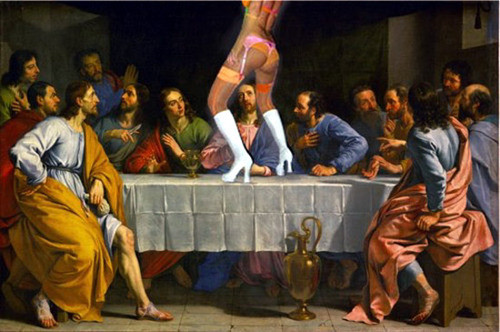 When Congress passed the massive $2 trillion bailout bill last week, it made sure that self-employed people or other independent workers could apply for loans or grants from the Small Business Administration. But there was one very specific ? and puritanical ? exception: legal sex workers and others in the adult entertainment industry.

The very first page of the online application says that in order to be an "eligible entity" that can receive monetary relief from the bill, an applicant cannot "present live performances of a prurient sexual nature or derive directly or indirectly more than de minimis gross revenue through the sale of products or services, or the presentation of any depictions or displays, of a prurient sexual nature."

Prurient, which is defined by Oxford as "having or encouraging an excessive interest in sexual matters," is a vague categorization that broadly includes thousands of workers in the U.S. As stated, the clause excludes everyone who works in the legal (and, worth noting, booming) sex industry including strippers, porn performers, producers, directors, sex toy manufactures and many others. It's unclear whether this clause includes other professions that don't explicitly deal in the sex industry, but do cover subjects that are of a "prurient sexual nature" such as sex therapists and authors of erotica novels.
---
Madonna Donates $1 Million to Gates Philanthropy Partners' Coronavirus-Relief Efforts
Madonna has donated $1 million to the Gates Philanthropy Partners' COVID-19 Therapeutics Accelerator, a rep for the organization confirmed to Variety.

"Her contribution is alongside the commitments by the Gates Foundation, Wellcome, Mastercard, U.K. Government and Chan Zuckerberg Initiative – all partners in the initiative," the rep said, clarifying that "The money will go through the COVID-19 Response Fund operated by Gates Philanthropy Partners, so not directly to the Gates Foundation."

In a statement on her website, Madonna — seen above accepting Advocate for Change honor at last year's GLAAD Awards — wrote:

"I'm joining the Bill & Melinda Gates Foundation effort to find a drug that will prevent or treat COVID-19. We need this to protect our health workers, the most vulnerable, and all of our friends and families.
---
The exodus of the wealthy from cities reveals the problems with individualism 
New York's gilded Upper East Side has been rendered a ghost town. The tourists are at home; the shops are shuttered, with their shelves bereft. Many of its residents, meanwhile, are as far away from the new center of a global pandemic as their wealth can take them—in the country, by the shore, on a hilltop, virtually anywhere else.

It's the same story all over the world: The wealthy are experiencing coronavirus differently. Some have gone to their second or third homes or to visit family members in more remote locations. (In the interests of full transparency, I have spent the past two weeks staying with my mother at her home in rural Connecticut.) Others have paid thousands for short-term rentals: In France and the UK, sleepy country towns are overrun with weekenders hunkering down for the long haul, while entire hotels in Ireland have been bought out by families fleeing cities. In the US, Airbnb saw year-on-year revenue in rural areas increased by $280 million in March 2020, or almost 30%, while revenue in urban areas fell by $75 million, according to data from AirDNA. In the same period, bookings in Manhattan and New Jersey fell by 66%, while bookings in some Cape Cod towns have soared by as much as 600%.

Commentators widely agree that this is selfish, unfair, and in some cases actively dangerous. Writing in the Atlantic, travel journalist Nathan Thornburgh warns prospective emigrants that by leaving now, "you are nakedly prioritizing your comfort and peace of mind over the physical health of others." Even tourism officials have asked would-be visitors to stay home: "This is something I thought I'd never have to say throughout my tourism career, but please stay home at this time," Carol Chaplin, CEO of the Lake Tahoe Visitors Authority, said in a press release.
A man was showing symptoms of coronavirus, but came to the hospital to see his partner give birth
10 charged at Lakewood engagement party in violation of coronavirus lockdown, cops say
MAN ALLEGEDLY OPENS FIRE AFTER BEING CONFRONTED FOR COUGHING WITHOUT COVERING HIS MOUTH AMID COVID-19 PANDEMIC
LGBT community raided in Uganda over social distancing
Man accused of ordering hit on dad in McDonald's can't have corona-pass: judge
Area Hobby Lobby stores have been shut down as nonessential businesses
Perv in a face mask sought for groping Brooklyn subway rider
Philadelphia hospital to remain closed amid coronavirus pandemic after owner demands big fee: report
---
Marco Rubio promises anti-LGBTQ churches they can have coronavirus stimulus money 
On its website, the FFPC says that its mission is to fight "radical LGBT activists" who want to "force all Americans to approve, support, and celebrate their lifestyle."

On the call, Rubio discussed the $1.6 trillion stimulus bill that the Senate is working on to blunt the economic fallout from the global pandemic.

A pastor asked him if it would include money for churches.

"The package that I've been tasked with establishing… is open to nonprofits. Basically churches and other nonprofit groups," Rubio responded.
Conservative preacher says gay marriage is to blame for coronavirus
---
Kanye West & Taylor Swift's "Famous" Phone Call Leaks 
The Kanye West/Taylor Swift feud will never die, but you will. Four years later, the full, unedited version of the infamous "Famous" phone call between the two celebs has finally leaked online.

In case you just woke up from a lengthy coma…On Kanye's The Life Of Pablo track "Famous," he rapped, "I feel like me and Taylor might still have sex/ Why? I made that bitch famous." Taylor, understandably, was not happy about that, and said so. Then Kanye's wife Kim Kardashian claimed that Swift had actually OKed the line during a phone call beforehand and posted an edited video of the conversation in question that seemed to support her side of the story. She, and everyone, started calling Swift a snake.

Swift has always maintained that although yes, the call that launched a thousand snake emojis did indeed take place, Kanye never actually played the full song for her and never told her that he was going to refer to her as "that bitch." And, well, the new footage that has now emerged pretty much vindicates her.
Taylor Swift Seemingly Addresses the Leaked Kanye West Phone Call
---
The Coronavirus Pandemic Is a Reminder the Rich and Powerful Won't Save Us
The coronavirus pandemic has been a shock to our systems — political, social, and economic. As governments scramble to adequately respond to outbreaks of COVID-19, mandates to physically isolate ourselves from each other are impacting workers in vulnerable positions. Meanwhile, celebrities are hosting online sing-alongs, some politically powerful people have allegedly exploited the moment for financial gain, and the rich continue to deliver mind-blowing indications that their concern in a global crisis is first and foremost only for themselves.

It's all an important reminder of something many of us felt even before this moment: The rich and powerful will not save us.

President Donald Trump, of all people, exhibited a rare display of class analysis when asked about the elite getting to the front of the line for tests, saying at a White House press conference Wednesday, "That's the story of life."

Trump, a poignant embodiment of the out-of-touch elite, is in this case absolutely correct. Disparities and inequities are nothing new. In this moment of crisis, we will have the chance to bear witness to how the fundamental imbalances of our world protect some and victimize others.
---
Caitlyn Jenner busted taking thousands of dollars to fundraise for a fake charity
Caitlyn Jenner was caught taking tens of thousands of dollars to promote a fake charity in a sting operation by a British news organization.

The current events program Dispatches released a documentary called Celebs for Sale: The Great Charity Scandal, in which the news team set up a fake charity to catch celebrities taking money in exchange for promoting it.

Jenner, who is transgender, was paid £19,500 (about $25,000) to publicly support the fake organization, CUPPA, or Cleaning up Plastic Pollution in Africa. According to itv News, Dispatch investigators created a fake website and merchandise for CUPPA but did not ask for donations or register it as a charity.
---
DABABY APOLOGIZES FOR SLAPPING WOMAN... Let's Make It Right 
The woman who DaBaby struck over the weekend has lawyered up, and it sounds like they're ready to have a chat with DB.

Attorney Matt Morgan tells TMZ ... "Morgan & Morgan has been retained to represent the interests of Tyronesha Laws. Ms. Laws has received DaBaby's Instagram message. We look forward to speaking Mr. Kirk."

Yeah, you know it's serious when government names start getting thrown around. Luckily, DaBaby's already made it clear he's more than ready to talk.

12:09 PM PT -- DaBaby just issued a mea culpa to the woman he hit, implying he thought the gal was a dude ... and couldn't tell the difference because she was shining a light on his face at incredibly close range.
---
Disgraced ex-Rep. Aaron Schock comes out as gay
Scandal-scarred former Rep. Aaron Schock has come out as gay — admitting it has left him disowned by his deeply religious family who wants him to go through conversion therapy.

"I am gay," wrote the 38-year-old ex-pol who resigned from Congress five years ago amid claims he misused government and campaign funds, with federal charges only dropped last year.

"For those who know me and for many who only know of me, this will come as no surprise," admitted Schock, who noted there was plenty of "speculation" while he was in office.

"In many ways I regret the time wasted in not having done so sooner," he said. "Life is better with nothing to fear or hide."
---
Since it was shuttered in early 2019, the LGBTQ-themed website Into, launched by Grindr, has frequently been positioned as a media casualty, evidence of the shambolic state of queer publishing (and perhaps the shambolic state of media, period). A sprawling 2019 Buzzfeed article by former Into managing editor Trish Bendix used her layoff as a jumping-off point to explore the state (as well as history and apparently bleak future) of LGBTQ media. More recently, a piece in Mel (a site launched by Dollar Shave Club, which is a fact I would like you to keep in your head while you read this), contextualized the disintegration of Into within a bigger picture of upheavals and downsizing at such queer and queer-adjacent outlets as Out, The Advocate, Instinct, them, and Mic.

It is not absurd to survey the landscape and report back that the earth has been scorched. It has been. It's curious to witness a queer-media drought at a time when queer people are more visible (and perhaps more numerous, at least in terms of those who are out) than ever. In the absence of extensive data, we can only guess whether the problem is overall reader apathy, disinterest in reading about niche queer content, or issues with the specific content that has been published. None of the sites mentioned were doing consistent blockbuster numbers, regardless of whatever upswings or momentum they may have achieved via editorial tinkering.
---