All Posts Tagged as 'Termination'
Welcome to Errattic! We encourage you to customize the type of information you see here by clicking the Preferences link on the top of this page.
YouTuber Tati Westbrook says she was 'weaponized' by Shane Dawson and Jeffree Star in plot to ruin beauty guru James Charles - insisting they fed her lies and 'gaslit' her into making a video about his alleged predatory behavior 
YouTube star Tati Westbrook has made shocking new claims against fellow influencers Jeffree Star and Shane Dawson, accusing them of 'using' her in a plot to destroy the career of beauty guru James Charles by 'manipulating' her into making a video exposing his alleged predatory behavior.

The 38-year-old opened up about a year-old drama in a very tearful video posted to her YouTube channel on Tuesday, finally shedding some light on the bitter feud between herself and Charles, which was sparked when she called him out for 'seducing straight men' and 'tricking them into thinking they are gay'.

When the claims were first aired in Westbrook's May 2019 video, they prompted a bitter backlash against Charles, who lost more than three million subscribers in the wake of the video going live. Westbrook also faced fury from his fans, and subsequently disappeared from her channel for months.
---
Black American Airlines passenger says she was called racial slur before being kicked off flight 
An American Airlines' customer tells WBTV she was kicked off a flight from Charlotte without warning. The Black woman says another customer called her a racial slur but that the company decided to remove her from the flight and not him.

Tarajiah Reed was returning from a vacation with her fiancé when she says a connecting flight in Charlotte escalated into a nightmare.

She says before boarding the flight she had her mask around her chin and was waiting for a new one when another passenger confronted her.
'I don't feel safe with you driving around my neighborhood': White man 'follows black woman, 21, for TWO MILES' demanding to know what she was doing there
Hampton Inn employee is fired after calling cops on a black guest and her two children, telling the mother that 'it's always people like you using the pool unauthorized'
---
Woman Yells 'You Live Off White People' in Racist Rant at BLM Protesters 
A woman in Pennsylvania shouted racist abuse at Black Lives Matter protesters on Sunday and told them, "You live off white people."

As the protesters in Watsontown chanted "No justice, no peace," the white woman shouted "trash" and "fuck you, we're going to give you no peace."

A protester can be heard off camera shouting "We love you" as the woman says "b****, f****** b****." She shouts at the protesters, "You live off of white people" and they again reply with "We love you," to which she responds: "you f****** communists" and "fuck off, keep your HIV over there."
Employee of a Miami restaurant quit after he says one of its owners jokingly referred to blackened chicken wings menu item as 'I Can't Breathe'
University of North Carolina Wilmington professor behind 'vile' racist and sexist tweets to retire
Univ. of Wisconsin students want Lincoln statue removed: Sure, he was 'anti-slavery,' but he wasn't 'pro-Black'
White man charged with pointing gun at Black homeowner
Former Everlane Employees Are Calling For A Boycott After Speaking Out About Workplace Racism
Restaurant Co-Owner Cites Husband's Mental Health After He Refuses Black Customer in 'I Can't Breathe' Shirt
YouTuber Liza Koshy apologizes after backlash for videos mocking Japanese accent
YouTube Has Suspended Monetization On Shane Dawson's Channels After He Apologized For
Morphe has removed Shane Dawson's makeup range from its online store after he was accused of sexualizing Willow Smith as a minor and wearing blackface
---
Ex-Alabama WR Christion Jones Cut by Edmonton Eskimos for Homophobic Tweets
Jones sent out tweets Friday saying a "man ain't suppose to be with a man. A women ain't suppose to be with another woman." When the tweets drew blowback, Jones said he "won't be changing how I feel anytime soon."
---
A White Couple Was Caught on Video Pointing Guns at Black Lives Matter Protesters in St. Louis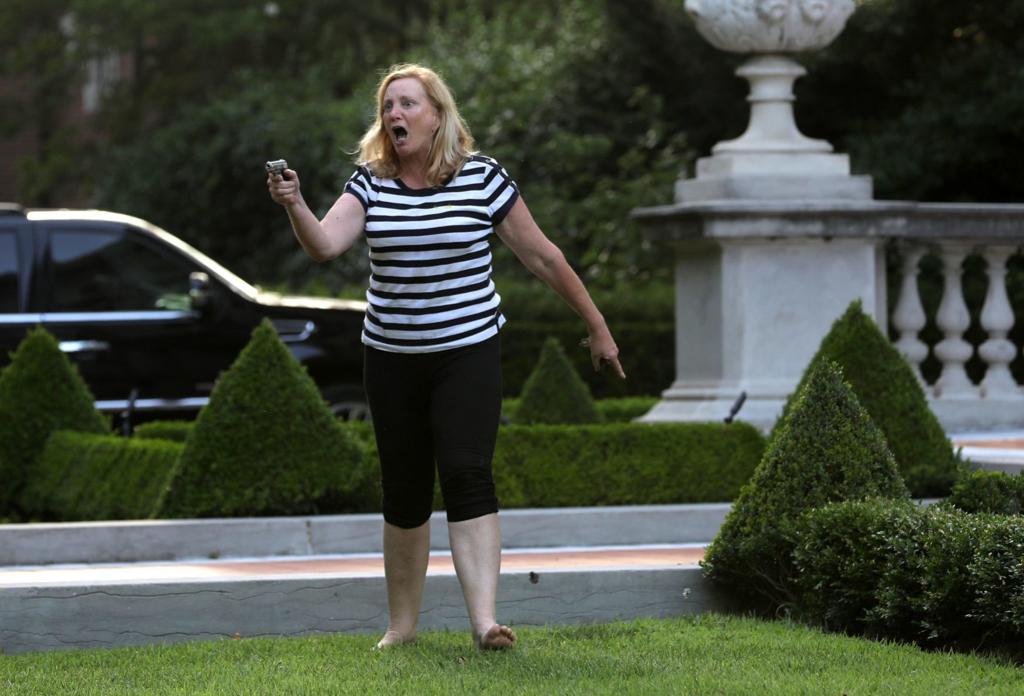 An armed white couple waved their guns and yelled at Black Lives Matter demonstrators in St. Louis on Sunday, during a protest march to St. Louis Mayor Lyda Krewson's home.

At least 500 people peacefully marched through St. Louis' Central West End neighborhood on Sunday demanding Krewson's resignation, according to the St. Louis Post-Dispatch. Krewson appeared in a Facebook Live video last week reading the names and addresses of people who had called for defunding the city's police department.
Man Fired for Racist Rant Supporting Slavery and Lynchings of Black People
John Wayne's son responds to resolution calling for John Wayne Airport to be renamed
Michigan Woman Yells Racial Slurs at New Neighbors in Viral Video
San Jose man charged with hate crime in Santa Cruz assault incident
Adam Carolla defends Jimmy Kimmel over blackface backlash: 'We've lost our minds'
Little Caesars fired two employees after a couple found a swastika made of pepperoni on their pizza
---
St. Louis mayor slammed for broadcasting names, addresses of 'defund the police' supporters 
The mayor of St. Louis is facing backlash for reading aloud during a public briefing the full names and street addresses of protesters who are calling on the city to defund the police department.

Democratic Mayor Lyda Krewson was answering questions during a Facebook Live briefing Friday afternoon, which she has held regularly during the coronavirus pandemic, when someone asked about a meeting she had with demonstrators outside City Hall earlier in the day.

The mayor responded that the conversation "wasn't really a two-way conversation… because there was a very loud response from the demonstrators," NBC's affiliate in St. Louis, Missouri KSDK reported.
'I Should've Killed You': Unrepentant White Supremacist Murderer Threatens Victim At Sentencing
Black Lives Matter Wants to End Police Brutality. History Suggests It Will Go Much Further.
---
Ligero Reportedly Released by WWE After Assault, Harassment Allegations 
NXT UK Superstar Ligero reportedly has been released by WWE after being the subject of allegations via the #SpeakingOut movement.

According to PWInsider's Mike Johnson, Ligero's profile was removed from WWE.com on Friday, and a source later confirmed that he has been let go by the company.

Several female wrestlers from the United Kingdom wrestling scene have said that Ligero engaged in misconduct and abuse. Johnson noted that Violet O'Hara said Ligero "indecently assaulted" her when she allowed him to lay next to her in bed.
Man guilty of murdering flatmate in 'vicious and frenzied attack fuelled by jealousy'
Forced disappearances are increasing in Venezuela -- and the coronavirus is making them last longer, rights group says
Fury in Colombia as soldiers admit rape of 13-year-old indigenous girl
---
Man viciously stabbed in the stomach by someone who thought he's gay 
A man in the state of Washington has been taken into custody for allegedly stabbing two people he was hanging out with, and investigators believe that the attack was motivated by homophobia.

Court records say that Jose Mendoza Sandoval, 26, was at his home in Pasco this past Saturday night when he got into an argument with another man who was there, the Tri-City Herald reports.
Detroit Catholic Church Fires Music Director for Same-Sex Marriage
---
Fans speculate as Billie Eilish unfollows everyone on Instagram 
One fan wrote on Twitter: "Billie Eilish did a social media cleanse and unfollowed EVERYONE on Instagram," adding that "apparently, earlier today she posted an Instagram story saying "dm me if I'm following your abuser" but deleted it 30 minutes later."
15 of Our Favorite Celebrities Accused of Sexual Assault
---
Jimmy Kimmel: TV host sorry for blackface sketches 
US TV host Jimmy Kimmel has apologised for using make-up to impersonate black stars like Snoop Dogg, Oprah Winfrey and basketball player Karl Malone.

Kimmel said he had thought of his performances as "impersonations of celebrities and nothing more".

But, looking back, he admitted they were "embarrassing" and described them as "thoughtless moments".

He said sorry "to those who were genuinely hurt or offended by the make-up I wore or the words I spoke".
If Blackface Is So Offensive Why Does Jimmy Kimmel Get Away With It?
Celebs who were fired due to alleged racism
---
'Days of Our Lives' star Melissa Reeves under fire for anti-Black Lives Matter stance 
"Days of Our Lives" actress Melissa Reeves is catching heat from her co-stars and the long-running soap's fans for coming out against the Black Lives Matter movement.

Earlier this week it was revealed that Reeves — who has played Jennifer Horton on the NBC sudser on and off for the past three decades — "liked" several anti-BLM posts from right-wing activist Candace Owens on Instagram.

We all have our own opinions and views! That's what make the USA the land of the free and home of the brave! ????????????????

— Donna Wyche Abshure (@DonnaKayAbshure) June 23, 2020

Reeves' "Days" cousin, Linsey Godfrey, wasted little time responding. After one Twitter user defended Reeves' right to express her opinion, Godfrey countered, "Nah there is no difference of opinion on racism, homophobia, transphobia and xenophobia."
Jenny Slate Exits 'Big Mouth': 'Black Characters Should Be Played by Black People'
Terry Crews Says Brooklyn Nine-Nine Trashed 4 New Episodes Amid Protests
Following backlash, Chelsea Handler apologizes for posting controversial Louis Farrakhan video clip
'Scrubs' Episodes Featuring Blackface Removed From Hulu
Black staffers, athletes leave Liberty University after Jerry Falwell Jr. tweet
Mohamed Hadid Says He Has to Demolish His $50 Million Mega-Mansion Because of "Racism"
---
UFC news: Joe Rogan slammed for Black Lives Matter protest comments on podcast 
Speaking with biologist Bret Weinstein on last week's The Joe Rogan Experience, the 52-year-old commented that the Black Lives Matter movement was 'leaderless' and 'attractive to young people [who] feel disenfranchised by the system'.

"What's the end goal? That doesn't seem to be very clear. There are kids out, chanting no justice, no peace. I'm like 'what justice are you talking about?'," Rogan questioned.
Geraldo Rivera Frets About 'Black on Black Crime': There's a 'Ghetto Civil War Going On'
University of Cincinnati will remove Marge Schott's name from baseball stadium
Kendrick Sampson, Tessa Thompson and Over 300 Black Artists and Execs Call for Hollywood to Divest From Police (EXCLUSIVE)
Dizzee Rascal clashes with Piers Morgan during heated Black Lives Matter discussion: "You're not going to do this to me"
Chris D'Elia dropped by CAA after sexual misconduct allegations
Winona Ryder Resurfaces More Genuinely Shocking Anti-Semitism From Mel Gibson
Tina Fey Pulls 30 Rock Episodes and Apologizes Amid a Reckoning on Blackface in Comedy
Customers Hound Black-Owned Bookstore Probably for Not Shipping Copies of White Fragility Faster
The Latest: Michigan mayor resigns after racial remark
---
Ansel Elgort Responds to Accusation of Sexual Assault 
Ansel Elgort responded on Saturday to an accusation of sexual assault that surfaced on social media earlier this week from a woman who identified herself just by her first name, Gabby.

In a message that has since been deleted with the Twitter account itself, Gabby claimed that Elgort sexually assaulted her in 2014 when she was 17. She claimed that the incident occurred after she direct messaged the actor, who was 20 at the time, and then texted him privately on Snapchat. Included in her post was a photo of herself, with her face obstructed, beside Elgort.
More Allegations of Abuse Surface Within Pro Wrestling Industry
---
'Who will protect you from rape without police?' Here's my answer to that question 
As uprisings have spread through American cities in response to the killing of George Floyd in Minneapolis, a once fringe leftwing position has become rapidly mainstream: abolishing the police. Police abolition means different things to different people, but to most activists "abolition" means a radical shrinking, defunding and disarming of police forces.

The call to "abolish the police", then, amounts not to a wholesale abandonment of the state's enforcement of criminal law, but rather to a reimagining of the nature and responsibilities of that enforcement. Many abolition advocates imagine a future in which the police no longer constitute an armed group that surveils peaceful minority neighborhoods or uses force in non-violent drug and traffic cases. The police, if they exist at all in an abolitionist future, would be smaller, disarmed and just one of many community interventions to foster public safety.

But as calls for police abolition have entered the mainstream, some feminists – as well as commentators invested in the status quo – have raised a question: without police, who will defend women from male violence? Who will investigate and arrest rapists? This is often a well-intended and good-faith concern, especially from feminists who believe that the prevalence of sexual violence and the failure of the justice system to prosecute and punish rapists is a result of societal indifference to women's suffering. To them, this failure calls for more, not less, state intervention.

The notion that abolishing the police will have negative repercussions for women radically misunderstands both American policing and sexual violence
But the notion that abolishing the police will have negative repercussions for women radically misunderstands both American policing and sexual violence. Police abolition need not be considered an abdication of the responsibility to protect women, but rather a way to fulfill it.
Black Cop Fired After She Stopped White Cop's Chokehold, City Wants Investigation
With all due respect, wouldn't the current enforcement instigate themselves in the new robotic training with delicate fingers because they are better qualified, there's that equality thing and because the shit needs to keep stirring? Will they only patrol people of status? The homelessness barely represent. Police or ignore? That gleam in your ugly boss' eye when he catches you staring... is that a crime? Call him ugly, it's ok. Bring slaps back.
Teach what we've got or recruit an unproven advantage that includes the same problem? The job isn't racist, the power to be excused from it is. Are we setting ourselves up for comic book double-cross?
Just a thought.
17-Jun-2020
---
Hollywood Celebs Are Praising an Anti-Semitic Hatemonger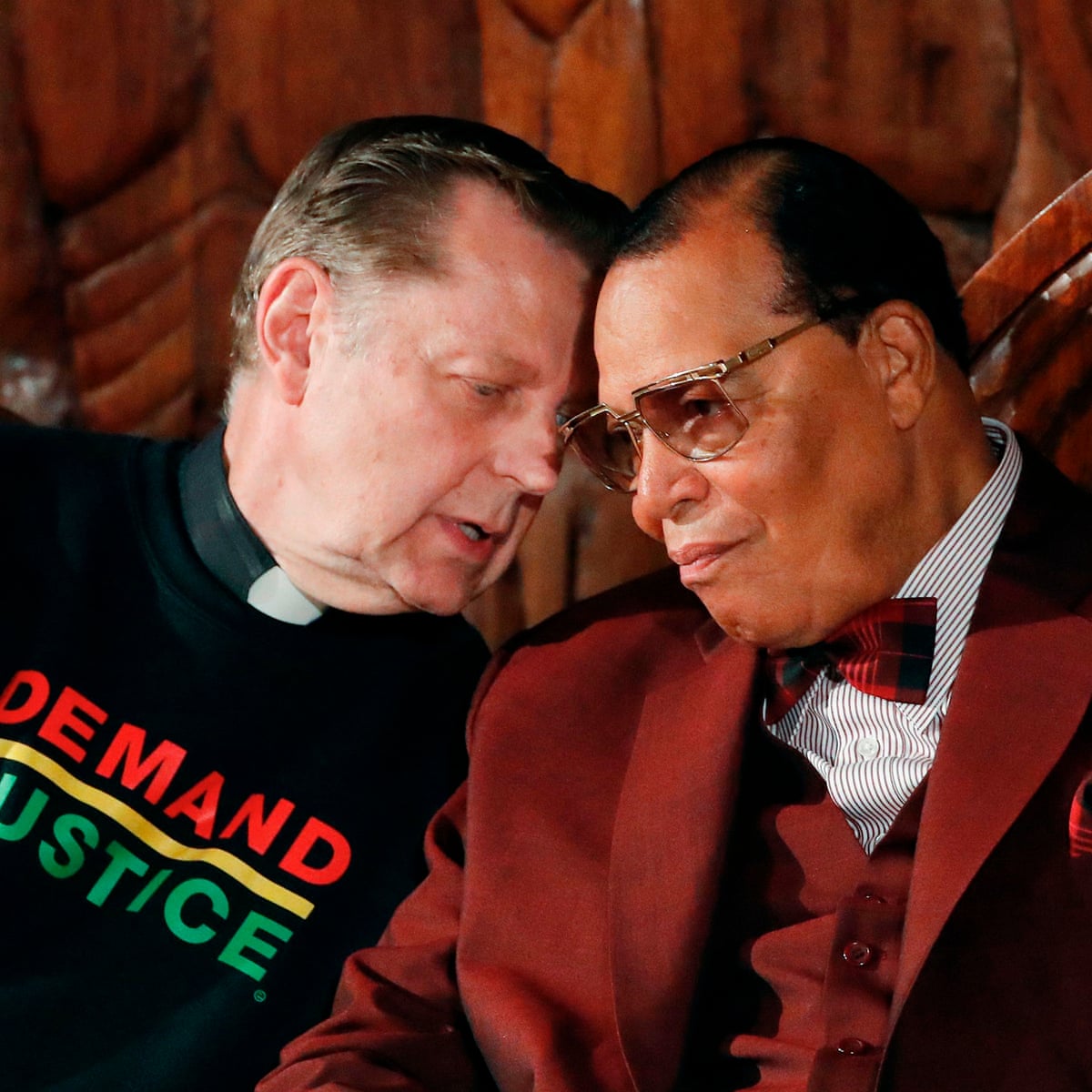 I regret to inform you the celebs are at it again.

On Sunday, in lieu of posting Instagram-friendly protest content, discussing White Fragility in a Zoom book club, or recording a mortifyingly tone-deaf PSA renouncing racism, the comedian Chelsea Handler shared a video clip to her 3.9 million Instagram followers. The clip featured Louis Farrakhan, leader of the Nation of Islam, during a 1990 appearance on The Phil Donahue Show.

In the clip, Farrakhan attempts to educate the rowdy, majority-white daytime TV audience on the subject of white supremacy.

"I really don't think you fully understand what has happened to these people you look at as second-class or inferior citizens in this nation," Farrakhan explains. "Black people who were brought to this country were stripped of their names, language, culture, religion, God, and taken totally away from the history of themselves. Here are 30 million people who don't wear their own names—they wear your names."
'Siesta Key' Fired Alex Kompothecras, Reportedly For Racism On Instagram
---