All Posts Tagged as 'Women In Charge'
Welcome to Errattic! We encourage you to customize the type of information you see here by clicking the Preferences link on the top of this page.
Black Exotic Dancers Demand Better Treatment With 'Stripper Strike' 
At the start of the coronavirus pandemic, when strip clubs across the country were shuttering and dancers found themselves abruptly out of work, the Portland, Oregon strip club the Lucky Devil Lounge started a food-delivery service called Boober Eats in order to provide some of its employees work. The concept went viral (and was, in fact, covered by this publication), but local black dancers noticed something odd: its Instagram featured relatively few black dancers.

This wasn't surprising to some black dancers in Portland, like Cat Hollis and Brianna Cistrunk, who say the club has a reputation for almost exclusively hiring white dancers. "They say they're a 'rock 'n roll club' [which means] they only hire a certain aesthetic," Cistrunk says. "It's an unspoken thing but it's very well-known among most girls." This perception was magnified a few weeks later, following the death of George Floyd, when the club posted a (now-deleted) photo on Instagram of #BlackLivesMatter flags festooning the stage. "There was a huge argument that happened in the comments," says Hollis. She commented: "There are more #BlackLivesMatter signs than there have ever been black butts on that stage." (Shon Boulden, owner of the Lucky Devil Lounge, tells Rolling Stone the controversy stemmed from "a lot of misconceptions of how our club operates," though he acknowledged that only two or three of the club's 30 dancers are black."If there ever was the idea that we weren't open to hiring all ethnicities, I guess I'd just want say, yes of course we do," he says. "In our hiring, maybe it didn't look like we were.")
Restaurant Dress Codes Have Long Been a Tool for Racist Discrimination
Black Survivor Contestants Say They Were Edited Into Stereotypes on the Show
A white man was arrested after pulling a gun on a Black homeowner in Miami-Dade County
Black Family Claims White Neighbor Falsely Accused Them of Assault After Patio Dispute
Woman Evicted After Hurling Racist Abuse at Black Soldier
Worker 'No Longer Employed' at Hotel After Calling Police on Black Family
31% of Asian Americans say they've been subject to racist slurs or jokes since the coronavirus pandemic began
Utah reinstates defensive coordinator Morgan Scalley after investigation into racist language
---
Woman Yells 'You Live Off White People' in Racist Rant at BLM Protesters 
A woman in Pennsylvania shouted racist abuse at Black Lives Matter protesters on Sunday and told them, "You live off white people."

As the protesters in Watsontown chanted "No justice, no peace," the white woman shouted "trash" and "fuck you, we're going to give you no peace."

A protester can be heard off camera shouting "We love you" as the woman says "b****, f****** b****." She shouts at the protesters, "You live off of white people" and they again reply with "We love you," to which she responds: "you f****** communists" and "fuck off, keep your HIV over there."
Employee of a Miami restaurant quit after he says one of its owners jokingly referred to blackened chicken wings menu item as 'I Can't Breathe'
University of North Carolina Wilmington professor behind 'vile' racist and sexist tweets to retire
Univ. of Wisconsin students want Lincoln statue removed: Sure, he was 'anti-slavery,' but he wasn't 'pro-Black'
White man charged with pointing gun at Black homeowner
Former Everlane Employees Are Calling For A Boycott After Speaking Out About Workplace Racism
Restaurant Co-Owner Cites Husband's Mental Health After He Refuses Black Customer in 'I Can't Breathe' Shirt
YouTuber Liza Koshy apologizes after backlash for videos mocking Japanese accent
YouTube Has Suspended Monetization On Shane Dawson's Channels After He Apologized For
Morphe has removed Shane Dawson's makeup range from its online store after he was accused of sexualizing Willow Smith as a minor and wearing blackface
---
Trump appointee who raged against 'homo-empire' thinks drag queens are part of a 'Satanic agenda of sexual perversion' 
Employees at the United States Agency for International Development (USAID) have raised concerns over the appointment of an official with a deeply homophobic record.

Merritt Corrigan was recently appointed by Trump as deputy White House liaison at USAID despite her troubling record on LGBT+ issues.

Her history of homophobic comments initially surfaced earlier this month, when it was revealed she had attacked the US "homo-empire" and "tyrannical LGBT agenda".

More messages have now been surfaced by CNN's KFile, which reveal even more extreme views.
This ridiculously offensive political ad even includes an old woman spitting at a gay couple
Post Office icon known only as 'Courtney' has spent the past few days eviscerating hateful homophobes on Twitter
LGBTQ employees regularly face discrimination at work. Here are 5 steps companies can take to be more inclusive
Turkey defends despicable tweet from Red Cross boss declaring that LGBT+ people 'impose their paedophiliac dreams on young minds'
---
SUPERMARKET 'KAREN' 2.0

ANOTHER MASK MELTDOWN ...

Chucks Food This Time!!! 
Another day, another person going berserk over face mask policy -- only this time, it happened down in Texas ... and food went flying everywhere.

A new video of a supermarket 'Karen,' if you will, is making the rounds online, which shows a lady having a complete and utter meltdown inside what appears to be a Fiesta Market in Dallas ... after she was apparently asked to put her mask back on to check out.
'Exhausted' by customers' rage over wearing masks, California taco chain shuts down
Video Shows Woman Spit at Gas Station Worker After Being Told to Wear Mask
---
A White Couple Was Caught on Video Pointing Guns at Black Lives Matter Protesters in St. Louis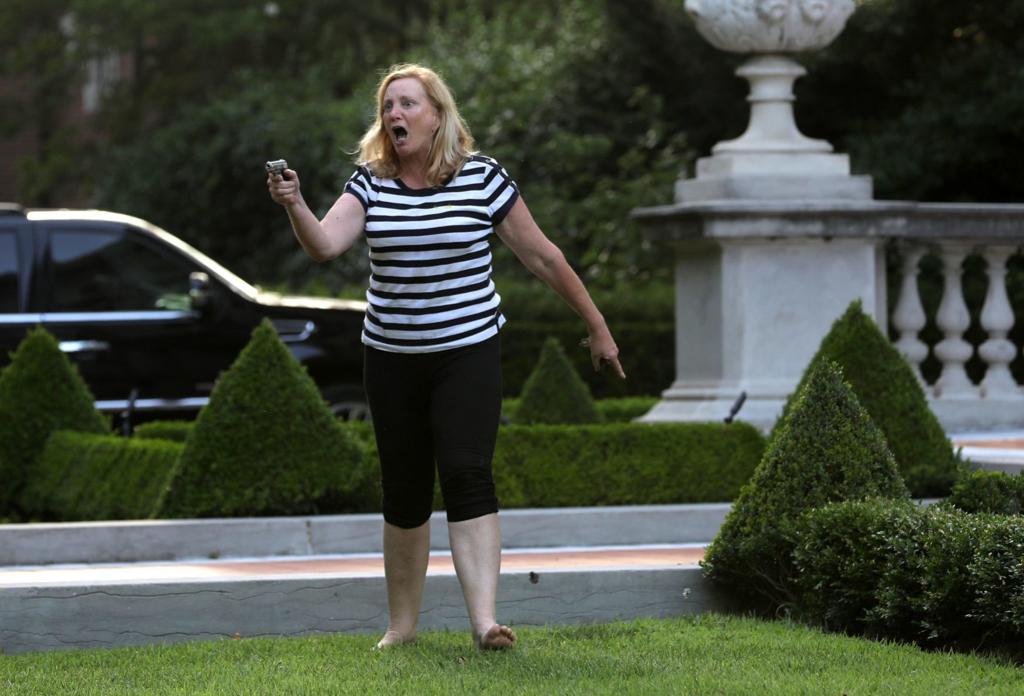 An armed white couple waved their guns and yelled at Black Lives Matter demonstrators in St. Louis on Sunday, during a protest march to St. Louis Mayor Lyda Krewson's home.

At least 500 people peacefully marched through St. Louis' Central West End neighborhood on Sunday demanding Krewson's resignation, according to the St. Louis Post-Dispatch. Krewson appeared in a Facebook Live video last week reading the names and addresses of people who had called for defunding the city's police department.
Man Fired for Racist Rant Supporting Slavery and Lynchings of Black People
John Wayne's son responds to resolution calling for John Wayne Airport to be renamed
Michigan Woman Yells Racial Slurs at New Neighbors in Viral Video
San Jose man charged with hate crime in Santa Cruz assault incident
Adam Carolla defends Jimmy Kimmel over blackface backlash: 'We've lost our minds'
Little Caesars fired two employees after a couple found a swastika made of pepperoni on their pizza
---
St. Louis mayor slammed for broadcasting names, addresses of 'defund the police' supporters 
The mayor of St. Louis is facing backlash for reading aloud during a public briefing the full names and street addresses of protesters who are calling on the city to defund the police department.

Democratic Mayor Lyda Krewson was answering questions during a Facebook Live briefing Friday afternoon, which she has held regularly during the coronavirus pandemic, when someone asked about a meeting she had with demonstrators outside City Hall earlier in the day.

The mayor responded that the conversation "wasn't really a two-way conversation… because there was a very loud response from the demonstrators," NBC's affiliate in St. Louis, Missouri KSDK reported.
'I Should've Killed You': Unrepentant White Supremacist Murderer Threatens Victim At Sentencing
Black Lives Matter Wants to End Police Brutality. History Suggests It Will Go Much Further.
---
Cardi B Laughs Off Trolls Who Tried to 'Cancel' Her by Jumping in Her Pool: 'I Don't Give a Fuck'
After seeing that "Cardi B Is Over Party" was trending on Twitter on Thursday, the Grammy Award-winning rapper, 27, shut down speculation that she was the one behind an Instagram account, which she went on to allege was fake, that had posted negative things about a number of female artists, including Nicki Minaj, Ariana Grande, Megan Thee Stallion and Doja Cat.

"Let me make this really clear. I am not a 15-year-old girl that do fake Instagrams to talk about celebrities. I have a whole life," Cardi said in an Instagram video. "I don't got time to do shit like that."
---
Gay trans teen mocked on the street while cis woman laughs and points at his crotch in hate-filled, disturbing video 
Gay trans man Jasper Lauter has shared a video of the horrific moment when two cisgender people verbally assaulted him in a hate-filled, transphobic incident in California.

Lauter, who lives in Fairfax, California, was putting rainbow flags up around his hometown on June 20 when he noticed a bake sale benefiting the Black Lives Matter movement had attracted negative attention.

When Lauter noticed that a male and a female were giving a hard time to the volunteers, he decided to intervene.
All 3 victims stabbed to death in U.K. park were reportedly members of the LGBTQ community
Transgender woman was "karate chopped" by drunks for using the women's bathroom
A 'real life Mister Rogers' hung a rainbow outside his home for Pride. A homophobic neighbour told him he 'shamed the community'
---
LGB Alliance, which claims to stand for gay rights, argues it isn't homophobic to oppose same-sex marriage in deleted tweet 
The anti-trans pressure group performed a swift volte-face after making the claim in a since-deleted tweet, sent Thursday (June 18), which read: "To those people saying it is 'homophobic' not to be in favour of gay marriage have a look at the statistics. It seems it's rather a small minority who have made their wedding vows."

It also included the hashtags #CanWeDropItNowPlease, #NotABigDeal and #PluralityOfViewsIsAllowed.

The evidence used to back up this argument was an image of a graph from the Office for National Statistics showing that lesbian, gay and bisexual people are more likely to be single than married.
Republican uses JK Rowling to block vote on the Equality Act in the US Senate
---
Black Teen Found Dead, Hanging in Texas Not Victim of Foul Play, Police Say
On Wednesday, the Harris County Sheriff's Department in Texas, confirmed that the 17-year-old black teen found dead, hanging from a tree, was not a victim of foul play.

"Homicide investigators were able to review school surveillance cameras and found no signs of foul play in this tragic incident," a statement from the Harris County Sheriff's Department said.
A 17-Year-Old Who Organized A BLM Protest Had A Burning Cross Placed In His Yard, Cops Said
A family posted a Martin Luther King Jr. quote in honor of Black Lives Matter. Their town told them to take it down
Former Head of Diversity: 'Black Lives Did Not Matter at Morgan Stanley'
White Man Tells Black Teen in Gated Community She Doesn't Belong There
Viral Video Shows Racist Getting His Ass Handed to Him at Supercuts
White man rescued by Black Lives Matter protester is former police officer
'The Good Place' Producer Megan Amram Apologizes for Past Offensive Tweets
Filipino American confronted for BLM message sheds light on form of genteel racism, experts say
Being Black at work right now means doing a lot of extra emotional labor
---
Woman gives powerful speech to looters on streets of NYC
---
Mum who 'isn't homophobic' but scared her son's HIV-positive boyfriend could 'accidentally' pass it to their children gets a blunt science lesson
The woman said she was recently introduced to Stephen's new boyfriend Adam on a Zoom call, and was shocked when she learned that he is living with HIV.

"My son announced this on the Zoom call (I didn't have time to process it), and then became irate when I asked some questions to better understand what that means," she wrote.

"I remember the '80s, and actually had a close friend die from AIDS," she continued.

"My son claims I'm being ignorant, but I was alive during that time – he wasn't!"

I'm not homophobic. I just need some processing time.

Bizarrely, the woman then went on to claim that she is "scared of what will happen if they stay together and have children."
---
Fox host Tomi Lahren tried to make an insipid point about Pride during coronavirus. It backfired spectacularly 
Tomi Lahren stays losing, this time trying to suggest that of all people, it's the LGBT+ community who aren't taking coronavirus seriously.
---
NEWS HEADLINES: Surveillance Videos Show Ahmaud Arbery Trespassed Into Man's Home Before Shooting 
Newly released surveillance videos show Ahmaud Arbery trespassed into a home — which the homeowner says was robbed of $2,500 worth of fishing gear earlier this year — before running away down the street after a neighbor called 911.

Arbery can be seen walking down the street — not jogging — then stopping on homeowner Larry English's lawn and looking around. After seeing no one was in the area, he then trespassed into the house at around 2:09 p.m. on the timestamp, which is actually most likely around 1:08 p.m as police said the first neighbor to call 911 did so at 1:08 p.m. Arbery is seen exiting the building around 5 minutes later and took off running or "jogging" after 911 had been called on him (possibly by the onlooking man who is seen standing next to a tree across the street that appears to be holding a phone up to his left ear and likely would have been in Arbery's view).
North Carolina Deputy Fired, Charged After Leading White Mob To Black Teen's Home
Southern Charm's Kathryn Dennis Apologizes for Racially
Trucker Accused Of Murdering 3 Women In 1990s, Including Two Who Were Pregnant
Wis. Boy, 5, and Sister, 3, Found Dead in Feb. from 'Intentional' Injuries — But No Arrests Yet
Ohio State to pay $41 million to settle sex abuse lawsuits naming former wrestling team doctor
Documents: Federal agents engaged in sex acts with victims
PICTURED: The 18 members of a 'mob' who 'ambushed and tried to kill a New Jersey state police detective when he was investigating a home invasion'
---
Chrissy Teigen Makes Twitter Account Private After Alison Roman Attack
Chrissy Teigen will not be active on social media anymore after Alison Roman, a famous cookbook author, came after her by leaving comments about the brand the Sports Illustrated Swimsuit model has cultivated.

The food writer, who is famous for her easy-to-recreate dishes, is going viral nowadays for an interview, wherein she slammed the business model of Teigen. Specifically, the New York Times columnist pointed out that the "Cravings" author's style in building her brand isn't something she would copy, according to E! News.

While many people rushed to her defense, the mom of two decided to take a rest from social media by making her Twitter account private.

"This is what always happens. The first day, a ton of support, then the next, 1 million reasons as to why you deserved this. It never fails," Teigen wrote before turning her account private.
---