Movies Posts Tagged as 'Psychological'
---
Rating key:
Welcome to Errattic! We encourage you to customize the type of information you see here by clicking the Preferences link on the top of this page.
Blonde (2022)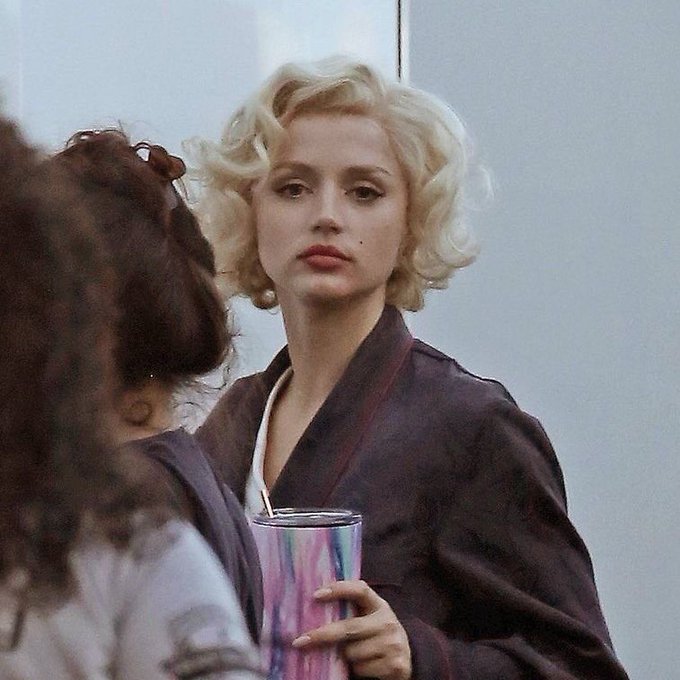 Another depressed mother dooms a fabulous child into living a miserable life. De Armas is studied and emotionally frazzled but at times, she distracted me by resembling Lady Gaga. Details and relationships are scat as it relies heavily on an icon who shrinks into childhood oblivion whenever something goes wrong in her life. The film allows the woman little joy and constant paranoia.
28-Sep-2022
---
Ghostbusters: Afterlife (2021)
The mood is retro energized to soothe us into an 80's coma. There are three sexes applied to Bizarro Chalamet and I can't get over it. Daddy Rudd endured the right cosmetic procedure because he's yummy gay again except he was stupid, useless and shoed. The wall between the generations discouraged charisma amongst the replacements. There was a don't touch me vibe with babies helming a gimmick that keeps the franchise alive but old movie stars resentful. Why do possessed lizards change their outfits willy nilly but man has to suffer in shreds? The first half works because we presume the artist will add a great spin to propel the magic and replace original mistakes. He makes it more of the same. Reitman copies the spins with advanced tech but he doesn't sign off on it.
20-May-2022
---
Parallel Mothers (2021)
When Almodovar embraces Hitchcockian ambience it is sublime but when he attempts a Spielbergian signature it deprives the film of a punch. Two mothers, both strangers share a common thread that conflicts with their lives. Even though the outcome is easy to determine, the presentation is a shivering buildup. Penelope Cruz maintains her hold until Almodovar gives up. Her mother doesn't crumble as the film's psychology implies. She wraps it up without a challenge. The ending is part Schindler's List and part Indiana Jones/Jurassic Park. I welcome a latin Spielberg inspiration with cheeky heroes and dinosaurs but I can't forgive a spanish mother that doesn't wreck. A spanish mother is the T-Rex of emotion.
23-Apr-2022
---
Kindred (2020)
It's an incomplete thought. A woman realizes her culture by being left behind to be parented by a rich white family. The interracial harmony was a plus. The actors didn't make calls to their agents after every scene. They were in it. The idea that the man you loved was lying about his parents and abandons you to their care is frightening. The atmosphere was established, the actors were prepared but the story didn't succumb to its repression. All was safe, all felt long and none of it felt warranted. I wanted to hear the screams of agony and the main fucking the shit out of that pretty butler to get the fuck out of there. That's what real people do. They don't waste time wondering.
20-Apr-2022
---
Batman, The (2022)
The Batman is the only character that suits up. How lonely for him. He's always the freak. The support enact realistic iterations of characters that lit up Batman's mythology to absolutely no effect. The Riddler is a demented teen who was brought up by an unfunny father who worked the mines. The riddles were blah. There is no Riddler without a tight body suit, a tight body and demented cynicism. Daddy Farrell wasted a lot of time in makeup, creating art out of a role that doesn't belong. He is not penguin. I didn't see any top hats, monocles or bullet umbrellas. Michelle Pfeiffer's reign as the best film Catwoman cannot be extinguished. Zoe is an everyday gorgeous girl not a cat. Her cowl is just as cheap and unintelligible as I expected. Her lack of meow hurts. Commissioner Gordon was a lackey. Everything was eeeeewww and he was always waiting for Batman to finish things up for him. Daddy Turturro knew exactly what the director wanted and gave it to us. Alfred and Bruce's interaction was rude. The parental bond was cold. Why hire an Aunt Harriet if she's not going to be an Aunt Harriet? That might have been fun. Oops. Sorry. Fun not allowed. The Twins were cute. Robert Pattinson is the glue you want to stick to because he makes you ponder how his beautifully broken humanity can create life from something he hates. I saw love in Zoe's face when she looked at him. I saw panty dropping aloofness register from his. Batman's narration doesn't mesh with toxic revenge. The moments he celebrated were my cringe. This isn't Batman. He doesn't laud himself or others. He's a lonely motherfucker that hates the world because he lost mommy and daddy to crime and got stuck in a mansion with a pervy butler. Batman's detective work failed from a lack of gadget magic. Yeah! Rich angry fucks love gadgets. Matt Reeves strikes potent pictures but was entrapped by a franchise that is petrified of its origins. The man/woman who gives us comic book Batman with realistic choices will become King of The World. What's the point of hiding in the shadows if everyone can hear you?
18-Apr-2022
---