All Posts Tagged as 'Creepy'
Welcome to Errattic! We encourage you to customize the type of information you see here by clicking the Preferences link on the top of this page.
Golden Bachelor, The (2023)
Daddy couldn't help himself from trying the new luggage he won on Let's Make A Deal. He showed Leslie how wires helped him move around the house and bestowed on Theresa, only sexual regard.
20-Nov-2023
Daddy gold was forced to walk and run, though I believe the run was CGI'd. Gerry was very vague when discussing how he felt about Theresa to her grandchildren and daughter. When he eye fucked Theresa's daughter she reacted like she liked it. I'm sure she wasn't listening to anything he was saying because he was saying that he wasn't in love with her mother. Either he let the cat out of the bag or he's a better actor than I thought. I ponder why Gerry is called Gary when it should be Jerry.
03-Nov-2023
Palmer didn't eyefuck anybody because he wasn't alone with them. Oh well, there's still paradise. Is the show on realtime? Do they walkie talkie what the public thinks to the producers? They made daddy walk. He only walked a few steps but every time he asked to walk a girl out he was holding on to them for dear life. When he opened the car door for a dumped, the producers rigged his suit jacket to hold him up. Good wire work. If talking about your ex on a first date is rude, why does it get a pass in old age? We found out that daddy is not made of gold, he bruises whenever a woman touches him. Maybe, she's made of fire.
27-Oct-2023
What pickle ball means: Age deteriorates the quality of the vegetable, but rarely causes them to actually become unsafe for consumption IMO. Pickling is used to preserve foods and in the environment of brine, they last pretty well forever. That said, the texture and flavorings are going to get funky after a couple of years.
20-Oct-2023
Whilst the ladies were slapping old man's balls our daddy gold was sitting. When he appeared on an ATV he sat throughout. He made out with any lips that came towards him, sitting down. The rose ceremony took much longer because daddy had to sit after every rose. He pretended to be a gentleman but we know the handicapped woman helped him walk out. That lady whose daughter was getting married as she was clapping balls didn't give two shits. Mother is not a title but an action. I'm sure the son-in-law was relieved she wasn't there to fuck up his wedding. Becoming ill was karma. Not telling women playing I've Never... that she was milk intolerant was like going to an orgy and having sex with everybody whilst knowing you have crabs. Captain Sandy with a wig has munched on ladies before but is a bottom, now. A judge Judy superfan told another contestant to ziploc her joy.
20-Oct-2023
I tuned in because I wanted to survey the old hunk. There is no way a 72 year old can look that good. He's handsome, a people pleaser, tastes like Spanish Fly and wants to fuck. He proved his age when it took him about twenty minutes to put on his shoes. Good editing. Wink, wink. There were no Goldiggers amongst the 20 but I noticed a few madams and ex whores. Including younglings would have created the tension women of that age experience. Most of the elder women were loopy, defining an era that's no longer safe. I like Ellen. I don't know why but I do. One of the women looked like Captain Sandy in a black wig, the Maude impressionist was kicked out, Jesse eye-fucked the bachelor and I felt grandpa's burden. Every time he votes out an eccentric aunt, America will judge him. "The man is dumping grannies!"
30-Sep-2023
---
Hole In The Ground, The (2019)
Single mother starts a new life with her son in the boondocks. Woods are spooky with a giant hole in the ground. Baby boy disappears into the woods and returns different. A neighbor's history tells of a mother falling apart at losing her son to the woods, going to prison, killing her son and being constantly haunted. She becomes deranged, unacceptable but tolerated. No one believes her truth because all nutty people are considered liars. But the nutty people are always right. We don't want to look at that shit so we ignore it, the way we don't Santa and Barbie. Mama believes the lady's mythology until she too faces that dilemma. The child is a spooky chill, the mother's face speaks volumes and the director allows us space to breathe. Cliches disrupt the flow. Dreams no longer surprise. The end was a meh and a what. Craft without sense.
29-Nov-2023
---
Nun II, The (2023)
If beliefs cause faith why can't we believe there are no demons? We have to fight them first so we know we're good. Taissa gave great face and Storm Reid was her partner, lapping it all up. They had an interracial team-up that felt genuine. Jonas Bloquet was eliciting Hammer tremors. The nun was still glorious, showing up scantily but creepy and ready to blow. Her backstory held. It's fun watching scared little mean girls.
17-Nov-2023
---
Killer, The (2023)
"Trust no one." If that thought had been applied to the killer's private life, the film would've been a masterpiece. The panic attacks start as soon as the movie is over.
16-Nov-2023
---
Jake Wheeler is becoming quite a twink daddy. Devon Evans is aging in reverse. He looks like a kid. Lexy is gutsy without a personal life to lift her up. Jennifer T. and Jennifer C. need to battle for best bitch titles. The writers toned down Jennifer's character and shenanigans and she beams because of it. Devon Sawa has the best character, up to-date. I kept seeing Sawa's name on the credits but couldn't match him to his character, until now. Wow. You mean he was the hot method actor who plays the President? He is as precise in his acting as the puppeteers were on Chucky. The lip sync is perfect, different movements are being explored and the bastard is as funny and wicked as ever. The focus of this season is The White House and aging. Love it!
03-Dec-2021
---
Fall Of House Of Usher, The (2023)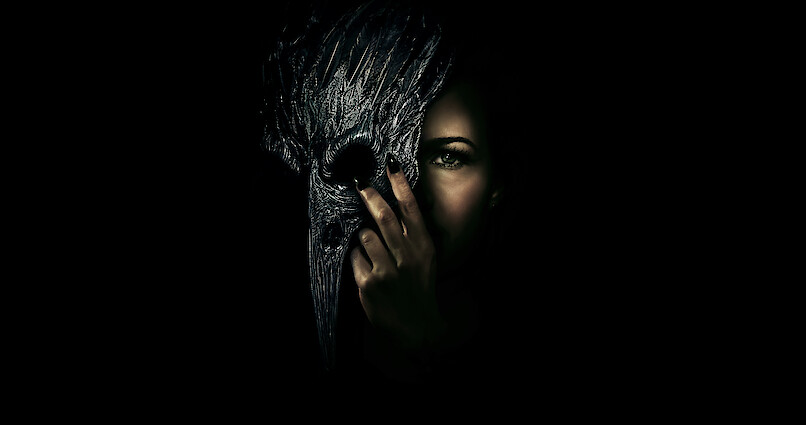 I understood the excuses but I didn't get the obscurity. The finale was a realization of how much of a merry-go-round the production put us through. The Final Destination kills should have ascended from that. When you add magic to horror it teeters on fanto realism. It made my head overload...with questions. Where was Lenore when daddy redecorated her mother's room? She asks to see her mom 5 days later? I believe one of the Dupin's got taller? Bless you, Sir Hamill. Once his character clicks we look forward to seeing him again. The mumbo jumbo accommodated what was easiest for the storytellers. The merry go round speeds up, there are few surprises but the cast and dialogue are superb. What fabulous creature is Gugino's character supposed to be? Is Pinhead her boss? I hope it's the girl one.
21-Oct-2023
SE5. There are so many crisp performances to marvel at. The story captivates but the horror aspect diminishes it. Whenever he gets a vision, we realize how the next victim will die. Stretching the story doesn't mean much if it once ended up in the trash because it contained too much information. The flashbacks are served nilly willy. The saboteur has no meaning but I love her. Poe's themes are observed but not acknowledged. When a creator succumbs to the title of the story he is manipulating things to fit not click.
20-Oct-2023
S1E2. Succession musical score adaptation is too blatant and soon to describe rich family hierarchy. The actors play it well but the characters are as interchangeable as their sexual proclivities. The scares are great ideas that are poorly executed. The mother's beginning is a testament of that. It should be scary but it's not, it didn't grip or create empathy. Flanagan name drops everything but the art he's pilfering. The story does not flatter Gugino and her character is beyond mysterious. I heard Hamill do a Joker laugh and I was amused. Flanagan still hasn't figured out how to shoot in the dark. The admirable parts are the ones created by accident.
19-Oct-2023
---
Boogeyman, The (2023)
The film shook our paranoia but failed to capture the man in Boogey. It was another Steven King spider.
11-Oct-2023
---
Girl Next Door, The (2007)
A boy learns the word slut from his mother. An orphan teenager and her polio stricken sister are adopted by a single mom and her 7 children. All is good until it's tragically not. Based on fact, the story follows the boy next door with a crush on a teen dream that tears his world apart. The aunt's brood are the product of perversion and horror. The abuse was horrendous enough to make you pull your hair out. Some of the scenes are oxygen intolerant. The boys/men faired better than the girls/women. The boys interpreted it as a sport while the girls/women dreaded everything. Had the aunt had Piper Laurie chops I would have shat my pants. Safe and artless. Teen dream did not give us more than was written but she was effective. The film works because when a monster has the power to influence one person, the whole community will join in. How does a child get help with that kind of force? Heartbreaking.
17-Jul-2023
---
Ouija: Origin Of Evil (2016)
The family dynamic is strong. Mother is at a loss because husband died and left her with two daughters to raise and lead. Money is tight so she resorts to scamming people psychically as an excuse to raise morality. Eldest daughter's teenage dream keeps getting interrupted. Baby sister misses daddy a lot. Her mother parents her daughters into thinking every tragedy has a fairytale ending, preparing them for nothing. Creepy little one decides to use an ouija board to manifest her dad. Things don't go as planned. Teenage romance is doomed, mother starts believing in anything because she can't deal and baby girl is a spoiled little bitch. Yay. I think it's her hair. I love it. The evil's existence mutes an almost classic horror film by not making sense.
05-Jun-2023
---
Lights Out (2016)
Tricks were forceful, the atmosphere foretold and ideas were bouncing. The cast was fulfilling, the monster was unforgiving and a stepdaddy explanation as to why he didn't do more was needed to clarify a few months worth of questions. Wouldn't he have encountered the monster before? Why did the monster strike, now? Yes, I ruined it for myself thinking about stupid shit but the scares were still thrilling.
04-Jun-2023
---
M3GN (2022)
When pristine horror gets blood splattered, it resonates. AI has become a substitute for jobs that were once revered by the original occupant. Humans. Live shows, movies, tv, music, computers, phones, news, robots, etc. Each performance shaping the community they want to live in. M3GN has many faults but protecting a child was a built-in priority. A grieving child with no parents, structure or stability will succumb to the charms of a robot if you make her look and act like a best friend. Aunty creates M3GN and other incredibly expensive robotic toys that probably belong in a mansion. Her new invention is going to cure parenting and loneliness... moving the child farther away from a heart beat. M3GAN is a beautiful creation, maneuvered rightly, timed perfectly and a show stopper. The more M3GN claimed the child the more motherly aunty became. Flaws can be overlooked when the value of entertainment is so high. Perfectly cast and remembered. Fun as fuck! I wished she had killed more. As long as creator and monster are liable, human parenting will diminish. I am one of those children. My mother's name was television. I'm sure somebody's heard of her.
22-May-2023
---
I Spit On Your Grave (1978)
It would be exploitation if the rape weren't the catalyst to the main's empowerment. Woman alone stays in the country where blue collar men with too much work, time, ugly women and no manners abound. City girl is a writer who handles well, is lonely, trusting and helpless. Among the victimizers is a challenged man that is susceptible to gang mentality and betrayal. The rape had elements of realism and buffoonery. The men are cartoonish during it, pulling faces and acting like they've never fucked anything before. Maybe, it was to soften audience blow. Our lady was courageous on and off camera. The comeback is not as powerful because the violence was of the Kool-Aid variety. They cut the penis dismemerment scene! Boo. 4K adds the clarity that time fixed. Scenes sparkle with beauty and the protagonist is a Charlie's Angel vigilante.
16-May-2023
---
Horror In The High Desert (2021)
I don't know if I would have reacted so strikingly if I knew that it wasn't what it was. I think blind is the proper way to see it and befits the mock ending. The acting is the accuracy that sells the illusion. The words and direction built interest, tension and fright. Giving the villain an excuse was a misstep because it lets the cat out of the bag. It kicked Blair Witch's ass.
20-Apr-2023
---
Face of Evil (1996)
Tracey Gold scrubbed her good girl identity to become a misunderstood feminist. The character runs away: from home, relationships and deep connections. Gold is a wild kitty playing life like a board game that she controls. Her forgiveness is theft and death. She assumes the identity of a kill to exit town but is tornado'd into becoming her. Shawnee Smith stirred instant empathy by being introverted, persevering, cute, desperate and clumsy. The girls become roommates, make connections, enjoy each other's company as we get to observe them. Mary Lambert directs with minute blood spills and no blows. How does evil get written on your face? She tries to explain that. Shawnee's father was a daddy wet dream for everybody except for the bitch waking him up. Perry King was carved with Kryptonian essence. His Highlander was superb but the tits and gorgeous craggly face were better. Lambert directs an intellectual showdown, the fight was fun TV Trash and Ms. Gold channelled Elizabeth Montgomery to eerie perfection.
11-Apr-2023
---
I See You (2019)
A family is stalked by a presence whilst dealing with infidelity, trust and motherhood. Halfway through, it dishes out answers. We are ready for an anything can happen scenario and it delivers. There were no whys answered but the clues added up. Helen Hunt established intelligence until she was abruptly cut off. Phrogs are homeless people with better digs. The surprises kept coming because we weren't given a fair study of who the characters were. The prequel. 1. Ignore the phrogs. Expose the emotions that catapulted the insanity. 2. Rewind. 3. Study what the characters knew. 4. Fuck phrogs!
28-Mar-2023
---